Divers relish practice time before TO2015 and Olympic qualifying
The elevator door opens and the sound of exuberant chatter spills onto the floor. A quadruplet of fresh-faced compact young women step out, each rolling a large black suitcase stamped with a maple leaf.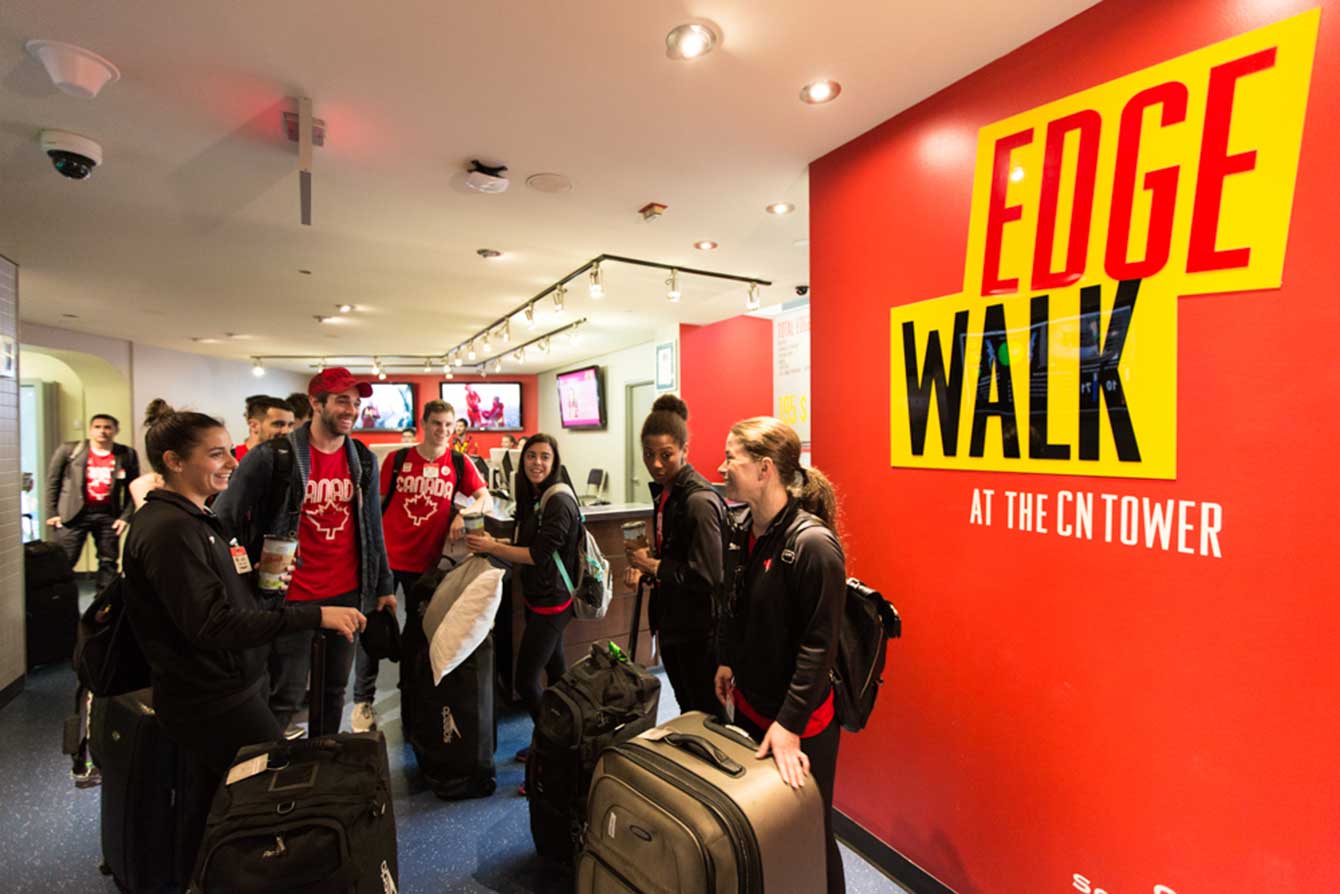 It's Canada's 'FAB IV', a name the national diving federation decided on for Meaghan Benfeito, Roseline Filion, Jennifer Abel, and Pamela Ware. After almost two months on the road they've been back in Canada for under 24 hours, facing a stop at the CN Tower to announce the diving team for TO2015. The group is tired after competing in all six cities of FINA's prestigious Diving World Series for the first time, but it seemed worth it, they made strides.
2015 Diving World Series: Beijing | Dubai | Kazan | London | Windsor | Mexico
Related: 'Fab IV' leads Canadian divers to Pan Am Games
"It's a lot of travelling, you don't get to train as hard as you want because you have to be competing, you get used to it and it's fine after, we had a lot of fun this year," said Olympic medallist Jennifer Abel, who won her first silver on springboard in two seasons at the third stop, in Kazan, Russia. She and partner Pamela Ware were second overall in 3m springboard synchro following all six competitions.
At this level of diving, incremental gains can mean full steps on the podium.
The two platform divers, Meaghan Benfeito and Roseline Filion, (who plunge from 10 metres) had their own advances. Benfeito highlighted an 'up and down' season with a gold medal in Kazan, beating Chinese Olympic champion Chen Ruolin. It was the 26-year-old's second-ever world series win. Her training partner Filion triumphed the following weekend in London, again beating a top-ranked Chinese diver.
"I'm really satisfied how it came out, it was the first time we did all six world series, it was a challenge managing being tired and travelling and training at a high level. It was a great challenge, it turned out well, there's some things that didn't go as well as I wanted to but I came out of it with experience and I'm looking forward to this summer," said Filion.
The divers have a full month to train before Pan Am Games and the summer's big finale: FINA World Championships in Kazan, Russia. Benfeito was also critical of her season, "Walking away from it with my head held high I learned a lot and I'm looking forward to Pan Am and World Championships, it'll be way better," is a sentiment often, yet curiously attached to many high-performance athletes. The low points become the focus, for motivation and improvement, while recognition of triumph is short-lived.
Shortly after trying the Tower's Edge Walk the FAB IV are announced as Canada's diving team, along with their male counterparts. Summer competitions become the focus, with Rio 2016 spots on the line, "The faster we can do it the better," laughs Filion, who would become a three-time Olympian, "We can keep focusing on training and focusing on Rio and not what's around it."