Athletes' Commission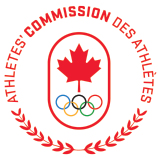 The Athletes' Commission represents the voice of Canadian Olympic athletes to the Canadian Olympic Committee Board of Directors, to Sport Canada, to the International Olympic Committee, international sport federations and all other domestic sport organizations. It is instrumental in presenting Canadian athletes' perspectives in areas ranging from athlete rights, safe sport policies, marketing & COC partnership agreements, Olympic team selection policies and much more.
The infographic below outlines key areas of our strategic plan. Click on the link for a full version of the strategic plan. Click on this link our terms of reference.
---
Roles & Responsibilities
What do we do?
We lobby sport administrators on behalf of Olympians
We publish position statements representing Canadian Olympians
We negotiate with team officials
We inform Olympic family sponsors on the athlete perspective
We inform COC staff on the athlete perspective
We connect & share best practices with our international counterparts
We update national sport federations on athlete news
We interact with & support national sport federation athlete councils
We survey our athlete constituents on the important topics of the day
We want to ensure a fair, supportive and transparent environment within the Canadian sport system.
The Athletes' commission is here to help in an impartial and confidential way. Feel free to contact us if something is concerning you from a performance perspective or otherwise.
How?
The commission is guided by our strategic plan (updated after each summer games). Through our vision, mission statement and values; the team executes on our strategic plan goals.
Individual members of the commission bring their unique perspectives, skills and experiences to tackling specific buckets within the strategic plan. 10 elected and 2 appointed members.
We meet 4 times a year in person, and 7 times a year via tele-conference. Any opportunity the commission has to attend national championships, training camps or connect with athletes in Canada we capitalize on. We are led by a chair, vice-chair and 1st officer trio & receive logistical support from COC staff.
With members spread all over the country, we leverage technology to plan, meet, execute and evaluate our goals within the Canadian sport system.
Why?
Athlete representation is essential to ensuring a fair field of play. Only by having a seat at the table during the decision-making process can athletes ensure their rights are being respected. As athletes, we train and compete hard to succeed at the highest level in sport and represent our country at our best abilities. Most of our athletic career is focused on "on field" success, but the fight to win medals also involves work by athlete representatives at the highest level. This is particularly true when decisions are made about us or for us.
A few successes due to athlete representation
2017 Sport Canada AAP Increase
Athlete representation at the majority of NSF boards
At Olympic Games "athlete mentor" position created
At Olympic Games "athlete lounge" created
Continuous updates to team athlete agreements
Creation of athlete charters
Financial grants
Resources
In this section, we want to share valuable content and showcase some important partners who will be able to offer key advice, tools, and information to all Canadian Olympians. Please also note the links to OLY Canada and Team Canada Insider in the top right corner of this page. Continue to check on this list periodically for additions!
Canadian Paralympic Committee (CPC)
Canadian Center for Ethics in Sport (CCES)
Canadian Olympic Paralympic Sport Institute Network
---
Get Involved
If you are a Canadian athlete, there are a few ways that you can get involved in the work of our commission. If you're an Olympian and have competed in one of the last two Olympic Games, you can stand as a candidate in the elections organised after each edition of the Olympic Games, or vote to elect the candidates of your choice. There are 2 appointed positions on the commission open to Olympians or athletes who have competed at a Pan-American games. These athletes are selected by the elected members of the commission. There are also stand-alone COC committees that require athlete representatives to sit on them.
You can also find a role within your National Sport Federation (NSF), International Federation (IF) or AthletesCAN as an athlete representative. Contact us for more information on member descriptions and expectations or how to sit on these committees. Feel free to forward any comments or questions as well. We can help you get involved every step of the way!
Benefits to Being an Athlete Representative
You can influence and be involved in the decision-making processes in your sport with positive impacts for you, your teammates and future athletes entering the sport.
Being an athlete representative will give you responsibilities that will help you to develop important life skills such as leadership, teamwork and communication. Also, you'll grow more specific skills like board governance, media relations, business and political acumen.
Being an athlete representative will enhance your CV with the unique experience and skillsets that can make you attractive to potential employers across sectors.
As an athlete representative, you will be part of a global network providing the opportunity to share your knowledge, experience, and story with your Canadian and international counterparts.
Retired athletes can continue to feed that appetite for all things sport while still able to explore and expand their non-sporting lives.
As an athlete representative you will be at the forefront of promoting the benefits of amateur sport; the values, the mentality, the community building etc. to world!
Lastly, while spending time with other Canadian elite athletes and talking about the important issues of the day, you'll get great coffee and free stuff!