Garmisch-Partenkirchen 1936
Canadian Olympic Medal Count
0
1
0
Games Summary
IV Olympic Winter Games
After Berlin was awarded the 1936 Olympic Games, Germany exercised its right to also host the 1936 Olympic Winter Games, choosing the Bavarian resort of Garmisch-Partenkirchen, an amalgamation of two towns on either side of the River Partnach. Officially opened by Adolf Hitler, whose National Socialist German Workers' Party was headquartered in Bavaria, these would be the last Olympic Winter Games for 12 years.
For the first time at an Olympic Winter Games, a flame burned for the duration but was not ceremonially lit by any athlete. These were also the first Winter Games to have an official film and radio reporters covering the events from the sidelines. Alpine skiing made its Olympic debut, but not without controversy. The IOC ruled that ski instructors could not participate because they were professionals, leading to a boycott of the alpine events by the Swiss and Austrian teams. The host nation ended up winning gold and silver in both the men's and women's combined events.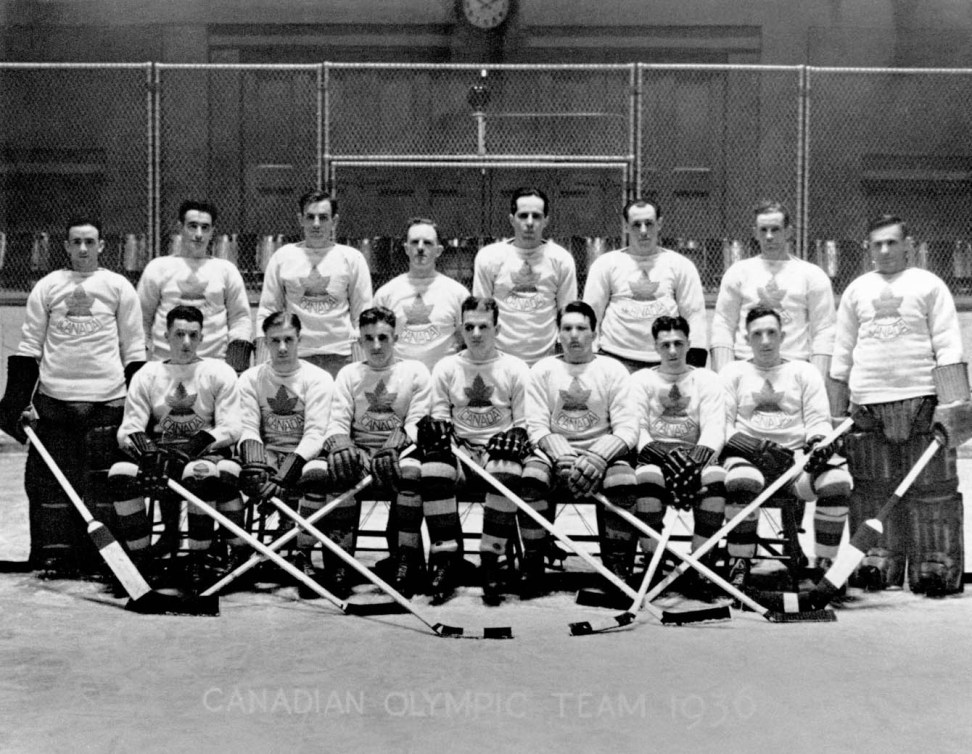 Canada's only medal once again came in ice hockey, but for the first time it wasn't gold. In one of the greatest upsets in Olympic history, the Port Arthur Bearcats were defeated 2-1 by Great Britain in their semifinal round matchup. That loss carried over to the final round, giving Great Britain a lead in the standings that they held onto with a 0-0 tie against the United States. Canada had unsuccessfully protested the composition of the British team. Nine of the ten men were British-born who had moved to Canada as children where they learned to play ice hockey. The team also included Winnipeg-born Gordon Dailley who played in England. There was much debate over whether all of those dual citizens had properly transferred to Great Britain.
The top medal-winning athlete of the Games was Norwegian speed skater Ivar Ballangrud who won four medals, including three gold, to bring his career medal total to seven.
Canadian Medallists
| Event | Athlete | Finish | Sport |
| --- | --- | --- | --- |
| Men | Arnold (Maxwell) Deacon, Ken Farmer, Hugh Farquharson, Norm Friday, James Haggarty, Walter Kitchen, Raymond Milton, Dinty Moore, Herman Murray, W. Arthur (Jakie) Nash, David Neville, Gus Saxberg, Alexander Sinclair, Ralph St. Germaine, William Thomson | Silver | Ice Hockey |
Overall Medal Count
| Rank | Country | Gold | Silver | Bronze | Total |
| --- | --- | --- | --- | --- | --- |
| 1 | Norway | 7 | 5 | 3 | 15 |
| 2 | Sweden | 2 | 2 | 3 | 7 |
| 3 | Germany | 3 | 3 | - | 6 |
| 4 | Finland | 1 | 2 | 3 | 6 |
| 5 | Austria | 1 | 1 | 2 | 4 |
| 6 | United States | 1 | - | 3 | 4 |
| 7 | Switzerland | 1 | 2 | - | 3 |
| 8 | Great Britain | 1 | 1 | 1 | 3 |
| 9 | Canada | - | 1 | - | 1 |
| T10 | France | - | - | 1 | 1 |
| T10 | Hungary | - | - | 1 | 1 |