PyeongChang 2018 Competition Schedule by Date
When do I need to set my alarm for again?
We're anticipating that question will be asked a lot by Canadians from coast to coast come February. So we've tried to make it easy for you.
Here is the complete competition schedule by date, with event start times included for the Eastern and Pacific time zones. As a reminder, PyeongChang (and Korean Standard Time) will be 14 hours ahead of Eastern Standard Time and 17 hours ahead of Pacific Standard Time. That means that any events with morning or early afternoon start times in PyeongChang will actually be viewed in North America the night before.
Happy planning!
Day -1 – Thursday, February 8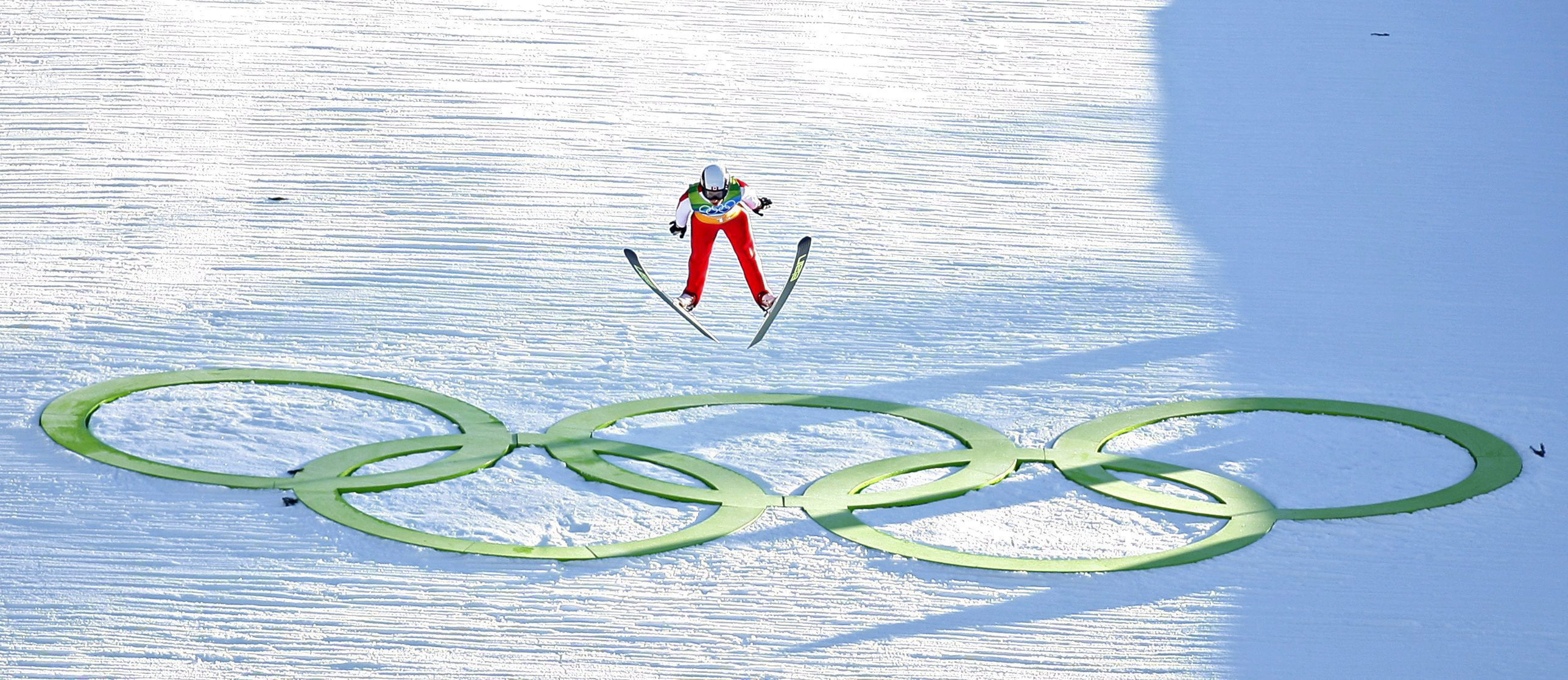 | Sport | Event | KST | EST | PST |
| --- | --- | --- | --- | --- |
| Curling | Mixed Doubles – CAN vs NOR | 9:05am | 7:05pm | 4:05pm |
| Ski Jumping | Men's Individual Normal Hill (qualification) | 9:30pm | 7:30am | 4:30am |
| Curling | Mixed Doubles – CAN vs USA | 8:05pm | 6:05am | 3:05am |
Day 0 – Friday, February 9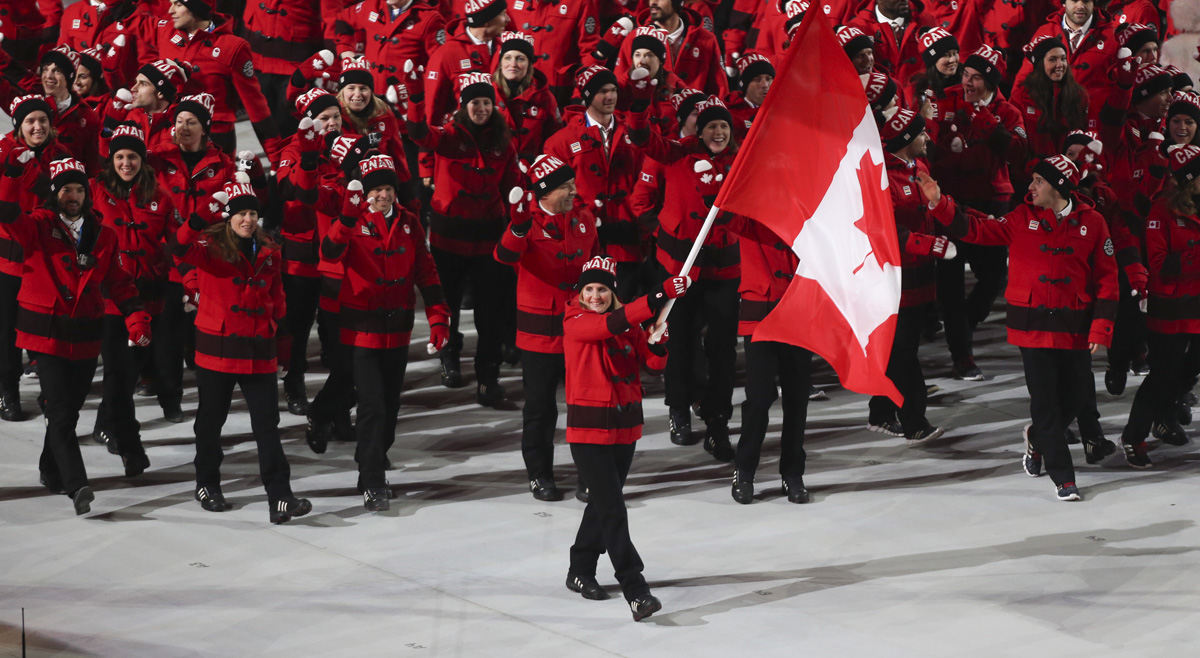 Sport
Event
KST
EST
PST
Curling
Mixed Doubles – CAN vs CHN
8:35am
6:35pm
3:35pm
Figure Skating
Team (men's short, pairs' short)
10:00am
8:00pm
5:00pm
Freestyle Skiing
Women's/Men's
Moguls (qualification)
10:00am
8:00pm
5:00pm
Curling
Mixed Doubles – CAN vs FIN
1:35pm
11:35pm
8:35pm
Opening Ceremony
8:00pm
6:00am
3:00am
Day 1 – Saturday, February 10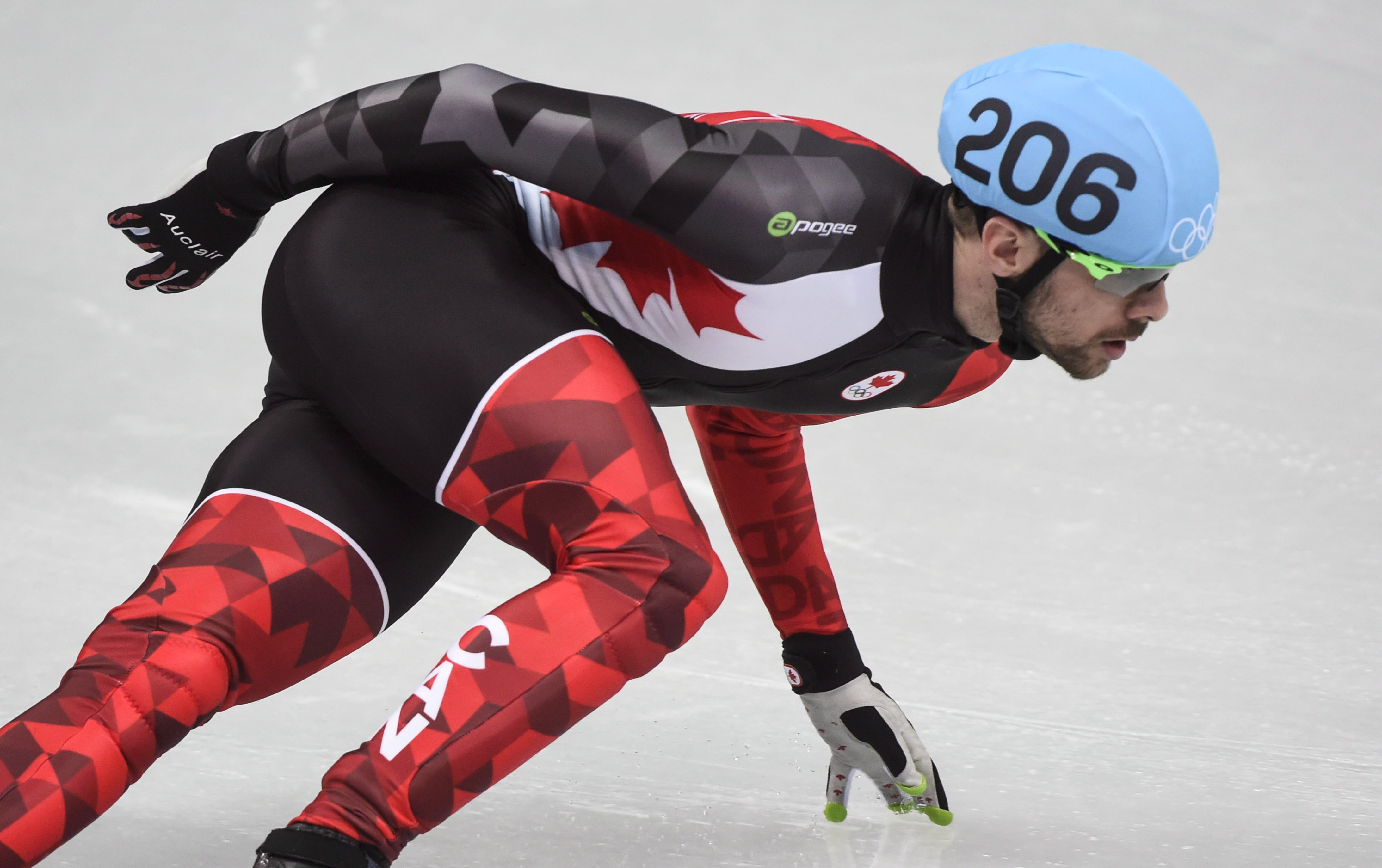 7Sport
Event
KST
EST
PST
Curling
Mixed Doubles – CAN vs SUI
9:05an
7:05pm
4:05pm
Snowboard
Men's Slopestyle (qualification)
10:00am
8:00pm
5:00pm
Cross-Country Skiing
Women's Skiathlon
4:15pm
2:15am
11:15pm
Short Track
Speed Skating
Men's 1500m (final)
Women's 500m (qualification)
Women's 3000m Relay (qualification)
7:00pm
5:00am
2:00am
Luge
Men's Singles (heats 1 & 2)
7:10pm
5:10am
2:10am
Long Track
Speed Skating
Women's 3000m
8:00pm
6:00am
3:00am
Curling
Mixed Doubles – CAN vs OAR
8:05pm
6:05am
3:05am
Biathlon
Women's 7.5km Sprint
8:15pm
6:15am
3:15am
Ski Jumping
Men's Individual Normal Hill (final)
9:35pm
7:35am
4:35am
Day 2 – Sunday, February 11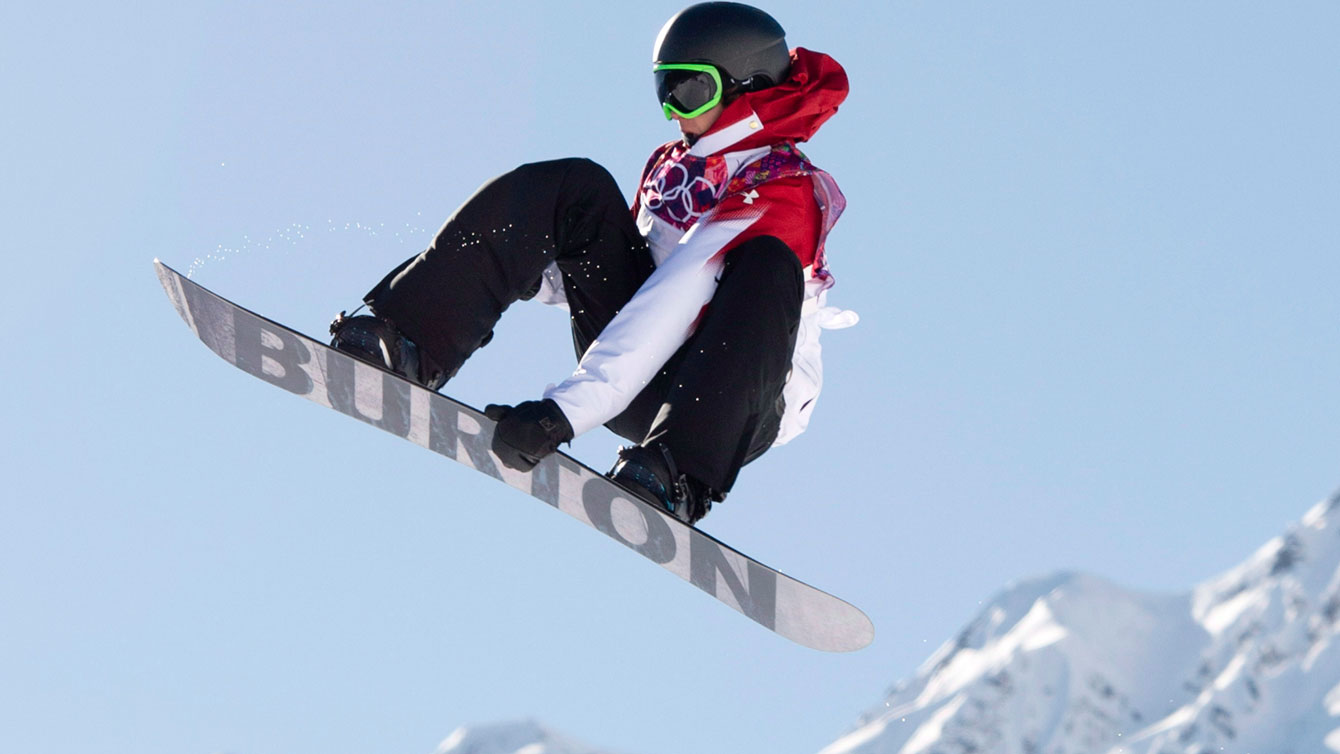 Sport
Event
KST
EST
PST
Curling
Mixed Doubles – CAN vs KOR
9:05am
7:05pm
4:05pm
Snowboard
Men's Slopestyle (finals)
10:00am
8:00pm
5:00pm
Figure Skating
Team (ice dance short, women's short, pairs free)
10:00am
8:00pm
5:00pm
Alpine Skiing
Men's Downhill
11:00am
9:00pm
6:00pm
Snowboard
Women's Slopestyle (qualification)
1:30 pm
11:30pm
8:30pm
Cross-Country
Skiing
Men's Skiathlon
3:15pm
1:15am
10:15pm
Long Track
Speed Skating
Men's 5000m
4:00pm
2:00am
11:00pm
Luge
Men's Singles
(heats 3 & 4)
6:50pm
4:50am
1:50am
Freestyle Skiing
Women's Moguls (finals)
7:30pm
5:30am
2:30am
Ice Hockey
Women's – CAN vs OAR
9:10pm
7:10am
4:10am
Day 3 – Monday, February 12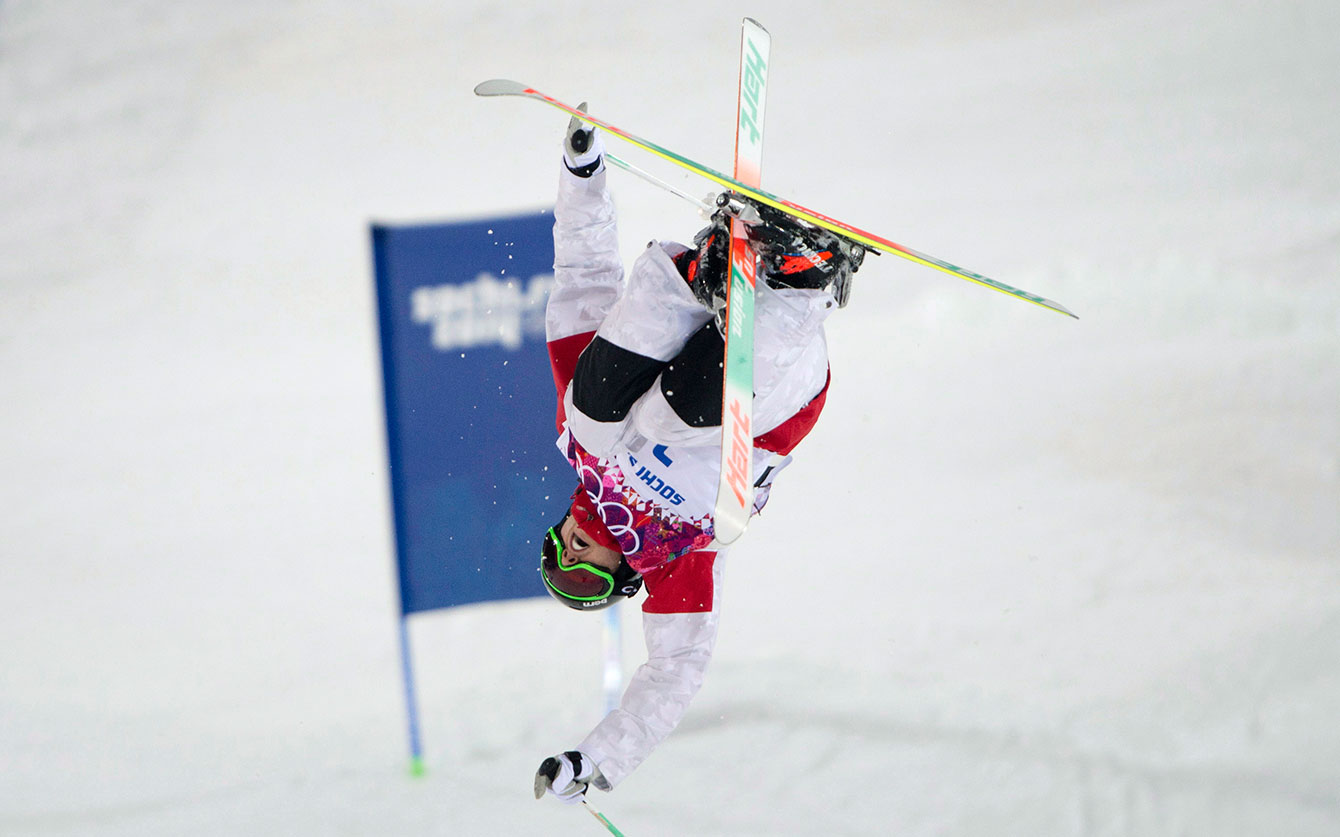 SnowboardWomen's Slopestyle (finals)10:00am8:00pm5:00pm
Sport
Event
KST
EST
PST
Figure Skating
Team (men's free,
women's free,
ice dance free)
10:00am
8:00pm
5:00pm
Alpine Skiing
Women's Giant Slalom
(runs 1 & 2)
10:15am
8:15pm
5:15pm
Snowboard
Women's Halfpipe (qualification)
1:30pm
11:30pm
8:30pm
Biathlon
Women's 10km Pursuit
7:10pm
5:10am
2:10am
Freestyle Skiing
Men's Moguls (finals)
7:30pm
5:30am
2:30am
Luge
Women's Singles (heats 1 & 2)
7:50pm
5:50am
2:50am
Biathlon
Men's 12.5km Pursuit
9:00pm
7:00am
4:00am
Long Track
Speed Skating
Women's 1500m
9:30pm
7:30am
4:30am
Ski Jumping
Women's Individual Normal hill (final)
9:50pm
7:50am
4:50am
Day 4 – Tuesday, February 13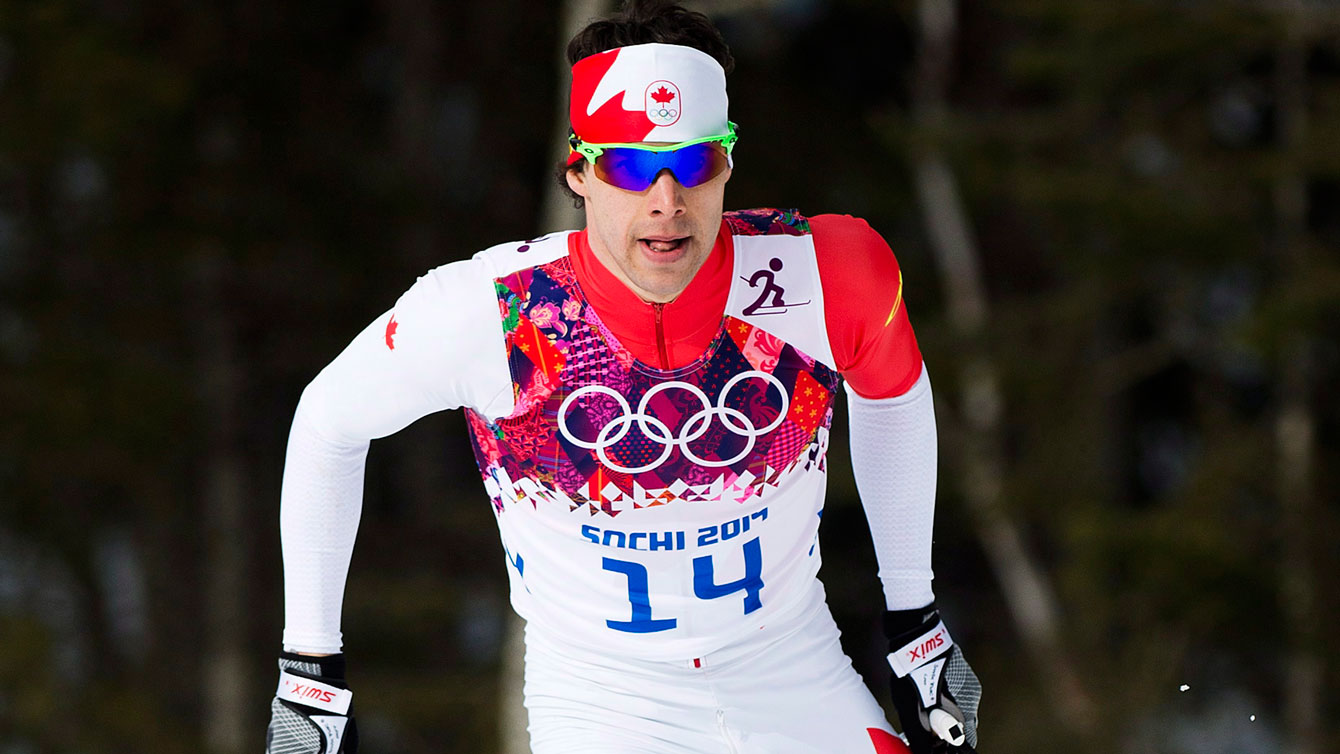 Sport
Event
KST
EST
PST
Curling
Mixed Doubles (bronze medal game)
9:05am
7:05pm
4:05pm
Snowboard
Women's Halfpipe (finals)
10:00am
8:00pm
5:00pm
Alpine Skiing
Men's Alpine Combined
(runs 1 & 2)
11:30am
9:30pm
6:30pm
Snowboard
Men's Halfpipe (qualification)
1:00pm
11:00pm
8:00pm
Ice Hockey
Women's – CAN vs FIN
4:40pm
2:40am
11:40pm
Cross-Country Skiing
Men's/Women's Individual Sprint (heats & finals)
5:30pm
3:30am
12:30am
Short Track
Speed Skating
Women's 500m (Final),
Men's 1000m (qualification), Men's 5000m Relay (qualification)
7:00pm
5:00am
2:00am
Luge
Women's Singles (heats 3 & 4)
7:30pm
5:30am
2:30am
Long Track
Speed Skating
Men's 1500m
8:00pm
6:00am
3:00am
Curling
Mixed Doubles (gold medal game)
8:05pm
6:05am
3:00am
Day 5 – Wednesday, February 14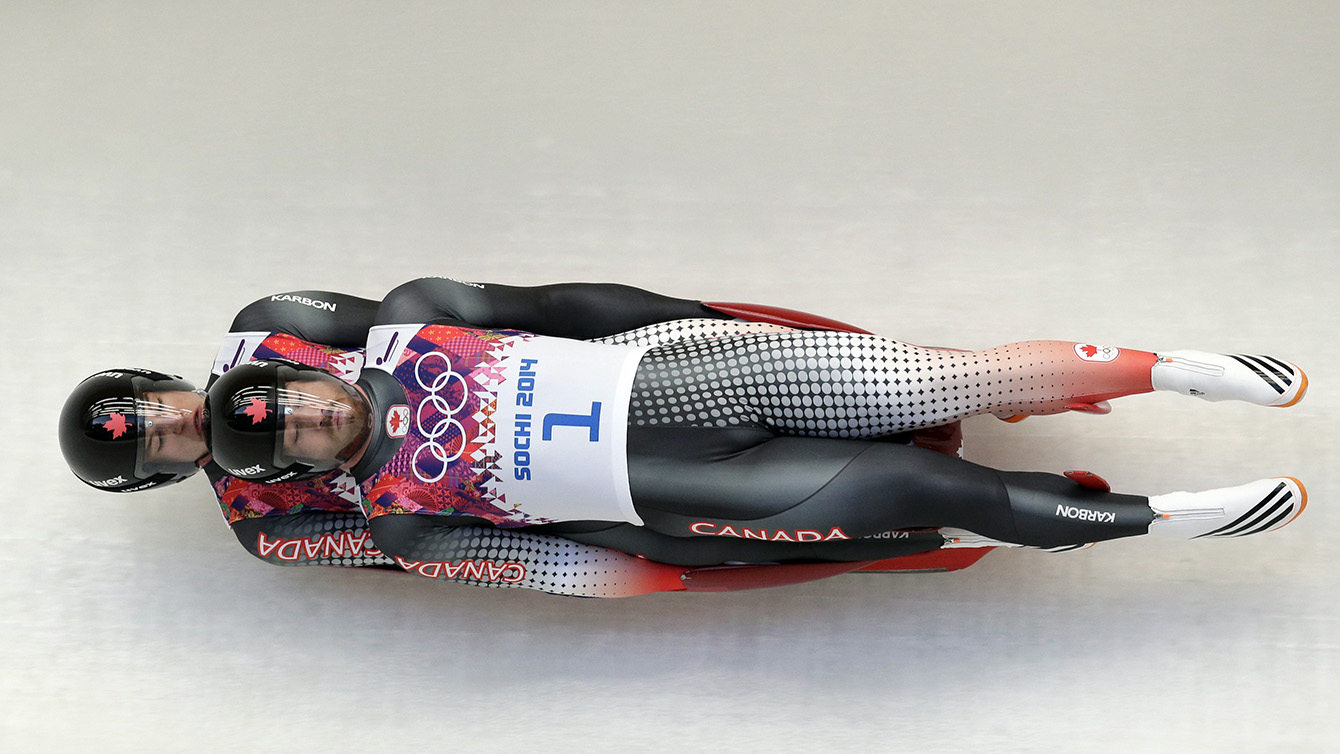 Sport
Event
KST
EST
PST
Curling
Men – CAN vs ITA
9:05am
7:05pm
4:05pm
Figure Skating
Pairs
(short program)
10:00am
8:00pm
5:00pm
Alpine Skiing
Women's Slalom (runs 1 & 2)
10:15am
8:15pm
5:15pm
Snowboard
Men's Halfpipe (finals)
10:30am
8:30pm
5:30pm
Nordic Combined
Men's Individual Gundersen NH/10km
3:00pm
1:00am
10:00pm
Long Track
Speed Skating
Women's 1000m
7:00pm
5:00am
2:00am
Biathlon
Women's 15km Individual
8:05pm
6:05am
3:05am
Curling
Men – CAN vs GBR
8:05pm
6:05am
3:05a
Luge
Doubles
8:20pm
6:20am
3:20am
Day 6 – Thursday, February 15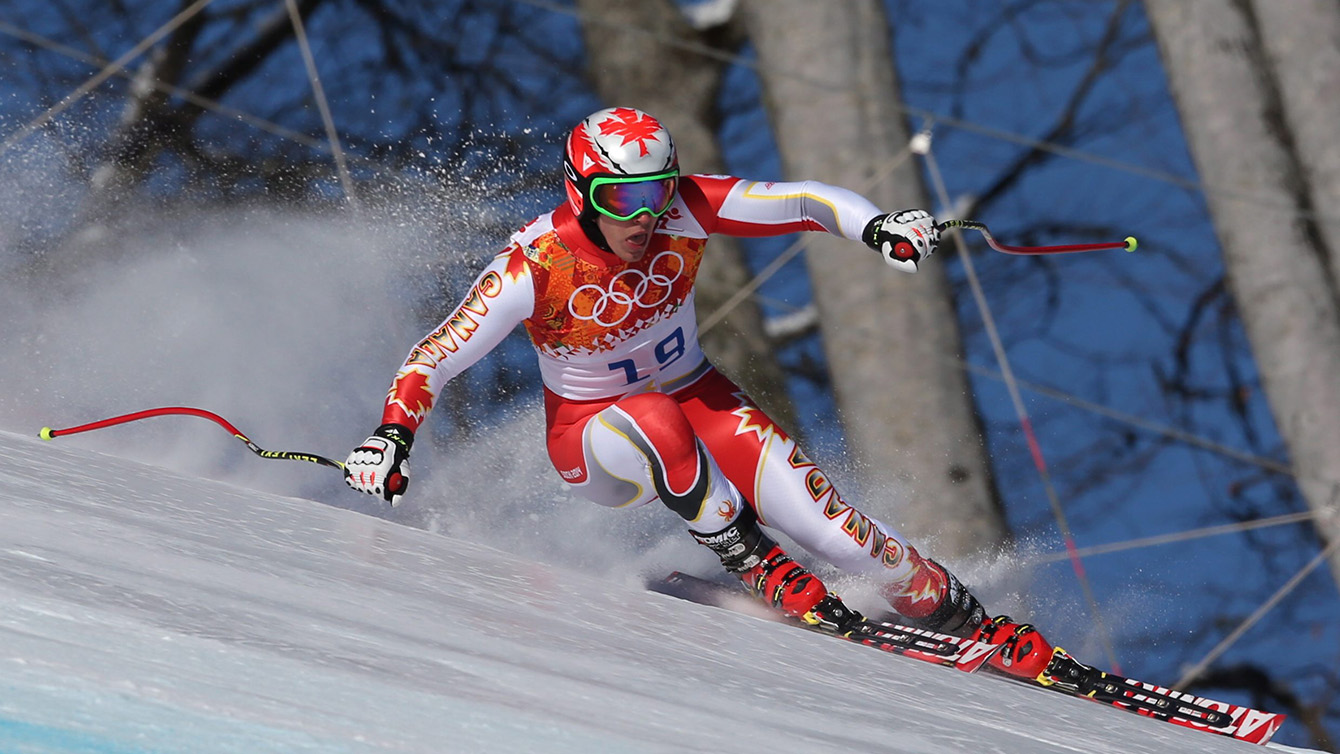 Sport
Event
KST
EST
PST
Curling
Women – CAN vs KOR
9:05am
7:05pm
4:05pm
Skeleton
Men (heats 1 & 2)
10:00am
8:00pm
5:00pm
Figure Skating
Pairs (free skate)
10:30am
8:30pm
5:30pm
Alpine Skiing
Men's Super-G
11:00am
9:00pm
6:00pm
Snowboard
Men's Snowboard Cross
(seeding round)
11:00am
9:00pm
6:00pm
Ice Hockey
Women's – USA vs CAN
12:10pm
10:10pm
7:10pm
Snowboard
Men's Snowboard Cross (finals)
1:30pm
11:30pm
8:30pm
Curling
Men – NOR vs CAN
2:05pm
12:05am
9:05pm
Cross-Country Skiing
Women's 10km
3:30pm
1:30am
10:30pm
Long Track
Speed Skating
Men's 10,000m
8:00pm
6:00am
3:00am
Biathlon
Men's 20km Individual
8:00pm
6:00am
3:00am
Freestyle Skiing
Women's Aerials
8:00pm
6:00am
3:00am
Curling
Women – CAN vs SWE
8:05pm
6:05am
3:05am
Ice Hockey
Men's – SUI vs CAN
9:10pm
7:10am
4:10am
Luge
Team Relay
9:30pm
7:30am
4:30am
Day 7 – Friday, February 16
Sport
Event
KST
EST
PST
Skeleton
Men (heats 3 & 4)
9:30am
7:30pm
4:30pm
Figure Skating
Men (short program)
10:00am
8:00pm
5:00pm
Snowboard
Women's Snowboard Cross (seeding round)
10:00am
8:00pm
5:00pm
Snowboard
Women's Snowboard Cross (finals)
12:15pm
10:15pm
7:15pm
Curling
Women – DEN vs CAN
2:05pm
12:05am
9:05pm
Cross-Country Skiing
Men's 15km
3:00pm
1:00am
10:00pm
Long Track
Speed Skating
Women's 5000m
8:00pm
6:00am
3:00am
Freestyle Skiing
Women's Aerials
8:00pm
6:00am
3:00am
Curling
Men – CAN vs KOR
8:05pm
6:05am
3:05am
Skeleton
Women
(heats 1 & 2)
8:20pm
6:20am
3:20am
Ski Jumping
Men's Individual Large Hill (qualification)
9:30pm
7:30am
4:30am
Day 8 – Saturday, February 17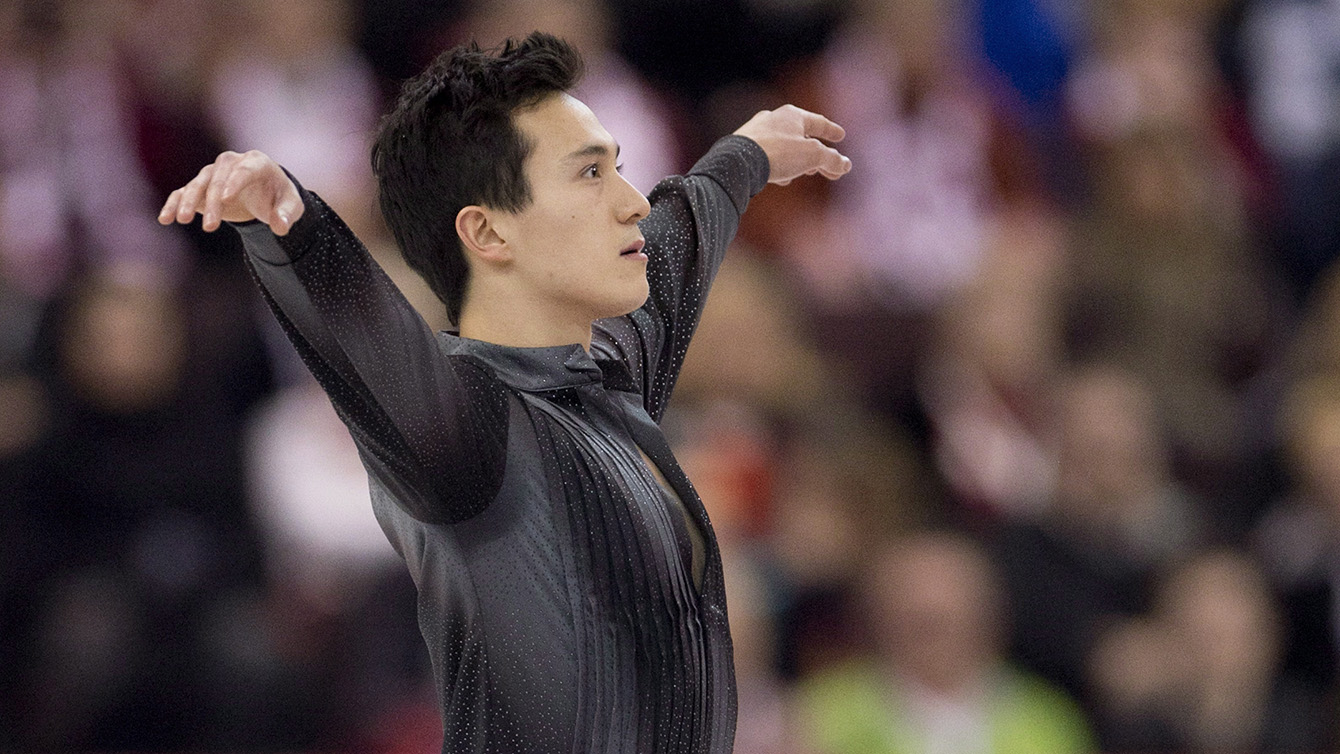 Sport
Event
KST
EST
PST
Figure Skating
Men (free skate)
10:00am
8:00pm
5:00pm
Freestyle Skiing
Women's Slopestyle (qualification)
10:00am
8:00pm
5:00pm
Alpine Skiing
Women's Super-G
11:00am
9:00pm
6:00pm
Ice Hockey
Men's – CAN vs CZE
12:10pm
10:10pm
7:10pm
Freestyle Skiing
Women's Slopestyle (finals)
1:00pm
11:00pm
8:00pm
Curling
Men- CAN vs SWE
2:05pm
12:05am
9:05pm
Cross-Country Skiing
Women's 4x5km Relay
6:30pm
4:30am
1:30am
Short Track
Speed Skating
Women's 1500m (final),
Men's 1000m (final)
7:00pm
5:00am
2:00am
Freestyle Skiing
Men's Aerials (qualification)
8:00pm
6:00am
3:00am
Curling
Women – USA vs CAN
8:05pm
6:05am
3:05am
Biathlon
Women's 12km Mass Start
8:15pm
6:15am
3:15am
Skeleton
Women
(heats 3 & 4)
8:20pm
6:20am
3:20am
Ski Jumping
Men's Individual Large Hill (final)
9:30pm
7:30am
4:30am
Day 9 – Sunday, February 18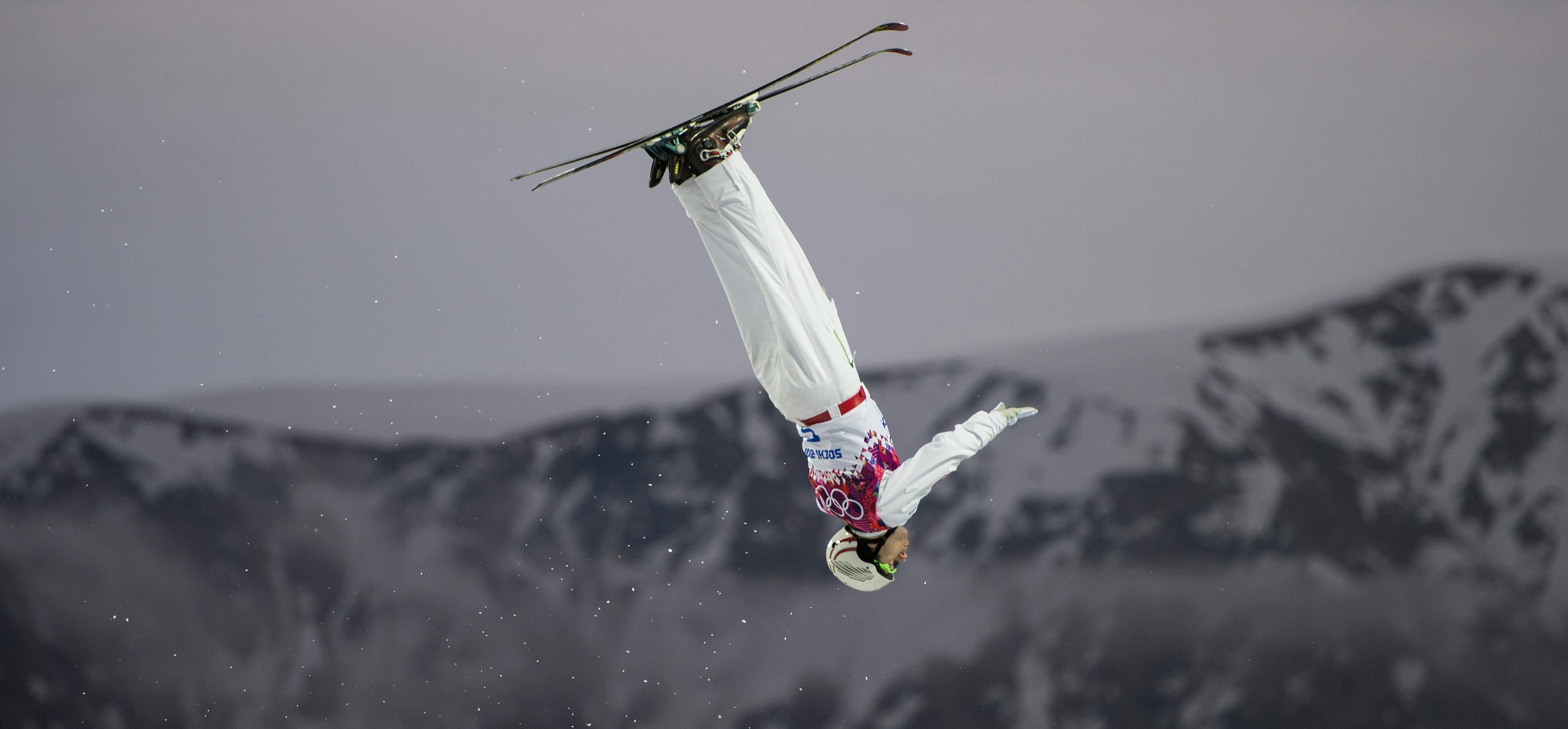 Sport
Event
KST
EST
PST
Curling
Men – SUI vs CAN
9:05am
7:05pm
4:05pm
Freestyle Skiing
Men's Slopestyle (qualification)
10:00am
8:00pm
5:00pm
Alpine Skiing
Men's Giant Slalom
(runs 1 & 2)
10:15am
8:15pm
5:15pm
Freestyle Skiing
Men's Slopestyle (finals)
1:15pm
11:15pm
8:15pm
Curling
Women – CAN vs SUI
2:05pm
12:05am
9:05pm
Cross-Country Skiing
Men's 4x10km Relay
3:15pm
1:15am
10:15pm
Long Track
Speed Skating
Men's Team Pursuit (qualification), Women's 500m
8:00pm
6:00am
3:00am
Freestyle Skiing
Men's Aerials (finals)
8:00pm
6:00am
3:00am
Bobsleigh
Men's Two-Man (heats 1 & 2)
8:05pm
6:05am
3:05am
Biathlon
Men's 15km Mass Start
8:15pm
6:15am
3:15am
Ice Hockey
Men's – CAN vs KOR
9:10pm
7:10am
4:10am
Day 10 – Monday, February 19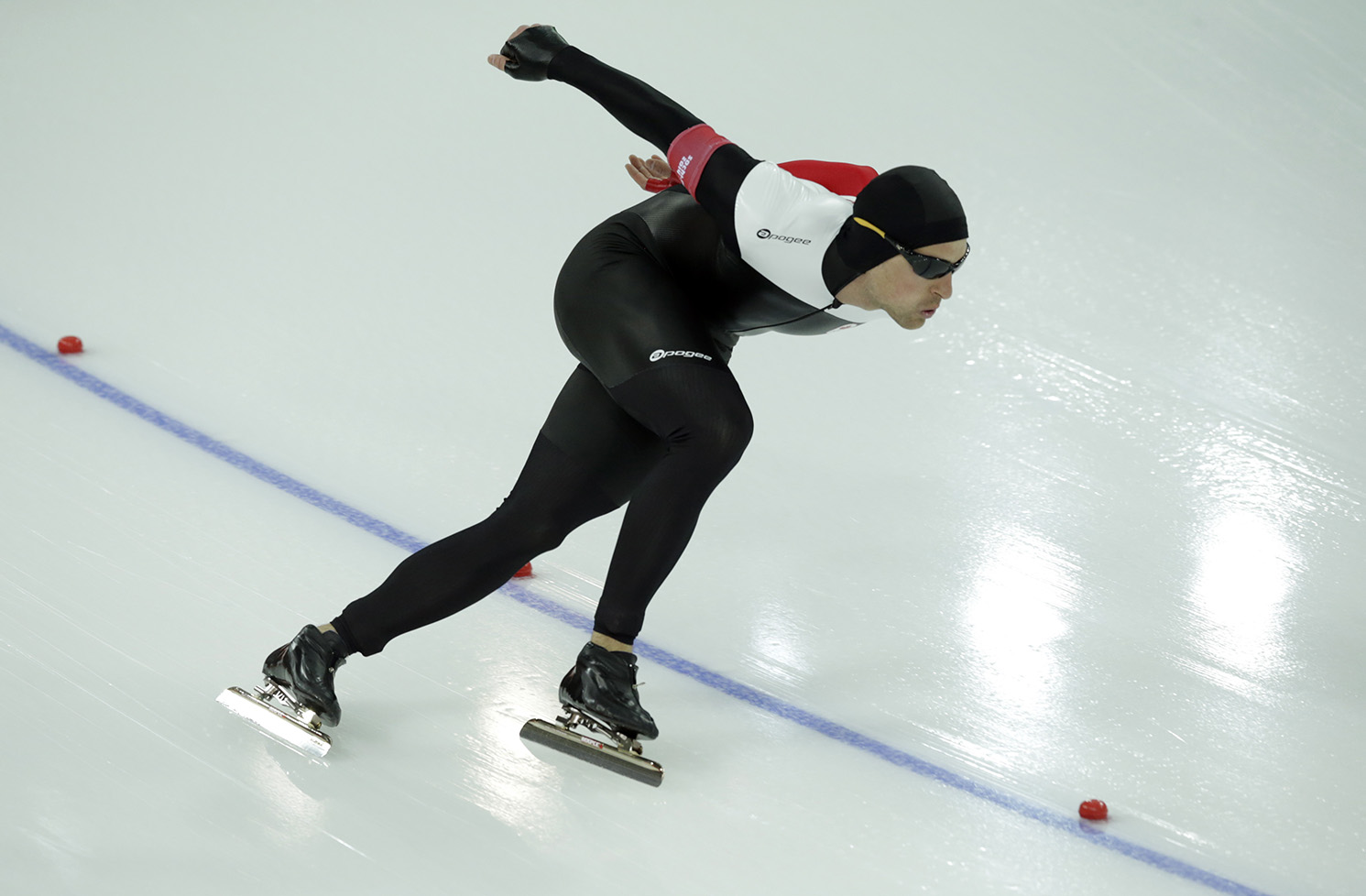 Sport
Event
KST
EST
PST
Curling
Women – JPN vs CAN
9:05am
7:05pm
4:05pm
Snowboard
Women's Big Air (qualification)
9:30am
7:30pm
4:30pm
Figure Skating
Ice Dance
(short dance)
10:00am
8:00pm
5:00pm
Freestyle Skiing
Women's Halfpipe (qualification)
10:00am
8:00pm
5:00pm
Curling
Men – USA vs CAN
2:05pm
12:05am
9:05pm
Long Track
Speed Skating
Women's Team Pursuit (qualification), Men's 500m
8:00pm
6:00am
3:00am
Bobsleigh
Men's Two-Man (heats 3 & 4)
8:15pm
6:15am
3:15am
Ski Jumping
Men's Team (final)
9:30pm
7:30am
4:30am
Day 11 – Tuesday, February 20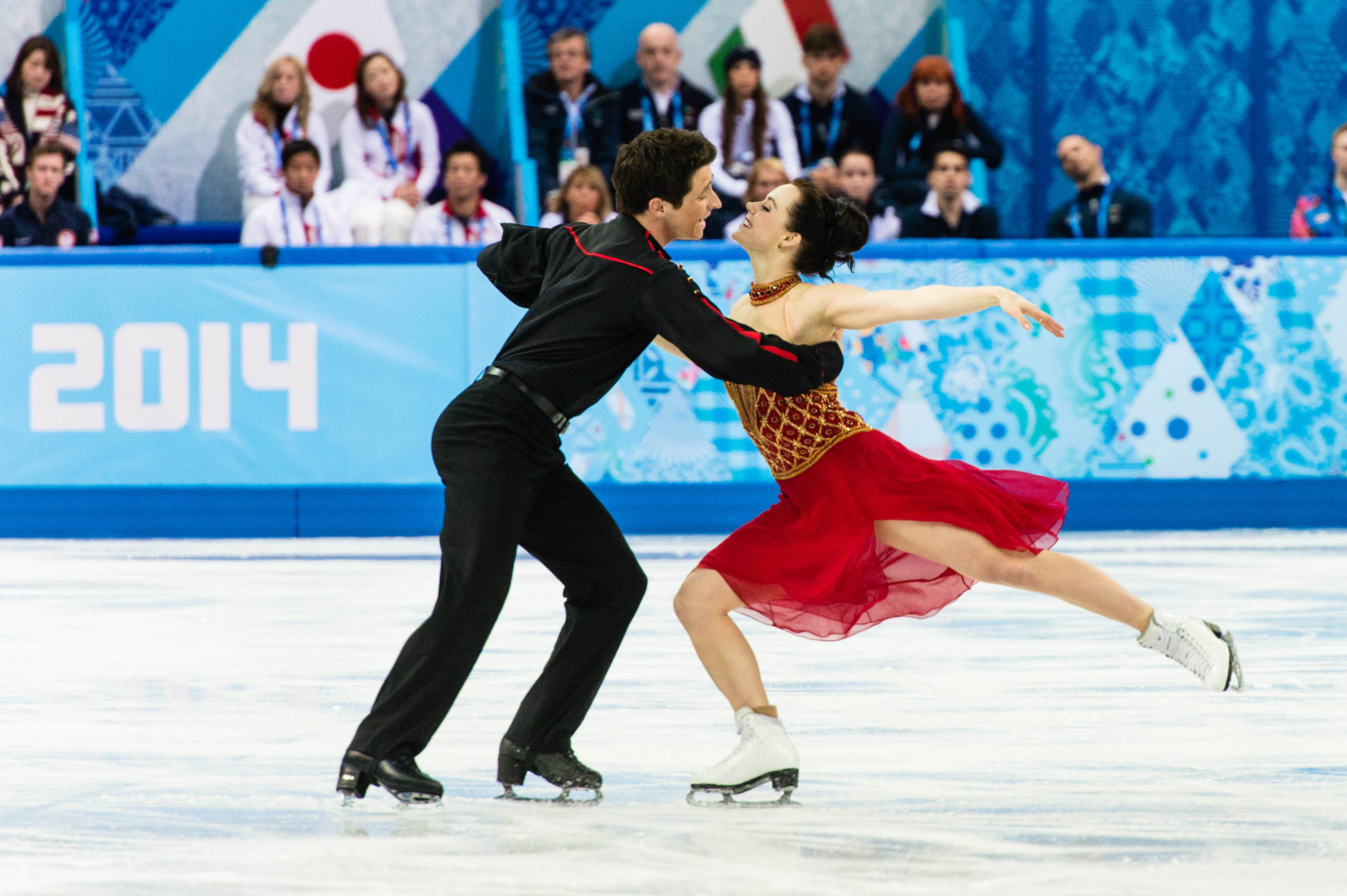 Sport
Event
KST
EST
PST
Curling
Men – JPN vs CAN
9:05am
7:05pm
4:05pm
Figure Skating
Ice Dance
(free dance)
10:00am
8:00pm
5:00pm
Freestyle Skiing
Women's Halfpipe (finals)
10:30am
8:30pm
5:30pm
Freestyle Skiing
Men's Halfpipe (qualification)
1:00pm
11:00pm
8:00pm
Curling
Women – CAN vs CHN
2:05pm
12:05am
9:05pm
Short Track
Speed Skating
Women's 1000m (qualification), Men's 500m (qualification), Women's 3000m Relay (final)
7:00pm
5:00am
2:00am
Nordic Combined
Men's Individual Gundersen LH/10km
7:00pm
5:00am
2:00am
Biathlon
Mixed Relay
8:15pm
6:15am
3:15am
Bobsleigh
Women's Two-Man (heats 1 & 2)
8:50pm
6:50am
3:50am
Day 12 – Wednesday, February 21
Sport
Event
KST
EST
PST
Curling
Women – CAN vs GBR
9:05am
7:05pm
4:05pm
Snowboard
Men's Big Air (qualification)
9:30am
7:30pm
4:30pm
Figure Skating
Women (short program)
10:00am
8:00pm
5:00pm
Alpine Skiing
Women's Downhill
11:00am
9:00pm
6:00pm
Freestyle Skiing
Men's Ski Cross (seeding round)
11:30am
9:30pm
6:30pm
Freestyle Skiing
Men's Ski Cross (finals)
1:15pm
11:15pm
8:15pm
Curling
Men – DEN vs CAN
2:05pm
12:05am
9:05pm
Ice Hockey
Women's Bronze Medal Game
4:40pm
2:40am
11:40pm
Cross-Country Skiing
Men's/Women's Team Sprint (heats & finals)
5:00pm
3:00am
Midnight
Long Track
Speed Skating
Men's/Women's Team Pursuit (finals)
8:00pm
6:00am
3:00am
Curling
Women – OAR vs CAN
8:05pm
6:05am
3:05am
Bobsleigh
Women's Two-Man (heats 3 & 4)
8:40pm
6:40am
3:40am
Day 13 – Thursday, February 22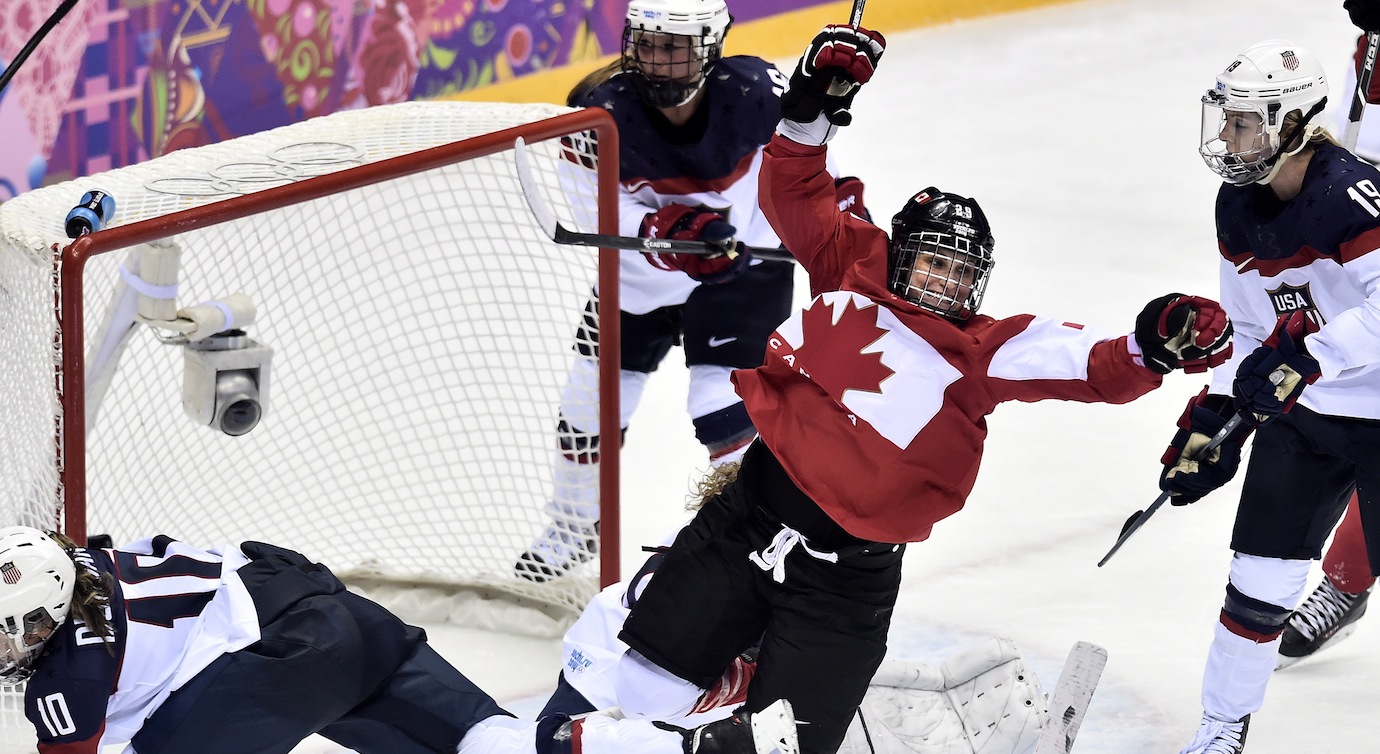 Sport
Event
KST
EST
PST
Alpine Skiing
Men's Slalom (runs 1 & 2)
10:15am
8:15pm
5:15pm
Freestyle Skiing
Men's Halfpipe (finals)
11:30am
9:30pm
6:30pm
Snowboard
Men's/Women's Parallel Giant Slalom (qualification)
Noon
10:00pm
7:00pm
Ice Hockey
Women's Gold Medal Game
1:10pm
11:10pm
8:10pm
Nordic Combined
Men's Team Gundersen LH/4x5km
4:30pm
2:30am
11:30pm
Short Track
Speed Skating
Men's 500m (final), Women's 1000m (final), Men's 5000m Relay (final)
7:00pm
5:00am
2:00am
Biathlon
Women's 4x6km Relay
8:15pm
6:15am
3:15am
Day 14 – Friday, February 23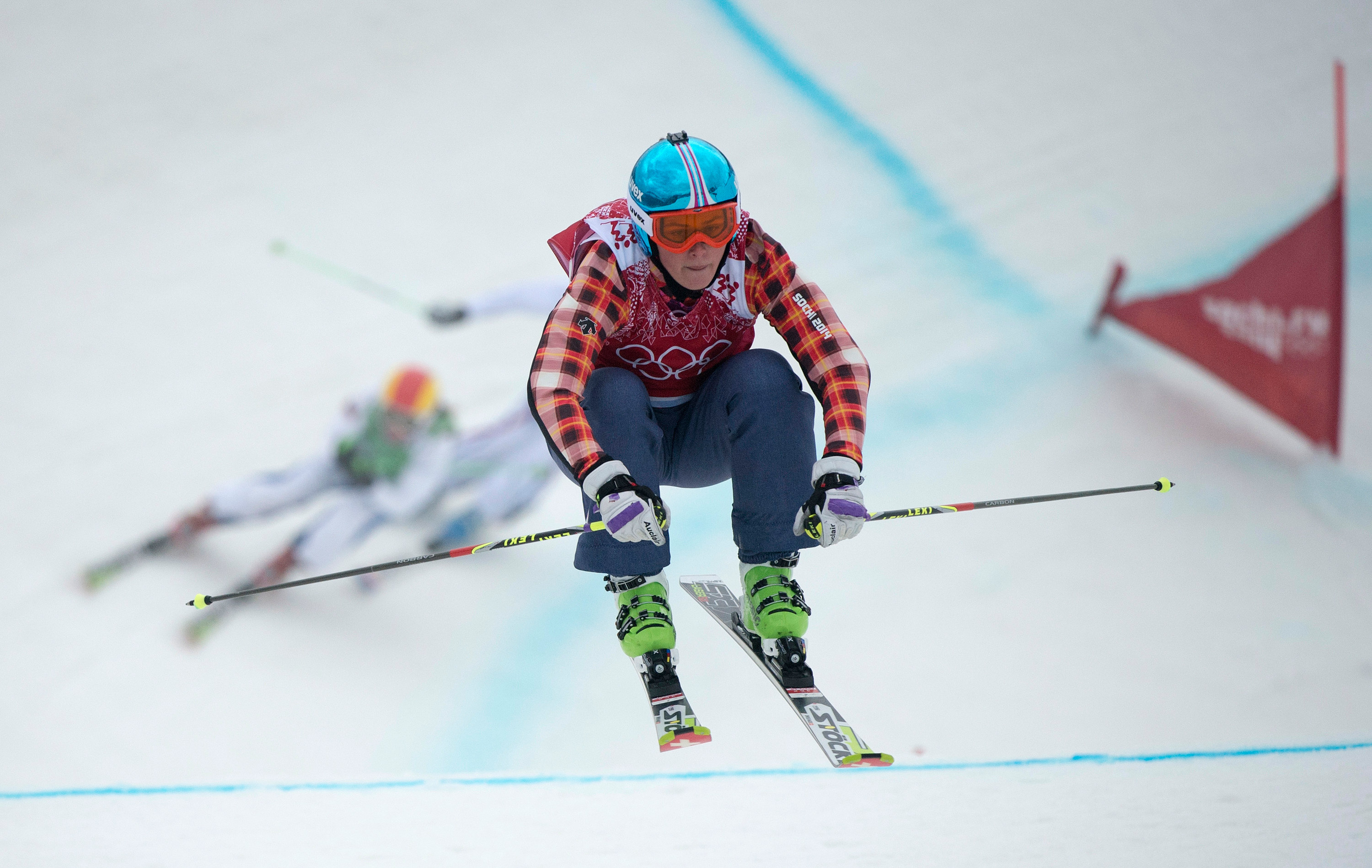 Sport
Event
KST
EST
PST
Snowboard
Women's Big Air (finals)
9:30am
7:30pm
4:30pm
Figure Skating
Women (free skate)
10:00am
8:00pm
5:00pm
Alpine Skiing
Women's Alpine Combined
11:00am
9:00pm
6:00pm
Freestyle Skiing
Women's Ski Cross (seeding round)
11:30am
9:30pm
6:30pm
Freestyle Skiing
Women's Ski Cross (finals)
1:15pm
11:15pm
8:15pm
Curling
Men (bronze medal game)
3:35pm
1:35am
10:35pm
Long Track
Speed Skating
Men's 1000m
7:00pm
5:00am
2:00am
Biathlon
Men's 4×7.5km Relay
8:15pm
6:15am
3:15am
Day 15 – Saturday, February 24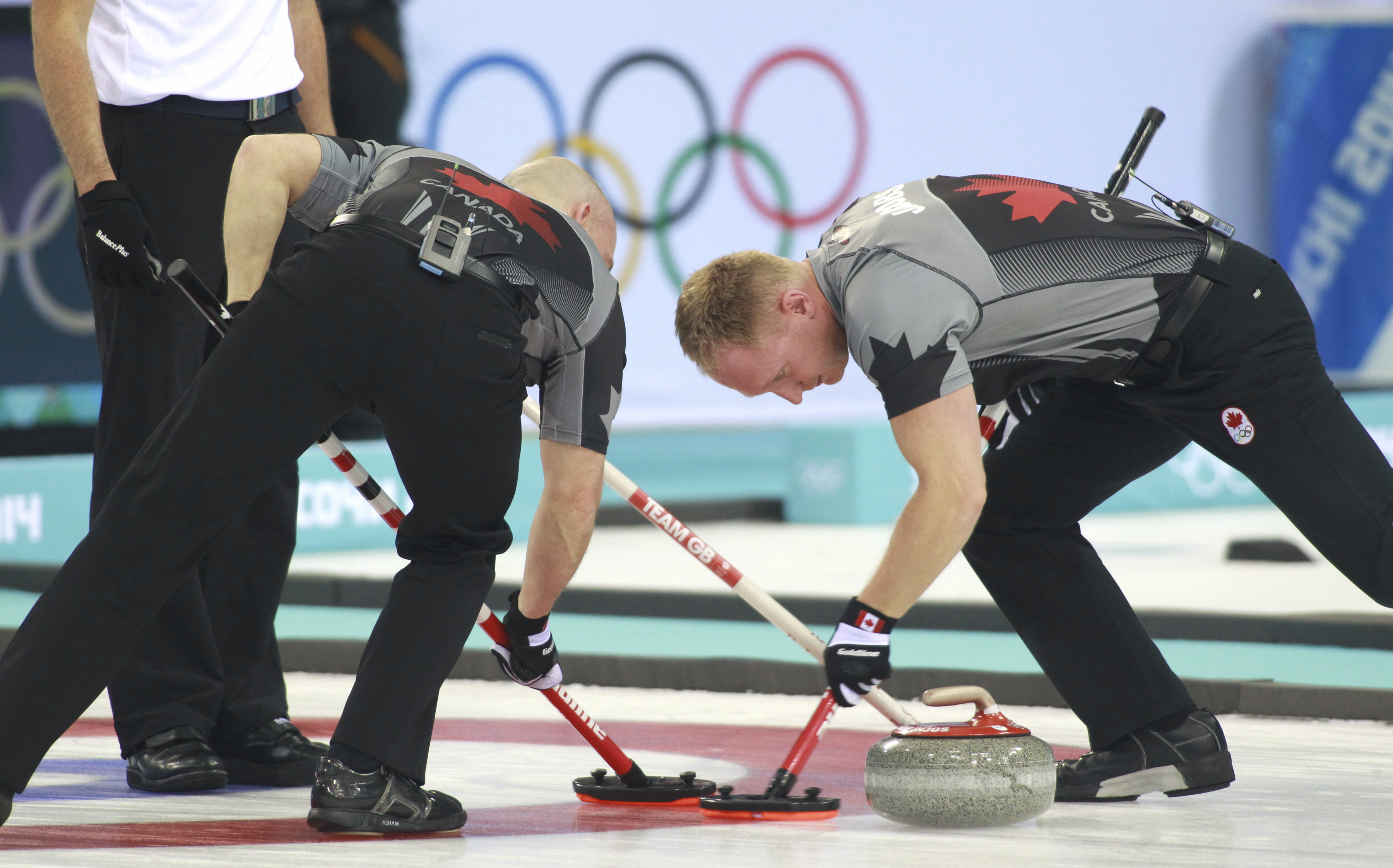 Sport
Event
KST
EST
PST
Bobsleigh
Four-Man
(heats 1 & 2)
9:30am
7:30pm
4:30pm
Snowboard
Men's Big Air (finals)
10:00am
8:00pm
5:00pm
Alpine Skiing
Team Event
11:00am
9:00pm
6:00pm
Snowboard
Men's/Women's Parallel Giant Slalom (finals)
Noon
10:00pm
7:00pm
Cross-Country Skiing
Men's 50km Mass Start
2:00pm
Midnight
9:00pm
Curling
Men (gold medal game)
3:35pm
1:35am
10:35pm
Long Track
Speed Skating
Men's/Women's Mass Start
8:00pm
6:00am
3:00am
Curling
Women (bronze medal game)
8:05pm
6:05am
3:05am
Ice Hockey
Men's Bronze Medal Game
9:10pm
7:10am
4:10am
Day 16 – Sunday, February 25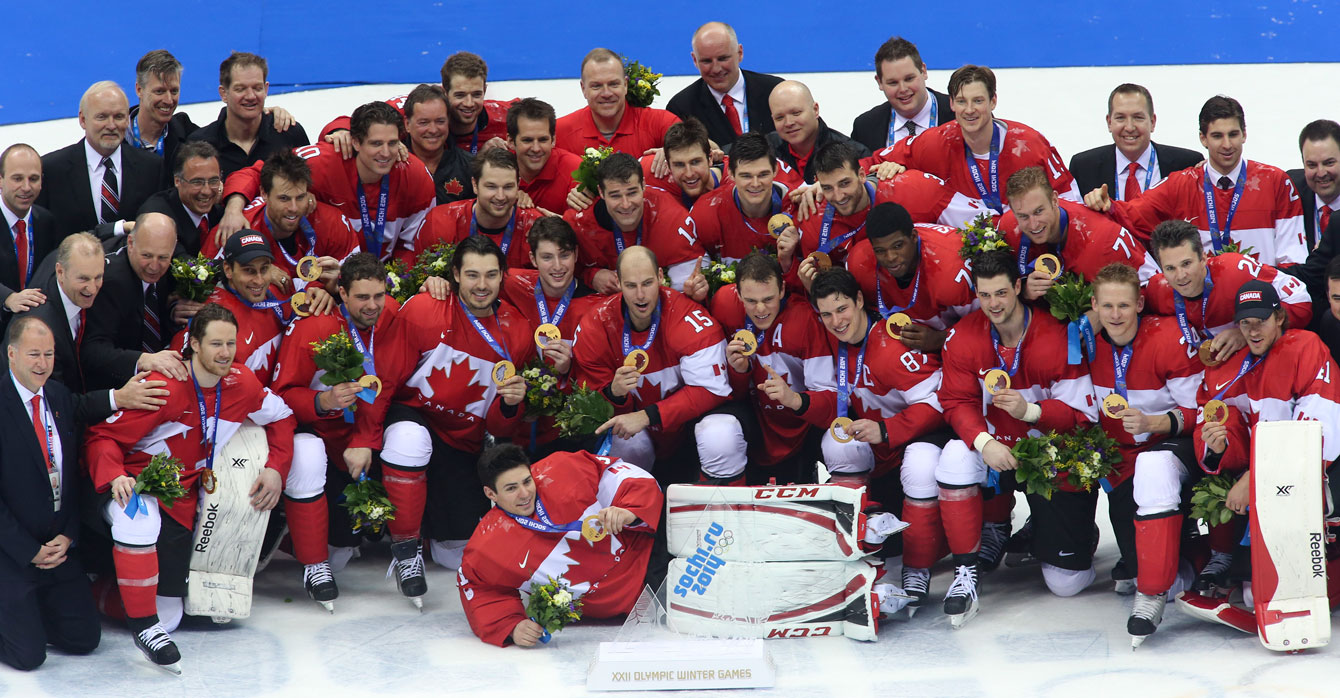 Sport
Event
KST
EST
PST
Curling
Women (gold medal game)
9:05am
7:05pm
4:05pm
Bobsleigh
Four-Man
(heats 3 & 4)
9:30am
7:30pm
4:30pm
Figure Skating
Gala Exhibition
9:30am
7:30pm
4:30pm
Ice Hockey
Men's Gold Medal Game
1:10pm
11:10pm
8:10pm
Cross-Country Skiing
Women's 30km Mass Start
3:15pm
1:15am
10:15pm
Closing Ceremony
8:00pm
6:00am
3:00am