Canadian roundup: Humphries wins 4-man silver, edges closer to World Cup
Bobsleigh – Nor Am Cup
Cover: file photo, Jan 2013
Bottom line: Justin Kripps won and Kaillie Humphries continued her quest to compete in World Cup 4-man bobsleigh by coming second at a North American Cup event.
Kripps took the morning race easily on a familiar Calgary track, winning in a two-run time of 1:49.65. "It was good today. I have some new crew members this year, and some are pushing from different spots so we are just continuing to work on our starts together," said Kripps who was in a sled with Olympians Bryan Barnett, Ben Coakwell, and Tim Randall.
Humphries' group of Dan Dale, Joey Nemet, and DJ McClelland clocked in at 1:50.50, 16 one-hundredths ahead of American Elana Meyers Taylor, who is also pursuing 4-man World Cup competition.
Meyers Taylor was second in the afternoon race, Humphries' crew was fourth.
Both Humphries and Meyers Taylor, the best two female pilots in the world, have now done four of the five required 4-man races and will complete the World Cup requirement to race on three tracks later this week in La Plagne, France.
This is a big dream for Kaillie Humphries and, according to Bobsleigh Canada Skeleton, her most likely World Cup 4-man debut would be in Calgary, December 16-20.
Figure Skating – Trophée Éric Bompard
Bottom line: Ice dancers Piper Gilles and Paul Poirier won a silver in France, qualifying them for the Grand Prix Final.
READ MORE: Gilles and Poirier win silver, book ticket to Grand Prix Final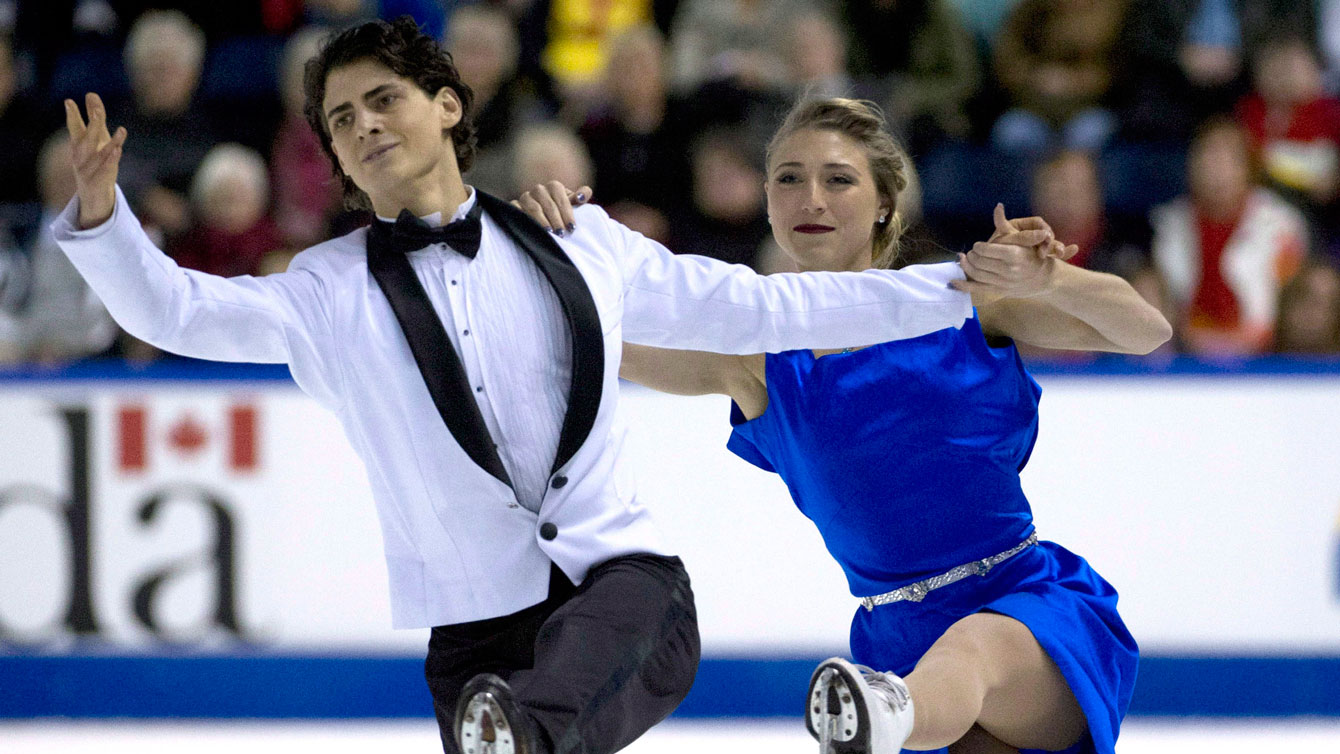 Boxing – Women's World Championships
Bottom line: Commonwealth Games silver medallist Ariane Fortin-Brochu added a bronze to her 2014 season at Worlds in Jeju, Korea.
Fortin-Brochu, a two-time World Champion, lost her 75kg semifinal bout to US teenage star Claressa Shields. In boxing, the losers of semifinals automatically receive a bronze medal. Shields, the 2012 Olympic Champion moved on to Monday's final against China's Li Qian.
Long Track Speed Skating – World Cup
Bottom line: Ivanie Blondin won two bronze and Laurent Dubreuil captured another to make it three medals for Canada in Seoul.
Blondin has made stepping on the podium a habit early in the World Cup season. The Sochi Olympian was third in Friday's 5000m at a World Cup in South Korea, "I have felt strong throughout the fall season, although I honestly didn't think I would be on the podium so soon. I would have been extremely happy with top-5 finishes," said Blondin after the race.
On Sunday, Blondin added a bronze in the women's mass start, her second medal of the season in that event after winning it a week ago in Japan. Laurent Dubreuil repped the men's team by racing to a bronze in the 500m. Dubreuil's 35.35 seconds was three one-hundredths behind Korea's Mo Tae-Bum. Russia's Pavel Kulizhnikov won Sunday's 500m with a time of 35.18 seconds.
The next World Cup stop is December 5-7 in Berlin, Germany.
After the competition some Canadian team members made a trip east to PyeongChang (site of the 2018 Olympic Winter Games):
Honourable mention: Taekwondo medals from Paris