Pospisil win pushes Canada through to Davis Cup quarters
Vasek Pospisil's win over Go Soeda in straight sets 7-5, 6-3, 6-4 on Sunday night in Vancouver booked Canada's ticket to the quarterfinals of the 2015 Davis Cup.
Canada beat Japan 3-2 in the best-of-five series, with additional wins from Milos Raonic and the doubles team of Pospisil and Daniel Nestor throughout the weekend (stories below).
Earlier on Sunday, Raonic had a chance to close out the series against Japan's Kei Nishikori, but the Japanese player prevailed in a five-set thriller. That set up the Pospisil-Soeda finale. The Canadian entrant was playing his third match in three days but fatigue didn't seem to be an issue.
Vasek Pospisil v. Go Soeda
Key to Pospisil's victory was holding serve convincingly. The 62nd ranked 24-year old didn't allow a single break point opportunity to Soeda, who is six years his senior and sits 86th in the ATP rankings.
"I was really focused on my service games and I pounced (at breaks)," Pospisil said post-match. The two men traded games until the Canadian was up 6-5 in the first set and broke Soeda to take a one-set lead.
Soeda conceded through a translator that Pospisil "served very well, it was very difficult to return his serves." The Japanese team praised Canada's depth, the players' collective attitude and the raucous Canadian fans that outnumbered the Japan support in Vancouver heavily.
The second set went much the same way as the first with Pospisil waiting for his chance to break Soeda. It arrived at 4-3, when the Canadian promptly converted a break point and served out to double his sets advantage.
Pospisil could now see the finish line and it was much different than the doubles match a day earlier, where Team Canada just couldn't pull away from the Japanese side for good until the final set.
"There were a few moments of fatigue," Pospisil said of his three-day adventure, "but I had quite a bit in the tank still." He also said he found Saturday's doubles match "emotionally draining" due to its up-and-down nature. On paper, it should've been an easy victory for the highly-ranked doubles playing Canadians Nestor (no. 5) and Pospisil (no. 15), but as Team Canada captain Martin Laurendeau says, rankings often go out the window at Davis Cup.
In the third set Pospisil didn't have to wait long to go ahead of Soeda. A lost serve in the third game from the Japan player gave Pospisil enough breathing room. The way he was serving, one break was enough to decide the set and match.
"Feels great, not gonna lie. Best feeling in the world right now, especially doing it at home, here in Vancouver," Pospisil said of winning in front of Canada supporters including many family members. He was born in Vernon, BC but to advance his tennis career the family moved to Vancouver to join Tennis Canada, where in the Kitsilano community he honed his skills. During Davis Cup week, the city honoured him with a plaque on his former playing courts.
Canada's next matches will be away to Belgium from July 17-19 in the World Group quarterfinals. Other matchups to come in the elite eight are a classic France-Great Britain tie, and Australia-Kazakhstan in the top half of the bracket. In the Canada-Belgium side Serbia will face either Brazil or Argentina.
Milos Raonic v. Kei Nishikori
Kei Nishikori kept Japan alive in the Davis Cup on Sunday, beating Milos Raonic in five sets 3-6, 6-3, 6-4, 2-6, 6-4 in another five-set thriller between the two stars.
The win by world number four Nishikori tied the Canada-Japan series at 2-2, forcing a deciding match on Sunday. Raonic, ranked sixth in the world, hoped to close out the tie in Canada's favour but Nishikori prevailed despite looking vulnerable at the beginning.
Raonic got the start he wanted on Sunday, when he fired an ace to begin the match and took the opening game without conceding a point. That momentum carried him through the rest of the set, where he broke Nishikori and consolidated to take a 4-1 lead. Though he couldn't convert two more break points up 5-2, Raonic held serve to take the set in the next game.
Nishikori grew stronger in the second and signaled what was to come for the next little while in Vancouver. A small, but loud Japanese contingent got what it wanted when Nishikori won a break point on his third try to take a 5-3 lead and served his way to a second set victory. The visiting player improved his first serve points from 71% in the first set to 92% in the second.
In the third Nishikori recovered facing two break points in the fourth game. A forehand drive from Raonic went long ending the threat. Nishikori managed four consecutive points to even the set 2-2. It was then his turn to steal one from Raonic, which he did to the delight of small but enthusiastic Japanese crowd in Vancouver before going up 4-2. Nishikori soon took a two-sets-to-one lead to bring Japan a step closer to evening the tie.
After a short break between sets, Raonic came out of his corner more resolute. He won his first two service games without allowing a point. Then a series of strong returns forced Nishikori to put one into the net in the fourth game. That was followed by a double fault from the Japanese superstar, giving Raonic a much-needed service break. Raonic would get another one up 5-2 when Nishikori hit long, forcing the fifth and deciding set.
Raonic started the final frame much as his previous one, with powerful serves to win the opening game. On his next serve however, Raonic's return game let him down and he ultimately hit a forehand to the net to go down a break to Nishikori 2-1. But hat didn't deter the Canadian. Down 3-2 he broke Nishikori with a series of difficult returns from the baseline and won the next game to get back on serve.
Saturday
Davis Cup day two saw Canada and Japan contest in doubles, where Canadian duo of Daniel Nestor and Vasek Pospisil beat Go Soeda and Yasutaka Uchiyama in five sets 7-5, 2-6, 6-3, 3-6, 6-3.
The win on Saturday in Vancouver means Canada takes a 2-1 lead, sets up Sunday's marquee showdown between the host nation's Milos Raonic and Japan's Kei Nishikori, two of the best men's singles players in the world.
Neither Soeda nor Uchiyama are ranked in the top 200 in men's doubles. Nestor is a doubles legend with a world number five ranking and Pospisil (no. 15) is a Wimbledon men's doubles champion. This was expected to be a mismatch.
"I think they played great, we just hung in there," Nestor said of the resilience showed by the Japanese opponents before tipping his hat to the Canadian fans. "I want to thank the crowd, these guys are amazing," the 42-year old Canadian legend said in his on-court interview.
In Davis Cup, players tend to find an extra level whilst representing their nation, which is what the Japanese visitors did throughout the afternoon. 
In the first set, Soeda/Uchiyama managed to earn an early break in the third game, but Nestor/Pospisil stormed back to take a 3-2 lead. Canadians broke again at 6-5 to take the set and all was well with the local contingent.
However, a poor showing on net points (3/11) in the first set caught up to Team Canada in the second, when they won just two points from 10 opportunities at the mesh. Broken twice, Nestor/Pospisil conceded the first set 6-2 to the visitors, who punched well above their weight, winning six of eight net points against much higher ranked opponents.
If that put a scare in to the Canadians, they responded accordingly, jumping ahead to a 3-0 lead in the third set with a break in the second game. Nestor in particular seemed elated at the improvement, pumping his fists and roaring to the crowd's approval. Net-play improved, as did first serve points. A Pospisil ace ended the third 6-3 in Canada's favour.
In the fourth set though, the tough times returned for the Canadian pair. In a role reversal of the previous set, it was Japan that went up 3-0 with a second-game break. Nestor/Pospisil couldn't take the break point down 3-1. Another one arrived down 5-3, shortly after Nestor blasted a winner, but the Japanese duo recovered to take the set and force a fifth.
The teams traded service games to halfway through the decisive set, where Japan fought back from a break point to level at 3-3. In the next game Nestor recovered from a double fault to force a pair of service returns into the net and Canada stayed ahead on serve. It was then that Canada – up 4-3 – finally edged ahead for good, breaking Japan on love and winning the match with Pospisil on serve.
Following the match Pospisil praised Nestor for being "solid" throughout the match. Should Raonic-Nishikori end in Japan's favour in Sunday's first singles match, Pospisil – who played singles on Friday – will likely play the fifth and deciding rubber.
Asked if he could go three days in a row after playing a five set doubles match, Pospisil joked that Saturday was a "recovery day."
Raonic, ranked sixth in the world, versus  Nishikori (no. 4) will start at 4 p.m. ET on Sportsnet One. The fifth match, if needed, will get underway at the conclusion of the mega-showdown between two of the world's top ranked players.
Friday
Milos Raonic and Kei Nishikori won matches for their respective countries on Friday, leaving the Davis Cup first round tie between Canada and Japan at 1-1 heading into Saturday.
This also means after Saturday's doubles match, a Raonic-Nishikori match on Sunday that every tennis fan was anticipating in Vancouver this week is a certainty. But first, both men gave their country some momentum on Friday.
Milos Raonic v. Tatsuma Ito
Raonic got a rocking pro-Canada crowd and his country the start they wanted in the 2015 Davis Cup on Friday, beating Tatsuma Ito 6-2, 6-1, 6-2 in Vancouver.
The win gave Canada a 1-0 lead over Japan in the best-of-five series for a spot in the quarterfinals of the world's premier international team tennis tournament.
Ito started the afternoon matching Raonic's aggression with a few unexpected returns in the first couple of games that drew admiration from the crowd. But Raonic was bound to break the visitor down and with his serve, the Canadian did just that toward the end of the first set, especially once allowed an opening.
"I think I started off well from the beginning, I had (Ito) at love-30. He played well to get out of there, second game he played well." Raonic said. It was shortly after that the affair changed drastically.
Raonic won the first break point of the match to go up 4-2 in a game where Ito double faulted to let his opponent stick around. Raonic then consolidated the break despite making errors of his own. A long return from Ito made it 5-2 for Raonic before the Canadian broke again to take the set.
The second frame is one Ito will want to forget in a hurry. Winning just 10 points and 38% of his first serves, it didn't help the visitor that he Raonic fired eight aces and won both of his break points in a decidedly one-sided set 6-1 in Canada's favour in just 23 minutes, according to Davis Cup statistics.
RELATED: Raonic's desire to win for Canada
Ito's performance improved in the final set but not enough to pose any real threat to Raonic. Another untimely double fault from the Japanese player handed Raonic a 5-2 lead. Raonic then simply held his serve to win the match and give Canada a 1-0 lead.
"It helps," Raonic said of his the opening match win. "At the end of the day you have to win three, it doesn't matter which ones."
"It doesn't matter which three (matches) are won"
Vasek Pospisil v. Kei Nishikori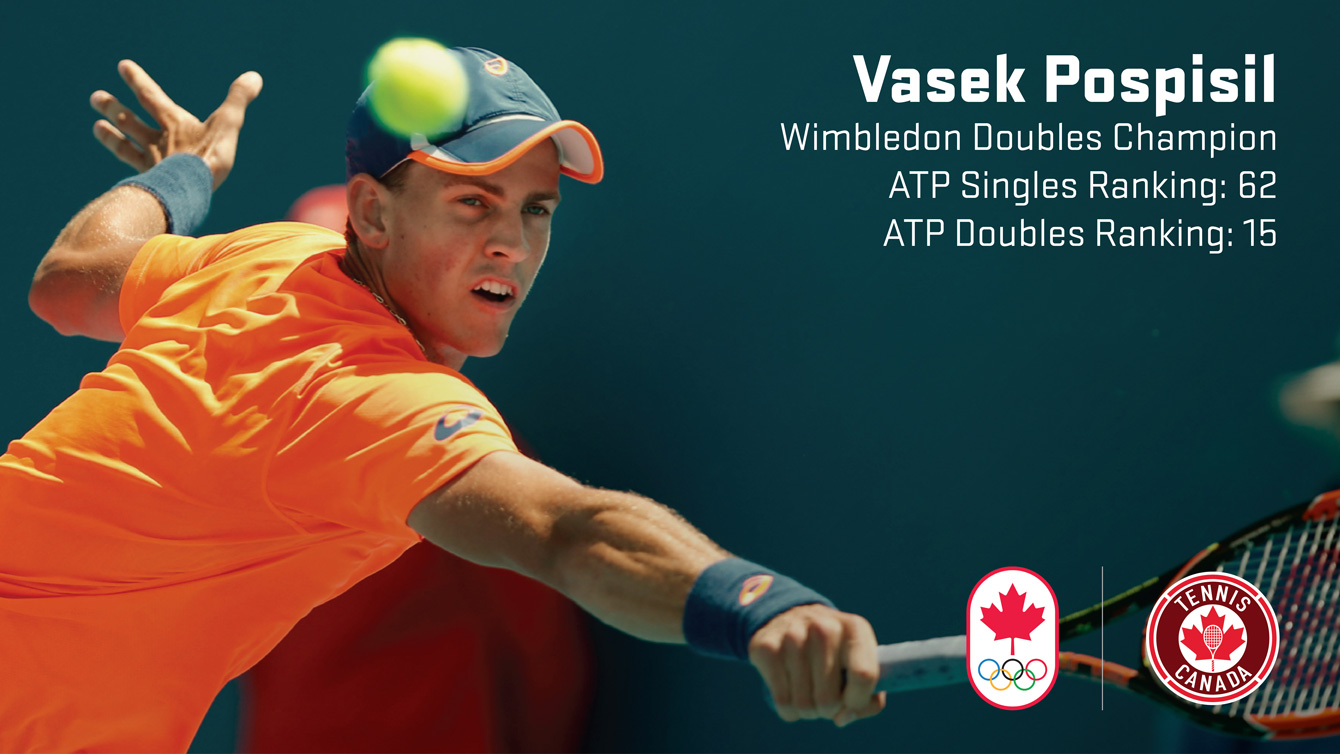 Canda's number two men's singles player, Vasek Pospisil, has said all week that he feels he is ready to step up and challenge the top ranked names on the men's tour.
On Friday, Pospisil certainly stayed close to world number four Kei Nishikori, but lost in three sets 6-4, 7-6 (7-5) 6-3, which evened up the competition at 1-1 between Canada and Japan.
Pospisil fended off two break points in the fifth game to go up 3-2 against Japan's top player and most popular athlete (give or take Ichiro Suzuki). But on his next service game the Canadian couldn't keep Nishikori from pouncing on his third break point of the match. That would be the only real difference between the two players in the first set as Nishikori triumphed 6-4.
In the second, Pospisil was even better. He forced Nishikori to save two break points; and the Canadian won his first 19 first serve points taking his opponent to a tiebreak. However, it was there that he suffered three mini-breaks and the third of which handed Nishikori the set 7-5 on tiebreak when Pospisil hit an approach shot into the net.
Although the third set started well for Pospisil and the two players traded service games early on, Nishikori fired a devastating backhand winner to set up a break point in the sixth game, which he converted to take a 4-2 lead. Refusing to go quietly, Pospisil fought back for a break of his own, but failed to consolidate. That gave Nishikori the window he needed to serve out the match with a 6-3 third set win.
"It was up and downs in tiebreak, but I took some risks," Nishikori said of the second set. "Even in the third set it was still a tight game, so I'm very happy to win today."
On Saturday, Pospisil will return to play in doubles for Canada with "Mr. Davis Cup" Daniel Nestor (4 p.m. ET on Sportsnet One). Nishikori will also play for his country, second of three matches he expects to play this weekend.
Nishikori doesn't believe he will be tired for doubles, and Pospisil agrees. "(Tonight's match) will have an affect on him, it'll have an affect on me equally," Pospisil said.
"There won't be any advantage or disadvantage, we both had two and a half hours of tennis under our belts today."
Regardless of the outcome in doubles on Saturday, the mouth-watering Raonic-Nishikori showdown on Sunday will give one of these countries a chance to win the tie and advance to the quarterfinals of the elite World Group in this year's Davis Cup.
UPDATE (Saturday 3 p.m. ET): Kei Nishikori will not be playing the doubles match for Japan.