Cover photo: Hockey Canada Twitter
Sidney Crosby became a member of hockey's triple gold club by winning a world championship in 2015. As of May of the same year he joins eight other Canadians among 26 total players to complete the trifecta.
Mike Babcock is the only coach to pull off the feat with world champs gold in 2004, a Stanley Cup with Detroit in 2008, plus 2010 & 2014 Olympic gold medals. There's also a chance Brenden Morrow and Rick Nash could end up on the list before the end of the 2015 Stanley Cup Playoffs, depending on how their NHL teams do.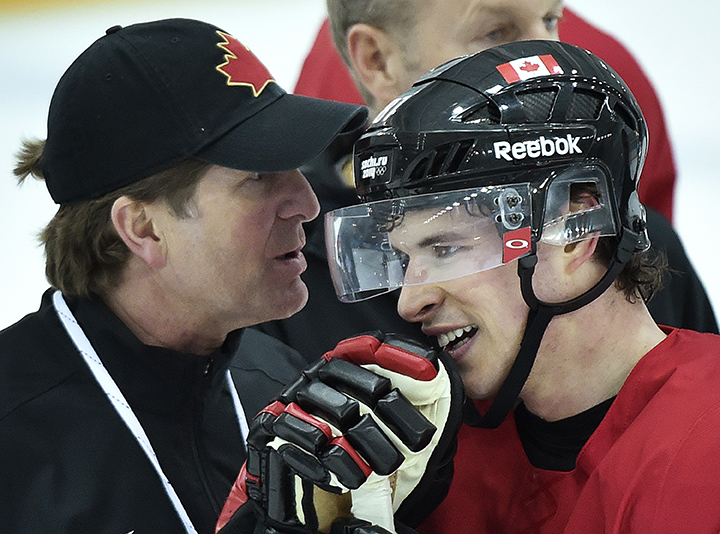 Here are all nine Canadians (as of May 2015) in the triple gold club:
Sidney Crosby (2015) – Olympic 2010, 2014 | Stanley Cup 2009 (Penguins) | World Champ 2015
Patrice Bergeron (2011) – Olympic 2010, 2014 | Stanley Cup 2011 (Bruins) | World Champ 2004
Jonathan Toews (2010) – Olympic 2010, 2014 | Stanley Cup 2010, 2013 (Blackhawks) | World Champ 2007
Eric Staal (2010) – Olympic 2010 | Stanley Cup 2006 (Hurricanes) | World Champ 2007
Chris Pronger (2007) – Olympic 2002 | Stanley Cup 2007 (Ducks) | World Champ 1997
Scott Niedermayer (2004) – Olympic 2002, 2010 | Stanley Cup 1995, 2000, 2003 (Devils) 2007 (Ducks) | World Champ 2004
Brendan Shanahan (2002) – Olympic 2002 | Stanley Cup 1997, 1998, 2002 (Red Wings) | World Champ 1994
Joe Sakic (2002) – Olympic 2002 | Stanley Cup 1996, 2001 (Avalanche) | World Champ 1994
Rob Blake (2002) – Olympic 2002 | Stanley Cup 2001 (Avalanche) |World Champ 1994, 1997
Here are some active Canadian hockey players who have two out of three:

The international members of the triple gold club are:
Sweden (9): Tomas Jonsson, Mats Naslund, Hakan Loob, Peter Forsberg, Nicklas Lidstrom, Fredrik Modin, Niklas Kronwall, Henrik Zetterberg, Mikael Samuelsson
Soviet Union (6): Valeri Kamensky, Alexei Gusarov, Vyacheslav Fetisov, Igor Larionov, Alexander Mogilny, Vladimir Malakhov 
Czech Republic (2): Jaromir Jagr, Jiri Slegr