Day 7 Recap: Canada crosses century mark in medals
After another morning without many medal events, once they started flowing in the afternoon and evening, they came in waves.
Canada claimed a total of 13 medals on Friday, reaching the podium in swimming (4 medals), wrestling (4 medals), track cycling (2 medals), squash (2 medals) and shooting (1 medal). The men's softball team didn't win a medal, but they will play for one when they compete in the gold medal Grand Final at 7pm on Saturday.
Swimming
A day after her heartbreaking disqualification in the 400m IM, 17-year-old Emily Overholt won gold in the women's 400m freestyle in Pan Am record time of 4:08.42. She led from start to finish, swimming out of lane eight, meaning the fastest qualifiers from the morning heats couldn't really see her.
Ryan Cochrane followed with his own gold in the men's 400m freestyle in Pan Am record time of 3:48.29 without being totally tapered or shaved, something he's saving for the world championships. Bronze medals came from Rachel Nicol and Richard Funk in the 100m breaststrokes.
More swimming: Tuesday | Wednesday | Thursday
Wrestling
It was a four medal day for Canada on the mat in Mississauga. Braxton Stone-Papadopoulos captured gold in the women's 63kg weight class, winning 7-3 over a wrestler from Cuba. Dorothy (Dori) Yeats won gold in the women's 69kg category, handily defeating her Venezuelan opponent 13-2. She matches the accomplishment of her father Doug, who won Pan Am wrestling gold in 1979. 
Justina Di Stasio was also in a gold medal bout in the women's 75kg division but lost 7-6 to American Adeline Gray to come away with silver. Haislan Garcia capped the night with a bronze medal in the men's freestyle 65kg event. 
Cycling – Track
Canada continued its domination of track cycling, winning two more gold medals on Friday. In the women's team pursuit (Jasmin Glaesser, Allison Beveridge, Laura Brown, Kirsti Lay), Canada defeated the United States for the gold. Monique Sullivan then took top spot in the women's keirin for her second gold of the Games. Of the five track cycling events so far, Canada has taken home four of the gold medals.
More: Track day 1 | 2
Squash
Canada's men (Andrew Schnell, Graeme Schnell, Shawn Delierre) defeated Mexico 2-0 to win gold in the men's team event. The women's team (Samantha Cornett, Hollie Naughton, Nikole Todd), however, were unable to defeat the United States, losing 2-1 to take silver. Incidentally, the squash silver was officially Canada's 100th medal of the Games.
Todd described the loss: "It's a tough one, especially against them, we really wanted this one. Being at home we had everyone behind us. We did all we could and left everything we had out there."
Shooting
Michel Dion shot his way to a bronze medal in the men's 50m rifle prone. He scored 183.8 to finish behind American Michael McPhail, who won silver and Brazilian Cassio Cesar Rippel, who took home the gold. It is Canada's first men's shooting medal of the Games.
Softball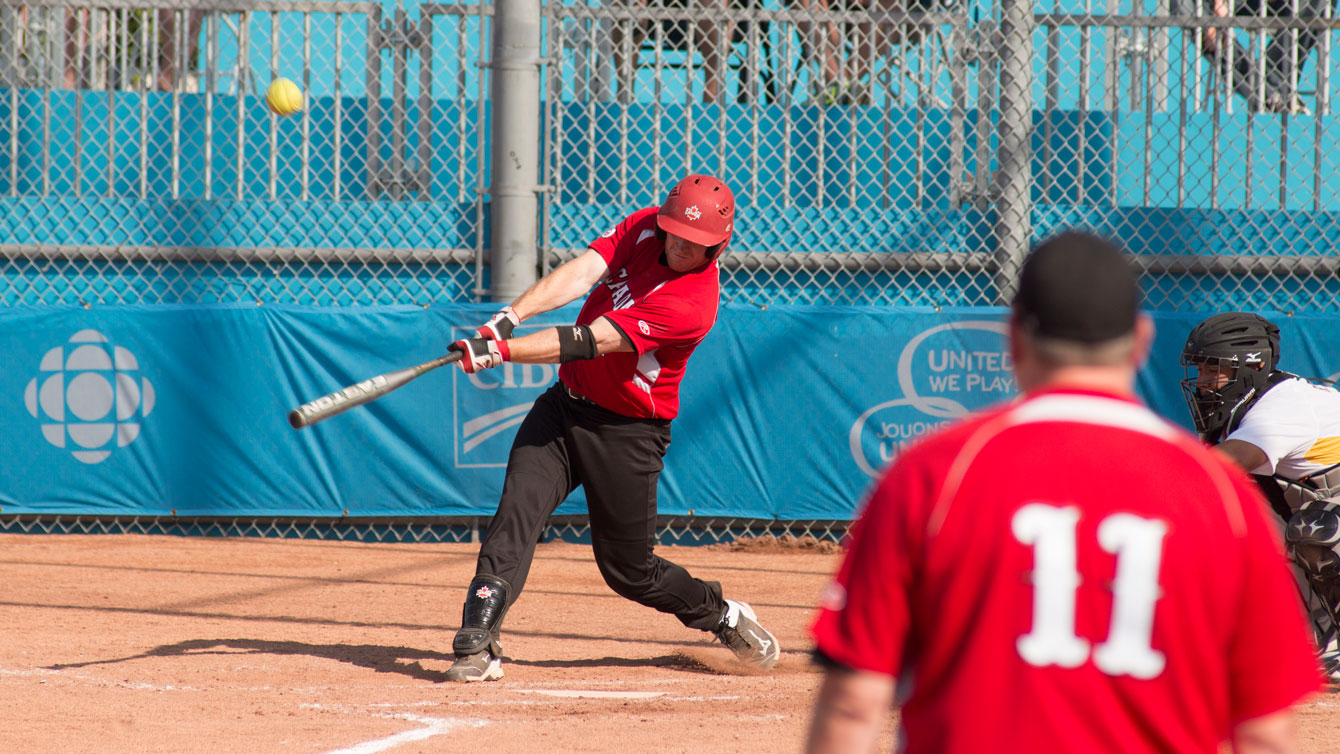 The Canadian men have advanced to Saturday's gold medal game after defeating Argentina 2-0 in the semifinal. Sean Cleary pitched a complete game one-hitter in the victory.
"It's just another step in the right direction," said Cleary. "We're rolling into tomorrow with no losses, but there's a job to do."
For full Team Canada results from Day 7, click here.