Overholt and Cochrane take 400m freestyle gold
Canadian swimmers won four medals on Friday, their leanest nightly haul, but there were bright spots.
Swimming recaps: Day one | Day two | Day three | Day four events: 100m backstroke, 400m freestyle, 100m breaststroke, 50m freestyle
Women's 100m backstroke
An excellent first 50m for Brazil's Etiene Medeiros carried her to a gold medal, followed by American top-seed Olivia Smoliga and her teammate Clara Smiddy.
Out-touched and out of the medals was Canada's Dominique Bouchard. Hilary Caldwell struggled and was fifth. It became the first event where Canadian women have been held off the podium.
Medeiros became the first woman at any Pan Am Games to break one-minute, winning with a record 59.61 seconds. Bouchard was 1:00.54 and turned at the halfway point in third. Caldwell is a 200m specialist, the winner of that event here, with Bouchard the silver medallist.
Men's 100m backstroke  
Canada's Russell Wood was fourth while American Nicholas Thoman won in a Pan Am record of 53.20 seconds.
Thoman is the silver medallist from London 2012. Brazil's Guilherme Guido was 53.35 for silver and Eugene Godsoe of the United States came third, racing to 53.96.
Wood put forward a solid time considering his PB would have landed him third; he is also preparing for FINA World Aquatic Championships later this month.
Women's 400m freestyle
Redemption for Emily Overholt.
She swam a new Pan Am record of 4:08.42 only 24 hours after having her 400 IM national and Pan Am record erased by a DQ.
It was an inspiring display of heart. Out of lane eight the 17-year-old charged ahead during the first half of the race. Over the final four lengths Venezuelan silver medallist Andreina Pinto chipped away at Overholt's 1.66-second lead. Pinto would get within a quarter-second with a time of 4:08.67. American Gillian Ryan was third.
"I'm just so happy and so relieved to be able to get the gold medal after what happened last night," said Overholt.
RELATED: The truth behind 'surprising' swim disqualifications
Men's 400m freestyle
Ryan Cochrane got the job done.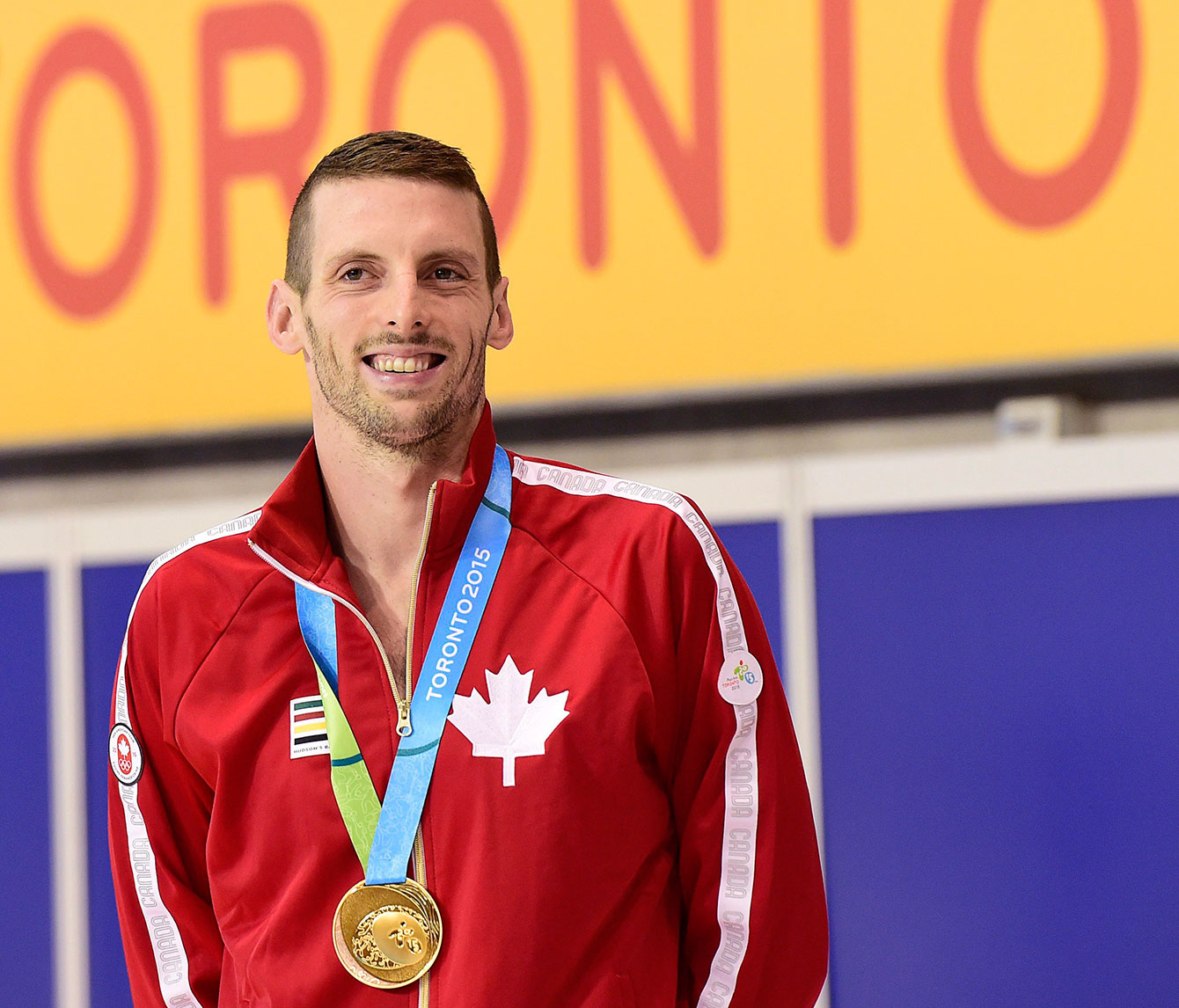 The favourite for gold collected the lead at the 200m mark and didn't give it up, swimming a Pan Am record time of 3:48.29. Late-charging American Ryan Feeley swam 3:49.69 to win the silver and Brazil's Leonardo De Deus was third in 3:50.30.
It is Cochrane's first Pan Am Games gold medal.
Women's 100m breaststroke
As the Pan Am record holder, American Katie Meili caught Jamaica's Alia Atkinson on the second length while Canada's Rachel Nicol was third.
Meili had been an extremely good 1:05.64 in the morning to break the record. She wasn't quite as fast at night giving Atkinson hope and a lead of one-tenth at the 50m wall. In the end it would be Meili in 1:06.26, 0.33 seconds ahead of the Jamaican.
Nicol was the best of two Canadians in the field swimming 1:07.91 for bronze. Olympian Tera Van Beilen was fourth.
Men's 100m breaststroke
That's two medals for Canada's Richard Funk.
The Edmontonian took his shot in the 100m, his specialty, and corralled the bronze medal with a PB of 1:00.29. He did think he had more but was gracious, "Ecstatic to be on the podium again, two great competitors ahead of me, can't really be disappointed," said Funk.
The winner was easy to spot as Brazil's Felipe Franca Da Silva broke his own Pan Am record in 59.21. His countryman Felipe Lima swam 1:00.01 for the silver.
Funk was the silver medallist in the men's 200m breaststroke.
There were no Canadian medallists in the 50m freestyle but it was close for 100m winner Chantal Van Landeghem. The 21-year-old sprinter was four one-hundredths behind American bronze medallist Natalie Coughlin. Canada's Michelle Williams was sixth. Alex Loginov was eighth in the men's final.
With only four medals tonight Canada remains in third with 23 (7 G, 9 S, 7 B) but lost ground to leaders the United States with 25 (9 G, 7 S, 9 B) and second-placed Brazil with 21 (8 G, 5 S, 8 B). Competition concludes on Saturday.
Canadian swimming gold medallists after four days: