Swim worlds: Ryan Cochrane apologizes for missed final in Kazan
Tuesday brought an unpleasant surprise for the Canadian swim team as veteran Ryan Cochrane missed the final in the men's 800m freestyle, ending his streak of three-straight World Championships with a medal in the event.
And it happened in startling fashion.
The 800m freestyle, though not an Olympic event for men, is swum at worlds: once in preliminaries (or heats) with the top-eight times moving on. The championship final is swum the next day, because the event is so gruelling.
RELATED: Cochrane wins bronze in 400m freestyle | World championships preview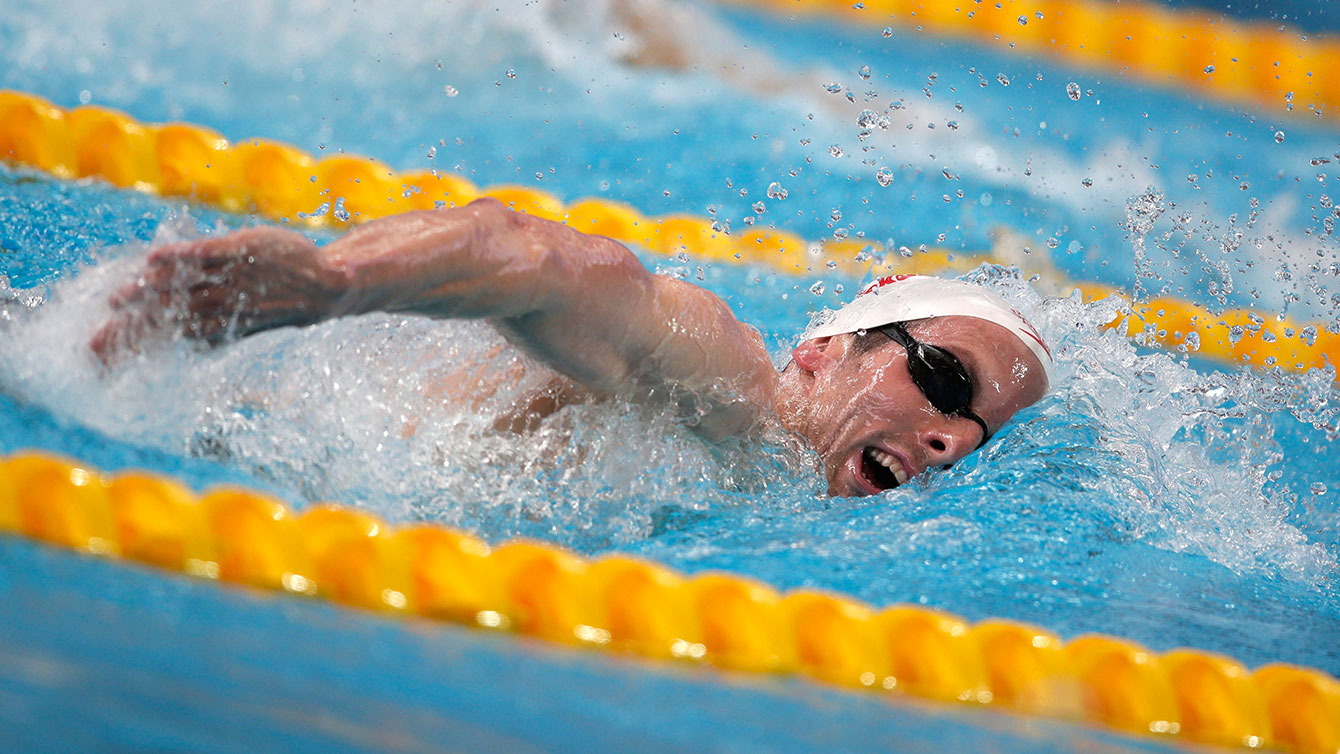 Cochrane was second in the penultimate heat, behind China's Sun Yang, and third overall. In most cases, Cochrane would ease into the final from this position. However, seven swimmers in the last heat would beat Cochrane's time, bouncing him to 10th.
"The distance events are getting faster and faster. The heats felt more like a semifinal. I thought I did enough to get into the final and I'm obviously disappointed," Cochrane said in a release. He won bronze in the 400m freestyle on the first day of competition.
He also jumped on Twitter to offer this apology:
And with eyes on his next event, then tweeted this:
The distance specialist from Victoria has until Saturday to re-group for his 1500m freestyle heat. In his best event he has silver medals from the previous three worlds, and a pair of Olympic medals. It's his best (and last) chance to leave Kazan with another medal. With the Cochrane miss there were no Canadian finalists on day three.
RELATED: Divers find four medals at FINA World Championships
Day two finalists
The top Canadian finish on day two in Kazan was Katerine Savard's fifth-place with a time of 57.69 seconds in the 100m butterfly. Sweden's Sarah Sjostrom re-broke her own world record with 55.64 for gold. Canada's Noemie Thomas was eighth.
Also on Monday, Sydney Pickrem was sixth in the 200m individual medley by swimming a time of 2:10.32, after advancing to the final with a national record 2:10.08.
Ledecky still unbeaten
The biggest story from Kazan is American teenager Katie Ledecky's world record performances in the women's 1500m freestyle. The 18-year-old broke her own world mark in the heats of swimming's longest race, and appeared almost surprised she had. She then swam two-seconds faster in Tuesday's final, with a time of 15:25.48.
The 1500m freestyle is also not contested at the Olympic Games, but Ledecky was the champion in the 800m freestyle at London 2012.
She is still unbeaten in any event she has swam at major international swim meets.