THE CANADIAN PRESS/Jeff McIntosh
Where Are They Now? Caroline Ouellette
In our "Where are they now?" series, Olympic.ca gives you a glimpse at what's new in the lives of some great Team Canada Olympians since they said goodbye to their careers as athletes.
---
Caroline Ouellette's impeccable career speaks for itself.
A member of Canada's women's national hockey team for two decades, Ouellette won four consecutive Olympic gold medals at Salt Lake City 2002, Turin 2006, Vancouver 2010 and Sochi 2014. That made her the first athlete to enter at least four career events at the Olympic Winter Games and win gold in all of them.
She's also won six gold medals and six silver medals with Team Canada at the IIHF Women's World Championship and four Clarkson Cup titles with the Montreal Canadiennes of the Canadian Women's Hockey League – making her an unofficial member of the triple gold club (Clarkson Cup, an Olympic gold medal and an IIHF Women's World Championship gold medal).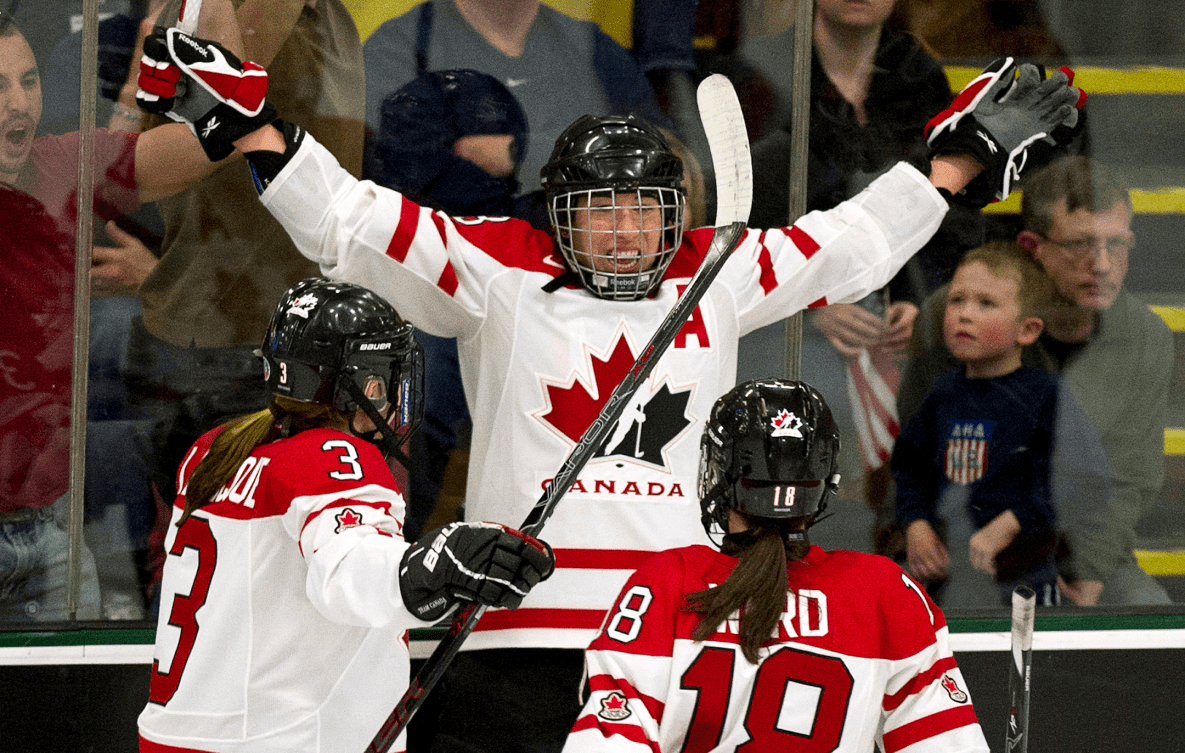 During her time in the CWHL, she was named the league's MVP twice, won the Angela James Bowl as the league's leading scorer, and was named the Clarkson Cup MVP in 2009 and 2012.
After an illustrious career on the ice, Ouellette announced she'd be hanging up her skates in 2018.
"What a privilege it was to play for Canada, I cherished every moment and loved every minute of it," Ouellette said in an interview with Hockey Canada. "My journey with Team Canada taught me the importance of outstanding teamwork, the desire to always want to be better, and the ability to perform under pressure."
Read more about Caroline Ouellette's accomplishments
She retired third all-time in games played with the national team, just behind teammates Hayley Wickenheiser and Jayna Hefford. She also finished her career ranked third all-time in scoring with 234 points (84 goals, 150 assists) in 205 international games.
On top of her many career milestones, Ouellette was named an Officer of the Order of Canada in 2019, an honour that recognizes outstanding achievement, dedication to the community, and service to the nation. She also received an honourary doctorate from Concordia University that same year.
Since retiring, Ouellette has swapped her spot on the ice for one behind the bench as a member of the national team coaching staff and with the Concordia Stingers women's ice hockey team as an assistant coach. Recently, she was named the Stingers' interim head coach in July of 2020.
This past spring, she joined the broadcast team at Sportsnet during the 2021 PWHPA Dream Gap Tour, where she was a panelist during pre-game, intermission and post-game coverage.
She hopes to help build a future women's hockey in Canada and beyond.
"I've made it a mission to fight as much as I can for the growth of women's hockey so that, one day, the best girls and women can play professionally," she said in an interview.
"Right now, there isn't that dream, there isn't that possibility, and it is really unfortunate because there are so many leagues around the world that exist for men to make a living out of hockey. I certainly think that the best Canadian, American and European players, they should be able to play with and against one another. We're not quite there yet but, that being said, it has progressed tremendously."
Ouellette is married to Julie Chu, former captain of the US women's national team. The two welcomed their first daughter, Liv, in 2017 and recently welcomed their second daughter, Tessa, to their family.
"I'm excited with what is ahead for me in my new passions, one as a mom and the other as a coach."
Follow Caroline's journey: