St. Moritz 1928
Canadian Olympic Medal Count
1
0
0
Games Summary
II Olympic Winter Games
St. Moritz was selected to host the second Olympic Winter Games after it was determined that the Netherlands, hosts of the summer Olympic Games of 1928, would be unable to also organize the Winter Games. The Swiss resort town needed to do very little construction, making use of the multiple skating rinks and lakes, as well as the nearby mountains for skiing. St. Moritz was also a longstanding host of bobsleigh and skeleton competitions, the latter contested only at the 1928 and 1948 Olympic Games on the famed Cresta Run before making a return to the Olympic program in 2002.
Canada was represented in speed skating, figure skating, ski jumping, cross-country skiing, and Nordic combined, but once again the only medal for the 23-member team came in ice hockey. The 1926 University of Toronto team had stayed together, renamed themselves the Toronto Graduates, and won the Allan Cup, giving them the honour of being the Olympic team. After seeing the Canadians practice in Switzerland, organizing officials realized that the other teams would be no match and decided to revise the tournament format. Canada was advanced directly to the final round while the ten other teams were divided into three pools. The winners of each pool then joined Canada in the medal round, where the Graduates won each game handily, beating Sweden 11-0, Great Britain 14-0, and Switzerland 13-0 to claim gold.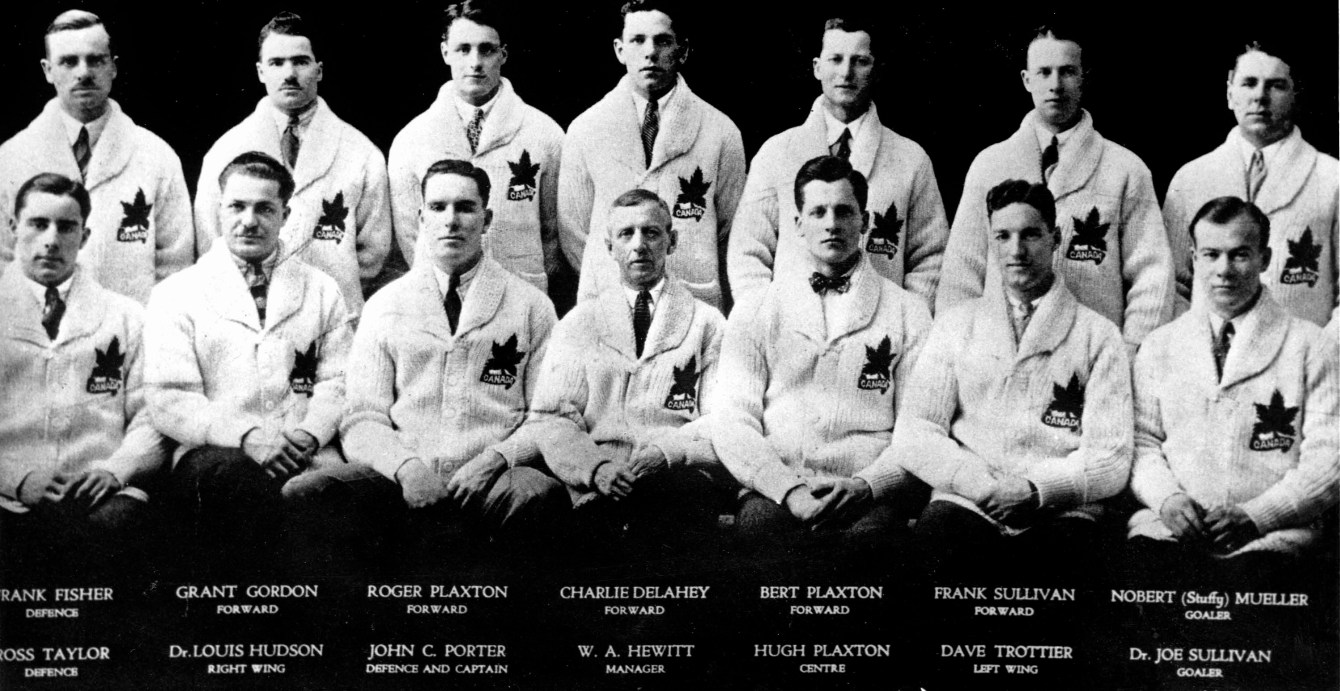 Warm weather played havoc with some of the competitions. Rain led to the postponement of an entire day's events as it ruined the ski courses. The 10,000m speed skating event had to be cancelled as the rink melted midway through the competition. The bobsleigh event had to be shortened to two runs.
Among the stars of the Games were two figure skaters. Sweden's Gillis Grafström won his third straight Olympic gold medal while Norway's Sonja Henie won the first of her three straight Olympic gold medals at age 15. Her record as the youngest winner of an individual event would stand for 74 years.
Canadian Medallists
| Event | Athlete | Finish | Sport |
| --- | --- | --- | --- |
| Men | Charles Delehay, Frank Fisher, Grant Gordon, Louis Hudson, Norbert Mueller, Herbert Plaxton, Hugh Plaxton, Roger Plaxton, John Porter, Frank Sullivan, Joseph Sullivan, Ross Taylor, Dave Trottier | Gold | Ice Hockey |
Overall Medal Count
| Rank | Country | Gold | Silver | Bronze | Total |
| --- | --- | --- | --- | --- | --- |
| 1 | Norway | 6 | 4 | 5 | 15 |
| 3 | Sweden | 2 | 2 | 1 | 5 |
| 5 | Austria | - | 3 | 1 | 4 |
| T6 | Canada | 1 | - | - | 1 |
| T6 | France | 1 | - | - | 1 |
| T8 | Germany | - | - | 1 | 1 |
| T8 | Switzerland | - | - | 1 | 1 |
| T8 | Czechoslovakia | - | - | 1 | 1 |
| T8 | Great Britain | - | - | 1 | 1 |
| T8 | Belgium | - | - | 1 | 1 |