Dylan Armstrong will finally receive his Beijing bronze, in his hometown this Sunday
The news: Two-time Olympian Dylan Armstrong, already a heavily decorated shot putter, will receive his Beijing 2008 bronze medal at a special ceremony this weekend in his hometown of Kamloops, British Columbia. Armstrong originally finished fourth but a banned substance disqualification moved him onto the podium, making him the first-ever Canadian Olympic shot put medallist, and first medallist in a throwing event since Stockholm 1912.
It is the medal he narrowly missed years before it became the medal to complete his collection.
When the cauldron went out on Beijing 2008, rookie Olympian Dylan Armstrong was a fourth place ribbon holder in the men's shot put, by a mere one centimetre.
The truth is, he didn't miss at all, he was unfairly edged by Belarusian Andrei Mikhnevich who heaved his distance with brawn and a banned substance.
SEE ALSO: Dylan Armstrong reacts to news he's an Olympic bronze medallist
In the six and half years gone by since he threw 21.04m in Beijing, the burly, 6'4" Canadian has won world championship silver and bronze, world indoor championship bronze, gold at Commonwealth Games and Pan American Games, (his second at the latter). He was fifth at London 2012.
In other words, he'd won everything but the Olympic medal he will receive on Sunday, exactly six years and six months after the Beijing shot put final. And it'll be in his hometown with friends, family, supporters, heck probably all of Kamloops.
"I never wanted to be the guy that got all the medals, all the world champs, and Commonwealths and Pan Am Games and didn't get the Olympic medal," says Armstrong over the phone in late January. 
"It's very satisfying to have it in Canada in my hometown and have people who have supported me in the community for years."
It's true, Kamloops is a 'village to raise an Olympian' kind of place. The city even calls itself the 'Tournament Capital of Canada' for its drive to host everything from provincial swim meets to a Women's World Hockey Championship.
But six and a half years is a long time to wait, anywhere. In June 2013 the Belarus Athletic Federation issued Mikhnevich a lifetime ban for his second doping infraction (a two-year ban ended in 2003) uncovered when the IAAF re-tested a frozen sample from the 2005 World Championships. By July the IAAF had upheld the ban, deleting the Belarusian's achievements back to August 2005. This resulted in Armstrong moving up to a bronze from 2010 World Indoor Championships because of a Mikhnevich annulment.
READ ALSO: Dylan Armstrong to be awarded Beijing 2008 shot put bronze
All of that made it conceivable the IOC could revise the 2008 podium, something encouraged by the COC and eventually announced in August 2014. Mikhnevich would lose his Beijing bronze, Armstrong would receive it.
"You have to be very patient, wait on the sidelines and wait for the outcome, fortunately the IAAF along with the IOC made the right decision," said Armstrong who will be presented his medal by hockey legend and IOC Athletes' Commission member Hayley Wickenheiser.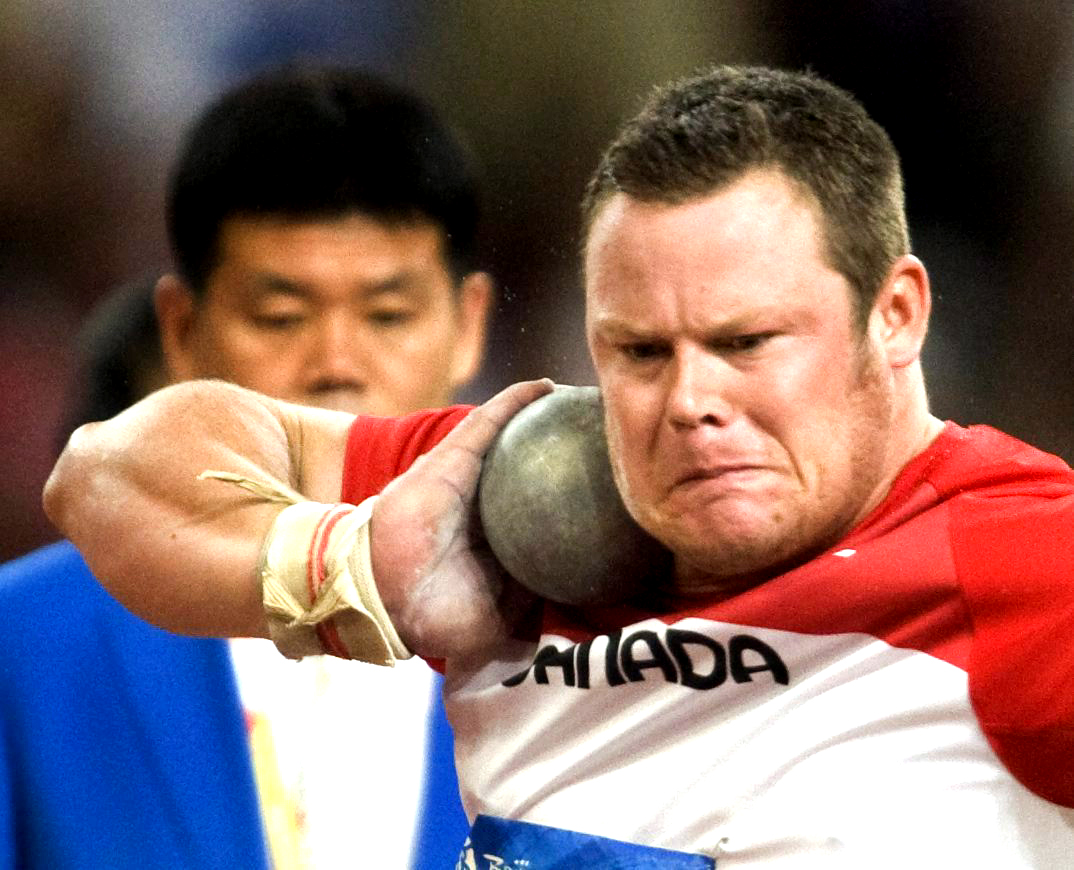 He doesn't seem the type to dwell and while he has become the victim of a doping storyline Armstrong certainly hasn't assumed the activist role. Instead, the now 34-year-old has allowed his results to teach the lesson of clean sport and points to this when necessary. "It's a story but I think it's in the past as well. I'd like to put it behind me and move forward. It's just another medal around my neck. It just shows what my coach and I are doing, it works, nobody can take that away from us," he says.
I don't think anybody should cheat, obviously, but I don't have control over what other people do I'm just happy that he got caught and that I'm receiving the medal that I rightfully won – Dylan Armstrong
Armstrong confirms he wasted little energy on wondering about the drug cheats he says aren't rampant but are 'out there just like in every other event.' Instead, he 'set a target' and exalts his coach Dr. Anatoliy Bondarchuk with getting him there. Bondarchuk is a former hammer thrower who won the gold at Munich 1972 for the Soviet Union and followed up with a bronze four years later in Montreal. 
Since then Bondarchuk has been coaching the world's best throwers to launch heavy objects ridiculously far, through his periodization method and a unique coaching style Armstrong calls 'very old-school'.
At the moment, Armstrong is working back into these methods after undergoing elbow surgery in late December. The 'arthroscopic capsular release' procedure removed floating bone chips and scraped out arthritis that had become a chronic problem, the result of a training injury in February 2012.
This summer's Pan Ams are very unlikely, but his third Olympic Games at Rio 2016 are the current target. "Nothing will ever replace that moment that was stolen. It doesn't matter what anybody does, being on the podium at the Olympic Games in front of your fans, and friends and family that would be a pretty special moment you could never replace," says Armstrong.
Despite the Olympic ceremony lost, time has seemingly eroded any bitterness. After all, history will forever show a '3' next to a man with a name apt for the event he has climbed to the top of. Perhaps that's the lasting sentiment.
"There's a feeling inside me when I know I've thrown farther, beaten somebody that I know has used drugs in the past, 'Y'know I'm clean and I'm throwing farther than you,'" he says.