Day 10 Recap: Historic basketball gold highlights TO2015
It may have been a light day on the Pan Am schedule with just four sports featuring medal events. But that didn't stop Canada's athletes from stepping on the podium.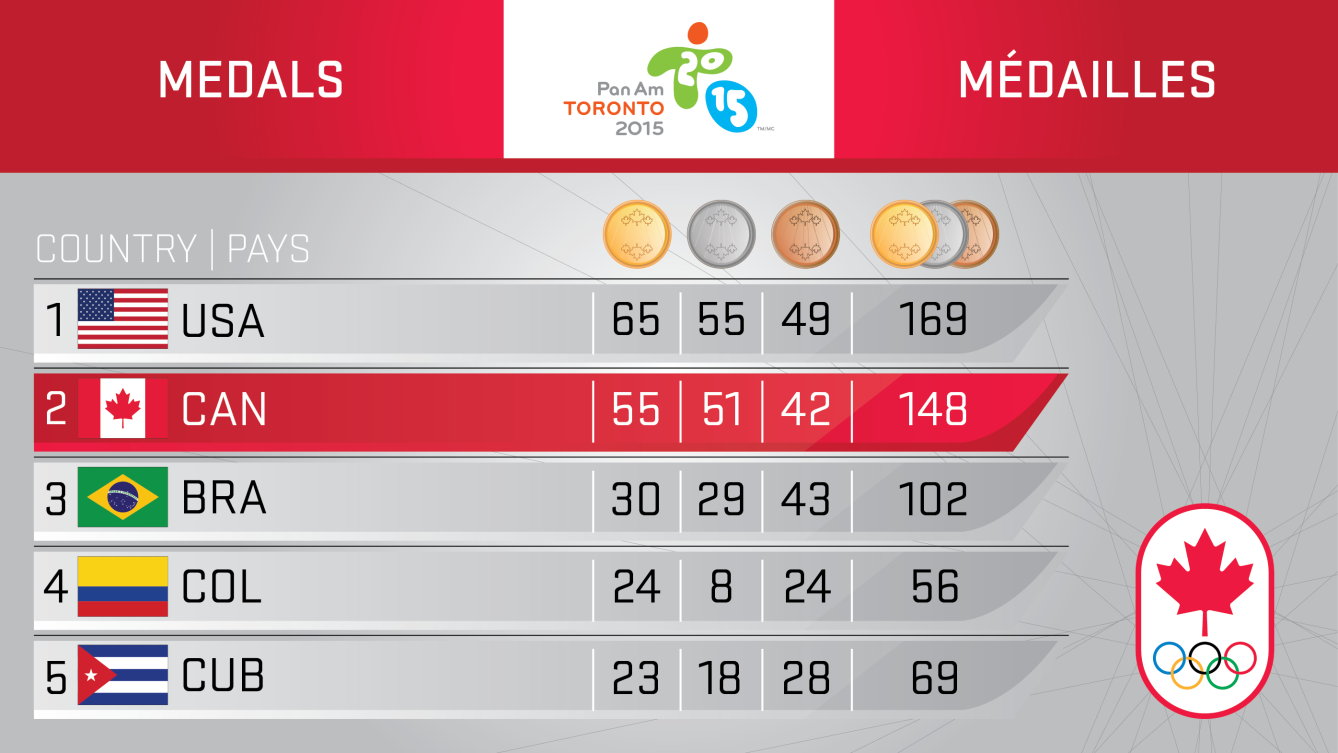 Canada's medal total grew by six on Day 10 thanks to podium performances in women's basketball, taekwondo, rhythmic gymnastics and fencing. Canada now has 148 medals: 55 gold, 51 silver, 42 bronze.
Women's Basketball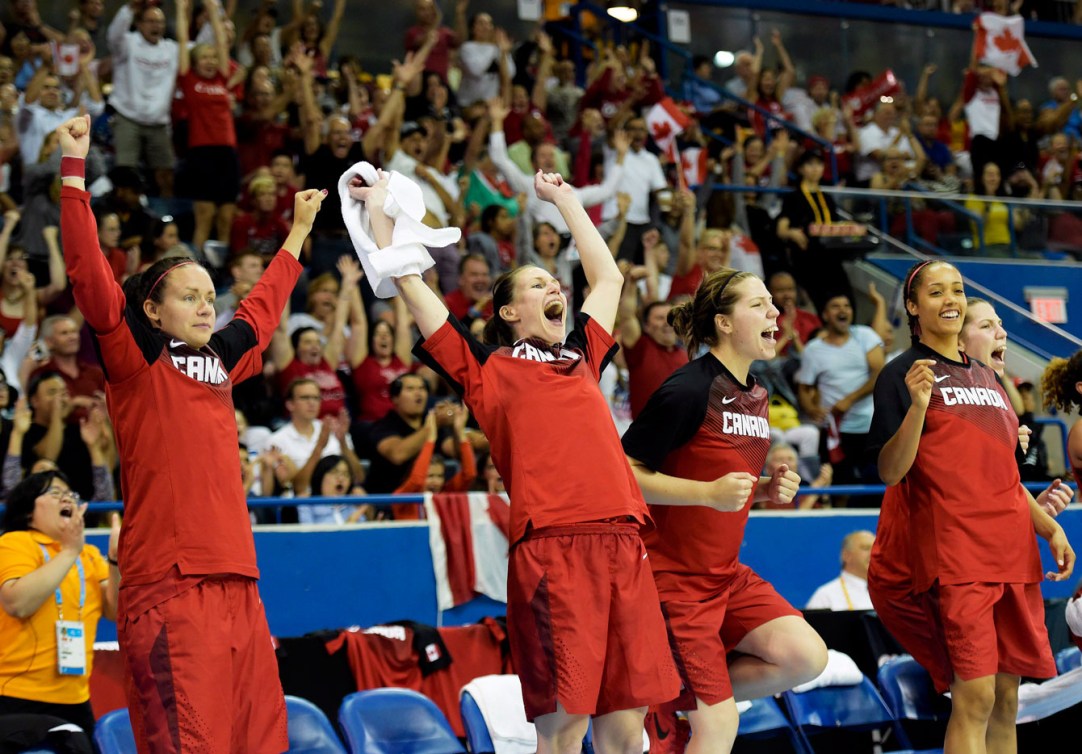 The women's basketball team made history on Monday night, defeating the USA 81-73 to secure Canada's first ever basketball gold at the Pan Am Games. After a bit of a slow start, Canada came to life in the second half and never looked back. The electric crowd on hand at the Ryerson Athletic Centre exploded every time the Canadians scored a basket. Kia Nurse led the way, scoring 33 points and adding 6 rebounds and 3 assists.
Taekwondo
On the second day of competition, Maxime Potvin won a silver medal in the men's -68kg category after working his way into the final where he was defeated 6-3 by Saul Gutierrez of Mexico in golden point time. The current world bronze medallist landed a kick to Potvin's head after they were tied 3-3 at the end of regulation. Potvin had dominated his quarterfinal contest, winning 15-5. He then got through his semifinal 13-11 over American Terrence Jennings.
"I tried to follow the movement," said Potvin. "It feels great to fight in my own country and it gave me a lot of energy during my fight. I didn't feel any extra pressure to win though."
Canada's other taekwondo athlete in action was Evelyn Gonda who had a shot at the podium in a bronze medal match in the -57kg class but lost 10-3 to Cuba's Yamicel Nunez, a 2013 world bronze medallist.
Rhythmic Gymnastics
Canada capped off the gymnastics competition with two more medals, a silver for Patricia Bezzoubenko in the individual clubs and a bronze in the hoops and clubs event for the group composed of Katrina Cameron, Maya Kojevnikov, Lucinda Nowell, Vanessa Panov, Anjelika Reznik and Victoria Reznik. It was the second medal of the Games for each gymnast, Bezzoubenko adding to her all-around bronze and the group following their bronze in the ribbons event.
It was a nice ending for Bezzoubenko who came in with high hopes and expectations after five gold medals at the 2014 Commonwealth Games and wanted to be at her best for the home crowd.
"She's like that," said her coach Svetlana Joukova. "She wants to be perfect and here it was probably too much pressure."
Fencing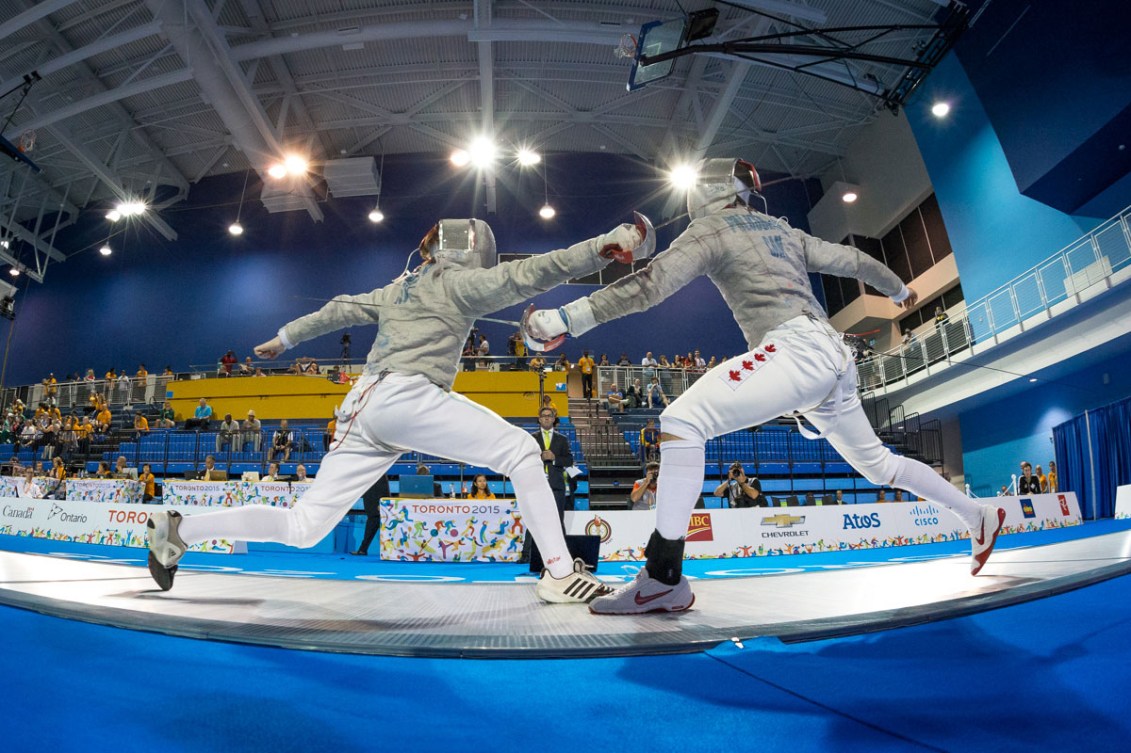 The first day of competition on the piste featured the individual sabre events for men and women. Joseph Polossifakis advanced to the  where he was defeated by American Eli Dershwitz 15-9 to take home the silver medal. This was a step up from the bronze he won four years ago at Guadalajara 2011. Gabriella Page got as far as the semifinals where her 15-13 loss to American Dagmara Wozniak meant that she won a bronze medal.
"It was a match that was lost on not being able to adjust to the other opponent," said Polossifakis. "Mentally I got distracted by a couple of calls from the referee that I didn't agree with. It's not an excuse, but I wasn't able to keep the focus."
He continued: "Unfortunately, it's not what I wanted as a result today. But considering where I came from, this past year was one of the worst years of my life with injuries. So, just to be here, it's crazy for me. It's a great experience with all my family here – it's very touching."
Boxing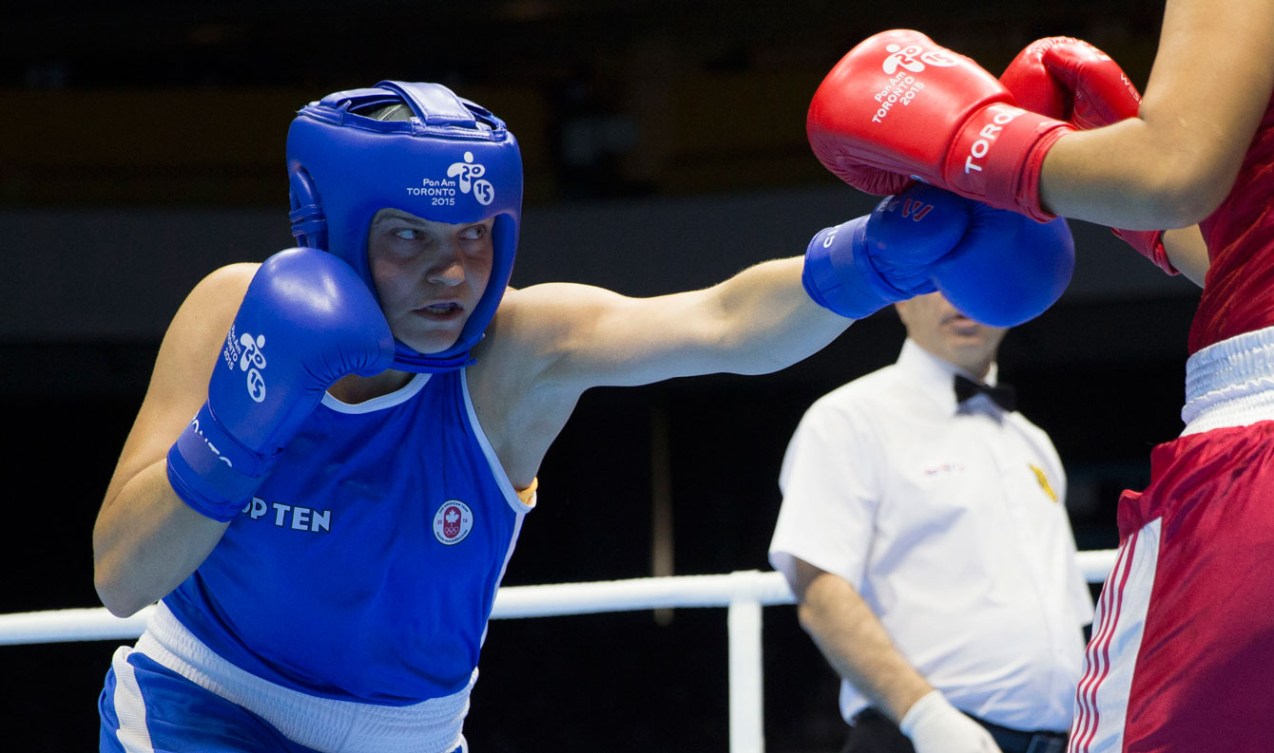 The three Canadian women got in the ring on Monday for their quarterfinal bouts and all advanced to Tuesday's semifinals which is where the medals begin to get awarded. Defending Pan Am Games flyweight champion Mandy Bujold champion defeated Peruvian Lucy Valdivia Bravo in a unanimous 3-0 decision, as did Caroline Veyre in the lightweight division over Kiria Tapia Rodriguez of Puerto Rico and middleweight Ariane Fortin over Francelis Carmona Paez of Venezuela. Fortin is on the opposite side of the bracket from Olympic and world champion Claressa Shields of the USA.
"You never know so you keep thinking it's going to last four rounds," said Fortin of her bout. "She was really tough and kept coming. She was solid. Until it's over, it's not over, so I just kept working."
"It was a good warm-up fight, although it felt like my timing was off," said Bujold. "I think it was just about getting the tournament started, waiting for such a long time for it to happen and now I got my feet wet. I hope it will be good from now on."
For full Team Canada results from Day 10, click here.