Day 11 Recap: Track stars rock TO2015, boxers advance
On a hot and windy Tuesday, Canada added another 12 medals to its Toronto 2015 tally.
Tuesday's medals came in athletics, fencing, table tennis and boxing. Canada now sits at 160 total medals: 59 gold, 53 silver and 48 bronze.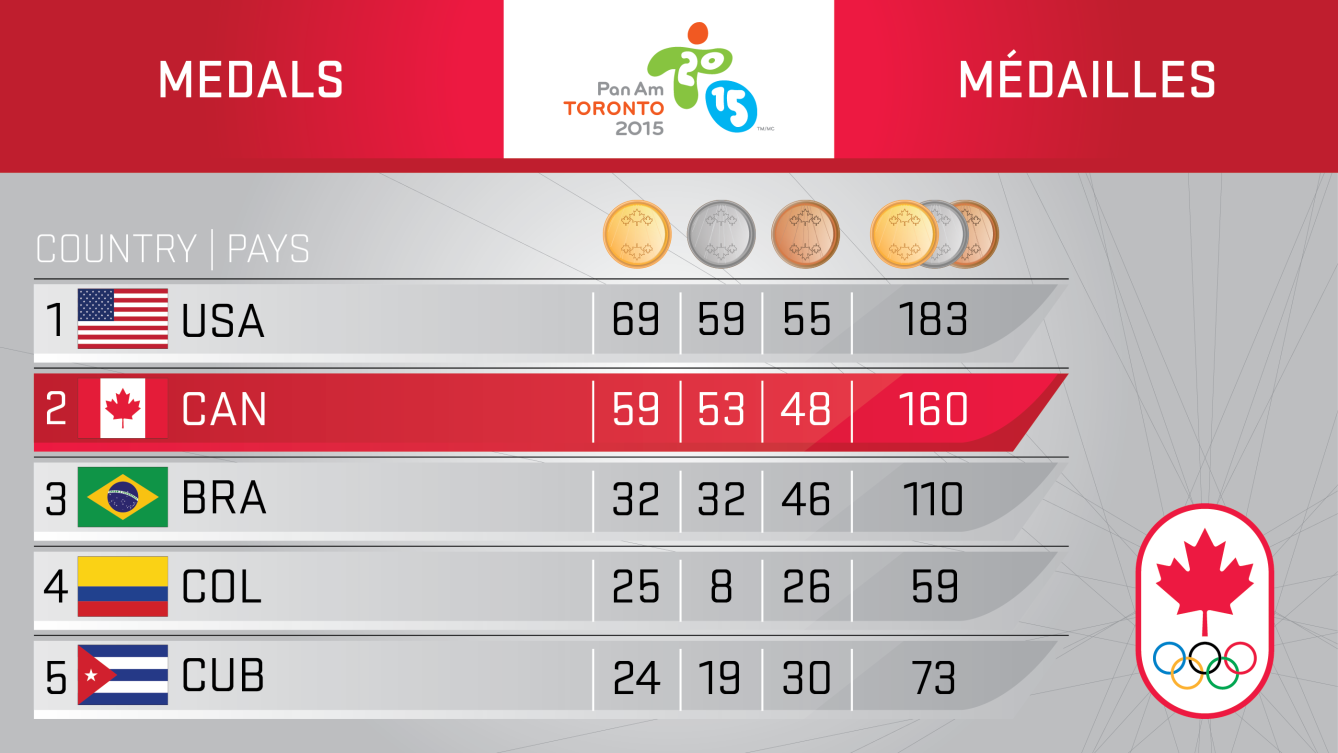 Athletics
The first day of track and field at York University saw Canada win eight medals, four of which were gold.
The day got off to a golden start when Liz Gleadle's clutch final throw of 62.83m gave her top spot in the women's javelin. She had been sitting in third place prior to that attempt.
"I wanted to hear the national anthem sung," said Gleadle. "I wanted to be on top. So that feeling lifted me up a little and gave me that little extra boost."
Shawnacy Barber followed later in the morning with a Pan Am record-tying pole vault of 5.80m to also win gold. He came up short in his attempt to better his national record of 5.91m set earlier this spring.
"I just went out there and tried to continue my good year and I think I did that very well today by winning gold," said Barber.
The evening session began with a silver medal in the men's shot put for Tim Nedow. He threw a season's best 20.53 metres to finish behind Jamaica's O'Dayne Richards, who broke Dylan Armstrong's Pan Am record with his toss of 21.69m.
"I started off a little rough," said Nedow. "My coach saw me… a little tightened up in the first two rounds and was like 'Hey, you got to go, there's no time for this', so that's what I did. I've been throwing 20.50 all year so there was no excuse not to throw it here, so I am glad I did that."
Matt Hughes and Alex Genest followed with a 1-2 finish in the men's 3000m steeplechase. While Hughes had been at the front of the pack for most of the race and had his victory secure with a lap to go, Genest sprinted past American Cory Leslie in the closing straight to claim the silver.
"We had a couple of game plans depending on how the race played out," said Hughes. "It just started bunching up with three laps to go. I just didn't want to get caught up with that. I made a similar move in the national championships a few weeks ago so I was confident in that move. I was hoping that (Genest) knew when I was going to go."
In a very tactical men's 10,000m race, Mohammed Ahmed was in a group of six runners that broke away together for much of the race. When Brazilian Giovani Dos Santos tried to make a move with two laps to go, Ahmed reeled him in and began to pull away. He had plenty left in the tank to kick into his sprint in the last 200 metres to hold off a late charge by American Aron Rono and win in 28:49.96.
"It was my first time experiencing something like this, being on the podium," said Ahmed. "Now that I have experienced the feeling of being on the podium, I hope to keep experiencing it."
Sultana Frizell, a silver medallist at Guadalajara 2011, took home bronze in the women's hammer throw with her throw of 69.51m which came on her fifth of six attempts.
"It's bittersweet because I was definitely expected to, and wanted to, bring home gold for Canada," said Frizell. "I just didn't execute on the day, but I came up with a bronze medal so I'm happy about that."
The night concluded with Nikkita Holder running to a bronze medal in the women's 100m hurdles. She had looked strong in her morning semifinal and ran a season's best 12.85 seconds in the final.
Fencing
It was individual épée day on the piste and Hugues Boisvert-Simard won Canada's third fencing medal of the Games, taking a bronze medal. The Canadian made it to the semifinals where he was defeated 15-11 by Argentina's Jose Dominguez. He was Canada's only fencer to advance past the round of 16 on Tuesday.
Table Tennis
Canada won its first table tennis medals of the Games, taking bronze in both the men's and women's team events. The women's team of Mo Zhang, Anqi Luo and Alicia Côté lost their semifinal 3-0 to the United States. At 15-years-old, Côté is the youngest member of the entire Canadian team at Toronto 2015. The men's team of Marko Medjugorac, Pierre-Luc Thériault and Eugene Wang dropped their semifinal 3-0 to Brazil. The singles competition, in which Zhang is the defending women's Pan Am champion, begins on Wednesday.
Coach Junya Chen, also Luo's mother, said she was proud of how well the women's team placed.
"We got a medal because we performed very well yesterday and the day before. Today the USA team was really strong. We knew that before the Games but we still did our best."
Boxing
All three Canadian women were in semifinal bouts on Tuesday night, hoping to book spots in Saturday's gold medal showdowns. First up was defending Pan Am Games champion Mandy Bujold who won her flyweight matchup with Colombia's Ingrit Lorena Valencia Victoria 2-0 to advance. Caroline Veyre followed with a 2-0 victory over Mirquin Sena of the Dominican Republic in the lightweight division. The night concluded with a bit of a surprise as reigning world bronze medallist Ariane Fortin dropped a split decision to another Dominican, Yenebier Guillen Benitez, to take home a bronze medal in the middleweight category.
"It's a dream come true," said Veyre. "It's my first Games and I'm going to the finals so I'm very happy. I hope it goes well and I'm confident for the win."
For full Team Canada results from Day 11, click here.