Day 16 Recap: Canada ends Toronto 2015 with 217 medals
On the final day of competition at Toronto 2015 Canada added to its record medal haul, winning three more medals, one of each colour.
Canada took home gold in women's softball, silver in women's baseball, and bronze in men's volleyball. In total, Canada will end Toronto 2015 with 217 medals: 78 gold, 69 silver, 70 bronze.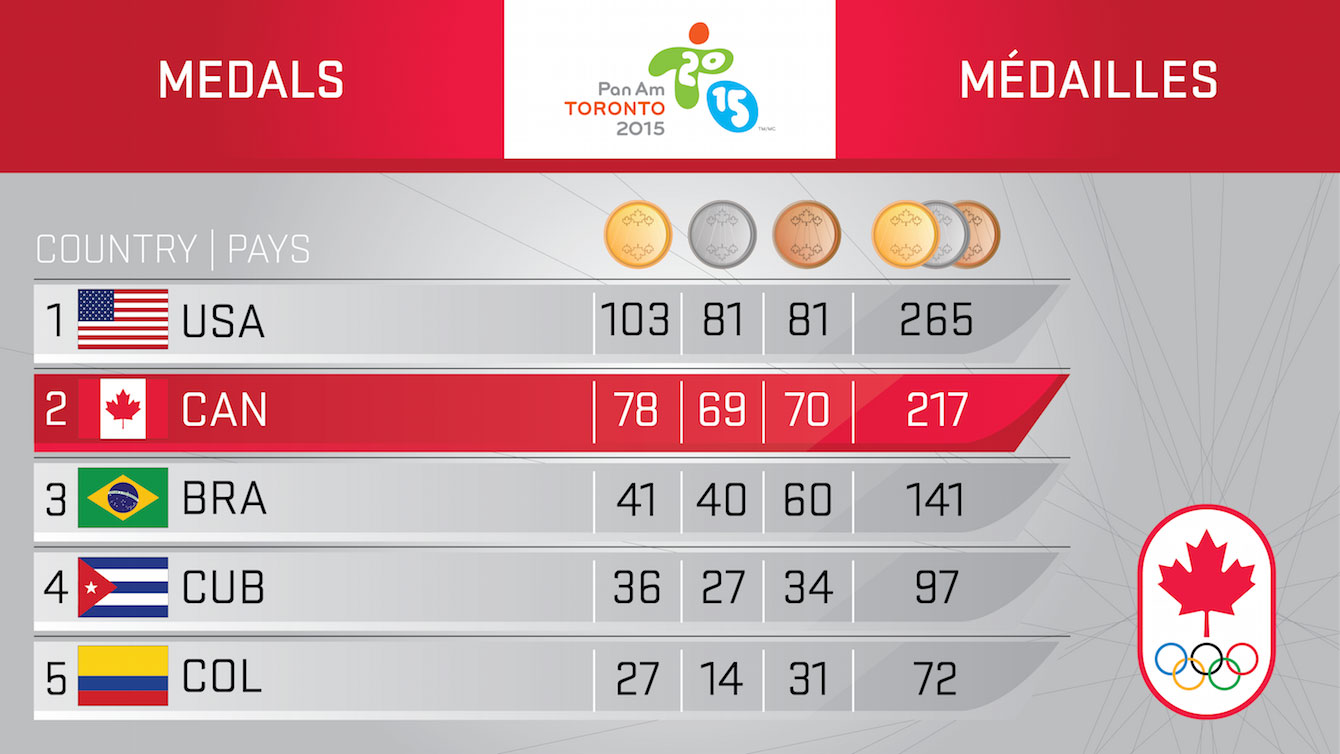 Softball
The Canadian women ensured it was a gold medal sweep for Canada in softball with a 4-2 victory over the United States. Scoreless after the regulation seven innings, Canada got on the board with four runs in the top of the eighth. The USA managed to cut the lead in half, but that was as close as they got. Sara Groenewegen pitched a complete game, giving up six hits while striking out six, including the game's final batter. Erika Polidori, Joey Lye, and Jennifer Salling each contributed an RBI while one run was scored on a throwing error. This is the eighth medal the Canadian women's softball team has won at the Pan Am Games, but just the second gold, the last coming at Caracas 1983.
"A big part of success is believing in yourself and it's hard to sell them on that when you're playing against teams and constantly coming out on the wrong side of it," said coach Mark Smith. "All week we talked about living in the moment and sticking to the plan and not letting it get bigger than it was. Today they put it all together and they were full value for it."
Baseball
Canada won silver in the first ever women's baseball tournament at a multi-sport Games, after dropping the gold medal game 11-3 to the United States. The USA put four runs on the board in the first inning, three coming off starting pitcher Vanessa Riopel. Canada got within two runs with a three-spot in the fourth, cutting the lead to 5-3. But the USA added three more in each of the fifth and sixth innings of the regulation seven inning game.
Men's Volleyball
The Canadian men won the bronze medal with a four set victory over Puerto Rico, 25-11, 25-12, 23-25, 25-18. Gavin Schmitt was the star of the game for Canada, scoring 25 points. This is just the fourth ever Pan Am Games volleyball medal for Canada (third by the men) and the first since a bronze medal at Winnipeg 1999.
"It was a good result for us, not often we win a medal in men's volleyball, so it's important for our program," said Freddie Winters. "The match was up and down. It started really well. Part of the reason we played so well is Puerto Rico played so poorly in the first two sets. They played better in the third and in the fourth, but we kept our composure which was nice to see."
"It's been a great tournament with these guys," said Adam Simac. "We're together every summer for the last six, seven years some of us. It's nice to medal on home soil. It's not the colour we were looking for, it's not the colour that we had envisioned ourselves winning a few weeks ago when we really talked about this in all seriousness. I'm really proud of the guys for bouncing back today after a sub-par performance against Argentina (in the semifinal)."