YOG BLOG: Chef de Mission Isabelle Charest
Three-time Olympic medallist Isabelle Charest is Team Canada's Chef de Mission for the Lillehammer 2016 Youth Olympic Games. Follow her journey on the YOG BLOG. 
February 22, 2016
It's over :(! Ten days flew by incredibly fast, but I'm sure many will remember them forever even if it will probably take days, weeks, or even months to fully understand the importance of what we experienced.
Very proud of this young man! https://t.co/eCricIk9aL

— Isabelle Charest (@IsabelleCharest) February 21, 2016
For my part, I had the chance to experience something great comparable to what I had as an athlete. I met remarkable young women and men with whom I shared something significant and refreshing.
I saw them in competition, in celebration or disappointment, cheering and interact, always they moved me. Fifty-four young people full of hopes and dreams who will leverage their experience here to accomplish great things one day. Of this I'm sure.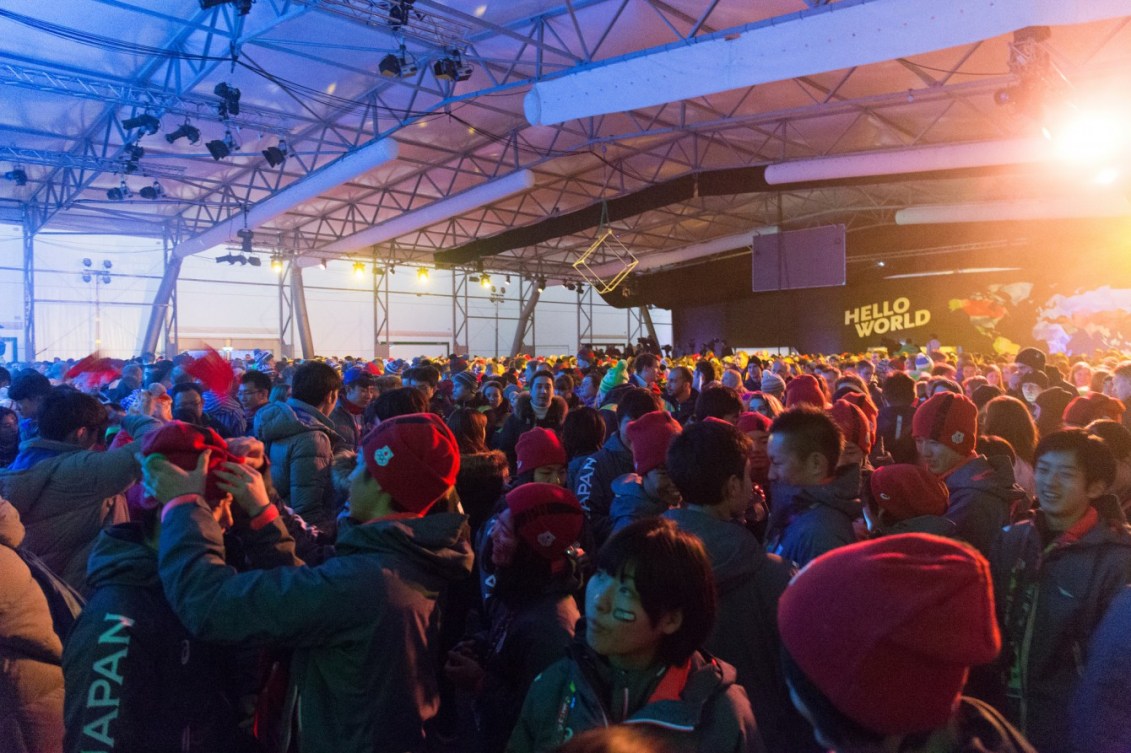 I was also fortunate to work with an exceptional team, whether the Canadian Olympic Committee staff, the medical team, coaches, managers, technicians and team leaders, all patient, dedicated and competent people who made sure the athletes lived an unforgettable adventure.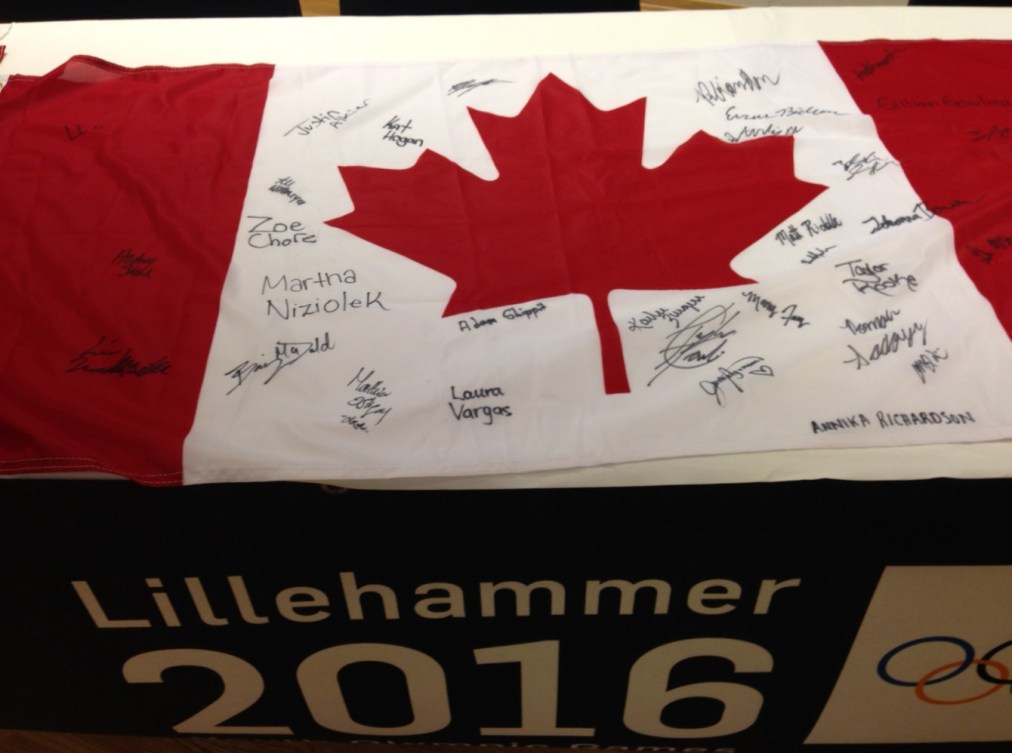 And what can I say about Eric, our ambassador, who poured his heart and soul so the athletes could draw the most from this experience. He made a gigantic contribution.
For me this adventure flowed naturally from my own Olympic journey, a way to stoke that flame that has been burning bright inside me since the very beginning 22 years ago!
February 20, 2016
We are already on the eve of the closing ceremony!
For many, competition is over; for others, it's now time to experiment. Because YOG is also about that, testing different races and disciplines that could one day be added to the official Olympic program.
There are competitions like monobob in which all the teams have to work together to build and maintain the bobsleds. Assigning the sleighs to drivers is done by draw. There is also the alpine skiing mixed relay and mixed doubles curling whereby one woman and one man from different countries make up one team.
At first glance those events can seem crazy, but in the interest of equity, collaboration and sport development, I believe that it's very relevant to hold that kind of competition. First of all, they are interesting to watch. They challenge prejudices regarding female performances and they allow knowledge, experience and skills specific to those sports to flow to countries far from the ones who lead them, and also it reminds us of the Olympic values that are excellence, friendship and respect. However I would admit that for fans it poses a problem: we don't know which team to cheer for!
February 19, 2016
What I really like about the Youth Olympic Games is to see to what extent the athletes and the venues are accessible, first of all because admission is free for the public and mostly because the no-access zones are virtually non-existent.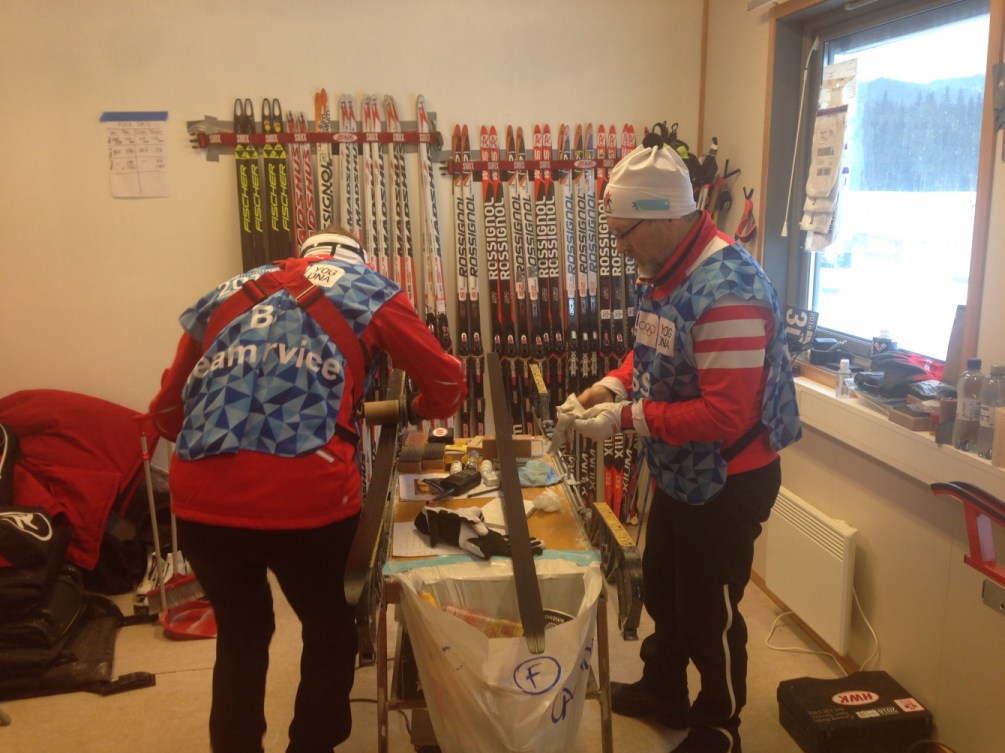 I mentioned a few days ago that I really enjoy seeing the athletes in the last moments before they enter competition. In fact, that proximity allows me to learn a lot about the various sports whether it be equipment, preparation, support staff, techniques, relationships with coaches, etc.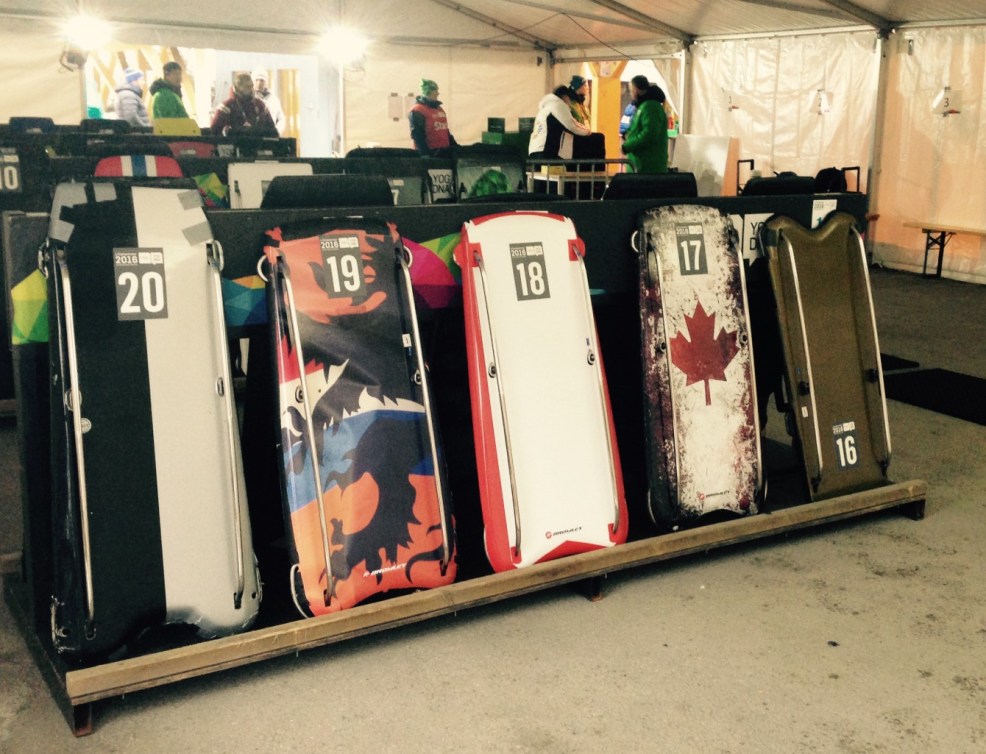 Being so close provides great moments like the time Ali, who had just silver, caused the medal ceremony to be delayed without knowing it so she could eat a waffle in the VIP tent which she could now enter.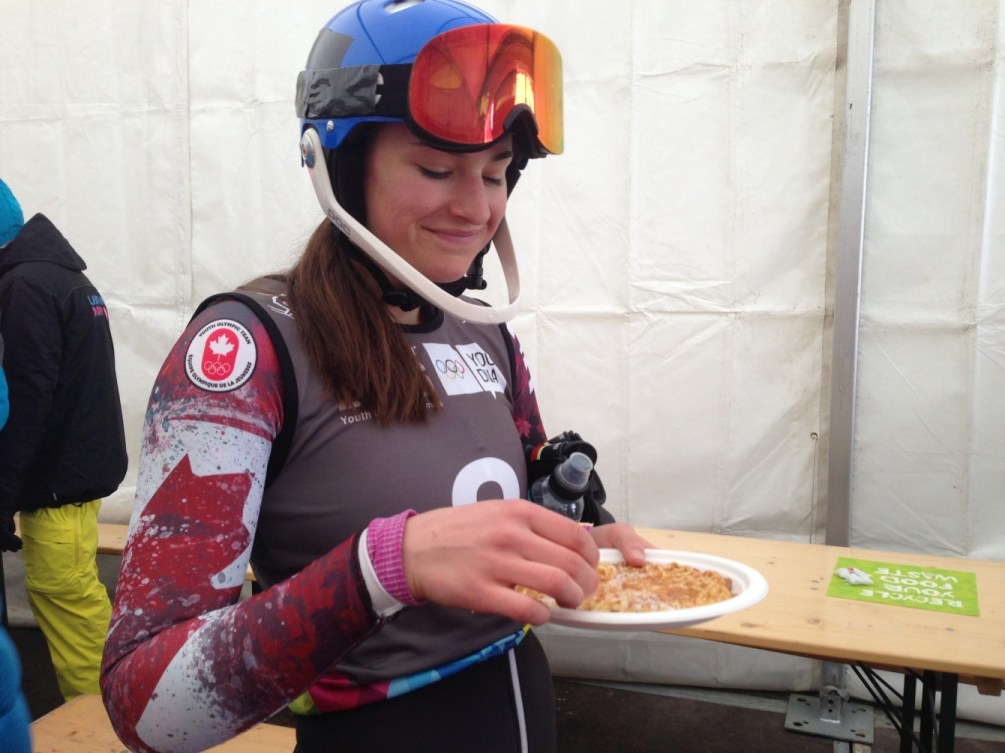 As strange as that may appear, it is those seemingly trivial moments that I most remember from my career – the giggles, the implausible situations, the major disappointments and the great victories that I had a chance to share with my teammates – that made my athletic career the rich journey that I cherish.
Silver…Sweet!!! teamcanada #lillehammer2016 #IloveYOG @ Hafjell https://t.co/8j59agP6NY

— Isabelle Charest (@IsabelleCharest) February 18, 2016
February 17, 2016
Fairly quiet day in terms of performance despite our superb gold medal in curling! By the way, I'm slowly but surely becoming an expert in the sport, at least I think so.
Today was dedicated to Learn & Share, in important component of the Youth Olympic Games, so that most of the athletes had a break from competition to take part. It gave me a chance to do one of the things I like most at the Games: spend hours in the cafeteria talking to athletes.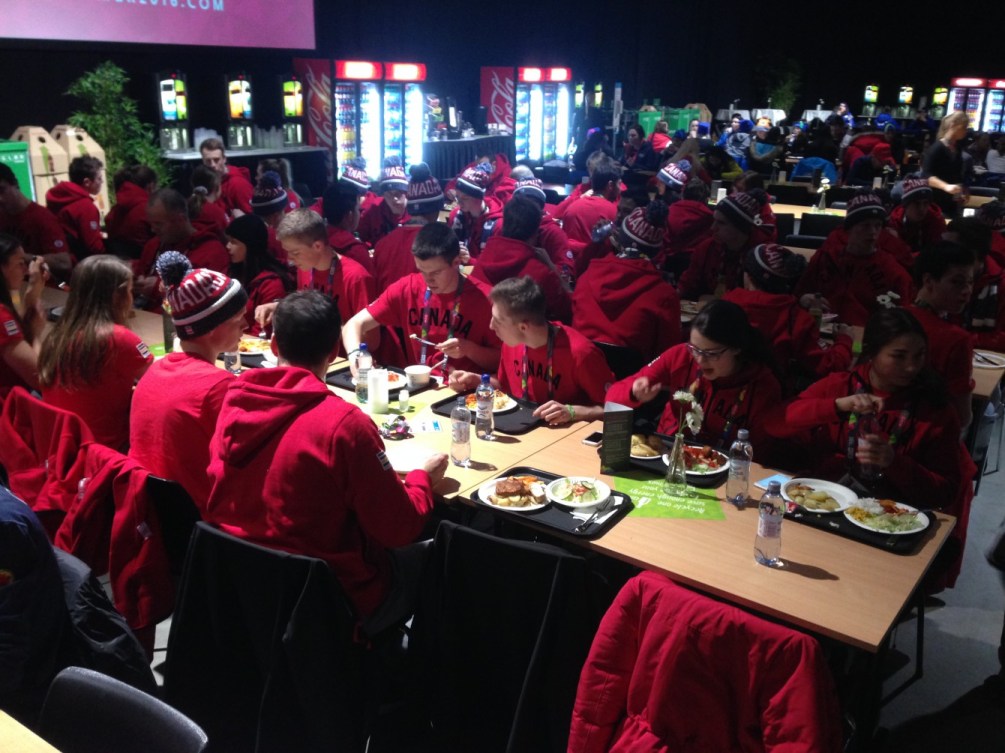 I'm getting to know more and more athletes. I tell myself that my role as Chef de Mission makes me their legal tutor so I decided to own that role. I'm realizing that my kids are really extraordinary, engaged, dynamic, curious, bright and I could go on.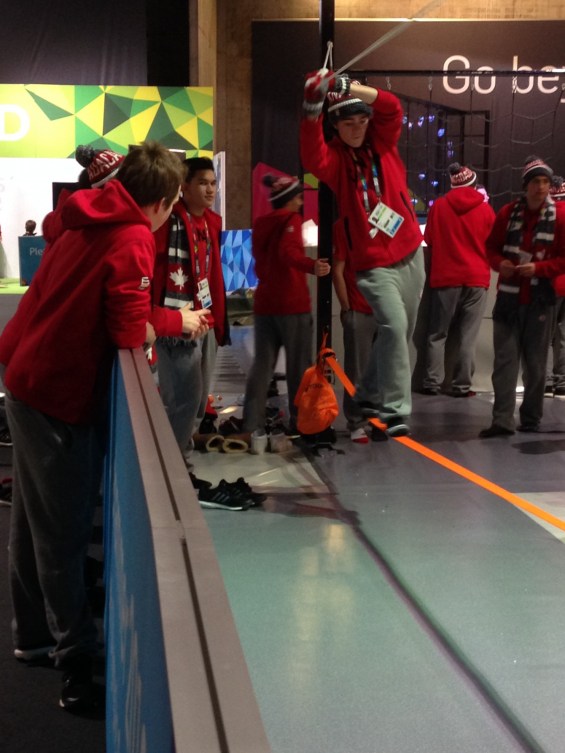 And to see them blossoming and interesting gives me hope that maybe I will survive my own kids' teenage years.
February 16, 2016
Another splendid day literally running around everywhere to watch as many competitions as possible.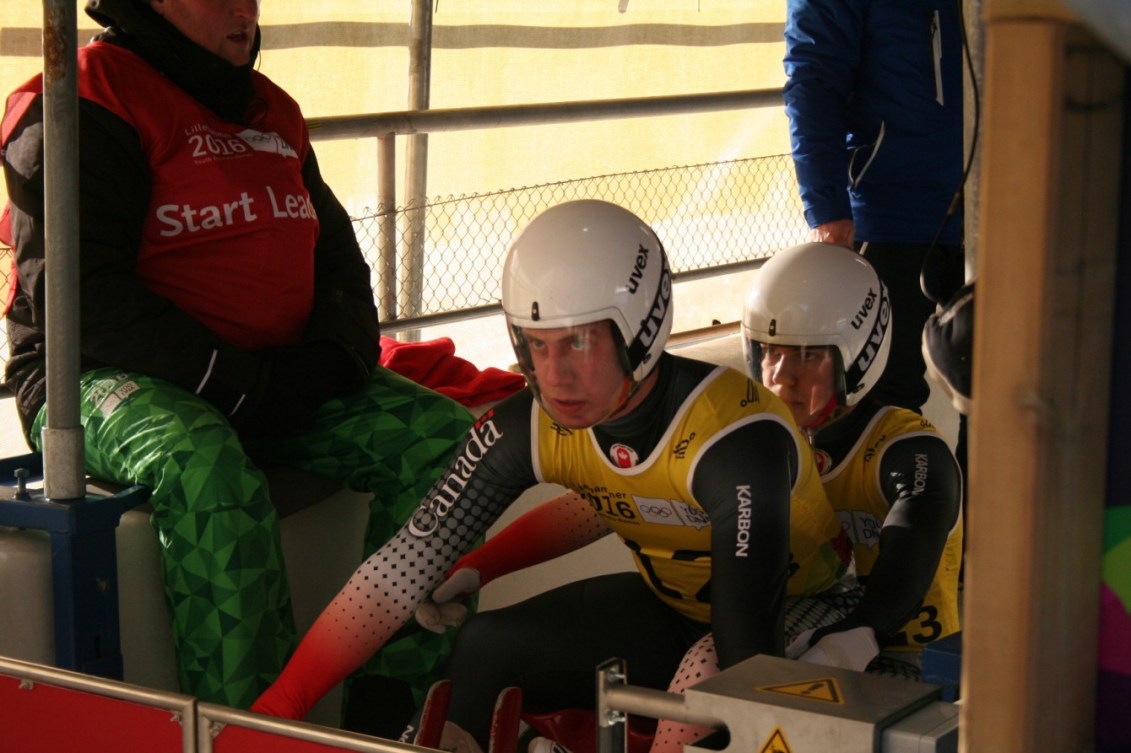 It began at luge where I had the privilege to stand at the starting line, around 2 meters from the competitors. I was able to observe them in the last second before their race and remind myself how fascinating it is to see the focus and determination in their eyes. For a moment, I missed that sense of restlessness.
Then at Hafjell I saw Evan, a snowboarder with the friendliest face. He was racing yesterday and finished fourth. This morning at breakfast he was telling me with his usual smile how "it sucks" to finish fourth.
And it's with that same smile that he told me the same thing at dinner while being careful not to blame his teammate who made a few errors that may have cost them a medal.
For what it's worth Evan, the medal you intent to earn at the "real Games", with all my heart, I wish you to get it.
February 15, 2016
Excellent results for Canada today with two gold medals and three fourth place finishes.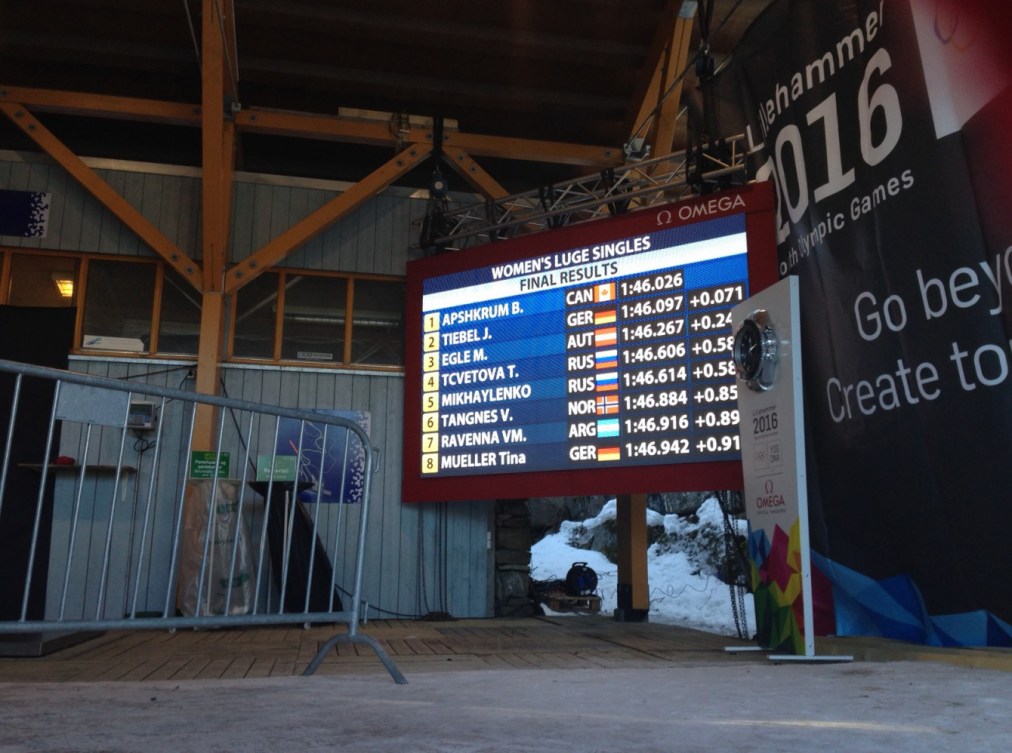 Sorry Reid that your status as only Canadian Olympic medallist in luge didn't stick long. Brooke quickly caught up with you. And what can I say about Reece who was literally flying over the ski cross course. Wow!
I admit that I expected to experience strong emotions when I started this journey. Today was no exception!
This morning, I went to Hamar to watch figure skating. On top of the fact that it was in that venue that I won my silver medal, it's there that I had the good fortune in 1994 to see Isabelle Brasseur and Lloyd Eisler win their Olympic medal.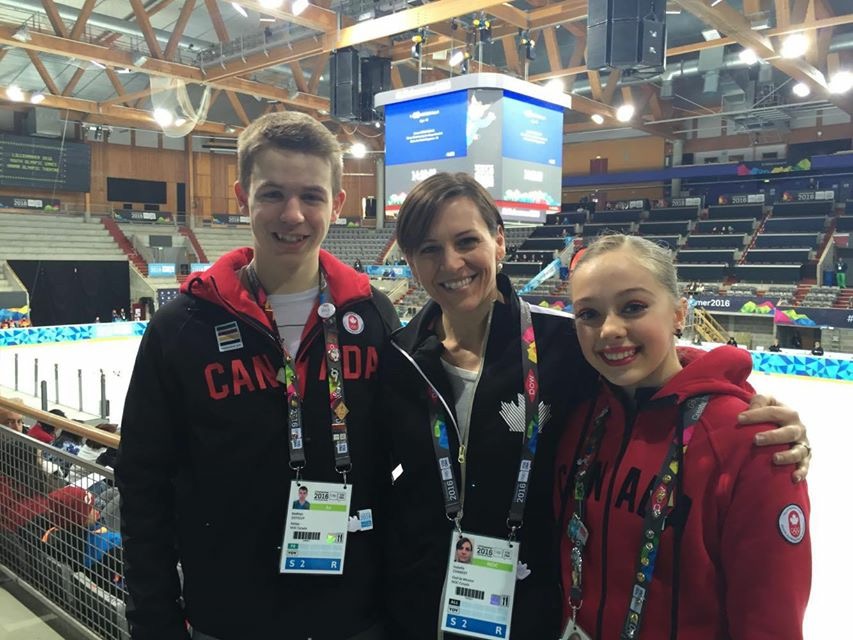 It was Mathieu, Roman and Justine that I came to cheer today (Marjorie and Zachary will skate tomorrow). Justine is the niece of Isabelle Brasseur, charming, delicate, nice, wide smile, the image of her aunt. But watching her skate this afternoon, I can tell you that young woman is on her way. Bravo to the skaters! You were magnificent!
February 14, 2016
Our quick jaunt to Oslo today to cheer on our snowboarding and freestyle skiing (halfpipe) athletes strangely turned into a full day-trip. I'll spare you the details, but let's just say that "the puck was not our friend today".
It was nonetheless a wonderful day to discover two totally spectacular and fascinating sports. I met amazing new people, spent a lot of time with the athletes and their parents, and I also ran into an old teammate from the 1994 Games, Dennis Marineau, who was on the bobsleigh team back then.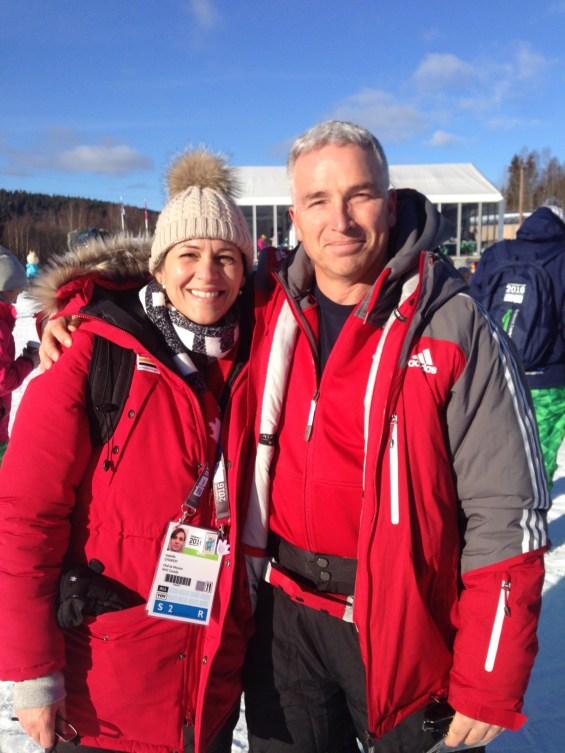 His son, Evan, was among the athletes competing today, and much to his father's delight, he slid his way to a solid seventh place finish. Dennis would probably prefer that I didn't mention it, but I will anyway: this tall guy with about 30 years' experience on the international circuit –both as an athlete and a coach – was very restless before his son zipped down the track.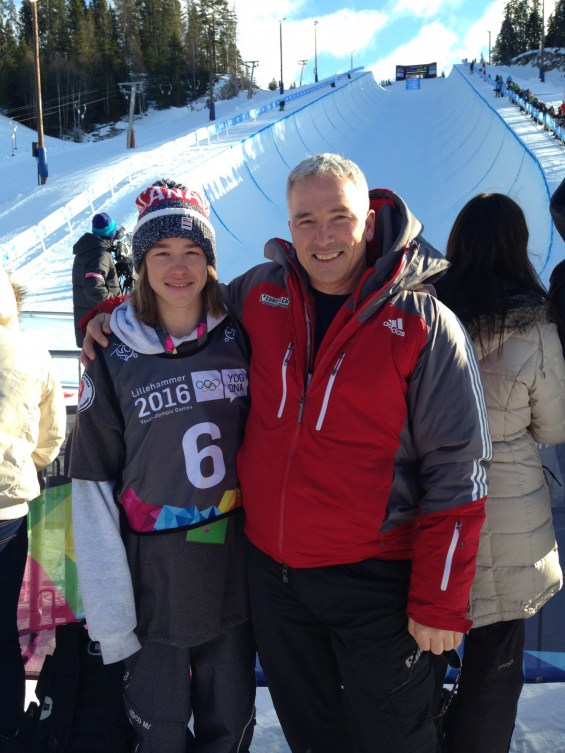 That was quite an emotional moment for the mother in me.
YEAH First medal! "REID TAKES BRONZE @youtholympics Luge!!! @lillehammer2016 #iLoveYOG @TeamCanada pic.twitter.com/roCdd31NU0"

— Isabelle Charest (@IsabelleCharest) February 14, 2016
And we won our first medal today. Congratulations Reid! You won Canada's first Olympic medal in luge!
February 13, 2016
The competitions have started – yay! Of course, we spent the day watching our athletes perform, but also checking out their entourage… discretely.
I feel very privileged because my accreditation allows me to go everywhere and I can be a part of our athletes' universe here. I see them before they take place on the starting line and when they come back, but most importantly I see them interact with their coaches. I have great admiration for our coaches, their patience, dedication and heart. By the way, I had great coaches in my career and I want to thank each and every one of them!
And this is a great opportunity to meet the parents. I also admire them, their unconditional love and support for their children, and their desire to see them reach their full potential.
Maybe this is just the beginning. #TheOnlyWayToKnow #Lillehammer2016 Winter @YouthOlympics https://t.co/N4OgXvR2GEhttps://t.co/dtCHhqLoom

— Samsung Norge (@SamsungNorge) February 12, 2016
You can guess what's coming next… Thank you Steve, Maman, Papa, Nathalie, Luc and the rest of the family!
Note from the editor: February 14 is Mother's Day in Norway! 
February 12, 2016
A happy coincidence allowed me to be here today, leading the Canadian delegation at the exact place where I began my Olympic journey exactly 22 years ago.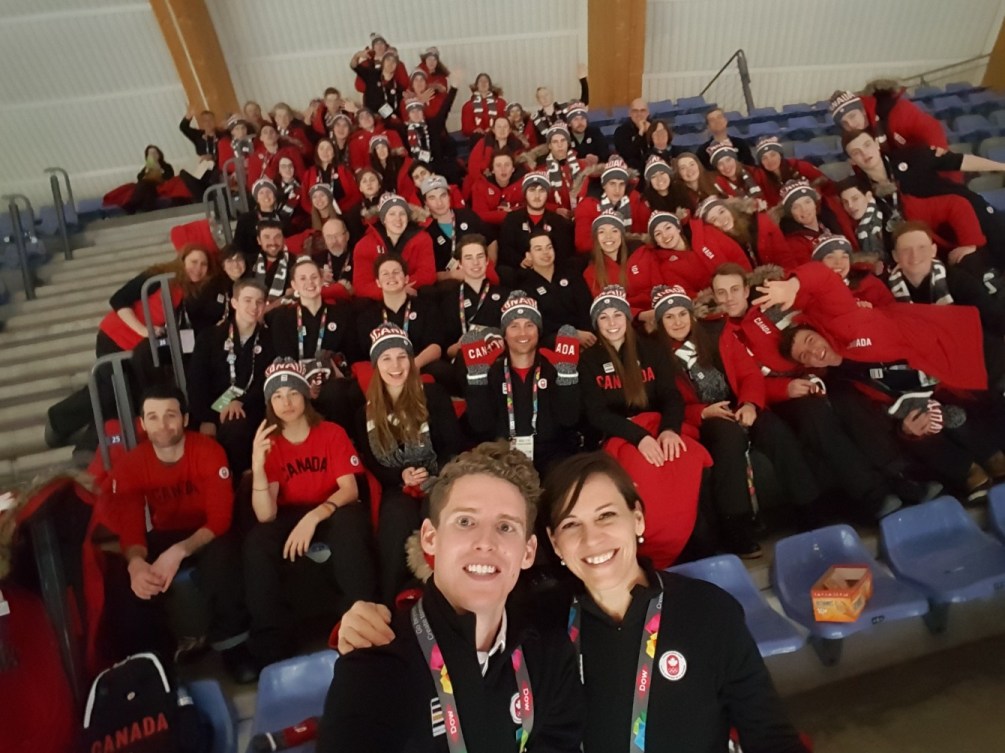 My role as Chef de Mission mainly consists of sharing my experience and acting as a mentor for these young athletes who aspire to one day be able to live their great Olympic moment.
Great picture, great team !!! https://t.co/33dtGJgrvR

— Isabelle Charest (@IsabelleCharest) February 12, 2016
I thought that because of all those years spent in the Olympic world that I would have toughened up and not gotten caught up in that strange mix of nostalgia, pride, gratitude, happiness and exaltation that I experienced every four years. Oh how wrong I was!
I was emotional tonight when I passed the torch to the youth: they inspire and impress me, and make me smile. The only advice I could think of giving them is to live every moment fully, because in the blink of an eye… 22 years will have gone by.
February 11, 2016
The 2016 Youth Olympic Games are here at last!
After four days visiting the sites at the Olympic Village and waiting impatiently for the kick-off, it's fun to see the event take shape. Slowly, the athletes are making their entrance. Now they are all here and probably more impatient than I am for these Games to begin.
In the next few days, I will share my thoughts, favorite moments, memories and everything this event inspires me to convey. I invite you to follow my journey. I'll try to make it fun. ;)