New crop of wrestlers to embrace Canada's Olympic place in the sport
When the future of Olympic wrestling was in doubt several years ago, a pair of Canadians helped save the day—no surprise, given Canada's history in the sport.
After the International Olympic Committee had decided, back in 2013, to remove wrestling from the Tokyo 2020 program, Canadian gold medalists Daniel Igali (Sydney 2000) and Carol Huynh (Beijing 2008) were at the forefront of a movement to get the sport reinstated.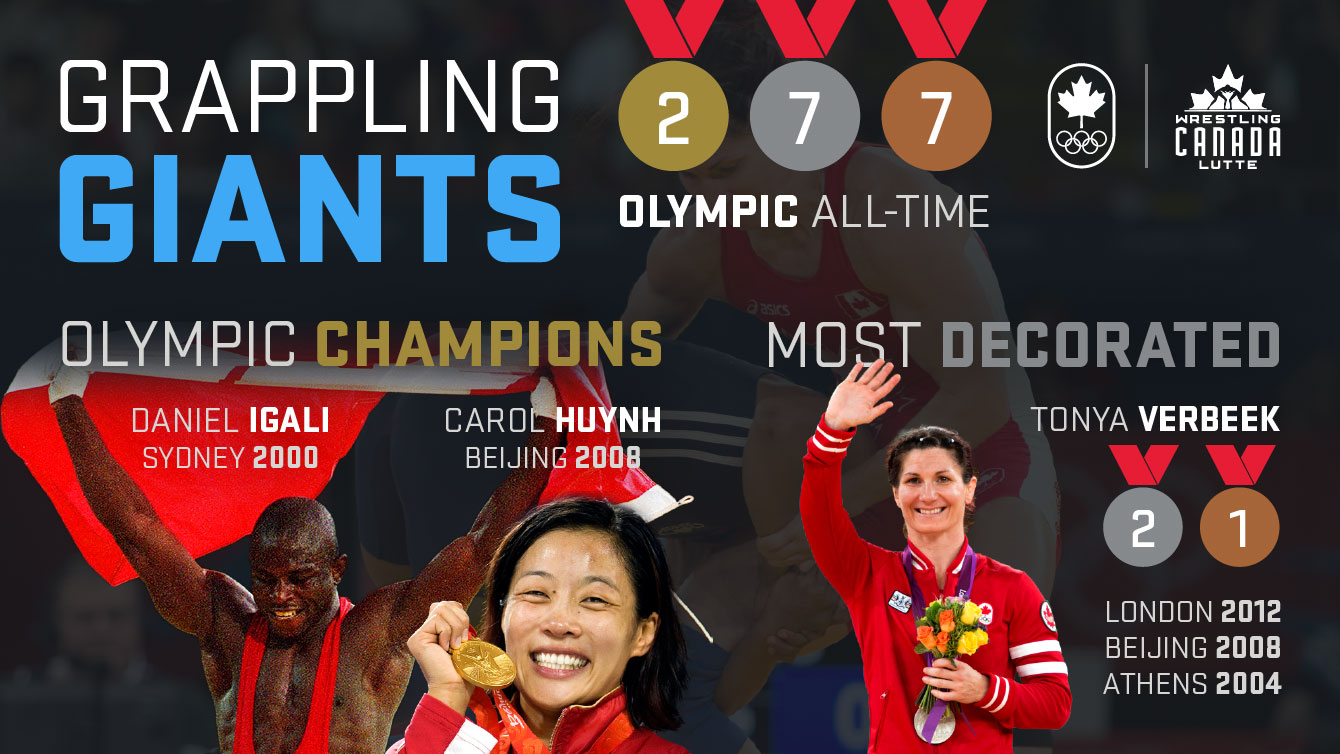 That movement was ultimately successful, meaning that a new generation of Canadian wrestlers will indeed get the opportunity to follow in the footsteps of the likes of Igali, Huynh and three-time Olympic medallist Tonya Verbeek.
RELATED: Eight wrestlers named to Rio 2016 team
In Rio, eight freestyle wrestlers will compete for Canada: six women—Jasmine Mian (48kg), Jillian Gallays (53kg), Michelle Fazzari (58kg), Danielle Lappage (63kg), Dori Yeats (69kg), Erica Wiebe (75kg)—and two men, Haislan Garcia (65kg) and Korey Jarvis (125kg).
While there are multiple medal contenders in that group, the most likely to hit the top of the podium might be Wiebe, who won gold at the 2014 Commonwealth Games and the 2015 Yarygin Grand Prix.
But it wouldn't be unprecedented for Canada to take home multiple wrestling medals this year; that's exactly what the team did at London 2012 and Beijing 2008. In fact, Canada has reached the podium in wrestling at the last six Summer Games, adding to the country's all-time haul of 16 Olympic medals.
Things have been a bit different in the run-up to Rio, however. Beyond the shock that rippled through the wrestling world after the IOC's announcement in 2013, athletes' preparations have also been affected by changes brought in as part of the sport's reinstatement, including new Olympic weight classes.
For some competitors, that meant the rigours of switching to a whole new weight class and training regimen. But as evidenced by the "save wrestling" campaign—and, indeed, the nation's entire history in the sport—Canadian wrestlers aren't the sort who'll back down away in the face of adversity.