Boxing
Team Canada Medal Count
3
7
7
Sport Overview
Boxing at Paris 2024
Venue: Roland Garros Stadium – Suzanne Lenglen
Competition Dates: July 27-August 4, August 6-10 (Days 1-9, 11-15)
Events: 13 (7 men, 6 women)
Trivia: Test your knowledge!
*On June 26, 2019, the International Olympic Committee suspended its recognition of the International Boxing Association due to issues regarding the finances and governance of the international federation. The IOC Executive Board created the Boxing Task Force with the mandate to organize and ensure the delivery of Olympic qualification events for boxing and the boxing tournament at Tokyo 2020.
At its core, boxing is a contest in which two combatants engage hand-to-hand for sport. There are 13 events on the Olympic program which are based on the maximum allowed weight of the athletes for each event.
Men: 51kg, 57kg, 63.5kg, 71kg, 80kg, 92kg, +92kg
Women: 50kg, 54kg, 57kg, 60kg, 66kg, 75kg
The competition within each event is run as a single elimination bracket. A draw determines opponents, but top-ranked boxers are seeded to ensure they do not meet in the early rounds. The losers of the semifinal bouts do not face each other in a bronze medal bout; instead both are awarded bronze medals.
All bouts are comprised of three 3-minute rounds. There is a one-minute rest period between rounds.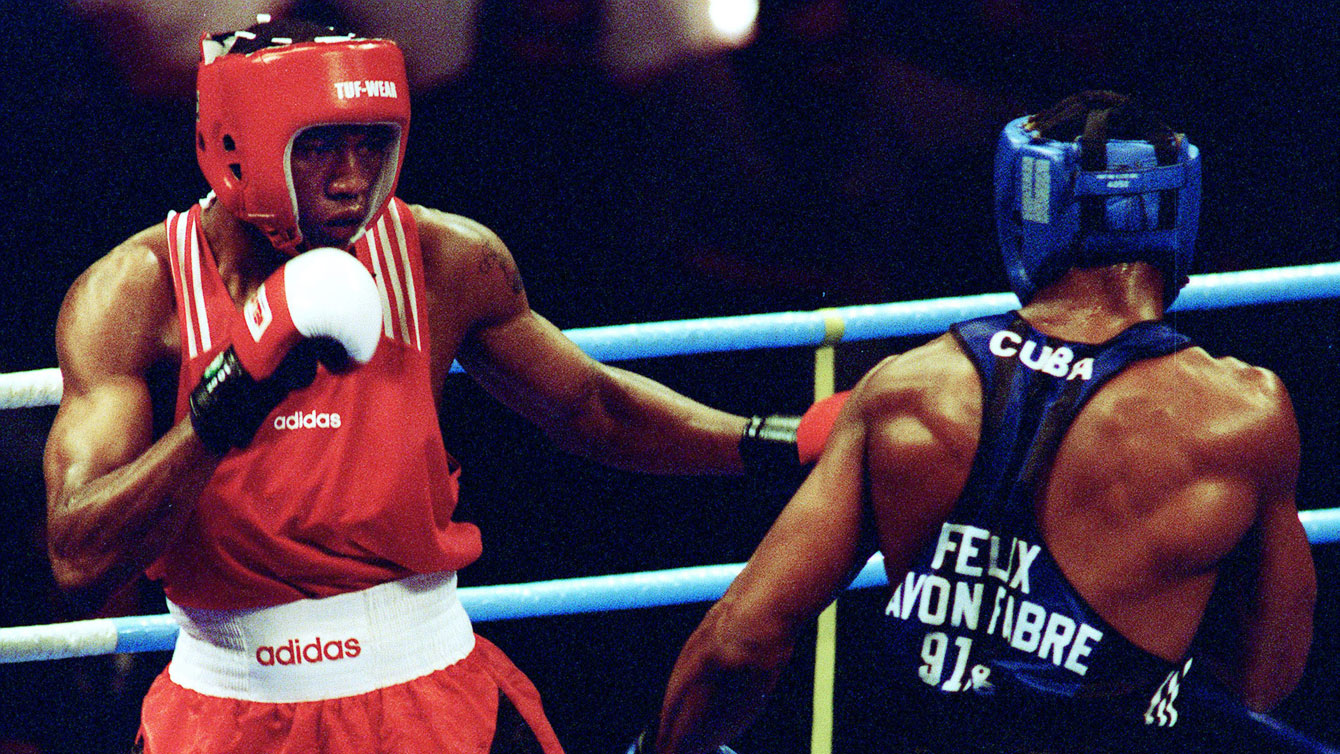 There are five judges for each bout, each given a randomly selected position around the ring. At the end of each round, each judge must determine who won that round, awarding 10 points to the winner and seven to nine points to the loser. A score of 10-9 indicates a close round, while a score of 10-7 means the losing boxer was completely overmatched. At the end of a bout, the boxer with the higher total score is the winner. The scores of all five judges count towards determining the winner of the bout. If all five judges agree on the same winner, it is a unanimous decision. If at least one judge differs in their opinion, it is called a split decision.
Among the things the judges independently assess are the number of quality blows to the target area, domination of the bout by technical and tactical superiority, and competitiveness.
Canada's Olympic Boxing History (Pre-Paris 2024)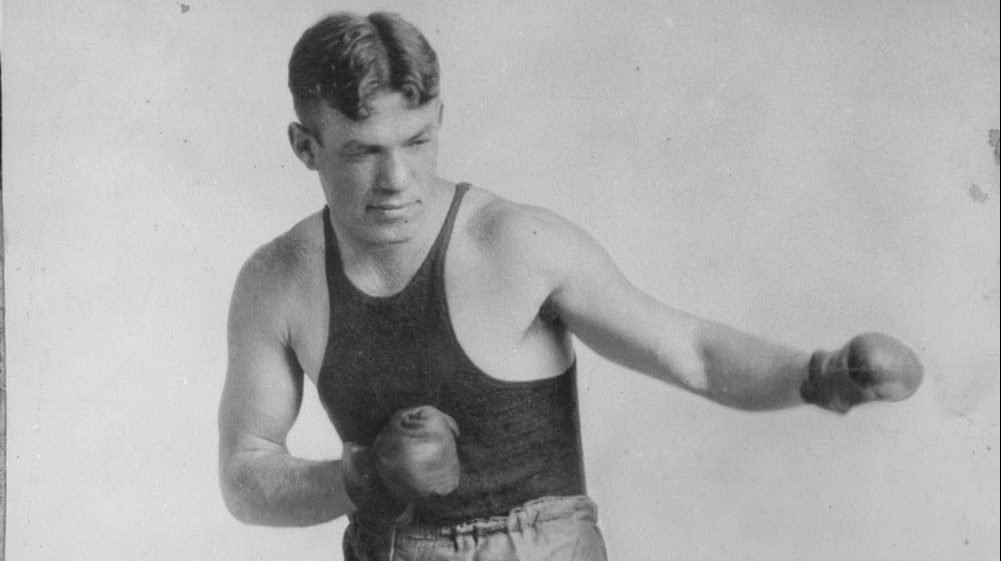 Canada has a rich history of success that dates back to Antwerp 1920, where Canadian athletes walked away with five medals. Welterweight Albert Schneider won gold, bantamweight Cliff Graham and middleweight Art Prud'homme each took home silver medals, lightweight Clarence Newton and middleweight Moe Herscovitch each won bronze. That was the first of four Games at which Canada won multiple boxing medals, later doing so at Los Angeles 1984 (3), Seoul 1988 (3) and Barcelona 1992 (2).
The next time Canada won gold was at Los Angeles 1932, courtesy of bantamweight Horace "Lefty" Gwynne. It would be 52 years before Canada won another boxing medal, when heavyweight Willie de Wit and light middleweight Shawn O'Sullivan won silver, the latter in a controversial loss to American Frank Tate, and bantamweight Dale Walters won bronze.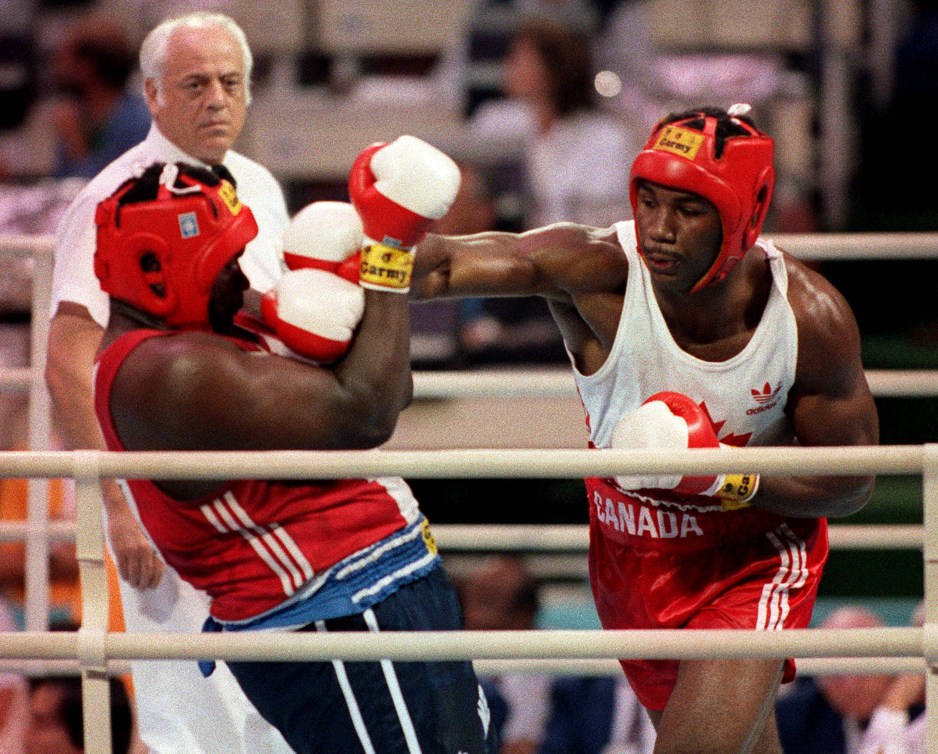 One of Canada's most recognizable athletes, super heavyweight Lennox Lewis, won gold at Seoul 1988, which included a defeat of American Riddick Bowe. Middleweight Egerton Marcus and light middleweight Raymond Downey each stood on the podium as well at Seoul 1988. Canada's most recent boxing medal was a silver by heavyweight David Defiagbon at Atlanta 1996.
Mary Spencer became the first Canadian woman to compete in Olympic boxing when women's events were added to the program at London 2012. The farthest a Canadian woman has advanced in any Olympic boxing tournament is the quarterfinals.
Olympic Boxing History
Boxing was first included on the Olympic program at St. Louis 1904. It was also included at London 1908 before being omitted at Stockholm 1912 because Swedish law at the time banned the sport. Boxing made a permanent return to the Olympic program at Antwerp 1920.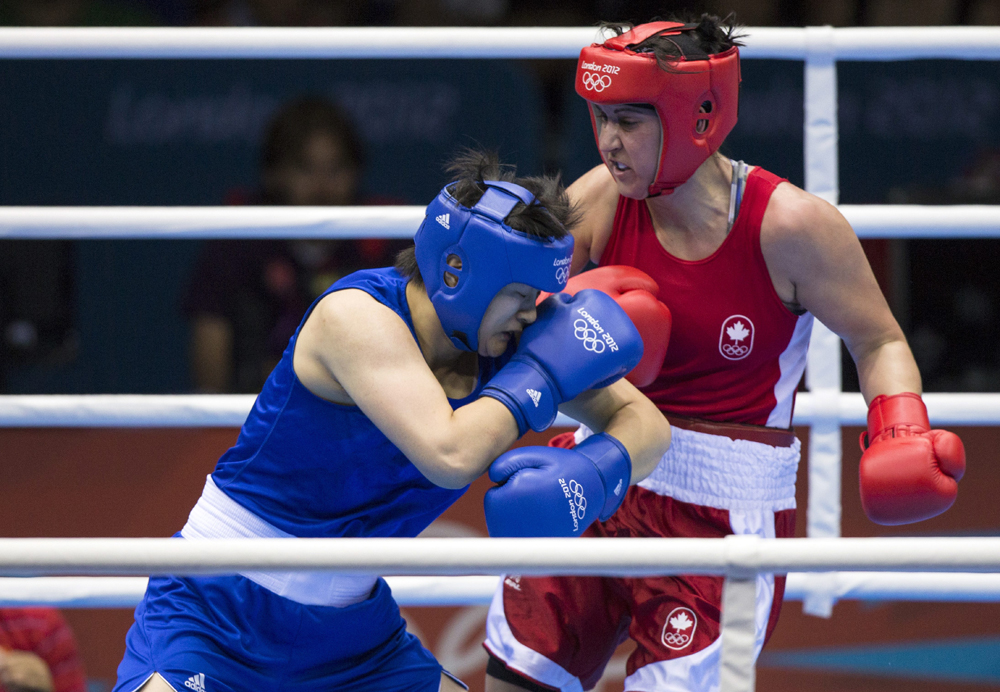 Boxing was the last male-only sport at the Olympic Summer Games. At London 2012, three women's events were included for the first time. At Tokyo 2020, two more women's events were added while the number of men's events were reduced. At Paris 2024, boxing will achieve gender equality for the first time in the number of athletes competing as the program changes once again to feature seven men's events and six women's events.
Canadian Medallists
| Event | Athlete | Finish | Games |
| --- | --- | --- | --- |
| Welterweight - Men | Albert Schneider | Gold | 1920 Antwerp |
| Bantamweight - Men | Horace "Lefty" Gwynne | Gold | 1932 Los Angeles |
| Super Heavyweight - Men | Lennox Lewis | Gold | 1988 Seoul |
| Bantamweight - Men | Cliff Graham | Silver | 1920 Antwerp |
| Middleweight - Men | Art Prud'homme | Silver | 1920 Antwerp |
| Heavyweight - Men | Willie de Wit | Silver | 1984 Los Angeles |
| Light Middleweight - Men | Shawn O'Sullivan | Silver | 1984 Los Angeles |
| Middleweight - Men | Egerton Marcus | Silver | 1988 Seoul |
| Light Welterweight - Men | Mark Leduc | Silver | 1992 Barcelona |
| Heavyweight - Men | David Defiagbon | Silver | 1996 Atlanta |
| Lightweight - Men | Clarence Newton | Bronze | 1920 Antwerp |
| Middleweight - Men | Moe Herscovitch | Bronze | 1920 Antwerp |
| Welterweight - Men | Douglas Lewis | Bronze | 1924 Paris |
| Welterweight - Men | Raymond Smillie | Bronze | 1928 Amsterdam |
| Bantamweight - Men | Dale Walters | Bronze | 1984 Los Angeles |
| Light Middleweight - Men | Raymond Downey | Bronze | 1988 Seoul |
| Middleweight - Men | Chris Johnson | Bronze | 1992 Barcelona |
Teams