Photo: American Foreign Press
10 of athletics' most impressive world records
Records are meant to be broken. But that's harder with some than others.
Some of the world's most notable athletic achievements are from a completely different era, while some have raised questions on the physical limits of the human body. Then some records still stand because the athletes who set them were simply that far above their opponents. Of all these records, could some be broken?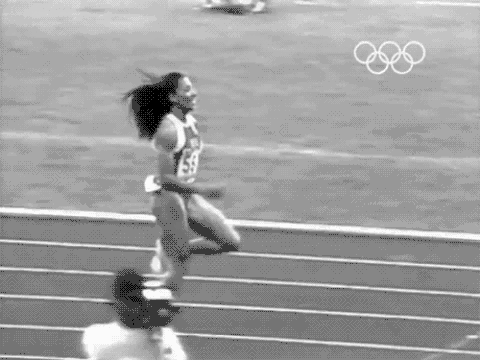 Here's a look at 10 athletics' world records that have stood – or may stand – the test of time.
1. 1988 – Seven-Event Superstar
Heptathlon, women – Jackie Joyner-Kersee, 7291 points 
Heptathlon combines seven athletics events, with points awarded based on measurements and times achieved. American Jackie Joyner-Kersee has held the world record for total score since July 7, 1986 when she became the first woman to surpass 7000 points at the Goodwill Games, scoring 7148 in Moscow. She increased the record twice more before setting the current mark of 7291 points in winning gold at the 1988 Olympic Games in Seoul. Joyner-Kersee was so dominant that she owns the top six heptathlon scores all-time.
2. 1991 — Powell-Lewis Clash
Long jump, men – Mike Powell – 8.95 metres
https://www.youtube.com/watch?v=o9GkPg6rj-E
For 23 years, no one had been able to touch Bob Beamon's long jump record of 8.90 metres that he had set in the thin air at Mexico City 1968. But that all changed on August 30, 1991. In the world championship final in Tokyo, Carl Lewis and Mike Powell produced perhaps the greatest long jump competition ever. After Lewis jumped 8.91 metres on his fourth attempt, albeit wind-aided, Powell followed up with a wind-legal 8.95 metre effort on his fifth attempt, setting a record that has now stood longer than Beamon's. In the years since, the closest anyone has come is the 8.74 metres jumped by Erick Walder in April 1994 and Dwight Phillips in June 2009.
3. 1992 – Hurdles No Obstacle for "Spiderman"
400m hurdles, men – Kevin Young – 46. 79 seconds
Kevin Young had finished fourth in the 400m hurdles at both the 1988 Olympic Games and the 1991 World Championships but was ready for his breakout moment at Barcelona 1992. He had worked to fix his stride pattern to avoid late-race fatigue. In the Olympic final, he had everything working for him and was quickly clear of the field, crossing the finish line in 46.78 seconds. He was the first 400m hurdler to clock a time under 47 seconds and broke the mark that had been set by the legendary Edwin Moses in 1983. As a point of comparison, the top time in the 400m hurdles at Rio 2016 was 47.73 seconds by another American, Kerron Clement. In August 2020, Norwegian Karsten Warholm came the closest anyone has come to Young's mark, running 46.87 seconds.
4. 1993 — Sotomayor Soars in Salamanca
High jump, men – Javier Sotomayor – 2.45 metres
For 24 years and counting, Javier Sotomayor has been holding the high jump world record. It was in July 1993 in Salamanca, Spain that the leggy Cuban jumped over the bar set at 2.45 metres, succeeding in his second attempt at the height. It was in that same place five years earlier that he had first set the world record at 2.43 metres, but then was unable to compete at Seoul 1988 due to his country's boycott. In July 1989 he had been the first man to clear 8 feet with his metric jump of 2.44 metres. He finally made his Olympic debut at Barcelona 1992 where he won the gold medal. As a sign of his dominance, consider that there are 12 men in history, including Canada's Derek Drouin, who have combined to clear 2.40 metres 41 times. Sotomayor has done it 17 of those times. Qatar's Mutaz Essa Barshim has come closest to matching the world record, leaping 2.43 metres in September 2014.
5. 1995 – The British Kangaroo
Triple jump, men – Jonathan Edwards – 18.29 metres
It doesn't always take a large margin to create a new record, a notion well understood by British triple jumper Jonathan Edwards. On July 18, 1995, Edwards broke the mark of 17.97 metres held by American Willie Banks by a single centimetre. He then confirmed his dominance of the event by twice beating his own world record in the following weeks. At the world championships in Gothenburg, Sweden on August 7, he became the first to surpass 18 metres, leaping 18.16 on his first attempt in the final. He did even better on his second attempt, setting the current mark at 18.29 metres to finish 67cm ahead of the runner-up. In the 22 years since, the closest challenger to the world record has been Christian Taylor who jumped 18.21 metres at the 2015 World Championships in Beijing.
6. 2003 2019 – (New) Marathon Woman
Marathon, women – Paula Radcliffe – 2:15:25 Brigid Kosgei – 2:14:04 
During the London Marathon on April 13, 2003, British home favourite Paula Radcliffe set the women's marathon world record when she covered the 42.195km course in 2 hours, 15 minutes and 25 seconds. It broke her previous world record, set just six months earlier in Chicago, by almost two minutes. In 2011, Radcliffe was in danger of losing her record when the International Association of Athletics Federations (IAAF) ruled that women's records needed to be set in women-only races. In the 2003 London Marathon, Radcliffe had followed male pacemakers. But there was such an outcry over her remarkable time being reduced to a "world best" that the IAAF reversed its decision and kept the world record on the books. It stood until October 13, 2019 when Kenyan Brigid Kosgei completed the Chicago Marathon in 2:14:04, taking more than a minute off Radcliffe's record. It was officially ratified as the new global standard in February 2020.
7. 2009 – The Fastest Man on Earth
100m and 200m, men – Usain Bolt – 9.58 seconds and 19.19 seconds
One can't write about athletics' world records without mentioning the fastest man on earth, Usain Bolt. The Jamaican sprinter has held the world records in both the 100 metres (9.58 seconds) and 200 metres (19.19 seconds) since the 2009 World Championships in Berlin. It was the third time Bolt had lowered the 100m mark, taking an incredible 0.11 of a second off the time he had run to win gold at Beijing 2008. He dropped the same amount of time from the 200m world record he had also run at the Olympic Games the year prior.
8. 2012 – Breaking an Unbreakable Record
4x100m relay, women – Tianna Madison, Allyson Felix, Bianca Knight, Carmelita Jeter – 40.82 seconds
The women's 4x100m record set at London 2012 by Team USA runners Tianna Madison, Allyson Felix, Bianca Knight, and Carmelita Jeter had a big impact on the history of the women's 4x100m relay as it erased a world record that dated back to October 6, 1985. The quartet took more than half a second off the mark set by an East German foursome at a meet in Canberra, Australia that had been one of the longest-standing running records on the track. It had also been a record looked at with much suspicion since the athletics world became aware of systematic state-sponsored doping by East Germany in the 1980s.
9. 2014 2020 – Mondo's World
Pole vault, men – Renaud Lavillenie – 6.16 metres Armand Duplantis – 6.18 metres
https://www.youtube.com/watch?v=2QFUh2P9_Bg
In 1984, Sergei Bubka had already broken the pole vault world record three times when he met up with the last man to hold the global standard, Frenchman Thierry Vigneron, in Rome on August 31. For just a few moments, Vigneron reclaimed the world record at 5.91 metres, only to see Bubka soar 5.94 metres. That was the last time that anyone other than Bubka would hold the world record for three decades. In July 1985, the Ukrainian became the first to clear 6 metres. Over the years, he kept pushing the bar to new heights, eventually reaching 6.14 metres in July 1994 with his 17th world record. Twenty years later, along came another Frenchman, Renaud Lavillenie. Competing in Bubka's home country, he amazed the athletics world with his vault of 6.16 metres in February 2014. But the global standard would only be his for six years. At just 20 years old, Swedish phenom Armand "Mondo" Duplantis cleared an incredible 6.18 metres at an indoor meet in February 2020.
10. 2014 2018 – Marathon Man
Marathon, men – Dennis Kimetto – 2:02:57 Eliud Kipchoge – 2:01:39 
It was at the 2014 Berlin Marathon that Kenya's Dennis Kipruto Kimetto completed the 42.195km race in 2 hours 2 minutes 57 seconds to become the first marathoner to ever break the 2 hour 3 minute barrier on a record-eligible course. Four years later, his countryman Eliud Kipchoge became the first to drop below 2 hours and 2 minutes, running the Berlin Marathon in 2:01:39 for the official world record. Fun fact: six of the seven fastest marathons in history recognized by World Athletics have been run in Berlin.
Kipchoge also has the distinction of being the first person to run a marathon distance in under two hours. In October 2019, he broke the mythic milestone in Vienna, but his time of 1:59:40 does not qualify as a world record because of the closed conditions under which he achieved the mark, which included a rotation of professional pacesetters.
Bonus: 2015 – Genzebe Dibaba reaches the unreacheable
 1500m, women – Genzebe Dibaba – 3:50.07
Genzebe Dibaba is another athletic icon who erased a mark that was long seen as unbeatable. At 24 years old, during the IAAF Diamond League event on July 17, 2015, in Monaco, Dibaba established the new world record in the 1500m with a time of 3:50.07. Every 100 metres, she kept or even surpassed her pace to beat the previous record of 3:50.46 which had been established in 1993 by China's Qu Yunxia. If the race is a matter of rhythm, well the Ethiopian certainly controls the music since she delivered one of the most impressive performances in women's athletics for the last 12 years.