AP Photo/Lee Jin-man
Weekend Roundup: records, medals and Tokyo 2020 qualifications
Over the weekend, Canada's athletes won medals on the other side of the world and at home.
Here's a look at what happened:
Swimming
Maggie MacNeil stunned the world on Monday morning when she defeated three-time world champion Sarah Sjöström to win the 100m butterfly title.
MacNeil also set a Canadian record time of 55.83 seconds.
Sydney Pickrem won Canada's second medal of the day, a bronze in the women's 200m medley.
READ: Maggie MacNeil wins 100m butterfly title at FINA World Championships
READ: Canada opens World Championships with bronze and Tokyo 2020 qualification
On Saturday, Canada qualified for Tokyo 2020 in the women's 4x100m freestyle relay event after finishing in the top 12 after the preliminary heats.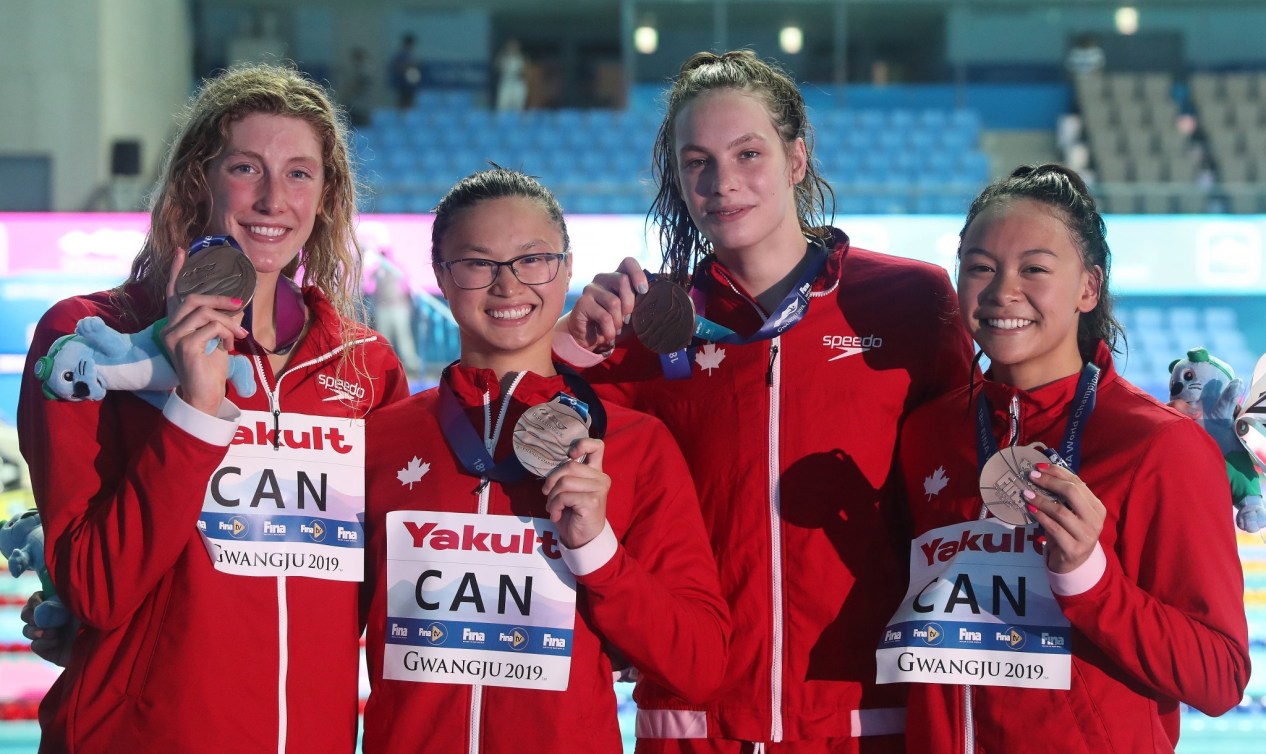 They went on to win bronze in the finals, claiming Canada's first swim medal at the FINA Worlds. Posting a time of 3:31.78, Canada's bronze medal team included Kayla Sanchez, Taylor Ruck, Penny Oleksiak and Margaret MacNeil.
Diving
On Saturday, Jennifer Abel continued to add on to her Canadian record, picking up her tenth FINA World Championships medal. Abel and François Imbeau-Dulac won Canada's final diving medal, a silver in the mixed 3m synchro event.
READ: Abel and Imbeau-Dulac take silver at FINA World Championships
While Vincent Riendeau didn't reach the podium in the men's 10m platform, his efforts did land Canada a quota spot for the event.
Water Polo
This year at the FINA Worlds, Canada won the bronze medal in the men's beach water polo exhibition series. Canada defeated China 19-18 to claim third place.
Beach Volleyball
The FIVB World Tour made its first-ever stop in Edmonton. World champions Sarah Pavan and Melissa Humana-Paredes defeated American duo Betsi Flint and Emily Day 2-0 (21-11, 21-16) to win the gold medal.
READ: Gold and silver for Team Canada at FIVB Volleyball World Tour in Edmonton
RELATED: Pavan and Humana-Paredes claim beach volleyball world title
On the men's side, Grant O'Gorman and Ben Saxton landed silver, after falling 2-1 (15-21, 25-23, 8-15) to Swiss pair Nico Beeler and Marco Krattiger.
Athletics
On Saturday at the London Diamond League, Gabriela DeBues-Stafford won bronze in the women's 1500m race. She also broke a 34-year-old record held by Lynn Williams (Kanuka) to set a Canadian record of 4:00.26 in the 1500m.
Williams' record of 4:00.27 was set on August 30, 1985 in Brussels, Belgium.
Sprinter Andre De Grasse ran under 10 seconds for the first time since Rio 2016.
Cycling
READ: Leah Kirchmann wins silver at La Course by Le Tour de France
On Friday, Leah Kirchmann cycled 121 km to the silver medal at La Course by Tour de France. She completed the race in 3 hours and 15.23 minutes.
This was Kirchmann's second podium at this event. She won bronze in 2014.