Participants in the "Liam & Friends" event (Alexa Pepper/COC)
Indigenous snowboarder Liam Gill makes life-changing impact on northern youth and himself through inspirational passion project
National Day for Truth and Reconciliation commemorates the painful and tragic history, as well as ongoing legacy, of the residential school system in Canada. This day is an occasion of remembrance, reflection, and reconciliation. By giving space for Indigenous athletes to share their stories, we create an environment that respects and appreciates the substantial connections between Indigenous peoples, their land, and the athletic endeavours that showcase their resilience, strength, and abilities.
---
Liam Gill, a halfpipe snowboarder, represents honour, generosity, and perseverance. Being an Olympian of the Łı́ı́dlı̨ı̨ Kų́ę́ First Nation and proudly representing the Dehcho Dene, his journey not only showcases his exceptional talent but also resonates his deep connection with relationship building and cultural roots.
Liam has triumphed over numerous challenges, defying stereotypes and forging a path for generations to come. Supported by his devoted family, friends, and fellow athletes, his extraordinary achievement Liam & Friends inspires and ignites a spirit of possibility among others.
"Liam's story is what started Liam & Friends"
Liam & Friends is a passion project in which Indigenous youth from the Northwest Territories, specifically Fort Smith and Fort Simpson, are invited to join a snowboarding journey led by Liam. Held for the first time in early May, the purpose of the project is to remove a major obstacle that often exists with sports such as snowboarding.
"The hope was to make this trip with zero financial barrier. We just wanted to completely erase it, as if it didn't exist," explained Joanna Gill, Liam's mom and primary logistics organizer for Liam & Friends.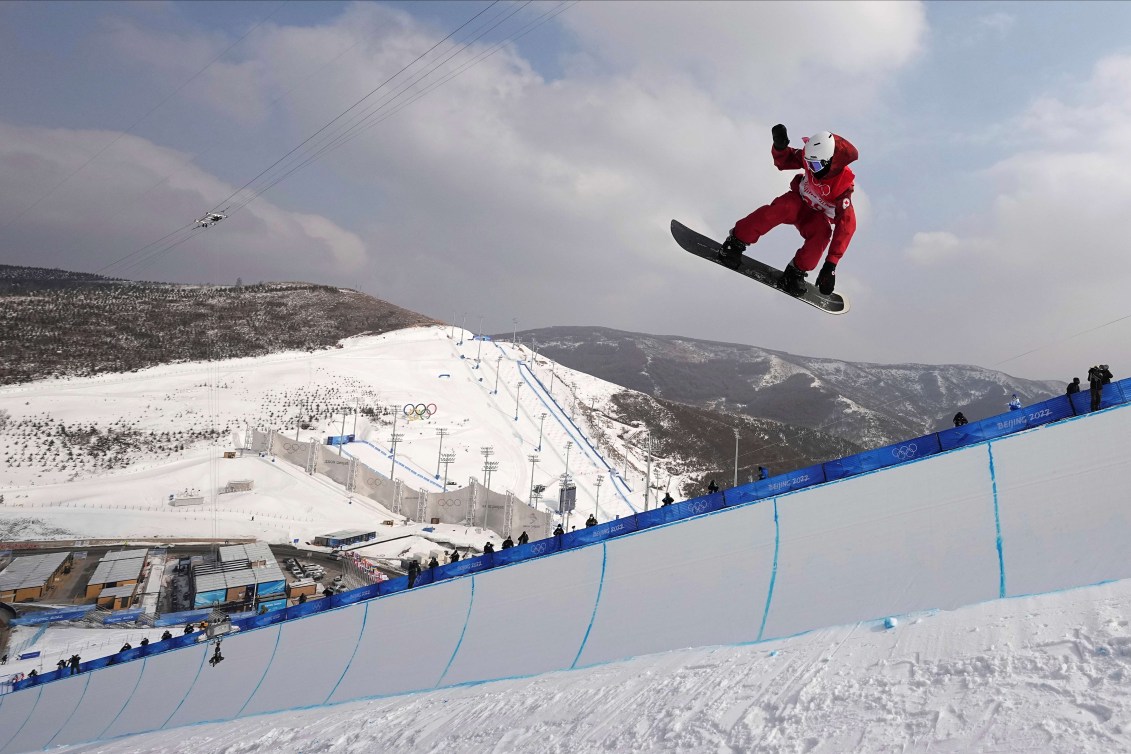 Liam has personally experienced financial barriers limiting opportunities and how discouraging that can be for a young athlete.
"When I was 14, I got invited to go to New Zealand for the junior worlds and we had to say no. It was really tough. I remember my mom crying when she told me it wouldn't be possible. That day I told her that if I were ever to make it big, I wanted to help kids who can't afford access to snowboarding."
Liam did not know at the time where he would end up or, that one day, his dreams would become a reality.
Snowboarding for Liam has always been a source of peace, comfort, and belonging. He got his first board at the age of 4 and watching his father Lance snowboard is what inspired him to want to start.
"When I was 7 or 8 or so I was diagnosed with a language processing disorder and dyslexia. I struggled to listen, follow directions, or even express myself in school. Anytime there was language involved I felt lost and misunderstood. With snowboarding, I understood the non-verbal language and the balance. When I was on the snow, there was no confusion, it was just me and my snowboard and I finally felt like I belonged."
Having a supportive club community with coaches who understood the way Liam learned and who knew what he was capable of allowed him that sense of inclusion.
"Because we were [at home] in Calgary, I was able to bring him to the hill after school. We noticed that it gave him so much confidence because he was naturally good on the snow and it filled his spirit with energy to go back to school," Joanna fondly recalled. For Liam, snowboarding symbolized freedom, creativity, and peace. It became the avenue through which he could prove to himself that he could excel at something.
From that point forward, Liam's talent continued to grow. A significant milestone in his journey came in the summer of 2020 when he had the chance to attend his first halfpipe training camp.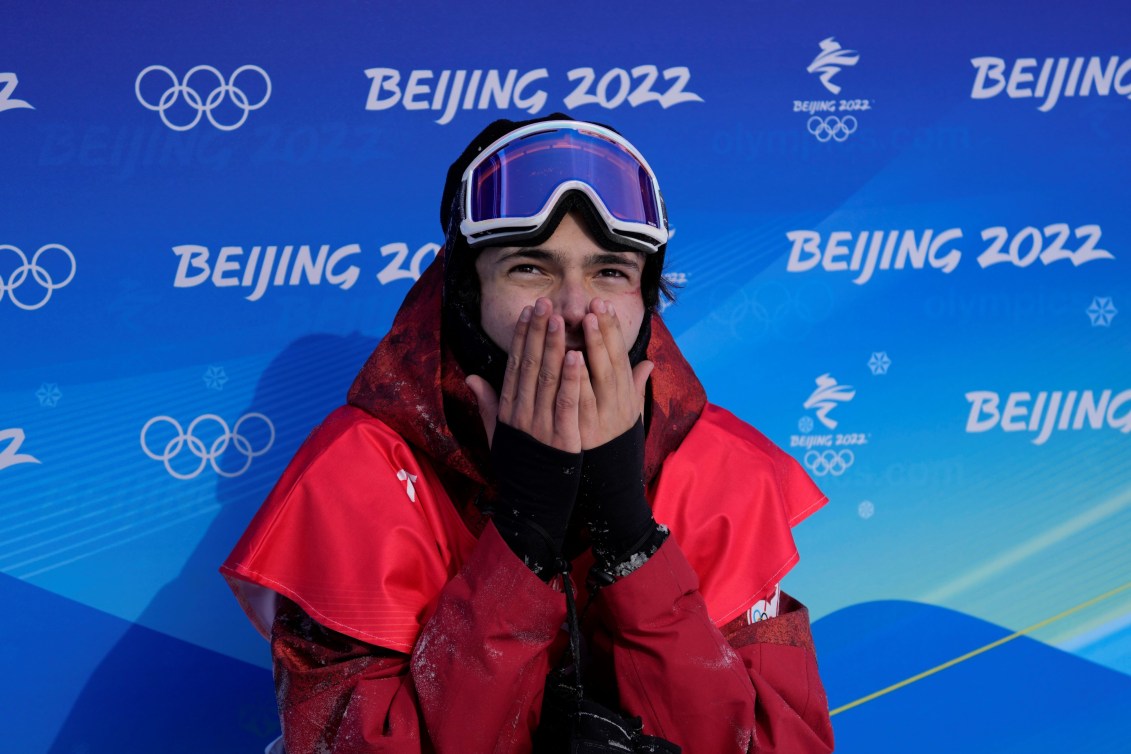 "It was the first opportunity I'd been given to actually spend every day training in halfpipe," he said, noting that there are only a handful of Olympic-sized halfpipes worldwide. That means access to high-quality training requires constant travel, leading to considerable financial expenses. It was during that camp that he made the definite choice to compete in halfpipe snowboarding, eventually leading him to the Beijing 2022 Olympic Winter Games at just 18 years old.
"Because of that trip, I know how important life-changing access to training camps and facilities can be," he said. Liam's participation as Canada's sole male Indigenous athlete at Beijing 2022 highlights the stark reality of the underrepresentation of Indigenous athletes in sports, at both the national and international level. Athletes like Liam who take pride in their culture actively contribute to the transformation of sports, fostering a more inclusive environment for all.
RELATED: National Indigenous Peoples Day Resources
A week after Liam competed in Beijing, he travelled to the Northwest Territories where he dedicated his time to Indigenous youth, teaching and guiding them on the slopes.
"We weren't sure if he would be able to visit, as it was right after the Olympics, but we called his mother Joanna and she assured us, 'Oh, he's coming, he'll be there,'" recalled Cynthia White, the parent of three young athletes from Fort Smith and coach of the Slide Zone Shredderz club who met Liam during his profoundly impactful NWT tour.
"For them to see an Olympian who looks like them and for them to see a person who makes them feel less othered, they can now feel like this is my representation, this is who I can be, this is the person who can help define a generation of young athletes."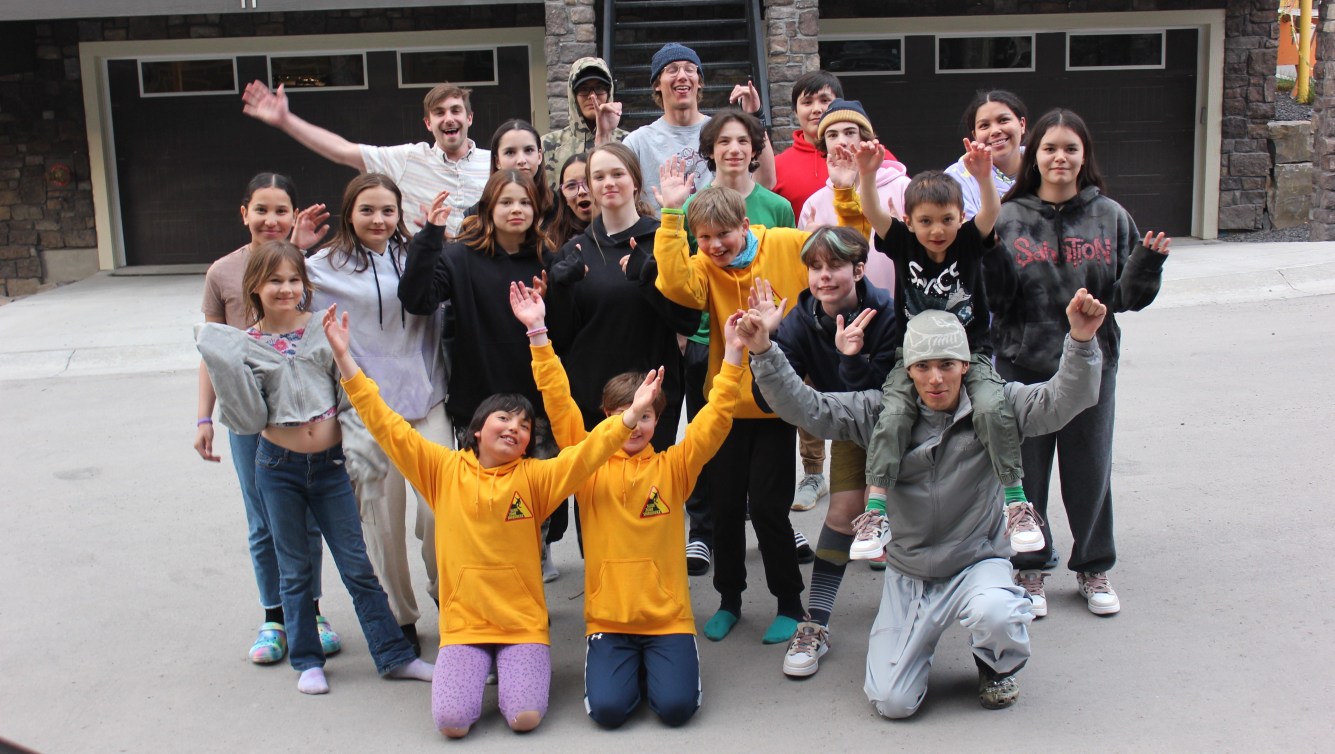 This tour was also a pivotal moment for Liam.
"My eyes opened up to the potential of being able to offer more than just a visit. Watching the kids unstrap their snowboards and run back to the hill really reminded me of myself. The excitement and true passion they had for snowboarding, given the conditions they have, spending hours riding with only a fire to warm them up, no lodge, no bathrooms."
He recognized that Indigenous communities and athletes encounter numerous challenges — too many to list — but one common thread is the lack of access and training opportunities. He saw this as an area where he could make a difference.
"They see him and they see the possibilities"
Everything changed for Liam when Sunshine Village Ski Resort in Banff, Alberta offered him a partnership in which he could host any event of his choosing. It didn't take Liam long to decide what he wanted to do with the opportunity.
"He just said immediately 'I know, I want to bring the kids from up north'," recalled Joanna. This offer was the catalyst of what would become Liam & Friends. According to his father Lance, the OLY Canada Legacy Grant he received from the Canadian Olympic Committee this past spring then made it all possible.
READ MORE: Team Canada athletes make positive impact on communities thanks to OLY Canada Legacy Grants
"Once the [OLY Canada] grant came in, it became a plausible definable event. It was the on switch that made us realize, this is real, not just a hope. It wasn't a dream anymore; it was happening and it kind of took on a life of its own."
Liam Gill's father, Lance, speaks to participants of "Liam & Friends" at Sunshine Village in Banff, Alberta in May 2023 (Alexa Pepper/COC)

Liam Gill's father Lance, a member of the Łı́ı́dlı̨ı̨ Kų́ę́ First Nation, speaks at the "Liam & Friends" event held at Sunshine Village in Banff, Alberta (Alexa Pepper/COC)
From there Liam's support network of friends, families, companies, foundations, and fellow athletes volunteered their time and resources to make this event happen for Indigenous youth.
"You always hear people say, it takes one person to take that step and that lead and others will follow and put your arms around you and it actually happened. All it took was Liam's ideas and a lot of people got on board and shared how important it was and how beautiful it was. It was literally a community coming together to make it special for the kids," said Joanna.
Although Liam grew up in Calgary, an urban environment close to many outstanding training facilities, he understands what this opportunity can mean for children living up north, in remote communities. Aside from the financial barriers that come with wanting to try snowboarding, the challenges go beyond that.
"It is very personal and I have first-hand knowledge of the challenges these kids face inside the community. There is an acknowledgement of these issues and we are directly involved," shared Lance, who spent many years of his childhood in Fort Simpson, home of the Łı́ı́dlı̨ı̨ Kų́ę́ First Nation from which he hails.
Indigenous youth participating in the "Liam & Friends" event at Sunshine Village in Banff, Alberta join in a traditional land acknowledgment (Alexa Pepper/COC)

Indigenous youth participating in the "Liam & Friends" event at Sunshine Village in Banff, Alberta join in a traditional land acknowledgment (Alexa Pepper/COC)
Cynthia could see a tangible difference in the kids' confidence as a result of spending time with Liam.
"They see him and they see the possibilities. When Liam is there, they want to try stuff. The Olympics is not something those kids strive for because they can't even imagine that. Liam being there and his mom and dad's pride in his culture, his history, really drives it home that this is something they can achieve."
READ MORE: Team Canada celebrates Indigenous Olympians
Within the realm of sports, celebrating Indigenous culture holds immense importance. It provides a platform to acknowledge the traditional knowledge, values, and skills that Indigenous athletes bring to their respective sports.
"It was life-changing not only for the kids but for me"
While the kids who participated in Liam & Friends received Olympic-level expertise on snowboarding, including a clinic on how to wax and tune their boards from Liam's close friend Ian Scherrer, they also got something that goes much deeper. Liam went out of his way to create meaningful bonds with every child. He created secret handshakes, shared stories and traditions, and played games with them during any downtime they had throughout the week.
Liam Gill (front right) is joined for a meal by the participants in his "Liam & Friends" event at Sunshine Village in Banff, Alberta (Alexa Pepper/COC)

Liam Gill (right) and his friend Ian Scherrer show the proper technique to wax and tune a snowboard (Alexa Pepper/COC)

Indigenous youth participating in the "Liam & Friends" event try their skills during a snowboard waxing and tuning clinic. (Alexa Pepper/COC)
"Liam would wake up in the morning and head straight to where the group was. From the time the kids would wake up and start eating breakfast, Liam was with them until they had to go to bed," Joanna recounted.
While his presence is sure to have a lasting impact on the kids, the youth at the camp inspired him as well.
"We did some film interviews at the end with the kids. You could really see the difference in their confidence from how they were the first day to the last. It was inspiring. I remember my first interviews (in my career). I was super uncomfortable and I was so inspired by their bravery to get behind the camera and speak their truths," Liam recounted.
He also draws upon personal connections he made during the time spent with the kids.
"During the interviews one of the kids said how calm and peaceful it was in the mountains and found solace and refuge. It was an outlet to their worries and stresses, just like how I did and still do to this day. As the week was going on I saw everything happening all at once. It was life-changing not only for the kids but for me."
He had a full circle moment when he realized he had given these kids the gift of finding freedom and self-expression through sport, something that resonated deeply with him due to his own childhood experiences.
During their time together, amazing transformations unfolded.
"When we saw little things like a child who decided to take their hood down who had always been covered, or the kids that were quiet who started giggling," Joanna said of watching children start to come out of their shells. While seemingly small, these moments represented monumental breakthroughs, demonstrating the desire to be seen rather than hidden away.
Liam & Friends became a beautiful exchange of knowledge and traditions. As Liam taught them various skills, one of the girls reciprocated by teaching him the art of making bannock — a delightful traditional experience allowing Liam to deepen his cultural connections. Stories of their lives as Indigenous people unfolded organically, with vibrant conversations about hunting and moments spent with their parents.
"Trust, sharing, and bonding was the product of this event," Joanna said of the main takeaways of the week-long experience.
A young participant in "Liam & Friends" leans in for a hug with Olympic snowboarder Liam Gill (Photo courtesy of Joanna Gill)

Liam Gill (left) instructs some young Indigenous snowboarders at Sunshine Village in Banff, Alberta (Alexa Pepper/COC)

Liam Gill (left) instructs some young Indigenous snowboarders at Sunshine Village in Banff, Alberta (Alexa Pepper/COC)

Liam Gill (left) instructs some young Indigenous snowboarders at Sunshine Village in Banff, Alberta (Alexa Pepper/COC)

Liam Gill (left) helps a young Indigenous snowboarder at Sunshine Village in Banff, Alberta (Alexa Pepper/COC)
While Liam certainly made lasting relationships with all the kids, one in particular stands out. A participant from Fort Simpson approached Liam to take a photograph so they could show their grandmother. When Liam asked the grandmother's name, the child unknowingly provided a key piece of information leading to the discovery they were second cousins. Realizing the momentous nature of these generational ties, Liam's father shared a picture of the child's grandmother holding Liam when he was just three weeks old.
"These are real connections that you can't make up, to show kids how they are connected," Joanna explained of the power these moments had.
Although the camp has concluded for this year, Liam knows that the participants, inspired by their experiences, will be eagerly returning to their communities in Fort Smith and Fort Simpson, ready to share the newfound skills, confidence, and knowledge they have acquired.
When asked what piece of advice he has for any child chasing a dream or a goal, Liam responded: "Most importantly, surround yourself with people who truly believe in you and support you. Don't give up because of the difficulties and setbacks because they actually make you stronger. Keep doing what you love."
Witnessing someone like Liam who not only excels in their chosen field but also exemplifies compassion, empathy, and resilience serves as an illustration of all that is possible. It is truly transformative, emphasizes Cynthia. "We can really use Liam as a touchstone of success, whether as an athlete or a doctor, it's bigger than sports. It proves to the kids you can achieve whatever it is you want to achieve."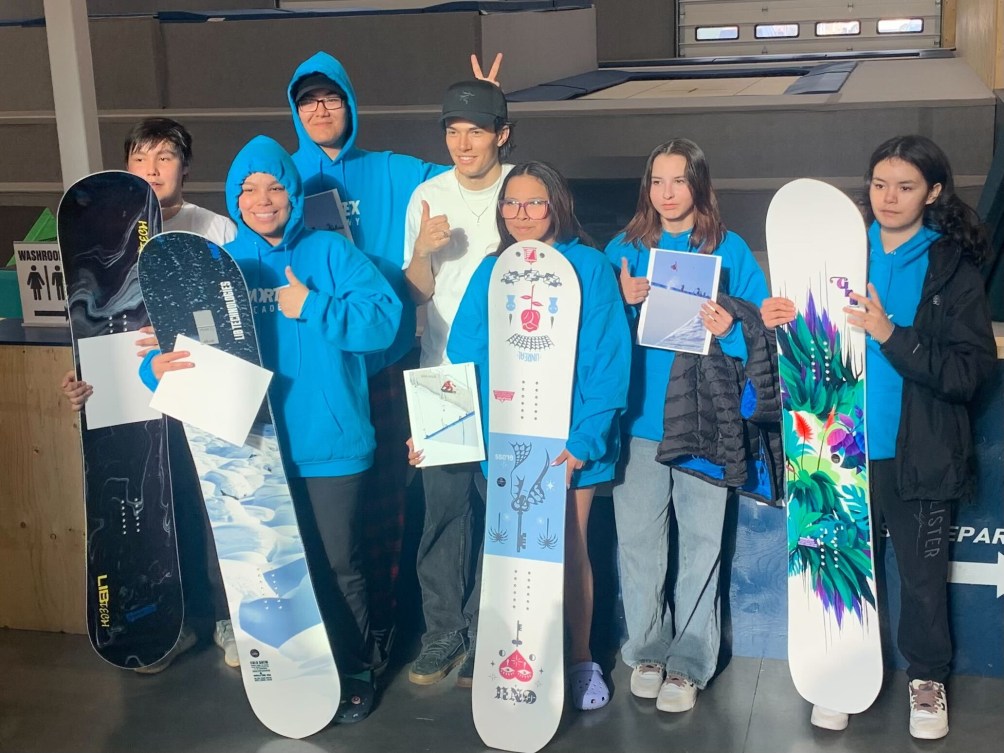 Immediately after the Liam & Friends trip concluded, Liam was busy with the Alberta Snowboard Association helping to organize a clinic for a kindergarten class.
"As part of my introduction I said in my spare time I like to inspire youth. That was the first time I was like 'this is what I do and this is a part of who I am.'" Liam is proud of his Łı́ı́dlı̨ı̨ Kų́ę́ heritage and he is committed to making that the forefront of the work he continues to do as an Olympic athlete.
"He now knows he has that ability to lead, be a role model, and it feels good to have that responsibility," said Joanna. "The accomplishments and success of one Indigenous person promotes the success of all Indigenous people."
As we celebrate National Indigenous People's Day, we are celebrating not only Liam's work, but the work other Indigenous people are doing across Canada to bring pride and joy to the culture.