Team Canada celebrates Indigenous Olympians
Updated: May 15, 2023
June is National Indigenous History Month in Canada, with June 21 designated as National Indigenous Peoples Day.
Over the decades, Indigenous athletes have contributed greatly to Team Canada's legacy at the Olympic Games. To honour them, here are just a few of the athletes of First Nations, Inuit, and Métis heritage who have distinguished themselves with their journey through sport.
Alexandria Loutitt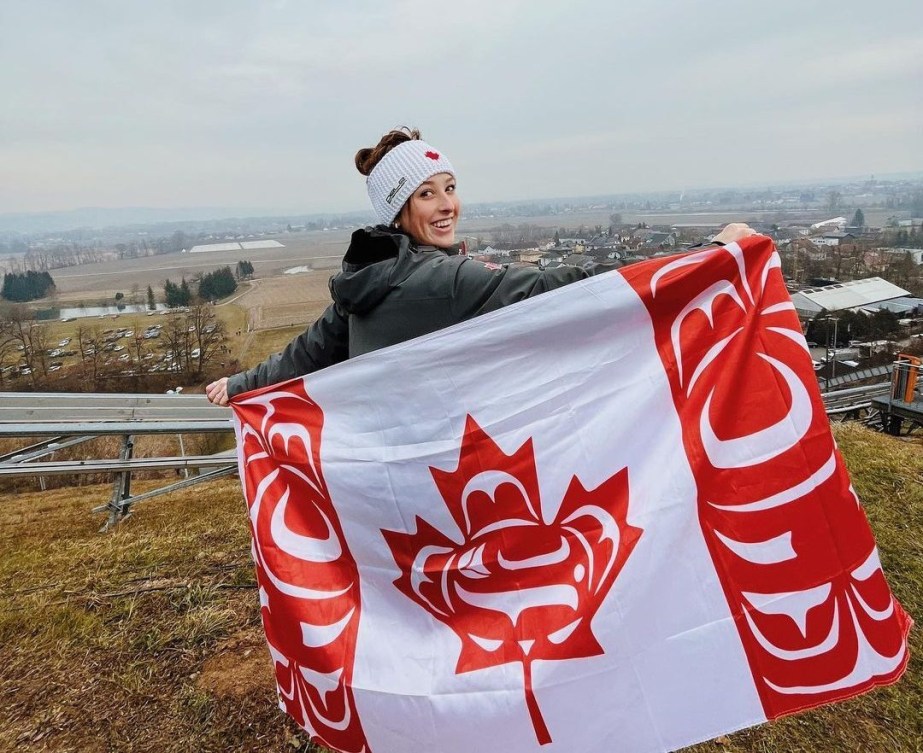 With her history-making results in the last year, ski jumper Alexandria Loutitt has become a role model for so many Canadians. Though she grew up in Calgary, she is proud of her Indigenous roots with the Nihtat Gwich'in in Inuvik and how that heritage has influenced her family.
"It's my family's identity so all this hard work ethic that they've built from the social, political, economic and environmental challenges of living in the north and being Indigenous was passed on through generations and fortunately that was something I was able to apply to sport," she said not long after helping Canada win a first ever Olympic medal in ski jumping at Beijing 2022.
In early 2023, she made history three more times. She became the first Canadian woman to win a World Cup ski jumping event, then the first Canadian woman to win a world junior title in ski jumping. She surpassed all those achievements when she became Canada's first ever world champion in ski jumping. All the while, she proudly carried the Canadian Indigenous Flag designed by Kwakwaka'wakw artist Curtis Wilson.
Alwyn Morris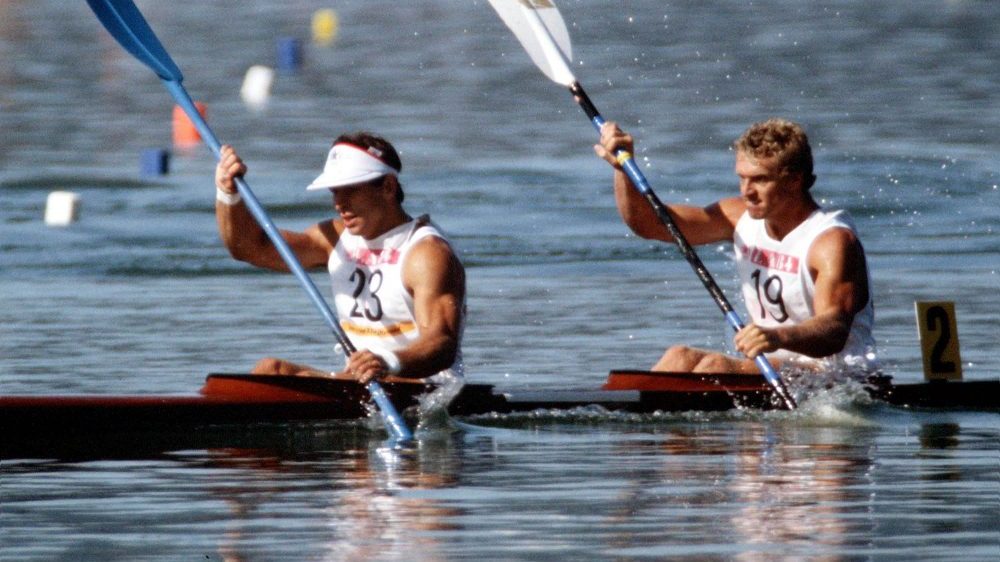 Two-time Olympic medallist Alwyn Morris hails from the Mohawk nation of Kahnawake, located south of Montreal.
Morris is known for his inspiring podium appearance during the Los Angeles 1984 Olympic Games, as he stood alongside his kayaking partner Hugh Fisher.
When the duo won gold in the K-2 1000m, Morris held up an eagle feather to symbolize honour, friendship, and life. It was a tribute to his late grandfather, who inspired his athletic career, and a way to honour his First Nations heritage.
After the Games, Morris used his Olympic status to develop a sport program for Indigenous youth in Canada called the Alwyn Morris Education and Athletic Foundation.
Angela Chalmers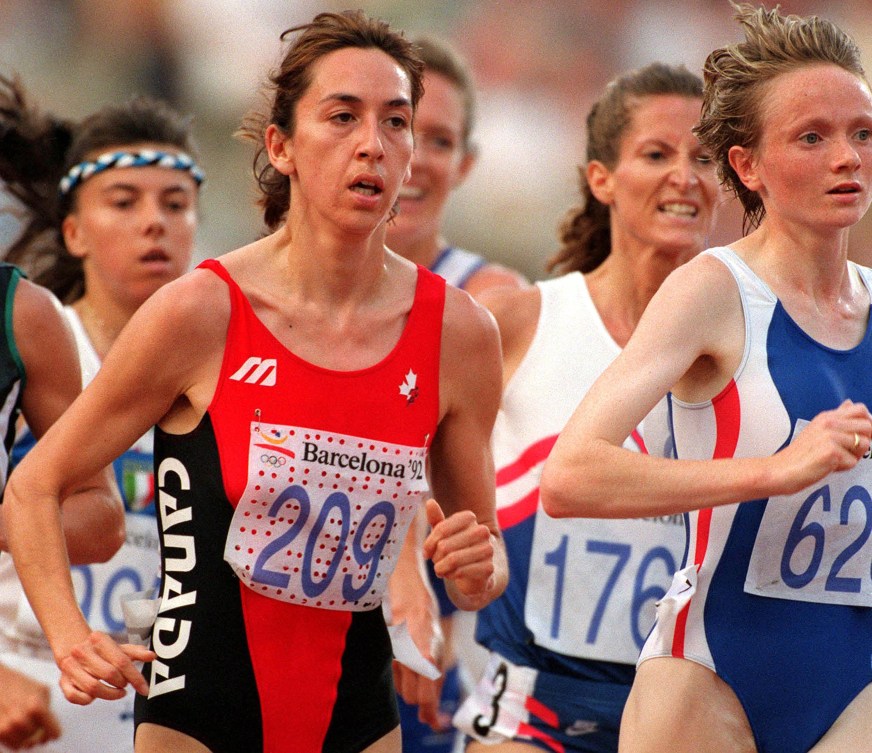 A member of the Sioux nation, Angela Chalmers is an Olympic medallist in track and field and one of the most accomplished Indigenous athletes in Canadian history.
She burst onto the scene in 1985, winning a bronze medal in the 3000m event at the World University Games in Kobe. Chalmers went on to win a silver in the 3000m at the 1987 Pan American Games, two golds in the 1500m and 3000m at the 1990 Commonwealth Games, a bronze in the 3000m at Barcelona 1992, and a gold in the 3000m at the 1994 Commonwealth Games. She currently holds the 3000m Canadian national and Commonwealth Games records with a time of 8:32.17.
Throughout her career and into retirement, Chalmers has been outspoken about Indigenous causes. She often visited Indigenous reserves to speak to young people about empowerment and also worked with the British Columbia Department of Education to help limit the dropout rates of Indigenous students.
She was inducted to the Manitoba Sports Hall of Fame in 2001, the British Columbia Sports Hall of Fame in 2004, and the Athletics Canada Hall of Fame in 2019.
Brigette Lacquette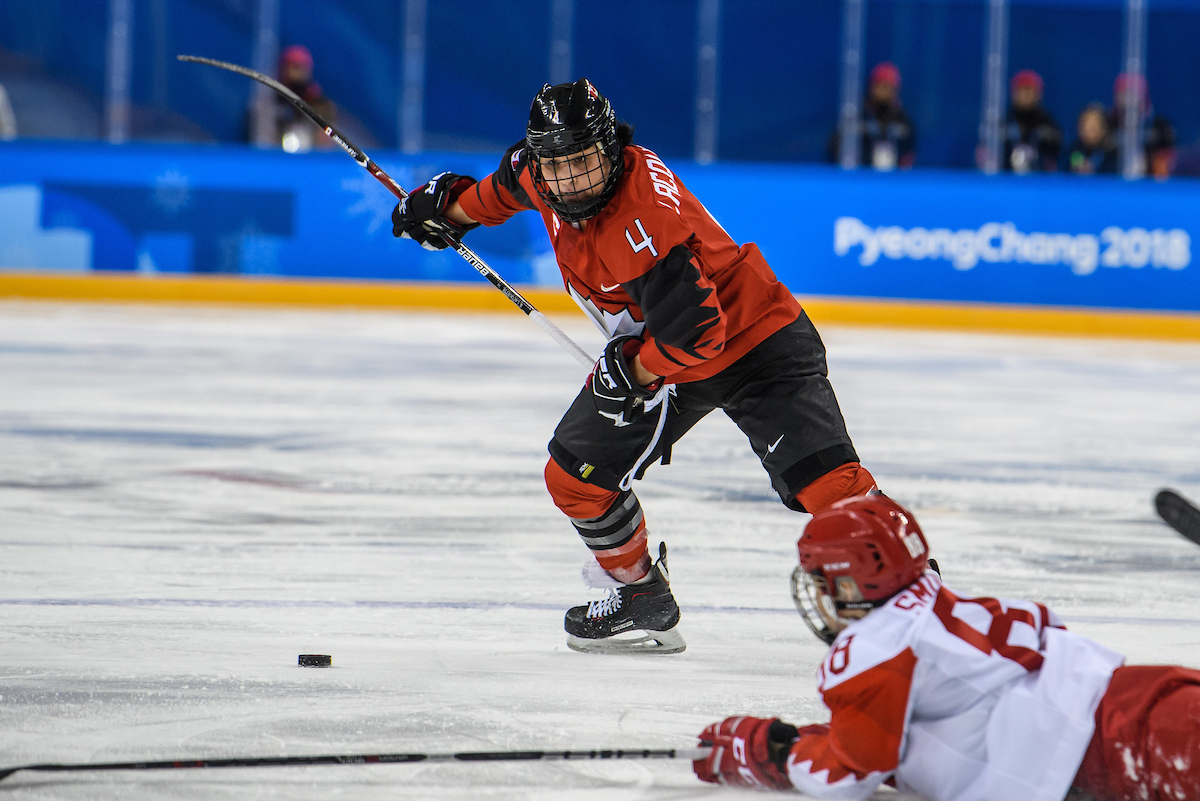 At PyeongChang 2018, Brigette Lacquette took home a silver medal as she became the first First Nations athlete to compete on Canada's women's Olympic hockey team. Her mother hails from the Cote First Nation in Saskatchewan while her father is Métis, making her a role model for many young Indigenous athletes.
Since skating onto the Olympic stage, Lacquette has used her platform to be the inspirational figure she was missing while growing up in the small community of Mallard, Manitoba. She has since made more history by becoming a pro scout with the NHL's Chicago Blackhawks.
Carolyn Darbyshire-McRorie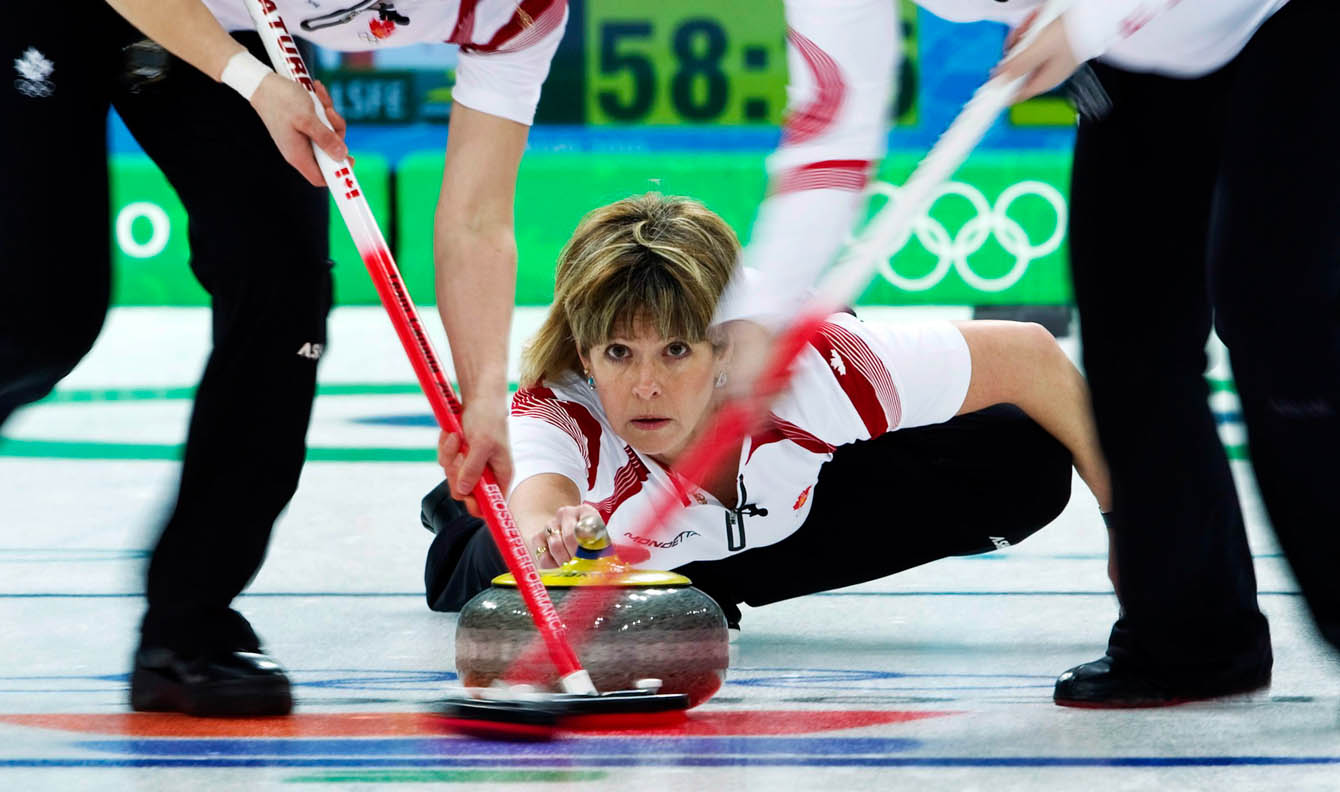 Carolyn Darbyshire-McRorie is of Métis heritage and began curling at the young age of 11. She went on to win a silver medal at the 2010 Olympic Winter Games as the second for the rink skipped by Cheryl Bernard.
She became a coach when her competitive playing days were over and worked with China's top women's curling teams to prepare for Beijing 2022.
Kenneth Moore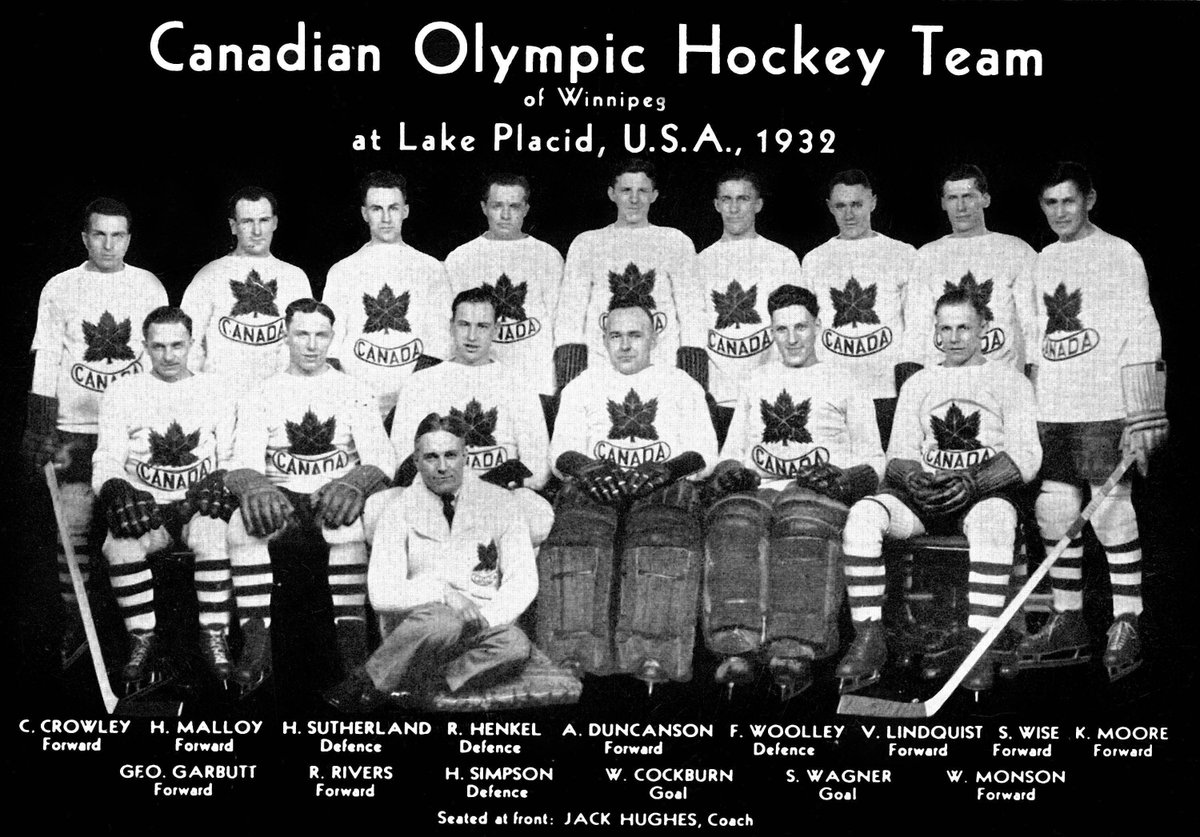 Kenneth Moore was a Canadian ice hockey player who participated in the Lake Placid Olympic Winter Games in 1932. Moore and his teammates from the Winnipeg Hockey Club were Canada's only athletes to reach the top of the podium at those Games.
The right winger was a member of the Peepeekisis First Nation in Saskatchewan and is Canada's first Indigenous Olympic gold medallist. His accomplishment was not widely recognized until after his passing in 1982 when family members discovered old artifacts in boxes, including his Olympic gold medal.
Jesse Cockney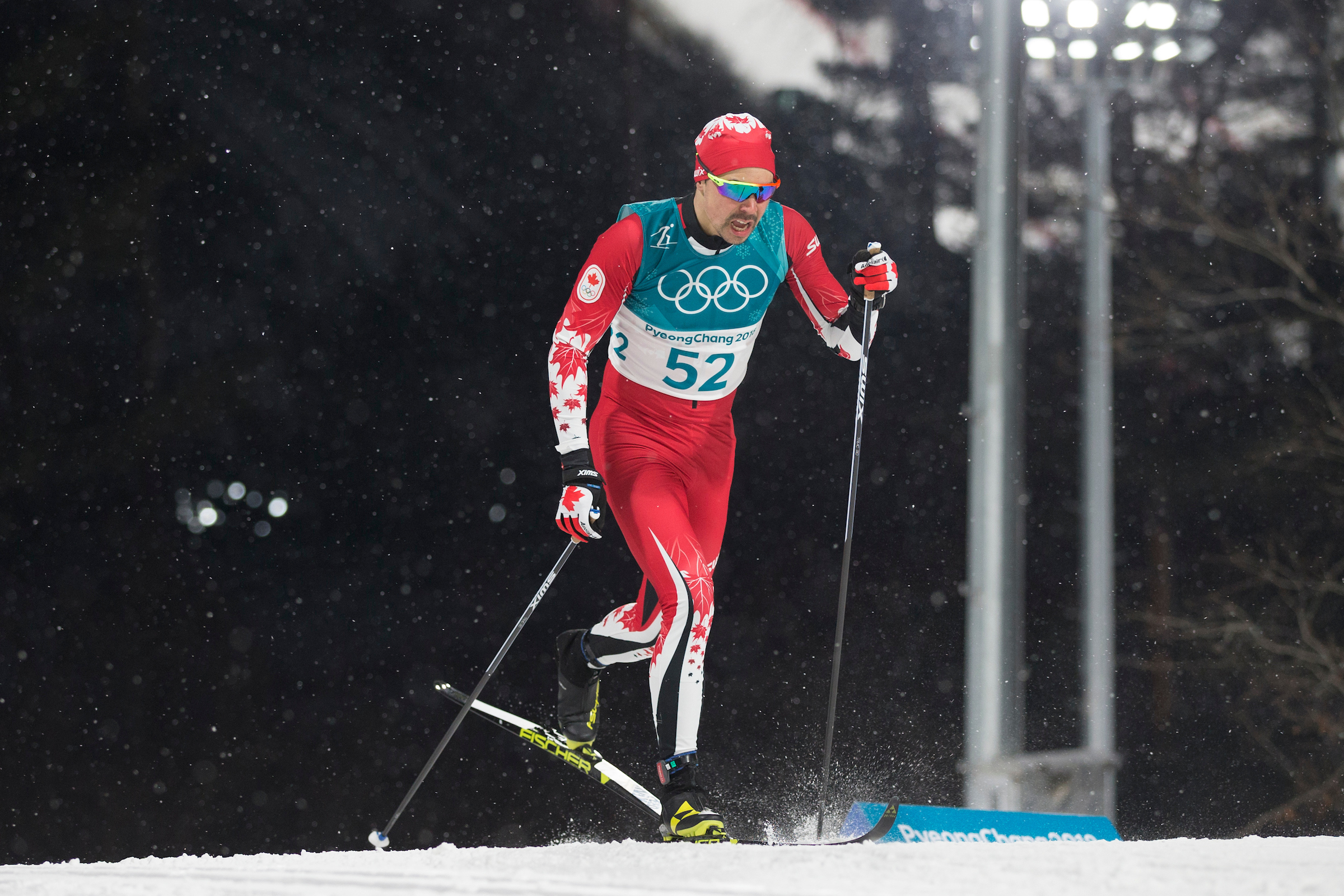 Jesse Cockney made his Olympic debut at Sochi 2014. Throughout his cross-country skiing career, Cockney has expressed his pride for his Indigenous heritage as an Inuvialuit and made it his goal to be a positive role model for all youth of Indigenous heritage.
RELATED: A story of gratitude: Jesse Cockney
As a way to connect with Indigenous students off the skis, Cockney has made it his initiative to mentor First Nations, Inuit, and Metis students in the Classroom Champions program.
Jocelyne Larocque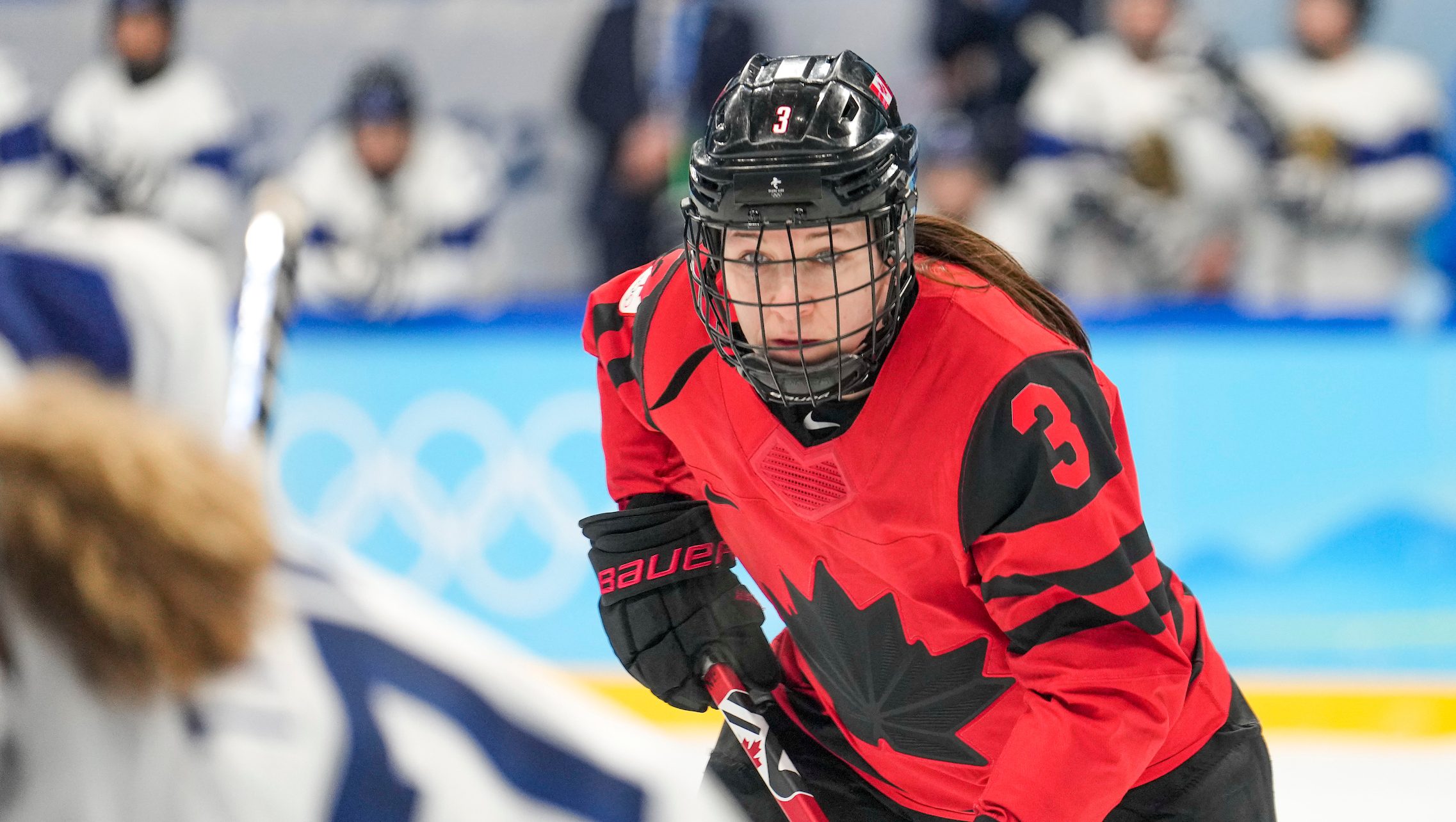 Jocelyne Larocque is a three-time Olympian who showcased her Métis pride in becoming the first Indigenous player to represent Canada in women's hockey on an international stage. She won gold at Sochi 2014 and Beijing 2022, to go with a silver at PyeongChang 2018.
In 2018, Larocque was recognized as a recipient of the Tom Longboat Award, given to the top female and top male athletes of Indigenous heritage in Canada. In early 2021, she was named Manitoba Indigenous Female Athlete of the Decade.
Liam Gill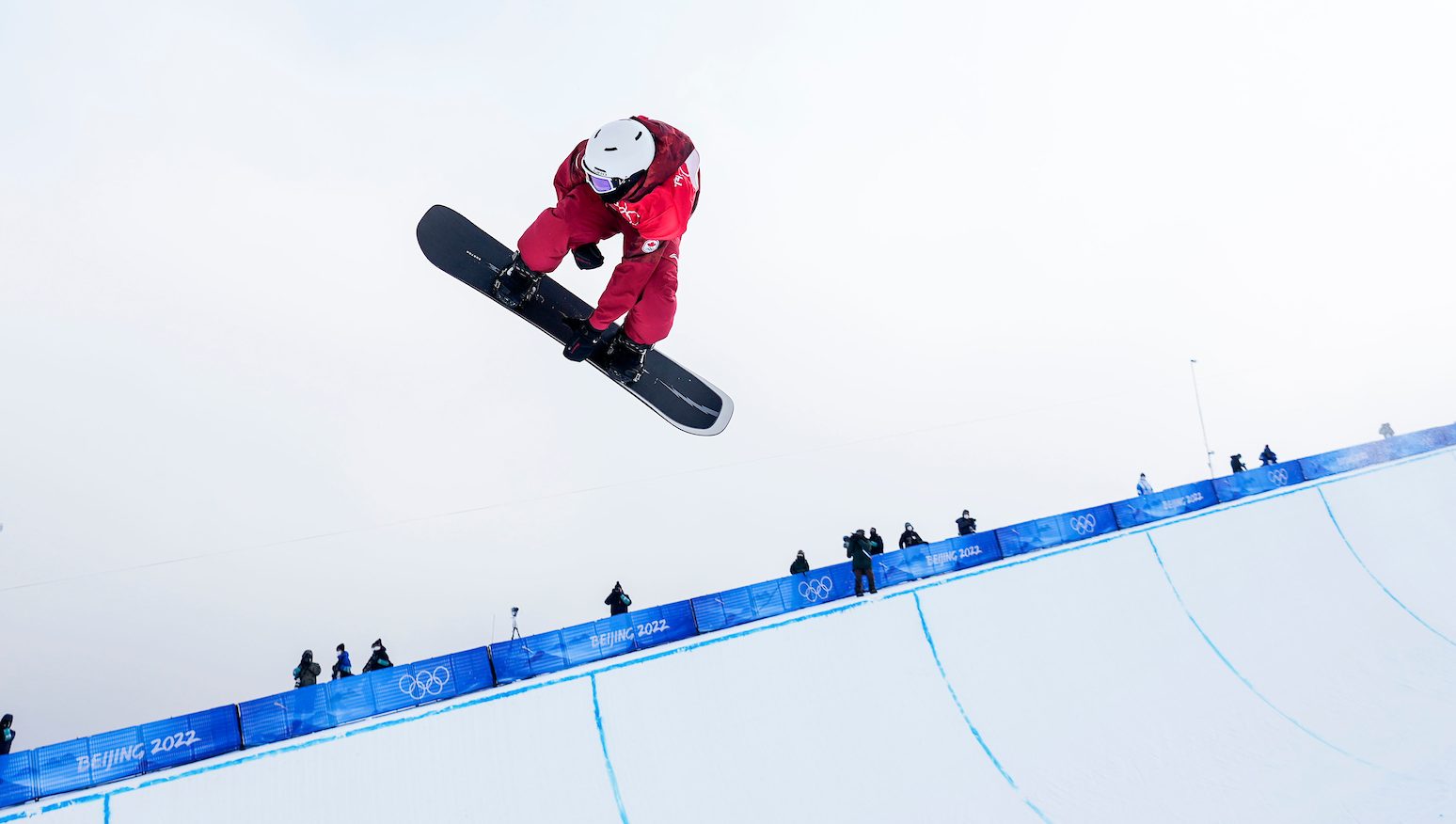 Liam Gill was just 18 when he made his Olympic debut at Beijing 2022 as Canada's lone competitor in the men's snowboard halfpipe event. He had represented Canada in all three freestyle snowboard disciplines (halfpipe, big air, slopestyle) at the 2020 Winter Youth Olympic Games in Lausanne.
Gill is a proud descendant of a long line of Dene people from the Northwest Territories and represents the Dehcho Dene as a member of the Łı́ı́dlı̨ı̨ Kų́ę́ First Nation. Following his Olympic appearance, Gill returned to the Northwest Territories for the first time since he was an infant to practice and ride with some young athletes from the region. He later received an OLY Canada Legacy Grant for his Liam & Friends initiative. Indigenous youth from Fort Smith and Fort Simpson had the opportunity to travel to Banff, Alberta in May 2023 to spend time on the snow with Gill and learn more about snowboarding.
Mary Spencer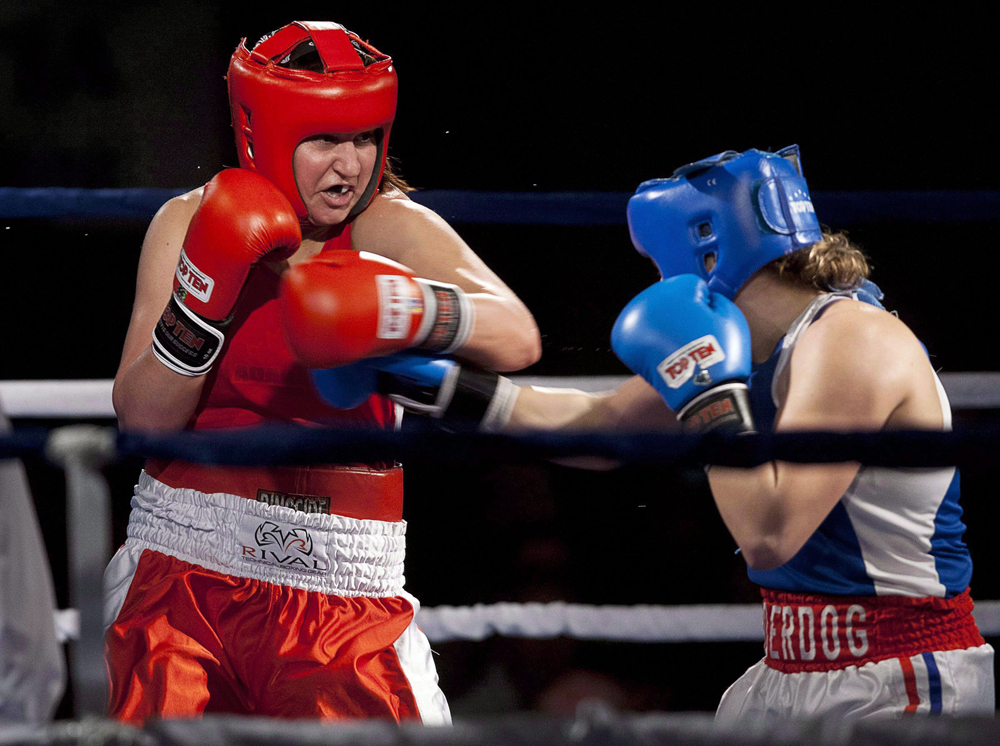 Mary Spencer is three-time world champion and five-time Pan American champion. She made her Olympic debut at London 2012 where women's boxing also made its Olympic debut. Heading into those Games, she became a spokesperson for CoverGirl, a unique opportunity for a boxer and Indigenous athlete.
RELATED: Mary Spencer inspires Indigenous youth to believe that nothing is impossible
A proud Ojibway athlete from the Cape Croker First Nation, she has contributed to Motivate Canada's GEN 7 role model initiative. In 2019, she received the Randy Starkman Award during the Canadian Olympic Hall of Fame induction ceremony to honour her work with Indigenous youth in northern Ontario.
Sharon and Shirley Firth
Shirley and Sharon Firth, twin sisters from Gwich'in First Nation, were members of Team Canada's first Olympic women's cross-country skiing team.
They were among the first Indigenous athletes to represent Canada at the Olympic Games and are still the only female Canadian skiers to compete in four consecutive Winter Games, which included Sapporo 1972, Innsbruck 1976, Lake Placid 1980, and Sarajevo 1984.
Shirley and Sharon Firth developed a natural skill for the sport through a skiing program for Indigenous youth in the Northwest Territories called Territorial Experimental Ski Training Program (TEST). The program was intended to motivate while building leadership and skiing skills. After their retirement, they dedicated their time to various youth programs with the same initiatives in the Northwest Territories.
Spencer O'Brien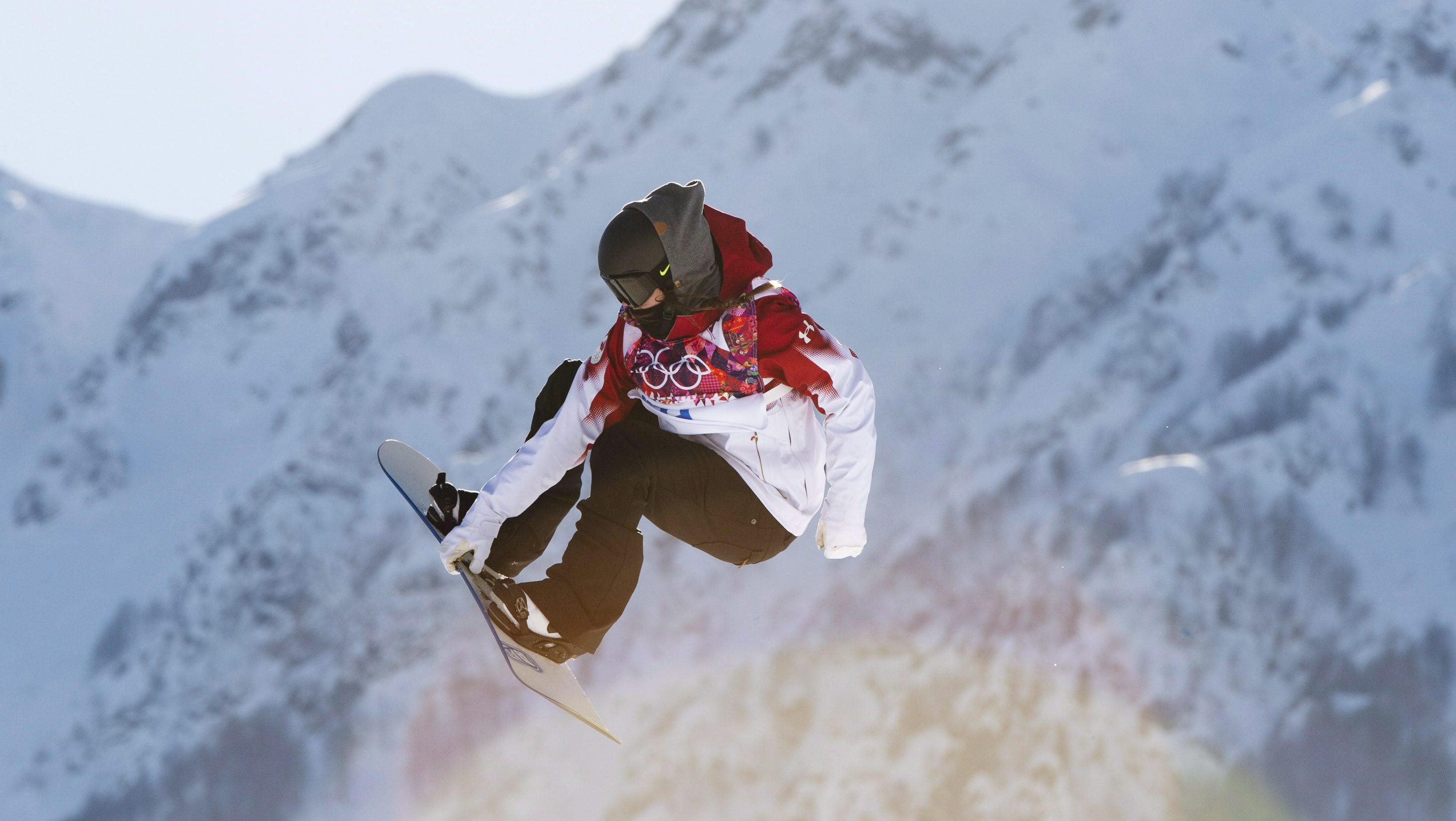 Spencer O'Brien is a talented Canadian snowboarder who competed at the Sochi 2014 and PyeongChang 2018 Olympic Winter Games. A multi-medallist at the X Games, O'Brien's mother is a member of the Kwakwaka'wakw First Nation and she learned from her the importance of creativity and strength.
In honour of her heritage, O'Brien has worked with the First Nations Snowboard Team and was a founding ambassador for the N7 Fund which supports Indigenous sport in Canada.
Tom Longboat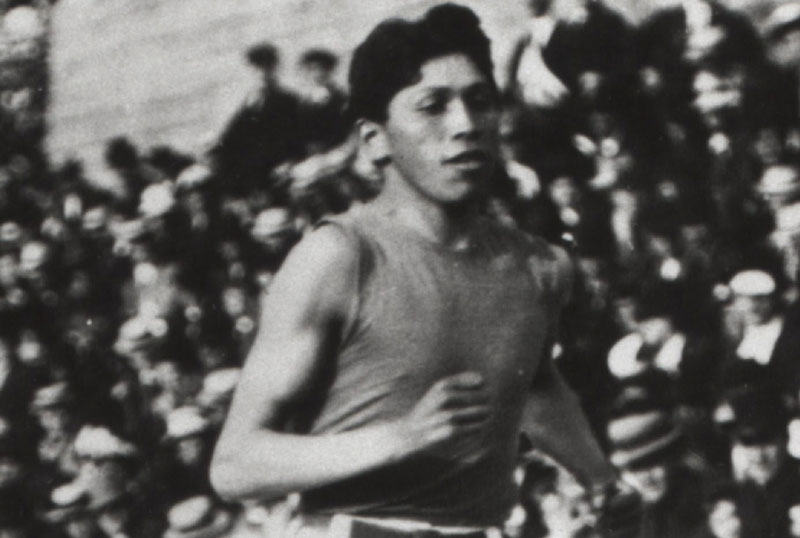 Tom Longboat is a Canadian runner who became the first member of a First Nations community to win the Boston Marathon in 1907. Longboat crossed the finish line of one of the world's most famous races and beat the previous record by an astonishing five minutes.
Longboat was a member of the Onondaga Nation in the Six Nations reserve in Ontario and competed in the London 1908 Olympic marathon. He went on to serve in World War I and became a dispatch runner with the 107th Pioneer Battalion.
Waneek Horn-Miller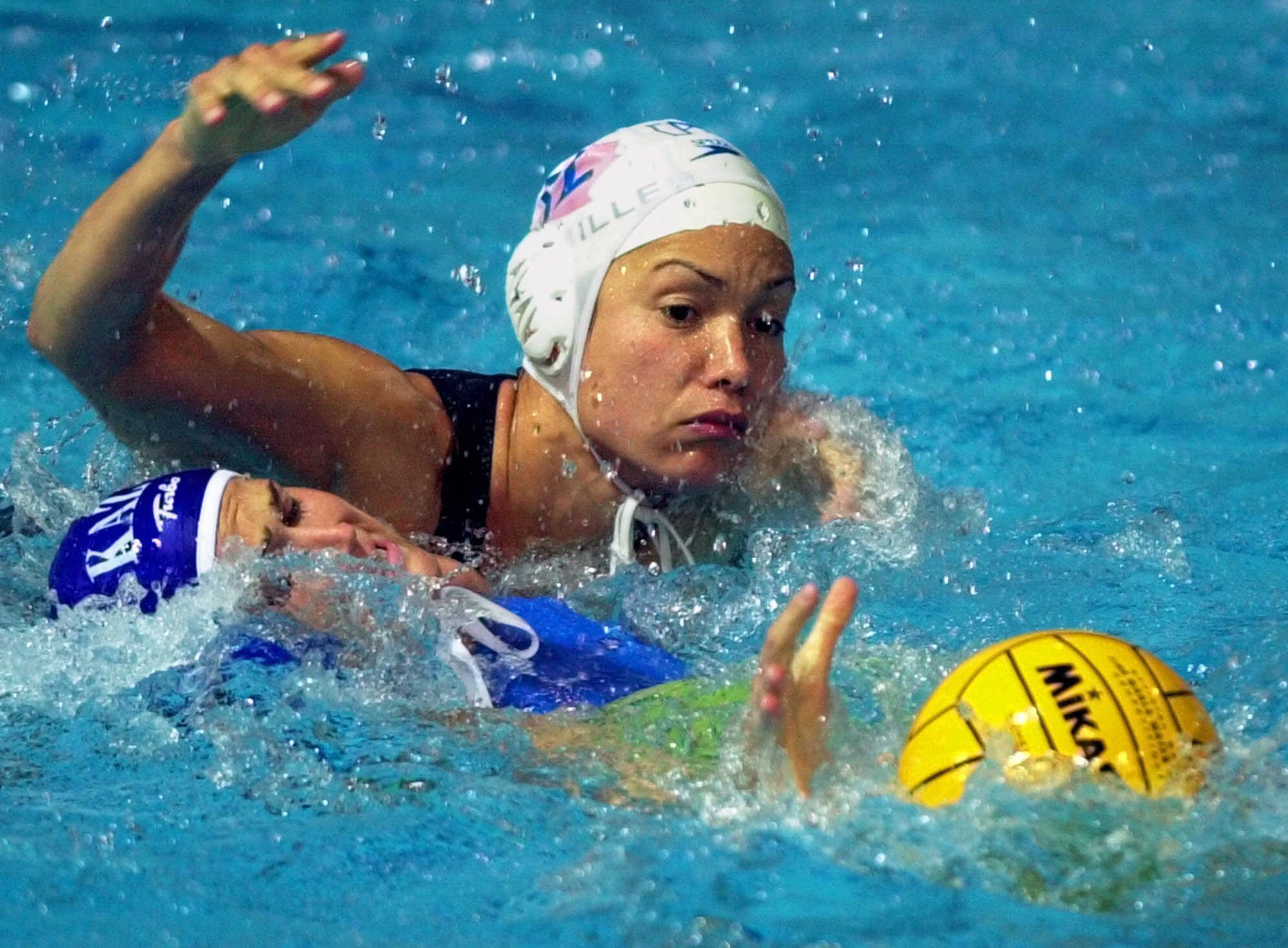 Waneek Horn-Miller was a member of Canada's first women's Olympic water polo team at Sydney 2000 and has become one of Canada's most inspirational Indigenous athletes. Also from the Mohawk nation of Kahnawake, she is a prominent role model, mentor and advocate for youth involvement in sports.
As 14-year-old, Horn-Miller was stabbed by a bayonet during the 1990 Oka Crisis. But she did not let this incident define her and instead used it to strengthen her determination to compete at the Olympic Games.
RELATED: Horn-Miller inducted into Canada's Sport Hall of Fame
In 2015, she was a role model and cheerleader for all of Team Canada as an assistant Chef de Mission for the Pan American Games in Toronto. In her retirement, she has become known as a leader for Indigenous people of Canada and for her initiatives to grow awareness for aboriginals in sport, fitness and wellness.