Grenoble 1968
Canadian Olympic Medal Count
1
1
1
Games Summary
X Olympic Winter Games
Grenoble won the right to host the 1968 Olympic Winter Games in a close vote, 27-24, over Calgary. It was these Games that introduced the idea of mascots to the Olympic movement, albeit unofficially, with "Schuss", a little character on skis. For the first time, television viewers were able to watch Olympic broadcasts in colour.
Canada's star of the Games was alpine skier Nancy Greene, who in her third Olympic appearance won gold in the giant slalom and silver in the slalom. A year earlier she had become the first non-European to win the World Cup. Greene had also served as the Opening Ceremony flag bearer and went on to win her second straight Lou Marsh Trophy as Canadian athlete of the year. On the men's side, Frenchman Jean-Claude Killy thrilled the host nation fans by sweeping the gold medals in the downhill, giant slalom and slalom events.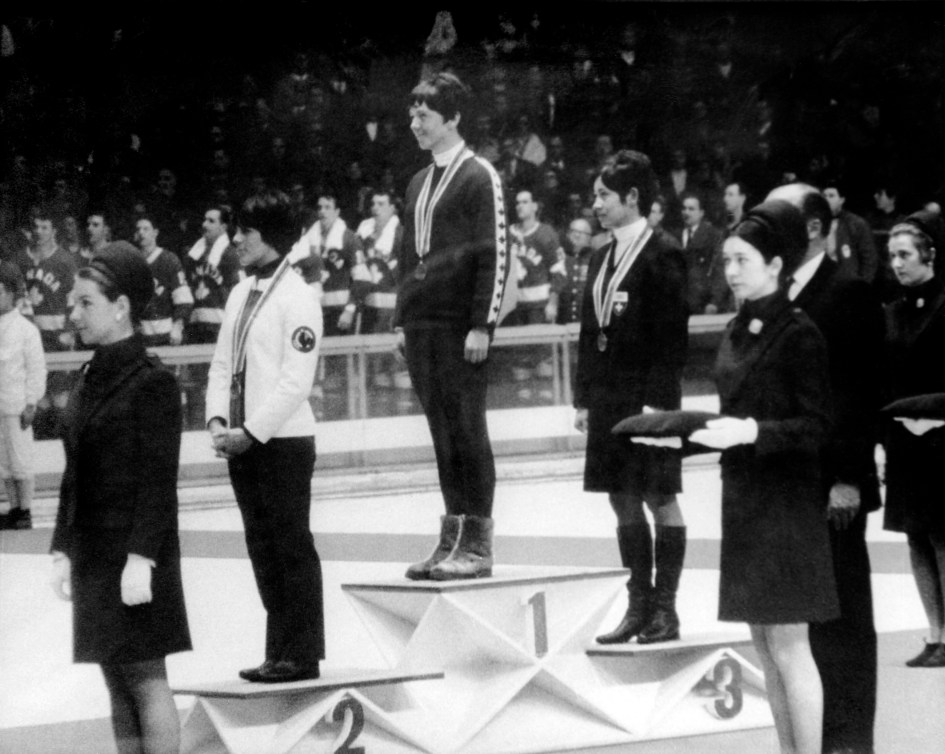 After finishing fourth in 1964, ending a medal streak that had existed since the first Olympic tournament in 1920, Canada returned to the ice hockey podium in Grenoble. At the second Winter Games to feature a national team, Canada posted a record of five wins and two losses to win the bronze medal. This would be Canada's last Olympic ice hockey medal until 1992. Canada would not compete in the 1972 and 1976 Olympic tournaments to protest the eligibility rules and the definition of amateur athletes as it pertained to ice hockey players from eastern bloc nations, particularly the Soviet Union and Czechoslovakia, who were employed by their governments.
Canadian Medallists
| Event | Athlete | Finish | Sport |
| --- | --- | --- | --- |
| Giant Slalom - Women | Nancy Greene | Gold | Skiing - Alpine |
| Slalom - Women | Nancy Greene | Silver | Skiing - Alpine |
| Men | Roger Bourbonnais, Ken Broderick, Raymond Cadieux, Paul Conlin, Gary Dineen, Brian Glennie, Ted Hargreaves, Francis Huck, Marshall Johnston, Barry MacKenzie, Bill MacMillan, Steve Monteith, Morris Mott, Terry O'Malley, Danny O'Shea, Gerry Pinder, Herb Pinder, Wayne Stephenson | Bronze | Ice Hockey |
Overall Medal Count
| Rank | Country | Gold | Silver | Bronze | Total |
| --- | --- | --- | --- | --- | --- |
| 1 | Norway | 6 | 6 | 2 | 14 |
| 2 | Soviet Union | 5 | 5 | 3 | 13 |
| 3 | Austria | 3 | 4 | 4 | 11 |
| 4 | France | 4 | 3 | 2 | 9 |
| 5 | Netherlands | 3 | 3 | 3 | 9 |
| 6 | Sweden | 3 | 2 | 2 | 7 |
| 7 | West Germany | 2 | 2 | 2 | 6 |
| 8 | United States | 1 | 5 | 1 | 7 |
| 9 | Switzerland | - | 2 | 4 | 6 |
| T10 | Finland | 1 | 2 | 2 | 5 |
| T10 | East Germany | 1 | 2 | 2 | 5 |
| 12 | Italy | 4 | - | - | 4 |
| 13 | Czechoslovakia | 1 | 2 | 1 | 4 |
| 14 | Canada | 1 | 1 | 1 | 3 |
| 15 | Romania | - | - | 1 | 1 |