Help Build an Olympian: Nutrition fuels equine athletes as Team Canada jumps to Pan Am gold
Canada's show jumpers won the team event to pick up the country's first equestrian gold medal of TO2015 and secure Olympic qualification.
Yann Candele riding Showgirl, Tiffany Foster on Tripple X III, Eric Lamaze guiding Coco Bongo, and Ian Millar saddled on Dixson finished today's two rounds with seven team penalties. This put them one step ahead of Argentina which finished with eight and also earned an Olympic berth. The United States, already qualified for Rio 2016, won the bronze medal with 12 penalties.
The Canadians cleaned up big time in round two, sitting third after the first round with six team penalties. "We were in a bit of trouble after the first round especially needing it for the Olympics (qualification) but we rallied together and that's what team effort is all about. For me it means everything," said Lamaze.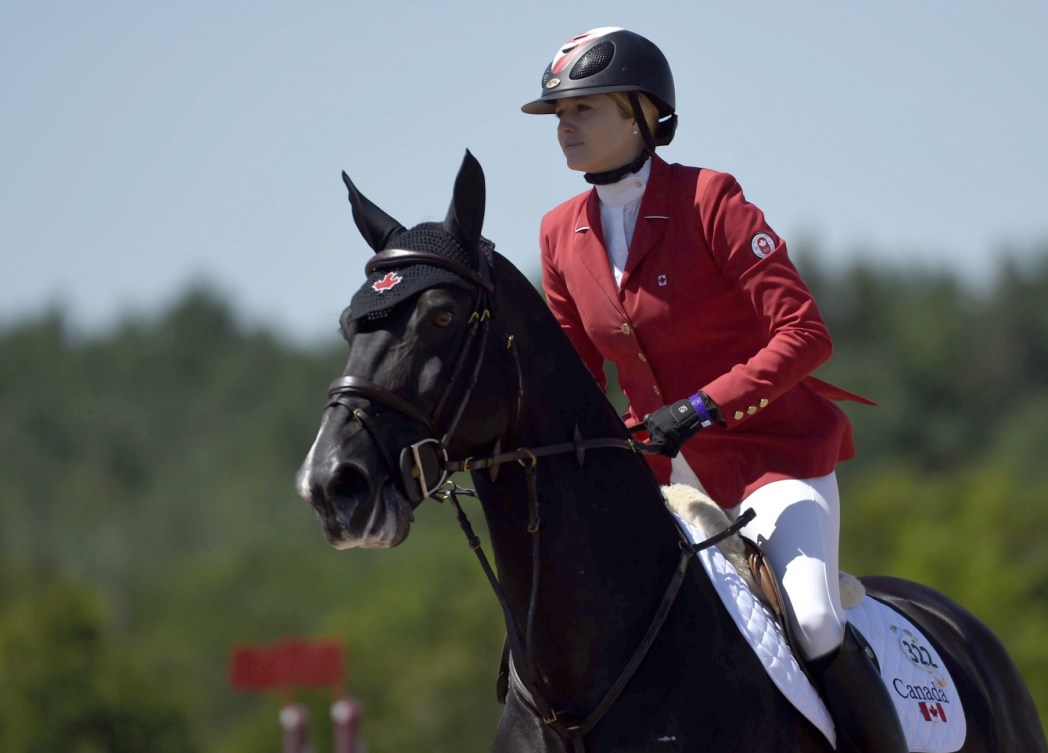 It's critically important for elite athletes to fuel their bodies to maximize performance. An athlete's dietary needs are based on a variety of factors, including training volume, body composition, type of activity, and health considerations. They need to eat the right foods, at the right time.
In the case of dressage, jumping and eventing, the human athlete is just one half of the competing team. Riders and their equine partners are equal contributors. And just like any other high-performance athlete, horses depend on the services of an equine nutritionist, exercise physiologist, veterinarian and trainer to optimize their health and performance.
Equine Canada is the national sport federation that governs equestrian sports in this country. They're the dedicated national voice working to serve, promote and protect the interests of horses and Canada's equestrian community. The organization works with a number of veterinarians to ensure that their horses are well nourished, injury-free and competition ready.
Horse power
"There is a movement afoot within the horse industry to cater nutrition to the individual horse's needs," says Dr. Alison Moore, a veterinarian on Equine Canada's Health and Welfare Committee. Dr. Moore has worked with national team horses in the past and she specializes in equine sports medicine. "The individual animal's dietary needs are based on a variety of factors. Veterinarians and trainers will look at the breed and their genetic predisposition to certain conditions, on the need to improve respiratory health and take into considerations any intestinal sensitivities or behavioral concerns when prescribing what a horse should be eating."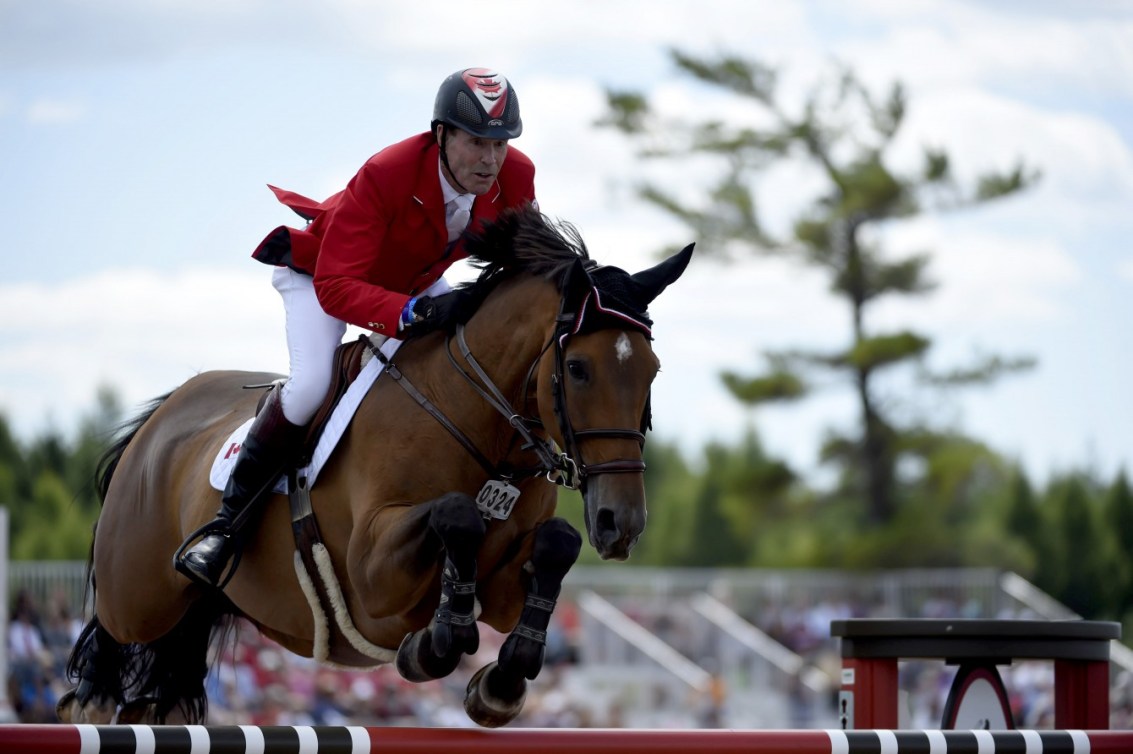 And it's important to get it right because horses eat A LOT. The majority of the animals' meals are made up of forage (a fancy word for hay). Equine athletes consume roughly 1.5% to 2% of their body weight in forage per day. "For a 500kg horse that would be 7.5 to 10 kg or hay per day. The amount of concentrate fed per day will depend on the intensity and duration of exercise and may range from no concentrate at all to 5 kg/day for a thoroughbred racehorse," says Dr. Moore. "The amount of water consumed varies with the individual horse and diet but can range from 20 L per day, up to 60 L per day for intense exercise in humid hot conditions."
It reached 26 degrees Celsius today at Caledon Pan Am Equestrian Park so one can assume that the competing horses consumed a great deal of water.
Fueling performance
Many of the advances in equine nutrition have been picked up from human sports nutrition (taking into consideration both the obvious and the unexpected differences between the two athletes).
"Unlike human athletes who can refuel after an intense workout with a carbohydrate rich protein shake, horses are unable to rapidly restore the energy (glycogen) lost during exercise and it may take up to three days to replenish these stores," says Dr. Moore. "For horses that may compete in several rounds in one day, such as show jumpers, or on consecutive days such as three day eventers, the failure to adequately replenish these stores may affect future performance."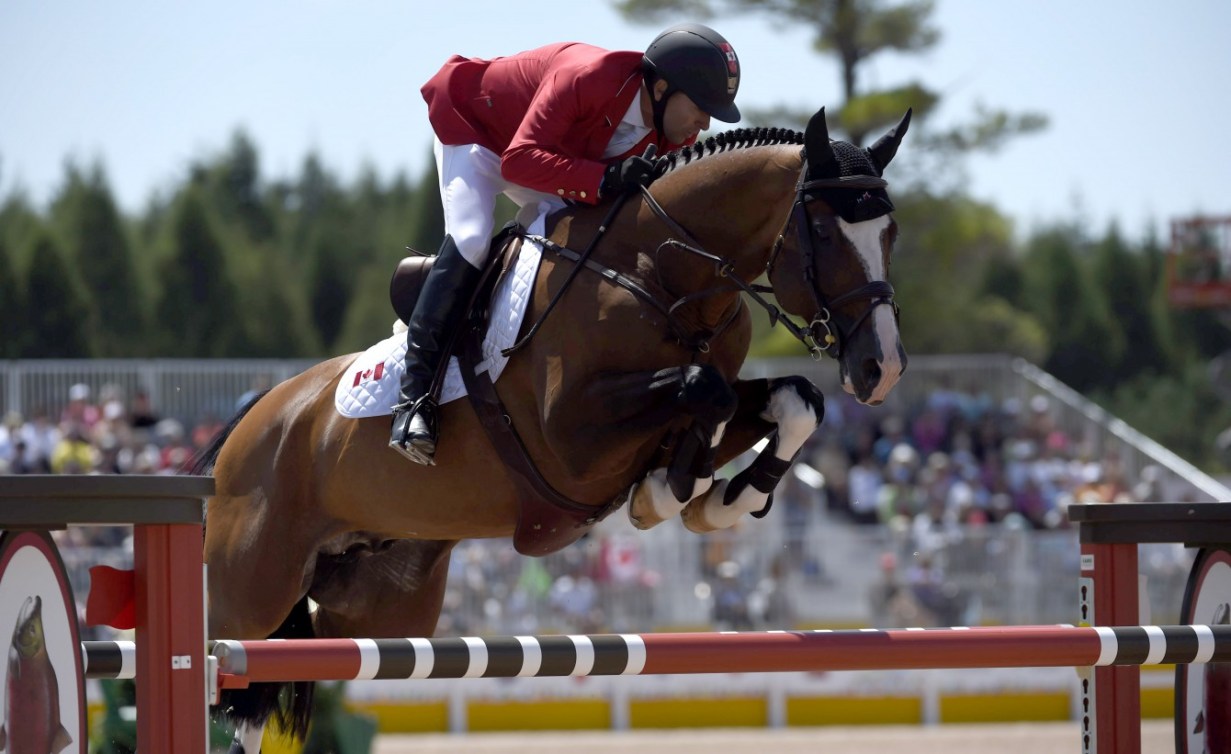 Research is ongoing to find the optimal way to replenish these stores. Although experts do know that ample water and electrolytes can help – the horse version of a sports drink.
Just like human athletes, horses need routine in their diet and prefer to eat familiar foods before a competition. "Because horses travel frequently to competitions, trainers are careful not to make any changes in diet or in supplements too close to a competition to avoid upsetting the bacterial flora."
But there are some unique challenges for the equine community. "In some situations, due to import restrictions, feed and forages may not be able to accompany the horse into a country for competition," says Dr. Moore. "In these situations, the horse either needs to arrive well in advance of the event to acclimatize to the diet change or if possible, import the anticipated feed from that country well in advance of the event."
The equestrian team now has five medals with two silver and two bronze from the earlier dressage and eventing competitions. Individual show jumping is all that is left, concluding on Saturday.