Snowboarder Brooke Voigt, figure skater Conrad Orzel and rhythmic gymnast Carmen Whelan are all 2017 grant recipients of Petro-Canada's FACE program (Photos: CP/Jacques Boissinot, Skate Canada/Stephan Potopnyk, AP/Gregory Bull)
Petro-Canada FACE program funds 55 more future Olympians, Paralympians
On Friday, Petro-Canada announced the 55 athlete-coach combos who will each receive $10,000 in funding for the next year.
Grants from the Fuelling Athlete and Coaching Excellence (FACE) program are given to athletes who are striving to represent Canada at the Olympic or Paralympic Games but are not yet eligible for government funding. Each athlete and coach directly receives $5000 to help them with expenses related to training, travel for competitions, equipment and coach education.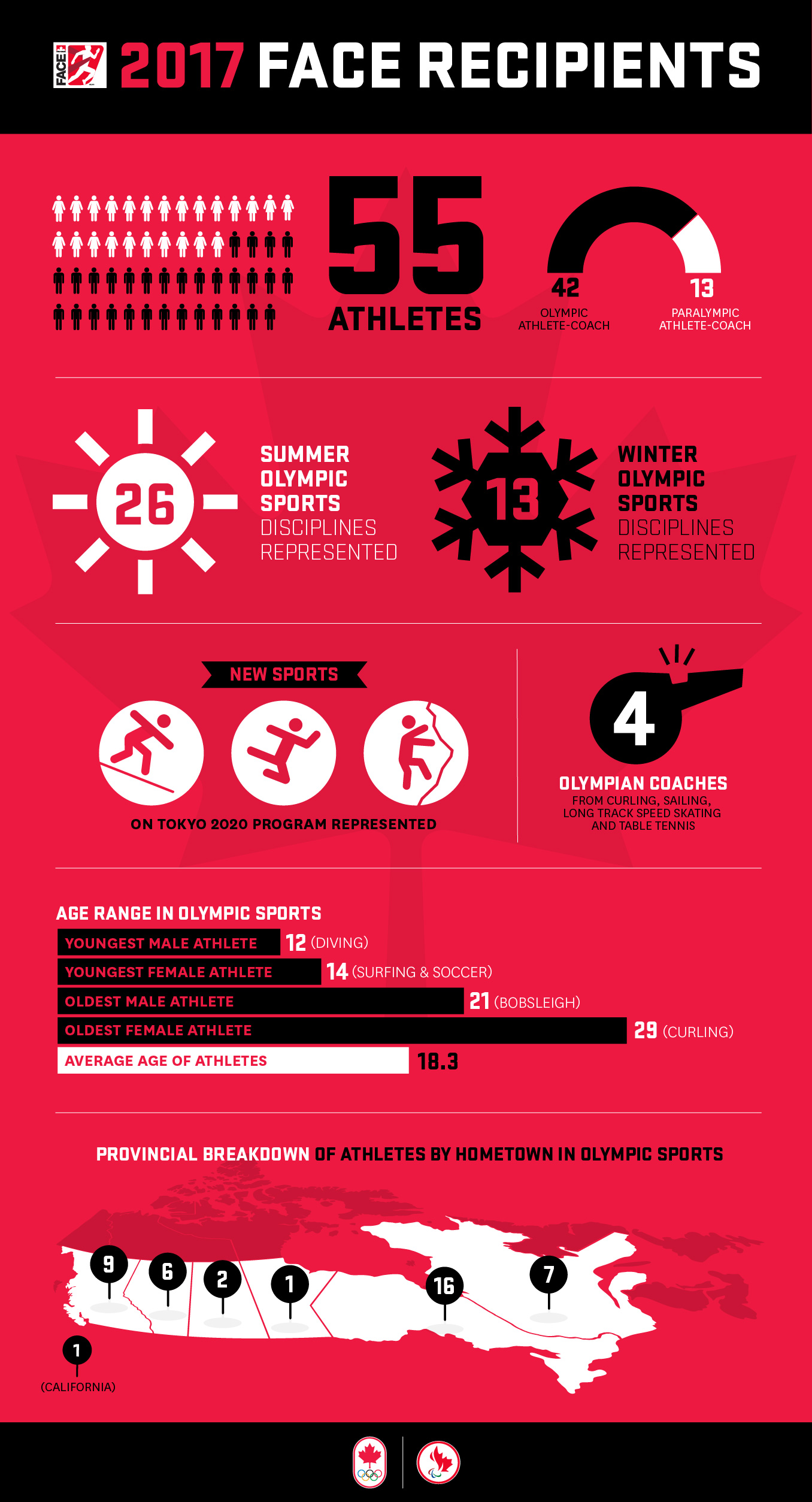 This year's class includes 42 athletes in Olympic sports alongside 13 in Paralympic sports. In total, there are 24 female athletes and 31 male athletes, but if you look at just athletes in Olympic sports, there is an even split of 21 of each gender.
There are 13 winter Olympic sport disciplines represented (alpine skiing, biathlon, bobsleigh, curling, cross-country skiing, figure skating, freestyle skiing – halfpipe and ski cross, long track speed skating, luge, short track speed skating ski jumping, snowboard) and 26 summer Olympic sport disciplines (archery, athletics, badminton, beach volleyball, boxing, canoe/kayak – slalom and sprint, BMX, track cycling, diving, fencing, soccer, artistic gymnastics, rhythmic gymnastics, field hockey, judo, karate, rugby, sailing, shooting, sport climbing, surfing, swimming, synchronized swimming, table tennis, wrestling).
Three of those summer sports will be new to the Olympic program at Tokyo 2020, with grants going to karate practitioners Maxym-Olivier Rivest and Melissa Bratic, sport climber Alannah Yip and surfer Mathea Olin.
The average age of the Olympic sport athlete recipients is 18.3 years. They range from 12-year-old diver Carson Paul to 29-year-old curler Casey Scheidegger.
The Olympic sport athletes hail from six different provinces, with 16 from Ontario, nine from British Columbia, seven from Quebec, six from Alberta, two from Saskatchewan and one from Manitoba. There is also one athlete based in California.
Although these athletes are not yet Olympians, four of them are guided by coaches who have Olympic experience. Scheidegger's coach is 2010 Olympic silver medallist Carolyn Darbyshire. Speed skater Véronique Déry takes her cues from 2014 Olympian Muncef Ouardi. Table tennis player Terence Young is coached by 2008 Olympian Pradeeban Peter-Paul. Sailor Fillah Karim is training with Vasilij Zbogar, who won three Olympic medals for Slovenia, including silver at Rio 2016 where he was his country's opening ceremony flag bearer.
Since the program began in 1988, more than 2900 athletes and their coaches have received financial assistance for a total of more than $10 million. Many of them went on to fulfill their Olympic dreams, including Marielle Thompson, Kaitlyn Lawes, and Alex Bilodeau.
You can find the complete list of this year's FACE recipients here.