Photo: Vincent Ethier/COC
Team Koe ends Olympic journey with fourth place in men's curling
In a rather unexpected turn of events, Canada will be leaving PyeongChang 2018 without a medal in either men's or women's curling.
Kevin Koe's rink lost 7-5 to Switzerland in the bronze-medal game on Friday morning (Canadian time), a few days after Rachel Homan's rink failed to qualify for the medal round on the women's side. On the bright side, Kaitlyn Lawes and John Morris did win gold in the first-ever Olympic mixed doubles competition.
For the team of Koe, Marc Kennedy, Brent Laing and Ben Hebert, the result was their second loss of the competition to Switzerland.
On Day 14, Canada blanked the first end, which was a massive improvement over the round-robin meeting between the two teams, when Switzerland scored four in the first. But the Swiss did once again get on the scoreboard first, with a steal of one in the second end.
The Canadians then failed to communicate effectively about Koe's final stone in the third end, as the Swiss stole another point to go up 2-0.
The fourth end was also looking grim, until Koe wove a bit of magic with the hammer, pulling off a high-difficulty angle raise to score two and level things up.
Koe was again called upon to clear out the house in the fifth, putting plenty of power into his first stone to send three opposing stones flying. Swiss fourth Benoit Schwarz still had shot stone, however, and drew to the back 8-foot with his first stone to lie two.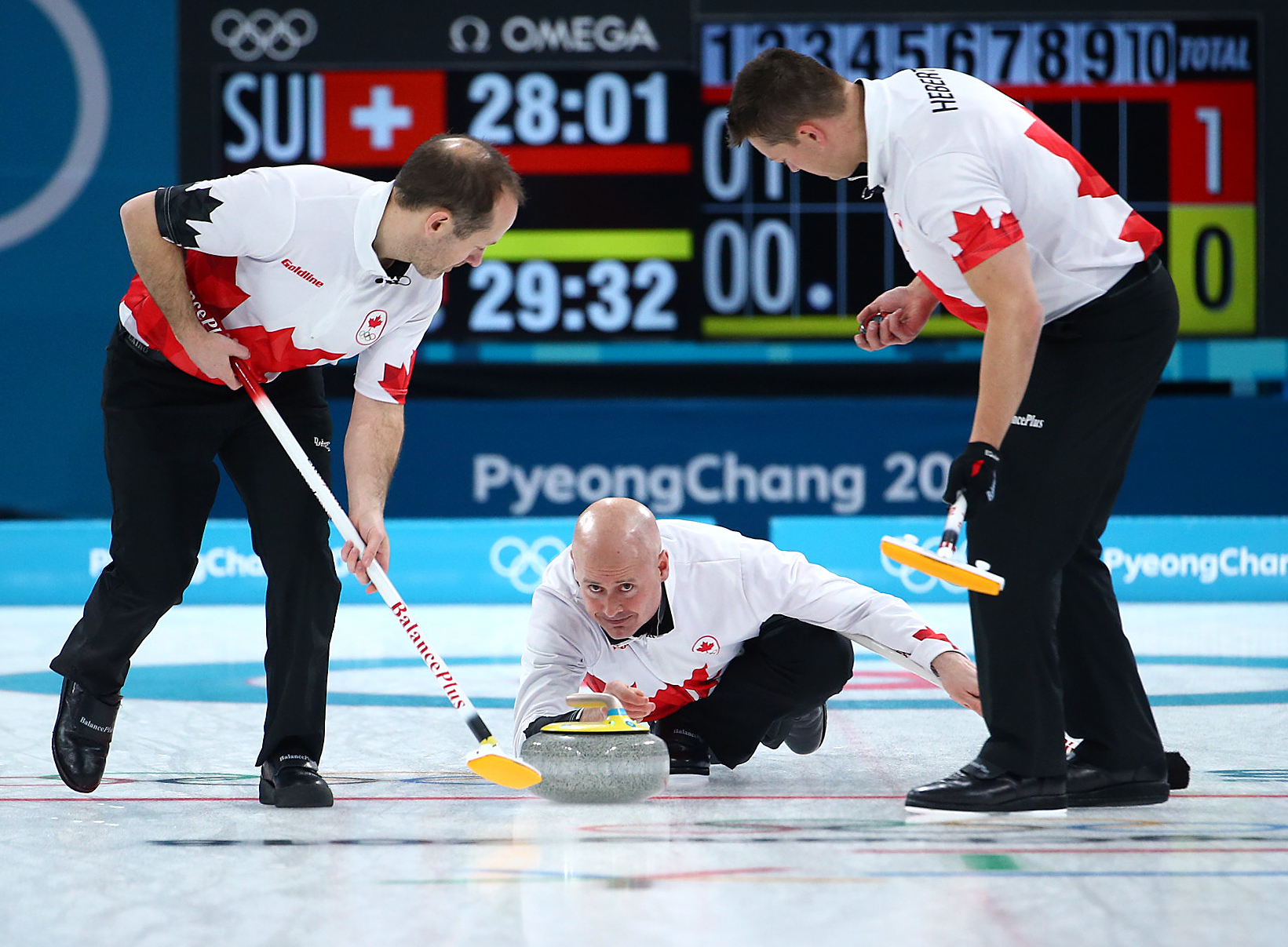 The Canadian skip just missed on his ensuing double takeout attempt, and Schwarz's successful draw with the hammer put Switzerland up 4-2 heading into the halfway point of the draw.
With the hammer in the sixth end, Canada was looking to turn the tide back in their favour. A beautiful draw to the button with Koe's first shot set them up well, but his attempt at an intricate runback with last rock resulted in just one point.
A couple of misses from Koe in the seventh end opened the door for Schwarz to draw for two points and stake out a 6-3 Swiss advantage. But the Canadian skip held his nerve to hit a double takeout in the eighth and score that deuce right back, narrowing the score to 6-5.
Another two points for the Swiss in the ninth likely would have put the game out of reach, but Canada held Schwarz to a single, to regain hammer in the 10th end down by a pair.
The Swiss, however, stayed as ruthless as they've been throughout the competition in that 10th end, neutralizing Canada's comeback attempt before Koe could even deliver his final stone.