THE CANADIAN PRESS/Adrian Wyld
History of Team Canada Olympic medal upgrades
Over the years, there have been multiple Canadian athletes who were the beneficiaries of Olympic medal upgrades.
Some of these were due to disqualifications of athletes ranked ahead of them while others were the result of righting a wrong made by officials.
Here's a look at some notable scenarios:
Frank Lukeman – Stockholm 1912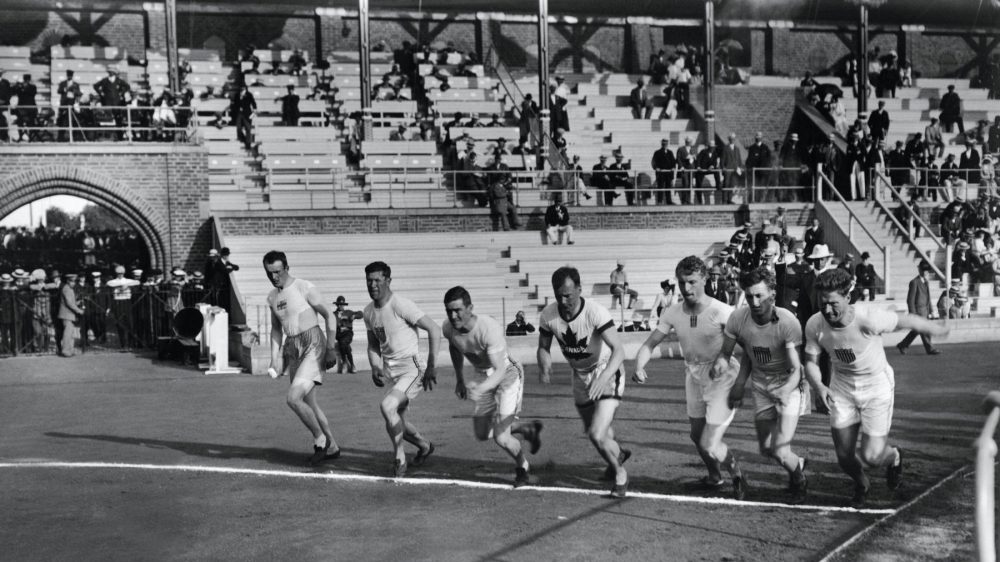 The greatest athlete to compete in Stockholm was American Jim Thorpe, who won gold in the pentathlon and decathlon in dominating fashion. But in January 1913, a newspaper article revealed that Thorpe had played minor league baseball in 1909 and 1910.
In an era when strict amateurism was enforced, the United States' Amateur Athletic Union quickly declared Thorpe to be a professional, even if it wasn't in the same sport in which he competed at the Olympic Games. The IOC followed up by stripping Thorpe of his medals. In the reallocation process, Canada's Frank Lukeman became the bronze medallist in the pentathlon. But Thorpe's family didn't stop in their efforts to have him reinstated, eventually finding a rule that showed he never should have been disqualified at all.
Finally, in 1982, Thorpe was restored as Olympic champion, but the IOC did not take back the medals from the athletes who had been upgraded, meaning there are co-Olympic champions of the 1912 pentathlon and decathlon and Lukeman remains Canada's first Olympic medallist in a track and field combined event.
Debbi Wilkes and Guy Revell – Innsbruck 1964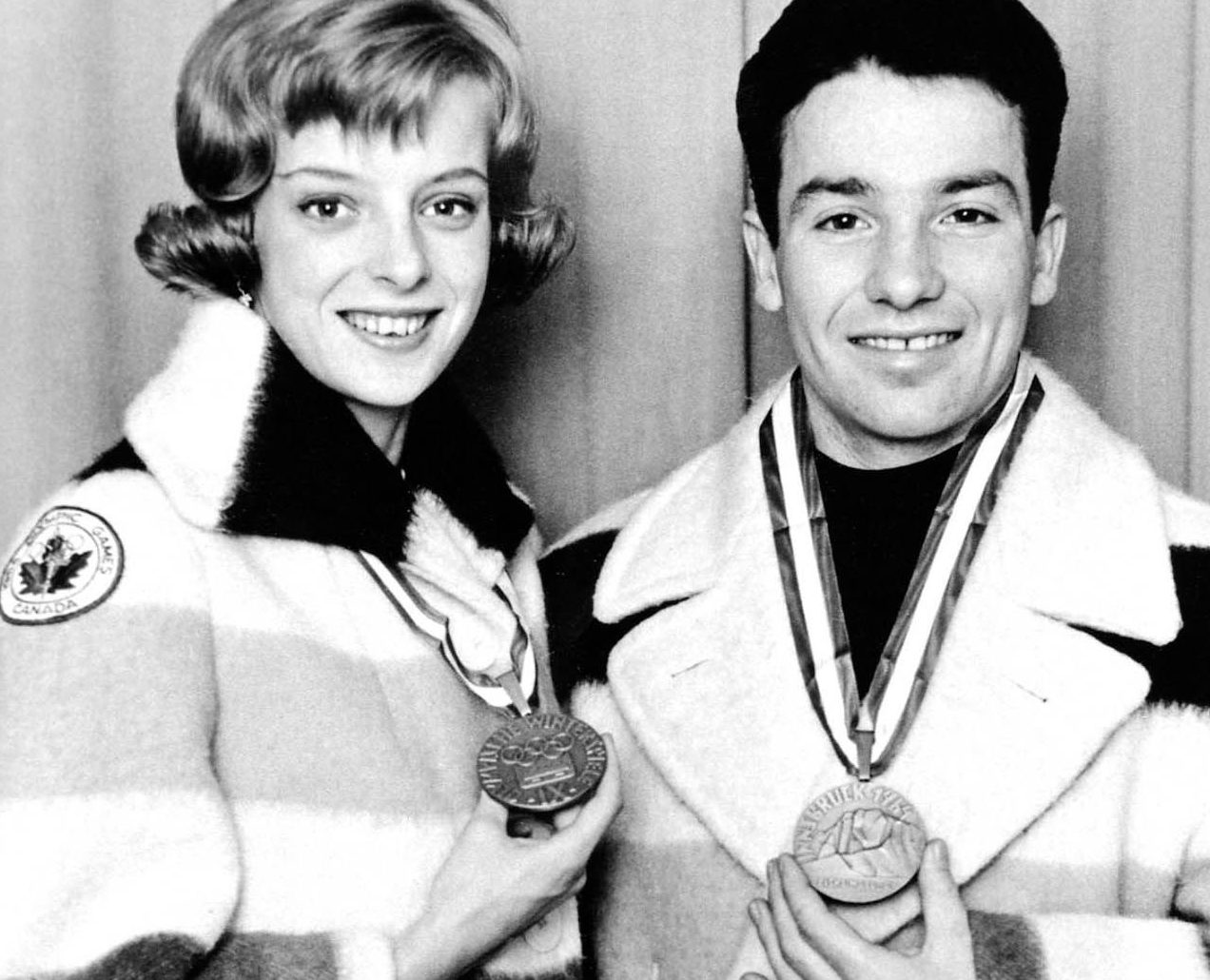 In 1964, Debbi Wilkes and Guy Revell won pairs figure skating bronze at both the Olympic Games and world championships before deciding to step away from competition. Wilkes was just 17 when she retired at the end of the season.
But several weeks later, it was discovered that the silver medallists in Innsbruck, Germans Marika Kilius and Hans-Jürgen Bäumler, had signed a professional contract prior to the Games, which should have made them ineligible to compete. In 1966 they returned their medals, which were subsequently awarded to Wilkes and Revell.
But the International Skating Union never altered its results and in 1987, the Germans were quietly given a set of silver medals. Thus, there was the odd scenario in which Wilkes and the late Revell were in possession of Olympic silver medals but listed as bronze medallists. It wasn't until 50 years after the event that the results books finally showed Wilkes and Revell as co-silver medallists with Kilius and Bäumler.
Sylvie Fréchette – Barcelona 1992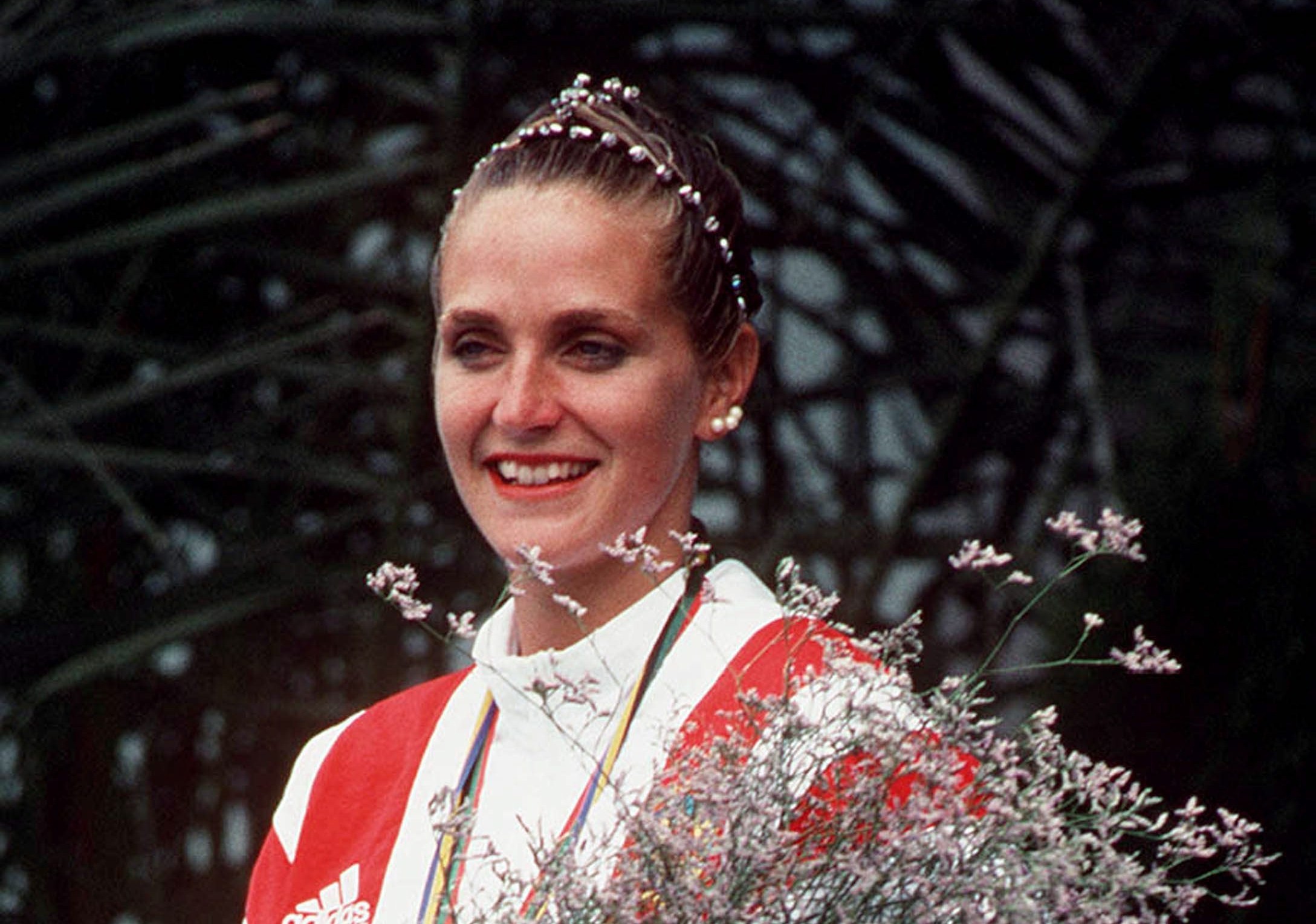 Sylvie Fréchette went to Barcelona as the solo world champion in synchronized swimming. But her Olympic gold medal hopes seemed to have been taken away from her in the preliminary round when the Brazilian judge gave her a score of 8.7 for one of her compulsory figures.
It stood out because every other judge had scored Fréchette in the range of 9.2 to 9.6. The judge immediately tried to change her score to the 9.7 she intended, but it was too late. No matter how well Fréchette swam in the final, she was too far behind to catch American Kristen Babb-Sprague and ended up with the silver medal.
But in the months that followed, Canadian IOC member Dick Pound worked with the IOC and FINA to fix the situation. In December 1993, Fréchette was deemed to be co-Olympic champion with Babb-Sprague and received her gold medal in a ceremony at the Montreal Forum.
Beckie Scott – Salt Lake City 2002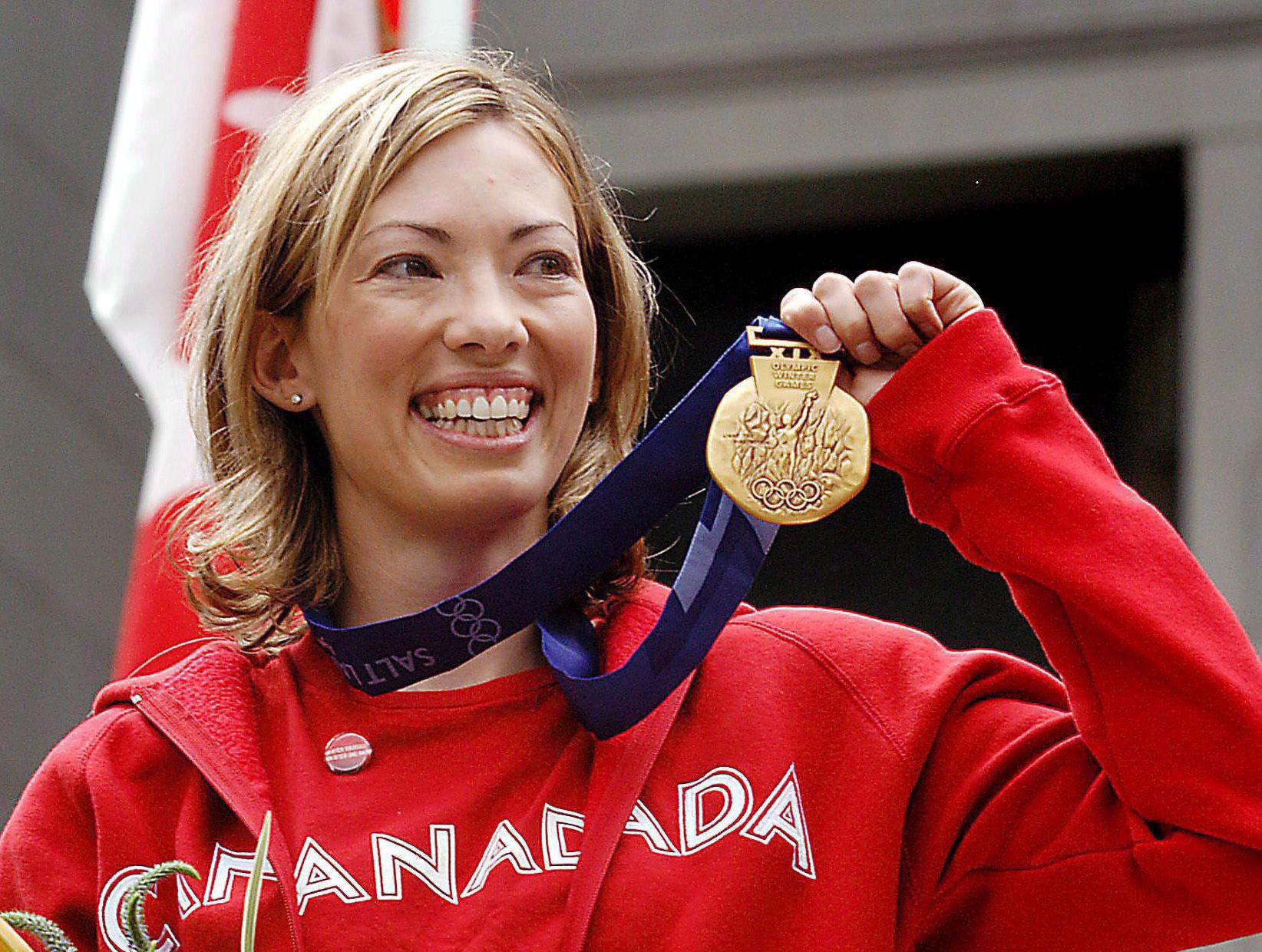 Beckie Scott has the rare distinction of having been the owner of all three medals in cross-country skiing's pursuit event in Salt Lake City. She began as the bronze medallist, celebrating becoming Canada's first ever Olympic medallist in cross-country skiing.
But it was then discovered that the two Russians who had placed ahead of her, Olga Danilova and Larissa Lazutina, both had positive drug tests in December 2001, which should have made them ineligible to compete in Salt Lake City.
In June 2003, Lazutina was stripped of her silver, which was awarded to Scott that October. Then a few months later in February 2004, Danilova was also disqualified. In June 2004, Scott received the gold medal that was rightfully hers, making her Canada's first Olympic champion in cross-country skiing.
Jamie Sale and David Pelletier – Salt Lake City 2002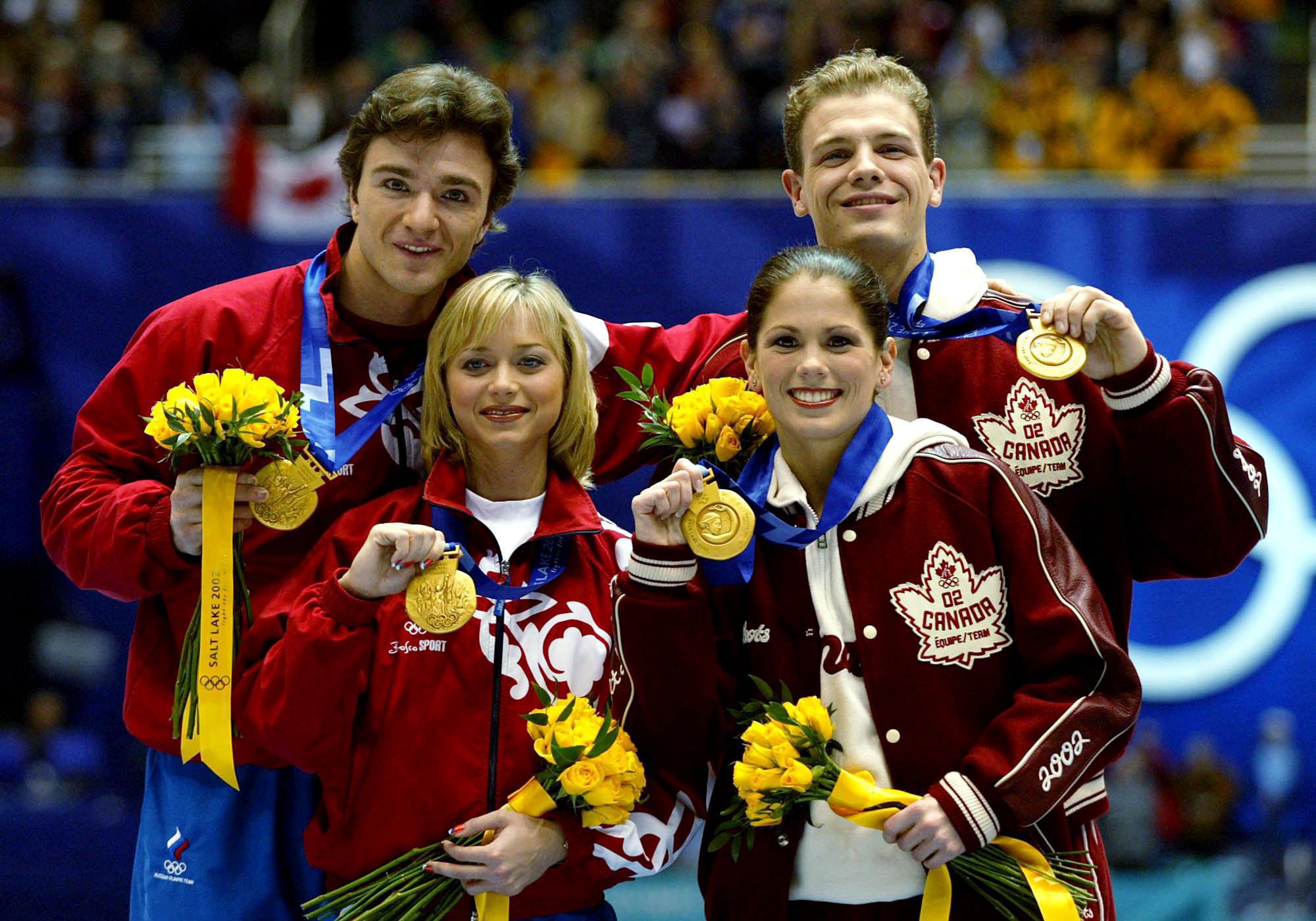 The pairs figure skating event in Salt Lake City developed into a showdown between Jamie Sale & David Pelletier and Russians Elena Berezhnaya & Anton Sikharulidze. Whichever team won the free skate would win the gold medal.
So when Sikharulidze stepped out of the landing of a double Axel and the Canadians followed with a clean performance, most observers assumed Sale and Pelletier would be the winners, including Pelletier who kissed the ice in celebration.
But a 5-4 judges split saw the Russians win gold, leaving the Canadians with silver. Soon, French judge Marie-Reine Le Gougne alleged she had been pressured to favour Berezhnaya and Sikharulidze as part of an exchange to help the French ice dance team later in the Games.
The International Skating Union and International Olympic Committee assessed the situation and announced that Sale and Pelletier would become co-Olympic champions with the Russians, who had done nothing wrong. A second medal ceremony took place six days after the event had concluded.
Dylan Armstrong – Beijing 2008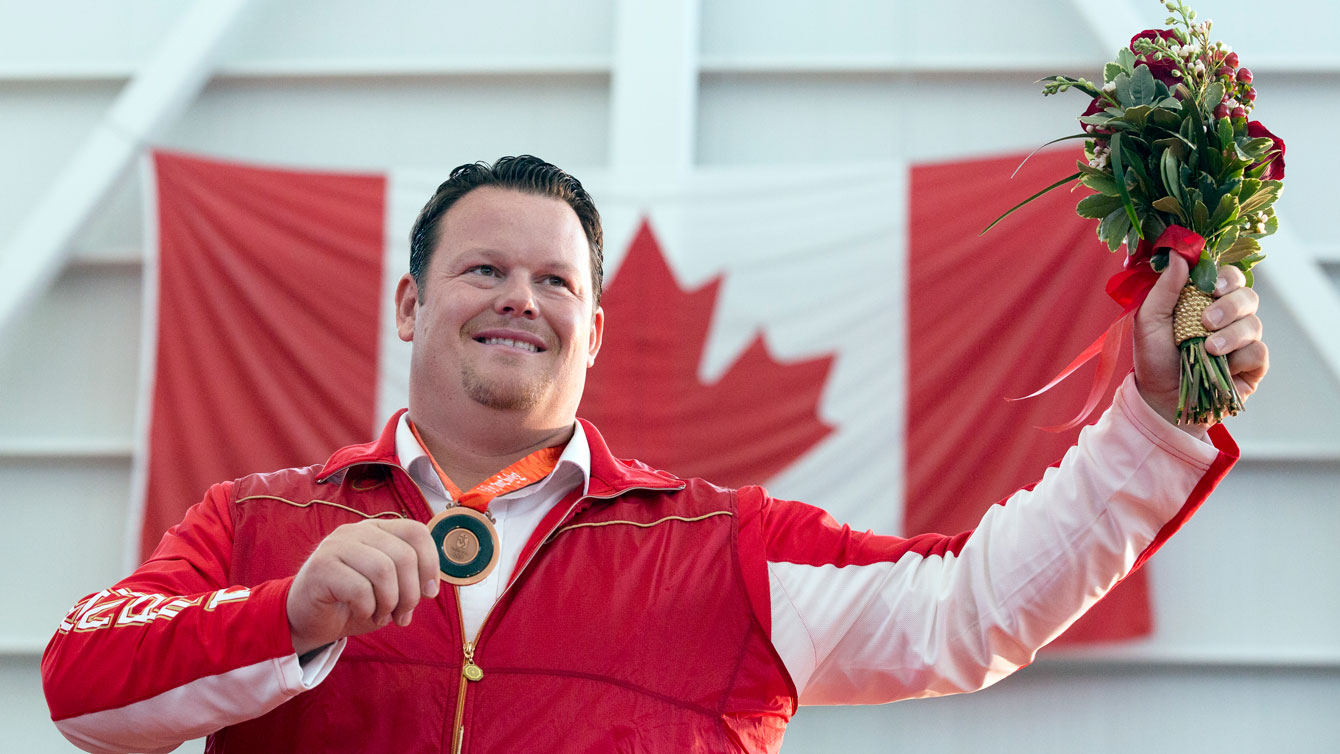 Dylan Armstrong went to Beijing as the reigning Pan Am Games gold medallist in the men's shot put. He set a national record at Beijing 2008, but his hopes of a bronze medal were just out of reach. Armstrong finished fourth behind Andrei Mikhnevich of Belarus by just one centimetre.
It wasn't until July 2013 that it was discovered that Mikhnevich had positive drug test results from the 2005 IAAF World Championships. As a result the IAAF and IOC annulled all of Mikhnevich's results back to August 2005.
With Mikhnevich stripped of his Olympic medal, Armstrong was upgraded to the bronze medal from Beijing 2008. More than six years after missing the Olympic podium, Armstrong finally became Team Canada's first Olympic medallist in a throwing event in almost a century. He received his medal in his hometown of Kamloops, B.C. in February 2015.
Christine Girard – Beijing 2008 and London 2012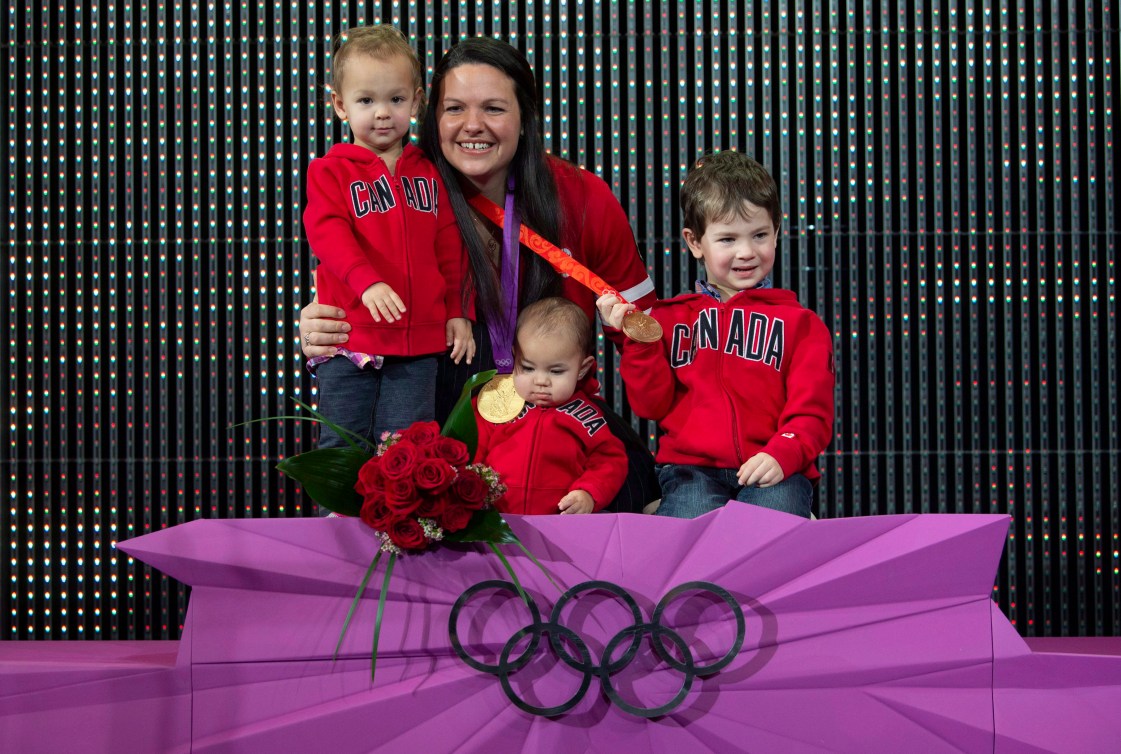 Christine Girard has made great strides for women's weightlifting in Canada. At Beijing 2008, Girard appeared to finish in fourth place, missing the podium by just three kilograms. Four years later, she came away from London 2012 with a bronze medal.
It wasn't until recent years that multiple disqualifications for doping resulted in reallocations of medals, specifically impacting Girard. The biggest news was from the 63kg event at London 2012. Re-tests in 2016 found that the original gold medallist, Maya Maneza of Kazakhstan, tested positive for an anabolic steroid. A month later, the silver medallist in the same event, Svetlana Tsarukaeva of Russia, also showed a positive test for a different steroid. Shortly thereafter, the 63kg silver medallist from Beijing, Irina Nekrassova of Kazakhstan, was also disqualified for using a banned substance.
The IOC stripped all of those medallists of their medals and in the process, Girard rightfully had her original bronze medal from London replaced with gold and was bumped up to Beijing bronze. She became a two-time Olympic medallist and Canada's first ever Olympic champion in weightlifting.
Derek Drouin – London 2012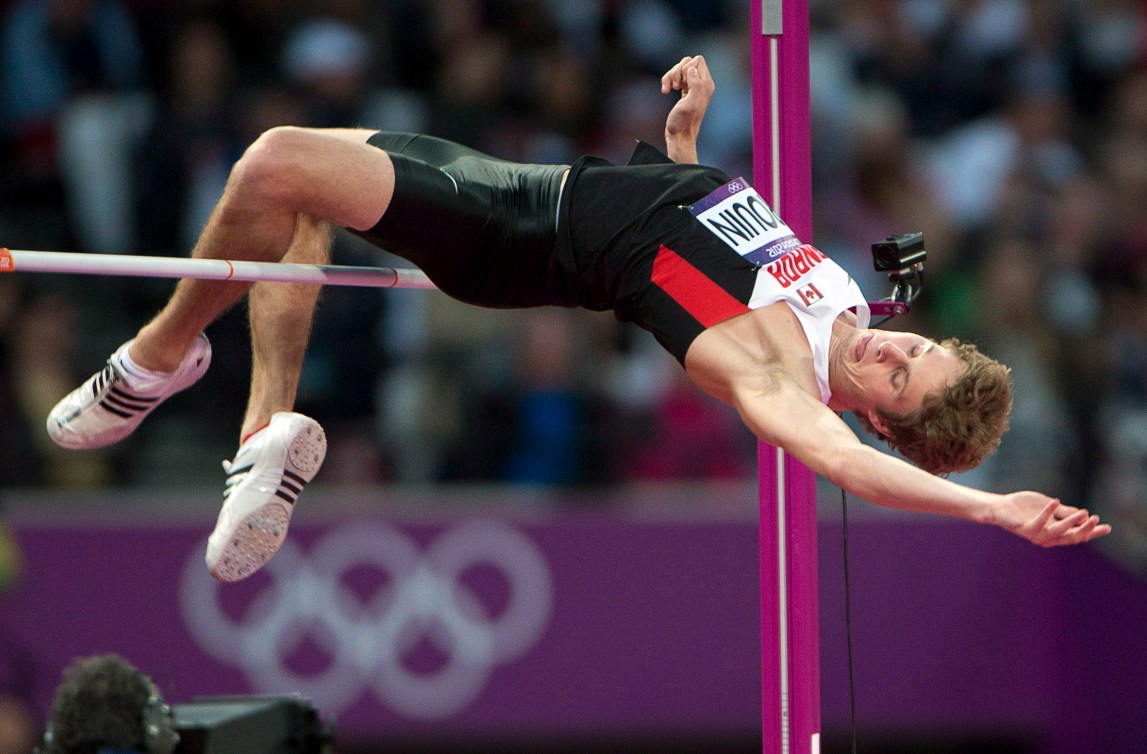 Derek Drouin was just 22 when he made his Olympic debut at London 2012 and finished in a three-way tie for bronze in the men's high jump. Four years later, Drouin recorded a clean jump sheet en route to becoming Olympic champion at Rio 2016.
It was also in 2016 that the World Anti-Doping Agency appointed Richard McLaren to investigate allegations made by Dr. Grigory Rodchenkov, the former Director of the Moscow Anti-Doping Centre, about improper methodology in the testing of Russian athletes. As a result of that investigation, Ivan Ukhov, the Russian high jumper who had won gold at London 2012, was informed in October 2017 that he was being charged with an Anti-Doping Rule Violation. After several years of appeals and hearings, the Court of Arbitration for Sport released its final decision in April 2021 and Ukhov's results from a two-and-a-half-year period that included the 2012 Olympic Games were disqualified.
In November 2021 – almost a decade after the competition took place – the IOC announced that Drouin along with Mutaz Essa Barshim of Qatar and Robert Grabarz of Great Britain were to become silver medallists behind the now-official gold medallist, American Erik Kynard.