It's Time to Persevere – Meet Tokyo Hopeful Kat Surin
You might say the Olympic dream runs in my family. Much like you, I grew up watching the Olympics on television. The thrill of watching athletes compete draped in red and white, having the crowds chant "Go Canada Go" as they push towards the podium. Athlete or not, it's a sense of pride and exhilaration that's undeniable. For my family, it means so much more – my dad is a four-time Olympian who won gold at Atlanta 1996 as a member of the 4x100m relay. My name is Katherine Surin, and yes, my dad is Bruny Surin.
I was only 6 months old when my dad won gold, I grew up thinking everyone's dad was an Olympian. Like most young kids, I loved racing around the house, especially against my father. I'm sure I was running way before I started to walk. When I was 5, I asked my parents if I could join a local track and field club. Knowing the pressure I would face being his daughter, my dad asked me to consider trying a few more sports before I started doing track full time. With that, my parents signed my sister and me up for tennis.
It wasn't long before both my sister, Kimberley, and I were ranked internationally. By 14, I was in the top tier on the national tennis team. I had a promising career ahead of me but deep inside I knew I was meant to run like my dad. After all, my favourite part of tennis was running around the court for warmups! Listening to my heart after 7 long years, I switched to track and never looked back.
Finally doing what I love, my road to the Olympic Games began. My dad always taught me to have a dream and to take no shortcuts. I was good at running, but not great. With dad as my inspiration, my family as support, and the resources to bring my dreams within reach, I pushed myself, often beyond my limit and still, my goal was beyond my grasp. In my junior year of university, I struggled. My results were just so far from what I needed them to be. With my dream of being a Canadian Olympian seeming impossible, my love for track began to fade. Little did I know, this was preparing me for what was to come ­– the need for resilience.
Perseverance in the face of adversity is something I think we can all relate to right now. In this ever-changing world, all of us, not just athletes, have had to step back and re-adjust, re-evaluate and find new ways to push forward. The Olympic dream stays a dream for too many who have the talent and perseverance but lack the needed supports. It's donors like you who help keep our dreams alive and bring the impossible within reach. Please consider making a donation to the Canadian Olympic Foundation, helping athletes like me achieve their fullest potential. To make a donation click here.
My dad had tough seasons too. He came in last; he struggled. The journey to the Olympic Games is filled with ups and downs. It's how you learn from these challenges that can make or break you. Since my junior year, I've made the National team and won a bronze medal in the 400m at the Canadian Track and Field Championships. I chose to focus on the positive and push forward.
With the postponement of Tokyo 2020 to the summer of 2021, I thought about quitting again. The cost of training, coaching, and competitions was already a lot to bear without an additional year. I was looking at it all wrong. This year isn't a setback, it's an opportunity. An extra year of training to be stronger. Twelve months to get faster. Four seasons to push myself like never before. This is an opportunity of a lifetime – to get the highest level so I can stamp my ticket to my first Olympic Games. I am determined to represent Team Canada, and with your encouragement, I believe there's no stopping me.
There's nothing I want more than to make Canada proud at the Olympic Games with my family in the stands. To see my dad cheering me on as I run my first Olympic lap, that's a memory both he and I will never forget. And knowing that people like you, Canadians whose hearts will swell with pride seeing me out there, who have supported me in achieving my dream, is a memory we all deserve to share.
Tokyo is just around the corner, the finish line in sight, and your support makes every stride I take just a little bit faster.
With gratitude,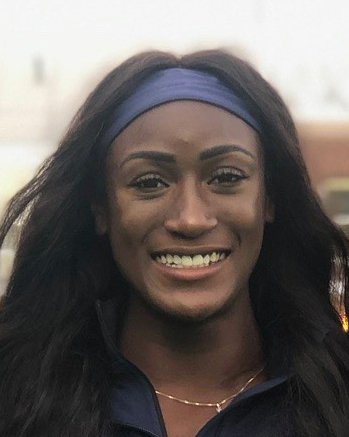 Katherine Surin
Canadian Olympic contender, 400m track