Athletics
Canadian Olympic Medal Count
16
18
32
Sport Overview
Athletics at Paris 2024
Venues: Stade de France (track and field), Hôtel de Ville / Invalides (marathons), Pont d'Iéna (race walks)
Competition Dates: August 1-11 (Days 6-16)
Events: 48 (23 men, 23 women, 2 mixed)
Trivia: Test your knowledge!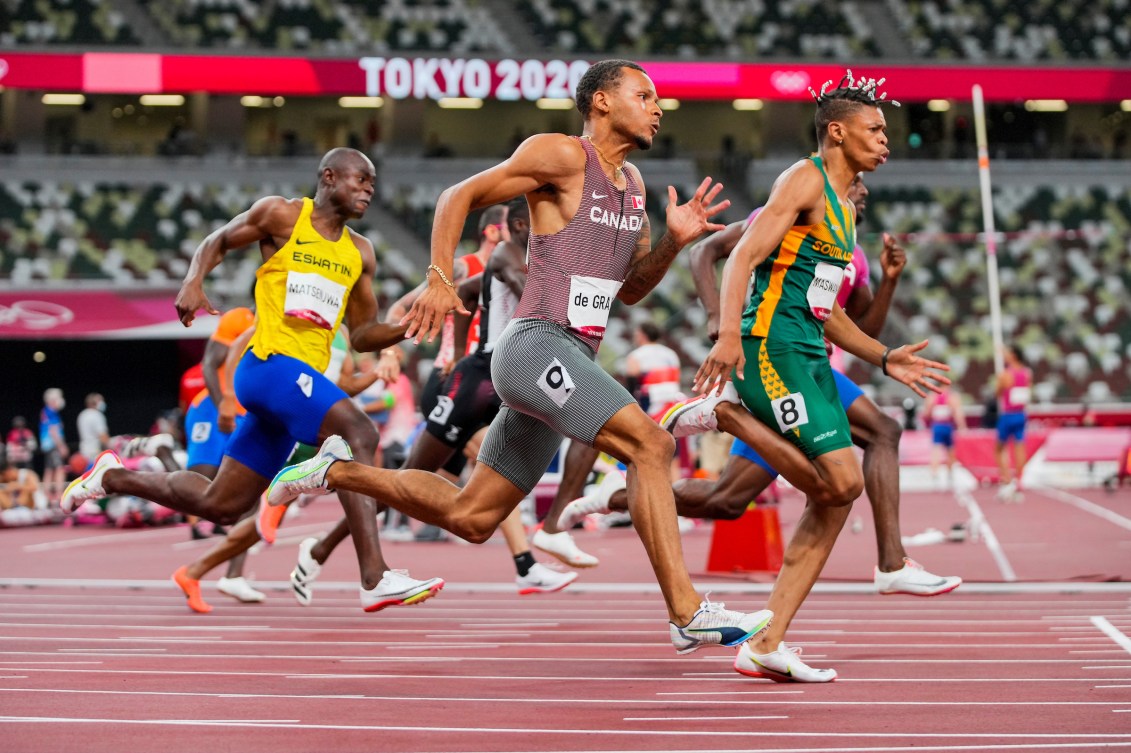 The 48 athletics events are the most of any sport on the Olympic program. All are contested separately by men and women except where noted. The events can be divided into five groups:
* Track events (100m, 200m, 400m, 800m, 1500m, 5000m, 10,000m, 110m hurdles – men, 100m hurdles – women, 400m hurdles, 3000m steeplechase, 4x100m relay, 4x400m relay — men, women, mixed)
* Throwing events (shot put, discus, hammer, javelin)
* Jumping events (high jump, pole vault, long jump, triple jump)
* Combined events (decathlon – men, heptathlon – women)
* Road events (marathon, 20km race walk, race walk mixed team)
On the track, all events 1500m and shorter include three rounds of competition (round one, semifinals, final). The 5000m, steeplechase, and relays are two rounds (round one, final) while the 10,000m is a one-race final.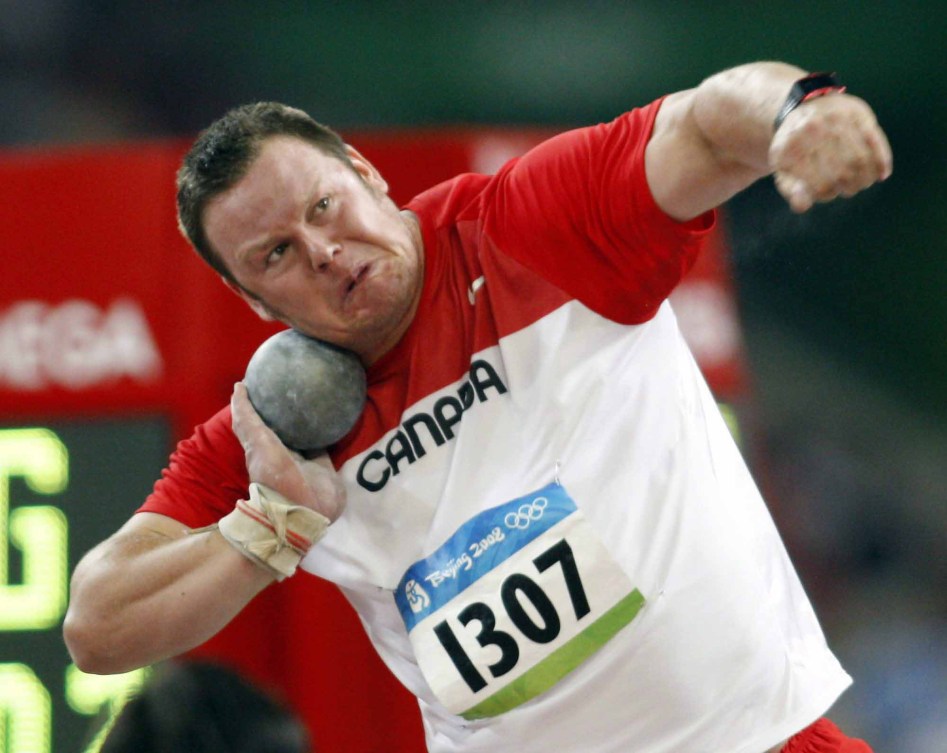 In the throwing events, only the best attempt is counted for each athlete. After three attempts in a qualification round, the top 12 advance to the final. Following their first three attempts in the final, the top eight athletes receive three more attempts to improve their placement.
In high jump and pole vault, athletes can enter the competition at any height and pass on any height, but three consecutive failures leads to elimination until one athlete remains. In long jump and triple jump, only the best attempt is counted for each athlete. After three attempts in a qualification round, the top 12 advance to the final. Following their first three attempts in the final, the top eight receive three more attempts to improve their placement.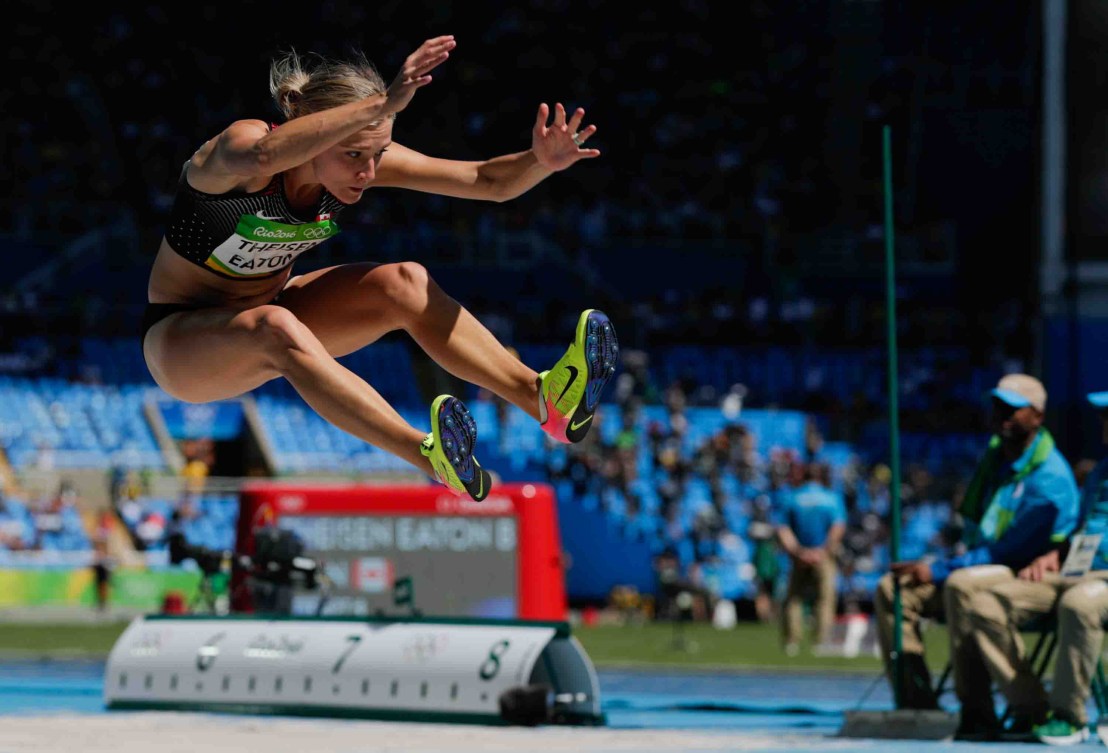 In the combined events, athletes are awarded points which correlate to the times/measurements achieved in each event. The decathlon is 10 events (Day 1 — 100m, long jump, shot put, high jump, 400m; Day 2 — 110m hurdles, discus, pole vault, javelin, 1500m) while the heptathlon is seven events (Day 1 — 100m hurdles, high jump, shot put, 200m; Day 2 — long jump, javelin, 800m).
The road events are all mass starts. In the race walks, athletes must always have one foot in contact with the ground and completely straighten their leg on each stride. Three violations leads to disqualification.
Canada's Olympic Athletics History (Pre-Paris 2024)
With 66 Olympic medals, Canada has won more medals in athletics than in any other sport. Canada won six athletics medals at Rio 2016 and Tokyo 2020, the country's best total since the nine won at Los Angeles 1932.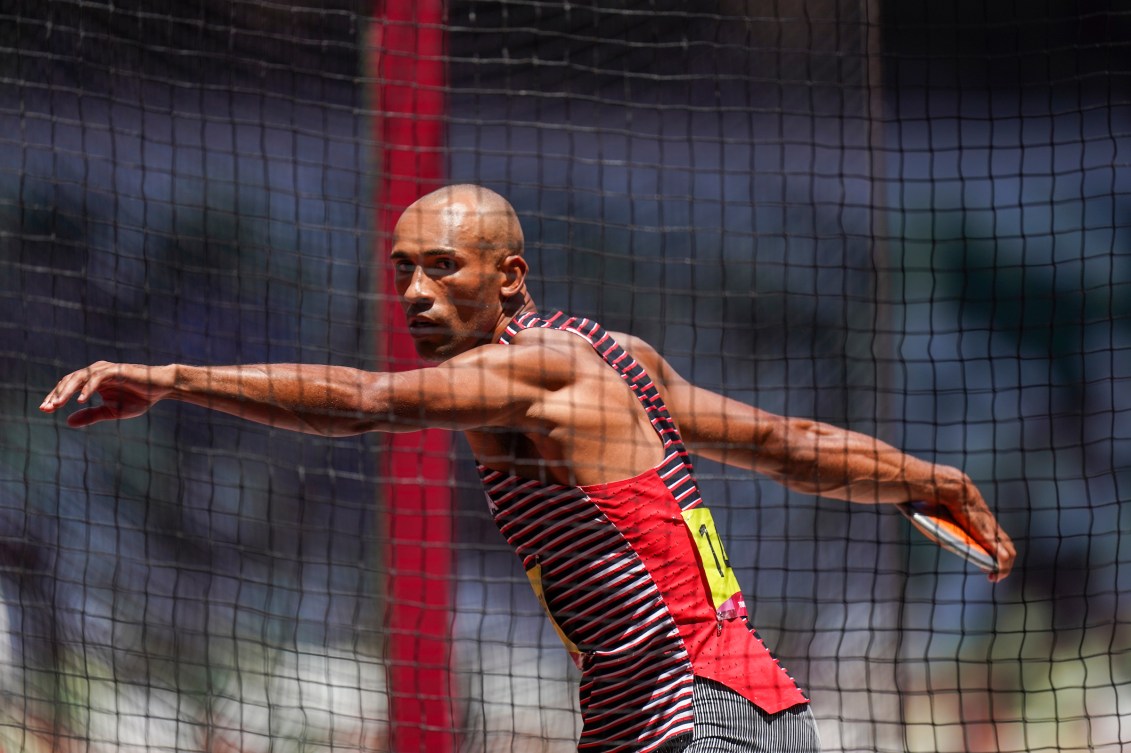 At Tokyo 2020, Damian Warner became Canada's first Olympic champion in the combined events. He led the decathlon from start to finish as he set the Olympic record in the event and became just the fourth man to ever break the 9000-point mark. It followed the bronze medal he had won at Rio 2016.
Andre De Grasse is the first Canadian man to win six Olympic medals, earning three each at Rio 2016 and Tokyo 2020. After winning silver in the 200m and bronze in the 100m and 4x100m relay in Rio, he captured 200m gold in Tokyo and was again on the podium in the 100m and 4x100m relay. Aaron Brown and Brendon Rodney were also part of both relay medals.
History was also made in Tokyo by Evan Dunfee and Mohammed Ahmed. With his bronze, Dunfee became Canada's first Olympic medallist in the 50km race walk, while Ahmed's 5000m silver made him Canada's first Olympic medallist in a long distance track event.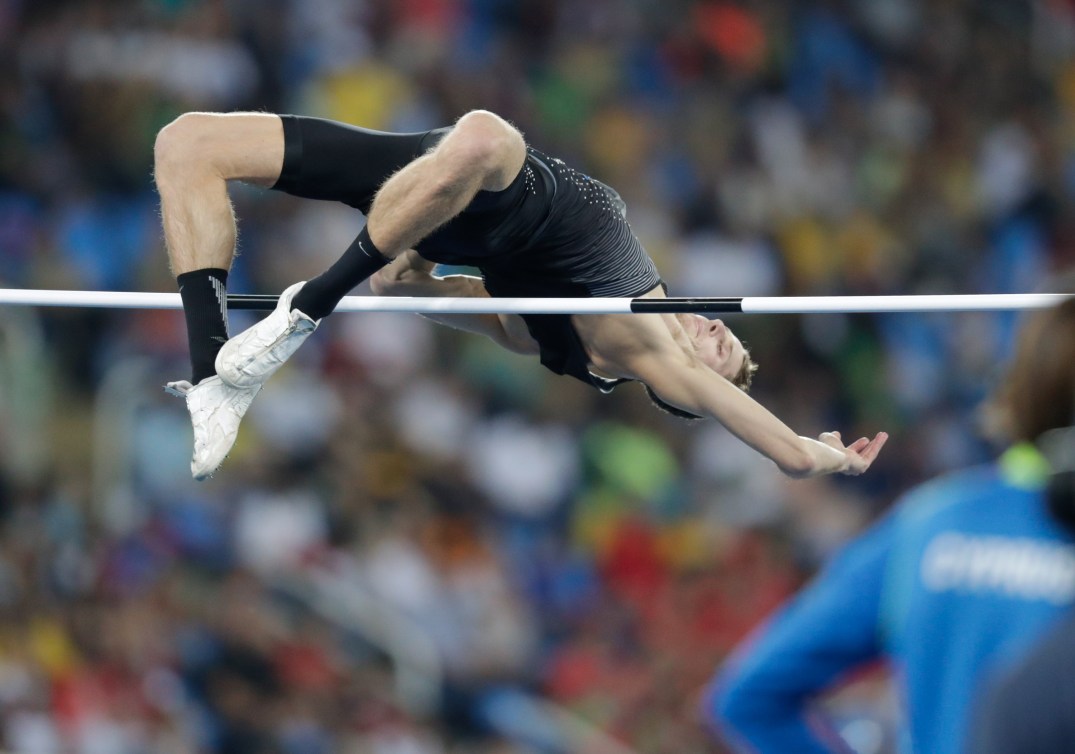 At Rio 2016, Derek Drouin became Canada's first Olympic champion in a field event since 1932, winning gold with a clean sheet, just the sixth high jumper to ever do so in Olympic history. It was Canada's fourth ever men's high jump medal, following Greg Joy's silver at Montreal 1976, Duncan McNaughton's gold at Los Angeles 1932, and Drouin's own silver at London 2012, where he was part of a three-way tie. In Rio, Canada was also the only country to win medals in both combined events, as heptathlete Brianne Theisen-Eaton joined Warner as a bronze medallist.
There was a pair of bronze medals at Beijing 2008 as Priscilla Lopes-Schliep won Canada's first Olympic medal on the track since Atlanta 1996, where Donovan Bailey became the "world's fastest man" by winning the 100m gold in world record time and then anchored the 4x100m relay team to gold. Dylan Armstrong captured Canada's first Olympic throwing medal since Stockholm 1912 when Duncan Gillis won hammer throw silver.
Until De Grasse's success at Tokyo 2020, the most medals won by a single athlete had been the five bronzes that Phil Edwards earned in middle distance events from 1928 to 1936.
Amsterdam 1928 stands out as perhaps Canada's greatest Olympic Games in athletics. Women competed in athletics for the first time, leading to the first female members of a summer Canadian Olympic Team. They won four medals, including gold in the high jump by Ethel Catherwood and the 4x100m relay. Percy Williams is the star of the sprints, becoming the only Canadian to achieve double gold in the 100m and 200m.
Canada's first ever Olympic medals came in athletics thanks to George Orton, who won 2500m steeplechase gold and 400m hurdles bronze in the span of an hour at Paris 1900.
Olympic Athletics History
Athletics is one of the original Olympic sports, having been included at every Games since Athens 1896. Of the 23 men's events on the program at Paris 2024, 22 of them have been consistently contested dating back to Antwerp 1920. The last addition was the 20km race walk at Melbourne 1956.
Women were first allowed to compete in Olympic athletics events at Amsterdam 1928. Starting with just five events at those Games, the competition was gradually expanded. By Rome 1960, women could compete in 10 events. At Los Angeles 1984, there were 17 events as women were finally permitted to run distances longer than 1500m and the marathon made its debut. It wasn't until Beijing 2008 that the current 23 women's events were fully established with the last addition, the 3000m steeplechase.
The most recent changes to the Olympic program were the addition of a mixed 4x400m relay at Tokyo 2020 and a swap in the race walk program for Paris 2024. The men's 50km race walk, which was included from Los Angeles 1932 to Tokyo 2020, has been replaced by a mixed team race walk event.
Canadian Medallists
| Event | Athlete | Finish | Games |
| --- | --- | --- | --- |
| Steeplechase 2500m - Men | George Orton | Gold | 1900 Paris |
| Weight Throw 56lb - Men | Étienne Desmarteau | Gold | 1904 St. Louis |
| 200m - Men | Robert Kerr | Gold | 1908 London |
| Race Walk 10km - Men | George Goulding | Gold | 1912 Stockholm |
| Hurdles 110m - Men | Earl Thomson | Gold | 1920 Antwerp |
| 100m - Men | Percy Williams | Gold | 1928 Amsterdam |
| 200m - Men | Percy Williams | Gold | 1928 Amsterdam |
| Relay 4x100m - Women | Ethel Smith, Fanny "Bobbie" Rosenfeld, Jane Bell, Myrtle Cook | Gold | 1928 Amsterdam |
| High Jump - Women | Ethel Catherwood | Gold | 1928 Amsterdam |
| High Jump - Men | Duncan McNaughton | Gold | 1932 Los Angeles |
| Hurdles 110m - Men | Mark McKoy | Gold | 1992 Barcelona |
| 100m - Men | Donovan Bailey | Gold | 1996 Atlanta |
| Relay 4x100m - Men | Bruny Surin, Carlton Chambers, Donovan Bailey, Glenroy Gilbert, Robert Esmie | Gold | 1996 Atlanta |
| High Jump - Men | Derek Drouin | Gold | 2016 Rio |
| 200m - Men | Andre De Grasse | Gold | 2020 Tokyo |
| Decathlon - Men | Damian Warner | Gold | 2020 Tokyo |
| Triple Jump - Men | J. Garfield MacDonald | Silver | 1908 London |
| Hammer Throw - Men | Duncan Gillis | Silver | 1912 Stockholm |
| Long Jump - Men | Calvin Bricker | Silver | 1912 Stockholm |
| 100m - Women | Fanny "Bobbie" Rosenfeld | Silver | 1928 Amsterdam |
| 400m - Men | James Ball | Silver | 1928 Amsterdam |
| 100m - Women | Hilda Strike | Silver | 1932 Los Angeles |
| Relay 4x100m - Women | Hilda Strike, Lillian Alderson, Mary Frizzell, Mildred Frizzell | Silver | 1932 Los Angeles |
| 800m - Men | Alex Wilson | Silver | 1932 Los Angeles |
| Hurdles 400m - Men | John Loaring | Silver | 1936 Berlin |
| 800m - Men | Bill Crothers | Silver | 1964 Tokyo |
| High Jump - Men | Greg Joy | Silver | 1976 Montreal |
| Relay 4x100m - Women | Angela Bailey, Angella Issajenko. France Gareau, Marita Payne | Silver | 1984 Los Angeles |
| Relay 4x400m - Women | Charmaine Crooks, Dana Wright, Jillian Richardson, Marita Payne, Molly Killingbeck | Silver | 1984 Los Angeles |
| Race Walk 20km - Men | Guillaume Leblanc | Silver | 1992 Barcelona |
| 200m - Men | Andre De Grasse | Silver | 2016 Rio |
| 5000m - Men | Mohammed Ahmed | Silver | 2020 Tokyo |
| Hurdles 400m - Men | George Orton | Bronze | 1900 Paris |
| 100m - Men | Robert Kerr | Bronze | 1908 London |
| Hammer Throw - Men | Con Walsh | Bronze | 1908 London |
| Long Jump - Men | Calvin Bricker | Bronze | 1908 London |
| Pole Vault - Men | Edward Archibald | Bronze | 1908 London |
| Pentathlon - Men | Frank Lukeman | Bronze | 1912 Stockholm |
| Pole Vault - Men | William Halpenny | Bronze | 1912 Stockholm |
| 100m - Women | Ethel Smith | Bronze | 1928 Amsterdam |
| Relay 4x400m - Men | Alex Wilson, Phil Edwards, James Ball, Stanley Glover | Bronze | 1928 Amsterdam |
| Relay 4x400m - Men | Raymond Lewis, James Ball, Phil Edwards, Alex Wilson | Bronze | 1932 Los Angeles |
| 400m - Men | Alex Wilson | Bronze | 1932 Los Angeles |
| 800m - Men | Phil Edwards | Bronze | 1932 Los Angeles |
| 1500m - Men | Phil Edwards | Bronze | 1932 Los Angeles |
| High Jump - Women | Eva Dawes | Bronze | 1932 Los Angeles |
| Relay 4x100m - Women | Aileen Meagher, Dorothy Brookshaw, Hilda Cameron, Jeanette Dolson | Bronze | 1936 Berlin |
| 800m - Men | Phil Edwards | Bronze | 1936 Berlin |
| Hurdles 80m - Women | Betty Taylor | Bronze | 1936 Berlin |
| Relay 4x100m - Women | Diane Foster, Nancy MacKay, Patricia Jones, Viola Myers | Bronze | 1948 London |
| 100m - Men | Harry Jerome | Bronze | 1964 Tokyo |
| 100m - Men | Ben Johnson | Bronze | 1984 Los Angeles |
| 3000m - Women | Lynn Williams | Bronze | 1984 Los Angeles |
| Relay 4x100m - Men | Ben Johnson, Desai Williams, Sterling Hinds, Tony Sharpe | Bronze | 1984 Los Angeles |
| Decathlon - Men | Dave Steen | Bronze | 1988 Seoul |
| 3000m - Women | Angela Chalmers | Bronze | 1992 Barcelona |
| Hurdles 100m - Women | Priscilla Lopes-Schliep | Bronze | 2008 Beijing |
| Shot Put - Men | Dylan Armstrong | Bronze | 2008 Beijing |
| High Jump - Men | Derek Drouin | Silver | 2012 London |
| 100m - Men | Andre De Grasse | Bronze | 2016 Rio |
| Decathlon - Men | Damian Warner | Bronze | 2016 Rio |
| Relay 4x100m - Men | Andre De Grasse Brendon Rodney Bolade Ajomale Aaron Bown | Bronze | 2016 Rio |
| Heptathlon - Women | Brianne Theisen-Eaton | Bronze | 2016 Rio |
| 100m - Men | Andre De Grasse | Bronze | 2020 Tokyo |
| Race Walk 50km - Men | Evan Dunfee | Bronze | 2020 Tokyo |
| Relay 4x100m - Men | Aaron Brown, Jerome Blake, Brendon Rodney, Andre De Grasse | Silver | 2020 Tokyo |
Teams