Canoe/Kayak – Sprint
Canadian Olympic Medal Count
4
11
11
Sport Overview
Canoe/Kayak Sprint at Paris 2024
Venue: Vaires-sur-Marne Nautical Stadium
Competition Dates: August 6-10 (Days 11-15)
Events: 10 (5 men, 5 women)
Trivia: Test your knowledge!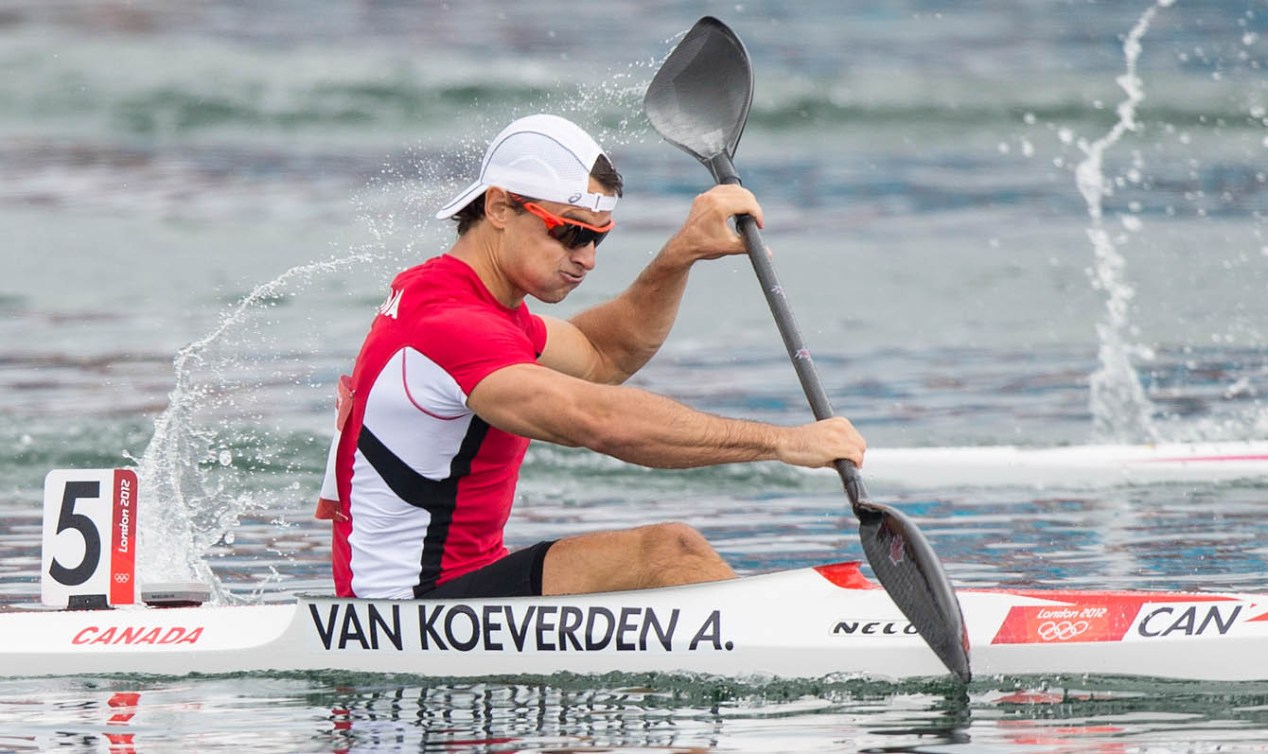 The Olympic canoe/kayak sprint program became gender equal at Tokyo 2020 with the addition of women's canoe events. Men and women now each compete in three kayak events and two canoe events.
The kayak events include the men's K-1 1000m, K-2 500m and K-4 500m and the women's K-1 500m, K-2 500m and K-4 500m. The canoe events are the men's C-1 1000m and C-2 500m to go with the women's C-1 200m and C-2 500m.
All events are designated by a letter and number indicating the type of boat (C for canoe or K for kayak) and the number of paddlers in the boat (1, 2 or 4) as well as the distance to be covered (200m, 500m or 1000m). Each event features eight racing lanes.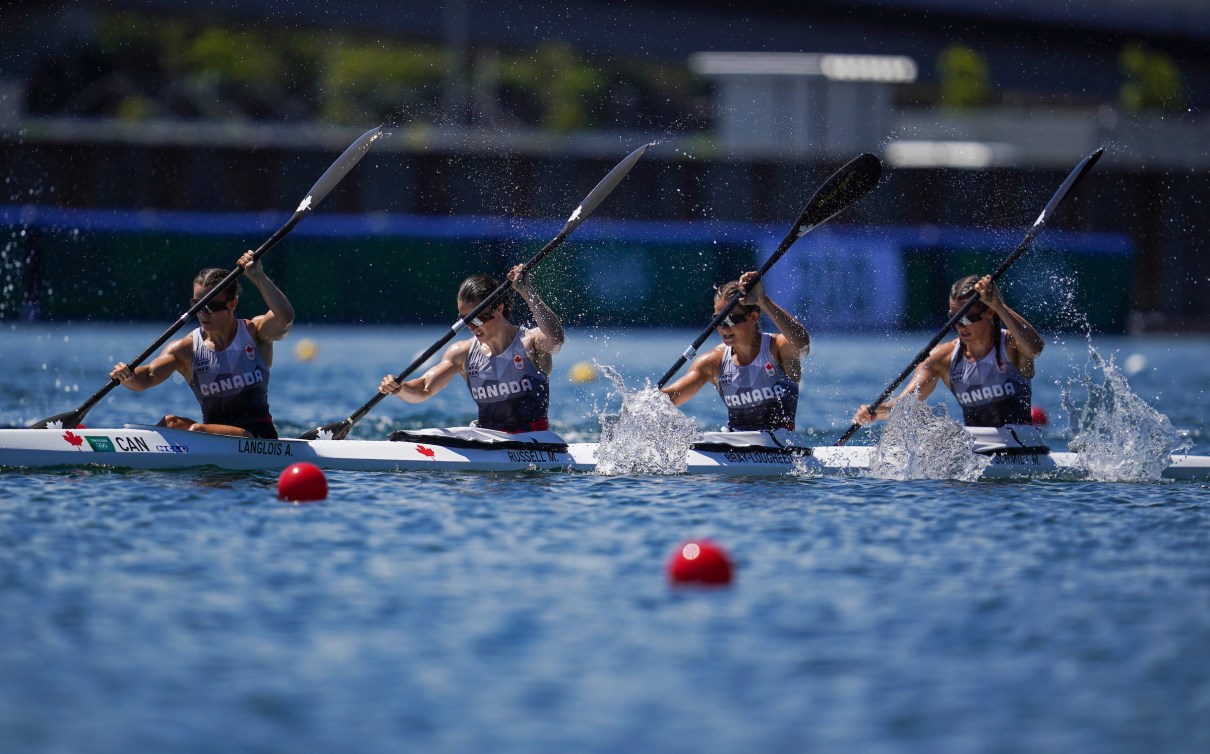 Each event starts with preliminary heats from which boats can advance directly to the semifinals. However, no one is eliminated as the remaining boats will get a second opportunity to move on via quarterfinals. The top four boats in each of the two semifinal heats advance to the A final which ranks the first eight places. The remaining boats race in the B final for places nine through 16. In events with 10 or fewer entries, there is no quarterfinal. Boats can advance from the preliminary heats directly to the final and a single semifinal is the second chance race.
In canoe events, the athletes assume a kneeling position and use a single-bladed paddle to propel and steer their boat through the water. In kayak events, the athletes use a double-bladed paddle while sitting in the boat, which they steer with a small rudder.
Canada's Olympic Canoe/Kayak Sprint History (Pre-Paris 2024)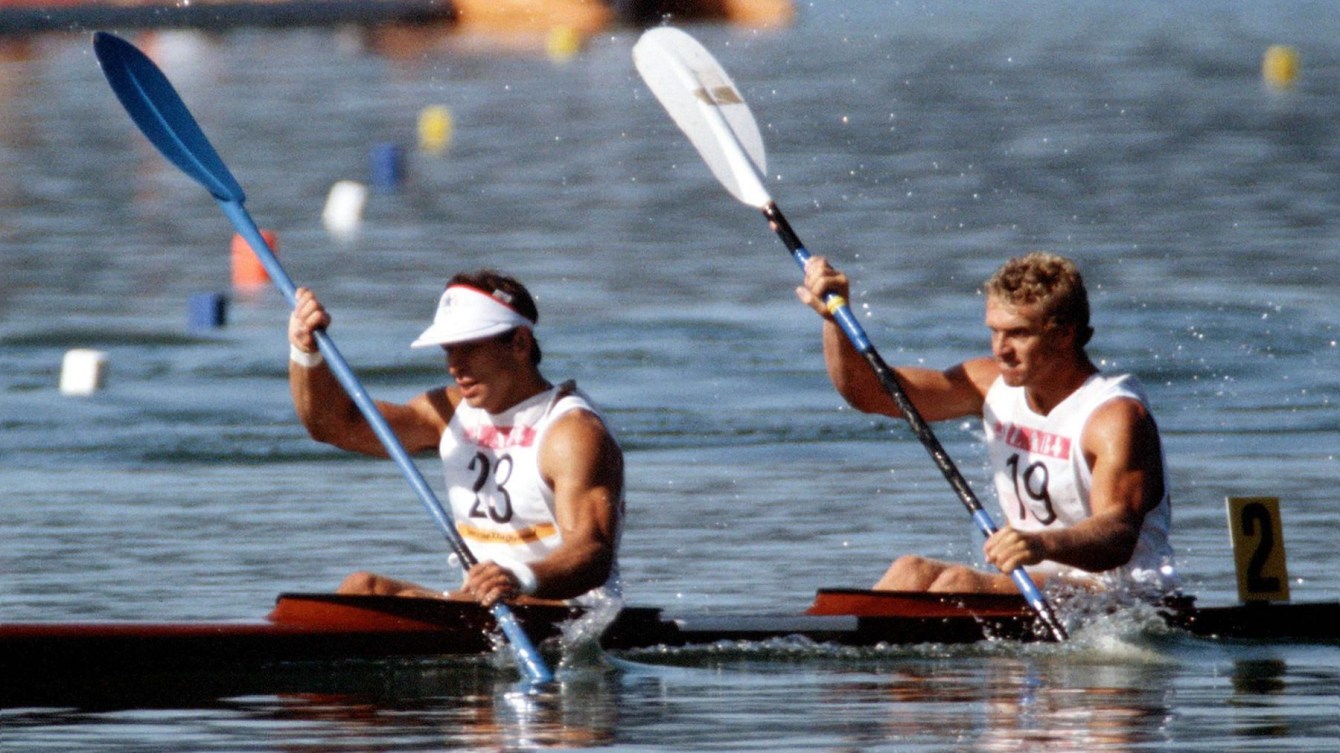 Canadian paddlers have been winning Olympic medals since the sport made its debut at Berlin 1936 where Frank Amyot won gold in the C-1 1000m and Frank Saker and Harvey Charters won silver in the C-2 10,000m to go with their bronze in the C-2 1000m. After a pair of medals at London 1948 and one at Helsinki 1952, it would be another 24 years before a Canadian paddler stood on an Olympic podium, when John Wood won C-1 500m silver on home waters at Montreal 1976.
Canada's biggest medal haul came at Los Angeles 1984 where six medals were won, including two gold, from Larry Cain in the C-1 500m and Alwyn Morris and Hugh Fisher in the K-2 1000m. Cain added a silver in the C-1 1000m while Morris and Fisher also won bronze in the K-2 500m. These were also the first Games at which Canadian women won kayak medals, taking silver in the K-2 500m and bronze in the K-4 500m, 36 years after women's kayak events were first included on the Olympic program.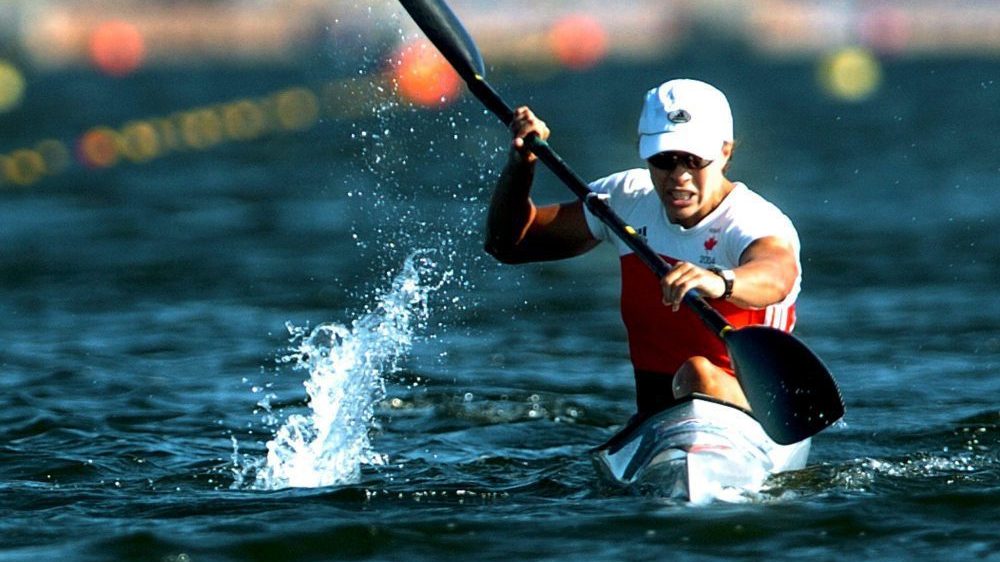 Caroline Brunet took up the mantle for the Canadian women by winning three straight medals in the K-1 500m at Atlanta 1996, Sydney 2000, and Athens 2004. It was at those latter Games that Adam van Koeverden won the first of his four Olympic medals, taking gold in the K-1 500m and bronze in the K-1 1000m. He added a pair of silvers at Beijing 2008 and London 2012.
It was also at London 2012 that Mark Oldershaw won bronze in the C-1 1000m, the third medal in four Games for Canada in the event (following Steve Giles at Sydney 2000 and Thomas Hall at Beijing 2008), but the first Olympic medal for the Oldershaw family, of which Mark was the fifth member and third generation to compete. Mark de Jonge added a bronze in the Olympic debut of the K-1 200m.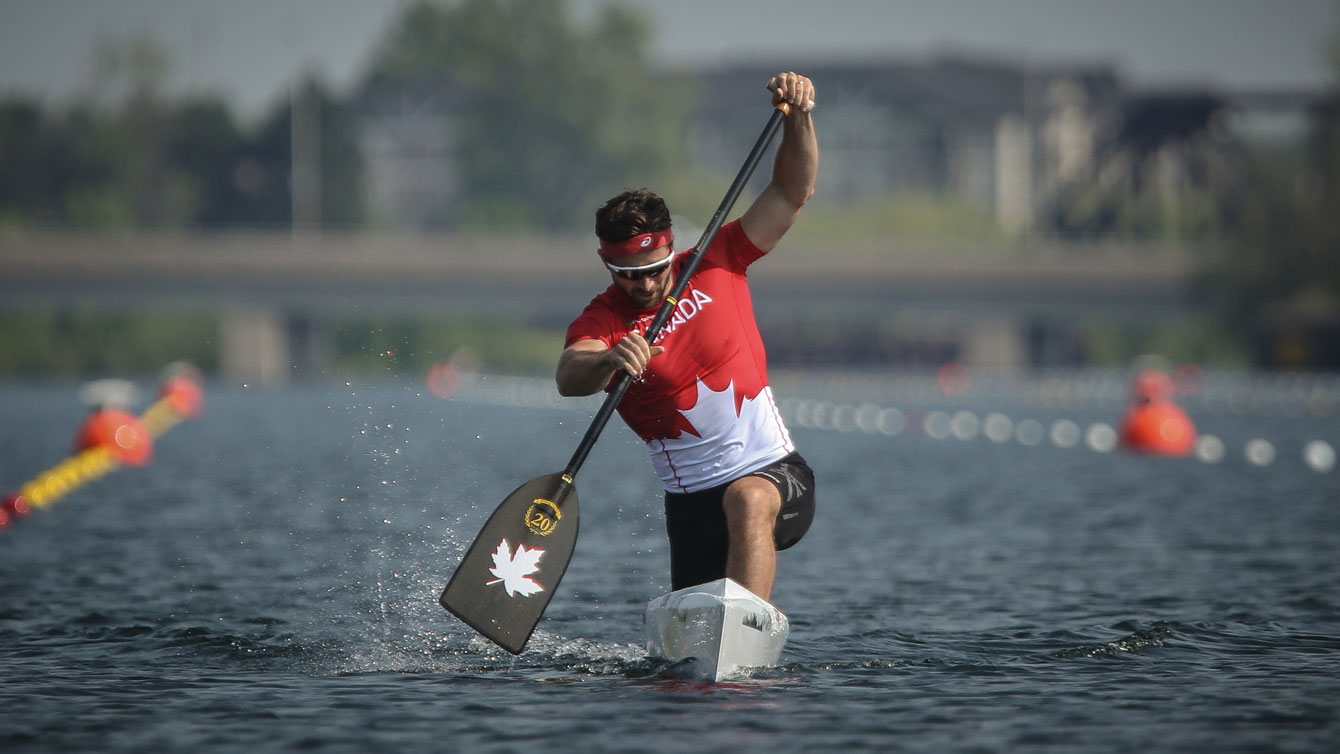 Canadian paddlers were part of history at Tokyo 2020 where Laurence Vincent Lapointe and Katie Vincent were among the first women to win Olympic medals in canoe events. Vincent Lapointe captured silver in the C-1 200m and then teamed with Vincent for bronze in the C-2 500m.
Olympic Canoe/Kayak Sprint History
After being a demonstration sport at Paris 1924, canoe/kayak sprint was added to the official Olympic program at Berlin 1936 with events for men only. Women were allowed to compete beginning at London 1948 but only in kayak events. It wasn't until 73 years later that women's canoe events were first contested at Tokyo 2020.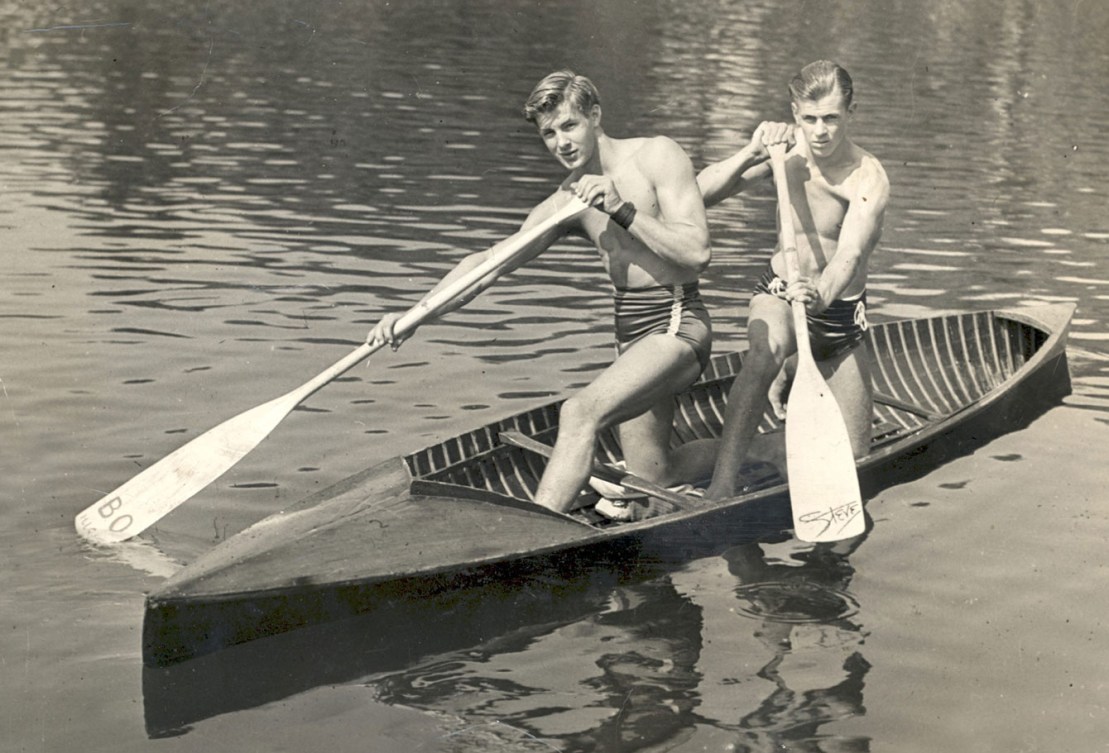 The event program has undergone many changes over the years with various combinations of single, double and quadruple boats competing in 200m, 500m and 1000m races. For four Games from 1936 to 1956 there were races over a distance of 10,000m.
Canadian Medallists
| Event | Athlete | Finish | Games |
| --- | --- | --- | --- |
| C-1 1000m - Men | Frank Amyot | Gold | 1936 Berlin |
| C-1 500m - Men | Larry Cain | Gold | 1984 Los Angeles |
| K-2 1000m - Men | Alwyn Morris, Hugh Fisher | Gold | 1984 Los Angeles |
| K-1 500m - Men | Adam van Koeverden | Gold | 2004 Athens |
| C-2 10,000m - Men | Frank Saker, Harvey Charters | Silver | 1936 Berlin |
| C-1 1000m - Men | Douglas Bennett | Silver | 1948 London |
| C-2 10,000m - Men | Donald Hawgood, Kenneth Lane | Silver | 1952 Helsinki |
| C-1 500m - Men | John Wood | Silver | 1976 Montreal |
| C-1 1000m - Men | Larry Cain | Silver | 1984 Los Angeles |
| K-2 500m - Women | Alexandra Barré, Sue Holloway | Silver | 1984 Los Angeles |
| K-1 500m - Women | Caroline Brunet | Silver | 1996 Atlanta |
| K-1 500m - Women | Caroline Brunet | Silver | 2000 Sydney |
| K-1 500m - Men | Adam van Koeverden | Silver | 2008 Beijing |
| K-1 1000m - Men | Adam van Koeverden | Silver | 2012 London |
| C-1 200m - Women | Laurence Vincent Lapointe | Silver | 2020 Tokyo |
| C-2 1000m - Men | Frank Saker, Harvey Charters | Bronze | 1936 Berlin |
| C-1 10,000m - Men | Norman Lane | Bronze | 1948 London |
| K-2 500m - Men | Alwyn Morris, Hugh Fisher | Bronze | 1984 Los Angeles |
| K-4 500m - Women | Alexandra Barré, Barbara Olmsted, Lucie Guay, Sue Holloway | Bronze | 1984 Los Angeles |
| C-1 1000m - Men | Steve Giles | Bronze | 2000 Sydney |
| K-1 1000m - Men | Adam van Koeverden | Bronze | 2004 Athens |
| K-1 500m - Women | Caroline Brunet | Bronze | 2004 Athens |
| C-1 1000m - Men | Thomas Hall | Bronze | 2008 Beijing |
| C-1 1000m - Men | Mark Oldershaw | Bronze | 2012 London |
| K-1 200m - Men | Mark de Jonge | Bronze | 2012 London |
| C-2 500m - Women | Laurence Vincent Lapointe, Katie Vincent | Bronze | 2020 Tokyo |
Teams