Three men to form Canada's first ever Olympic skateboarding team
When skateboarding makes its Olympic debut at Tokyo 2020, three men will represent Team Canada in the inaugural competition.
Matt Berger and Micky Papa will compete in the men's street event while Andy Anderson will be Canada's lone starter in park.
Berger has known since he was eight that he wanted to be a professional skateboarder, his dreams boosted by his father building him his own small personal skatepark on their cement patio. After winning one of the biggest amateur events in 2014, the Phoenix Am, Berger's career took an upward trajectory. He competed at the SLS Pro Open in Los Angeles where he became the first amateur to ever qualify for the full SLS Tour. He went on to become the first rookie to qualify for the SLS World Championship.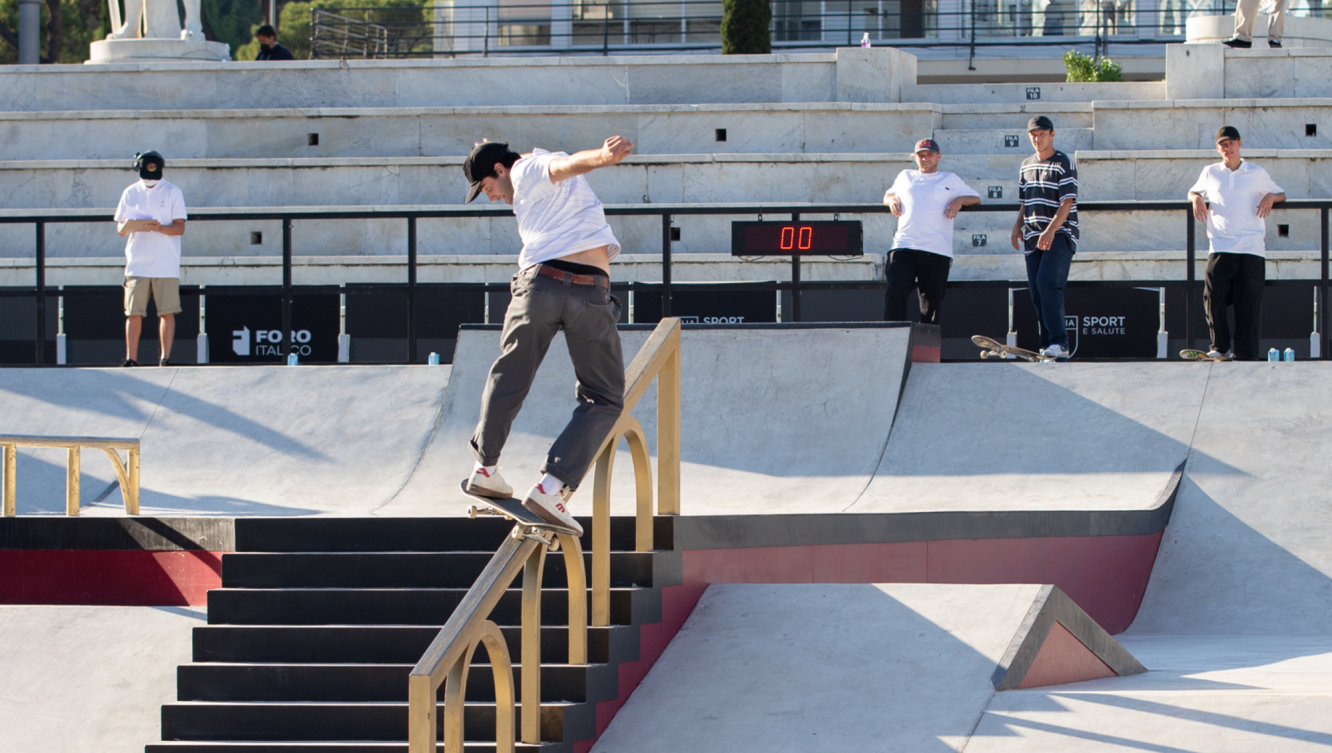 Berger's career was slowed a little bit by two knee surgeries in 2015 and 2017, the latter leading to 10 months of rehab before he returned to competition in late 2018. Most recently, he finished sixth at the 2021 World Street Championships in Rome.
"Funny enough, the Olympics was never on my radar because skateboarding achievements that we were very interested in is like videos and movies and magazine coverage, like editorials. For competition events, it's always been X Games and Street League," Berger told Olympic.ca in December 2019. "Then the Olympics came along and brought it in, people within the Canadian organization approached me about it […] The idea of me doing what I love to do on a world stage where I could potentially be bringing pride to my country, I mean, I couldn't ask for a better situation, really."
READ: Berger excited for Olympic culture to welcome skate culture
Papa has said that it is the combination of athleticism, art, and problem solving that drew him to skateboarding. He began competing in major amateur contests in 2006 and turned pro 10 years later after moving to California where he could pursue his passion year-round. He made his X Games debut in 2017 and competed at his first World Street Championships in 2019, making the semifinals. At the 2021 Worlds, he finished just behind Berger in eighth place.
Though he is world ranked in both street and park, Anderson is Canada's top man in park, winning the national title in 2020. He turned pro in 2019 and made the quarterfinals in his Street League debut in London. He was also part of Team Canada at the inaugural ANOC World Beach Games in 2019.
At the final event to count towards Olympic qualification, the Dew Tour in Des Moines, Iowa in late May 2021, Papa fell hard during a practice run before the park semifinals and tore his meniscus. But he competed through the injury and his 11th-place finish moved him up into the top-30 of the world rankings, enough to earn him his ticket to Tokyo 2020.
There will be 20 competitors in each of the men's and women's street and park events at Tokyo 2020. Most of those entries, which were revealed on June 9, are based on the World Skate world rankings, with a maximum of three entries per country per event. Berger and Papa are ranked 10th and 21st, respectively, in the full street world rankings while Anderson sits at number 30 in park.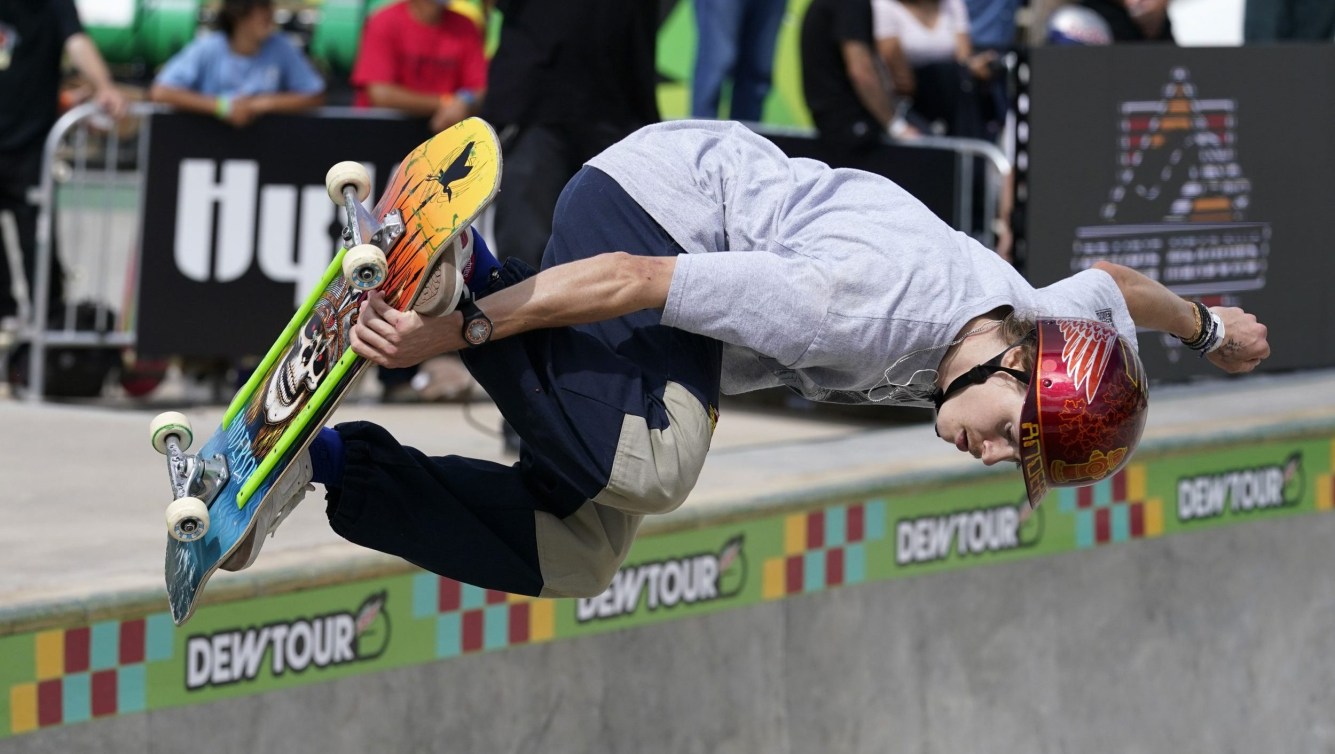 Street competitions take place on a straight course that includes stairs, handrails, curbs, benches, walls, and slopes in an outdoor skatepark. One at a time, each competitor will take to the course to showcase their range of skills using its various features. They do two 45-second runs and then five individually-scored tricks which are all judged by a panel of five judges on a scale of 0 to 10.0. Their total score is based on the best four run or trick scores added together.
In contrast, park competitions are held on a hollowed-out course with a series of complicated curves, where skaters reach incredible heights while performing mid-air tricks. In each round, riders perform a run of 40 to 60 seconds, where they are judged on their speed, flow of performance, timing, and stability on a scale of 0 to 100.0. During each run, judges will be looking to see riders appear as though they are suspended in mid-air.
Skateboarding at Tokyo 2020 will take place at Ariake Urban Sports Park. The men's street event is first up on Sunday, July 25 with the men's park event coming towards the end of the Games on Thursday, August 5.
Team Canada Skateboarders at Tokyo 2020:
Andy Anderson (Vancouver, B.C.) – Men's Park
Matt Berger (Kamloops, B.C.) – Men's Street
Micky Papa (Burnaby, B.C.) – Men's Street