Bence Vekassy (ICF)
Katie Vincent and Sloan MacKenzie win bronze at Canoe-Kayak Worlds in Germany
After winning their semifinal heat on Thursday, Katie Vincent and Sloan Mackenzie clinched the bronze in the women's C2 500m final at the Canoe-Kayak Sprint World Championships in Duisburg, Germany.
The result secures Canada a quota spot in the C2 500m event at the 2024 Paris Olympics.
Starting from Lane 5, the Canadian duo crossed the finish line in third place in a close finish, just 0.05 seconds behind the second place boat, with a time of 1 minute, and 52.956 seconds. Chinese racers Shixiao Xu and Mengya Sun (1:52.775) won gold while Spaniards Antia Jacome and Maria Corbera (1:52.956) finished just ahead of the Canadians.
Canada secured two other qualifications for Canada in Paris 2024 in Germany. Michelle Russell, who finished 6th in the K1 500m, and Sophia Jensen, who finished 6th in the C1 200m on Friday.
Another Canadian won a medal this Saturday in Duisburg. Jacy Grant took silver in the women's C1 1000m, a non-Olympic discipline, recording a time of 4:26.955, behind Chilean Maria Mailliard (4:24.958) and ahead of Chinese Li, Li (4:27.113).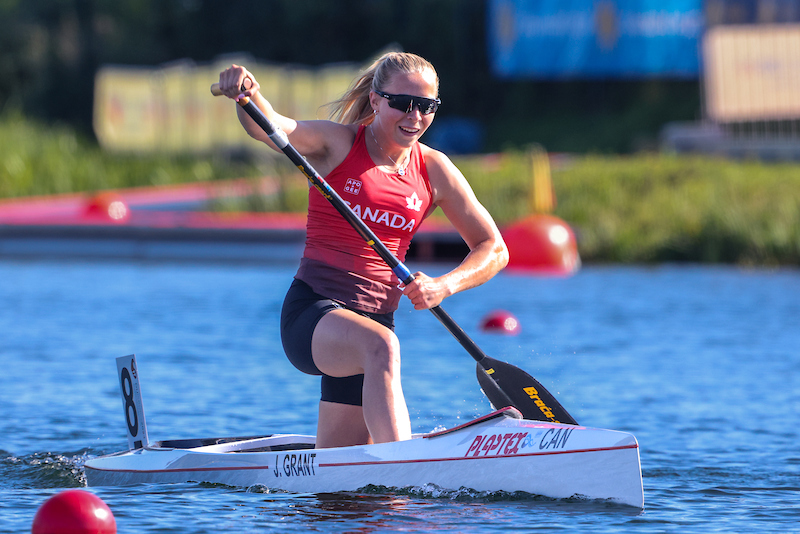 The last events on Sunday will conclude this 2023 edition of the ICF World Championships in Germany.