Canadian roundup: team wins, medals and a legend's retirement
Soccer
Related: Canada moves on to quarterfinal at FIFA Women's World Cup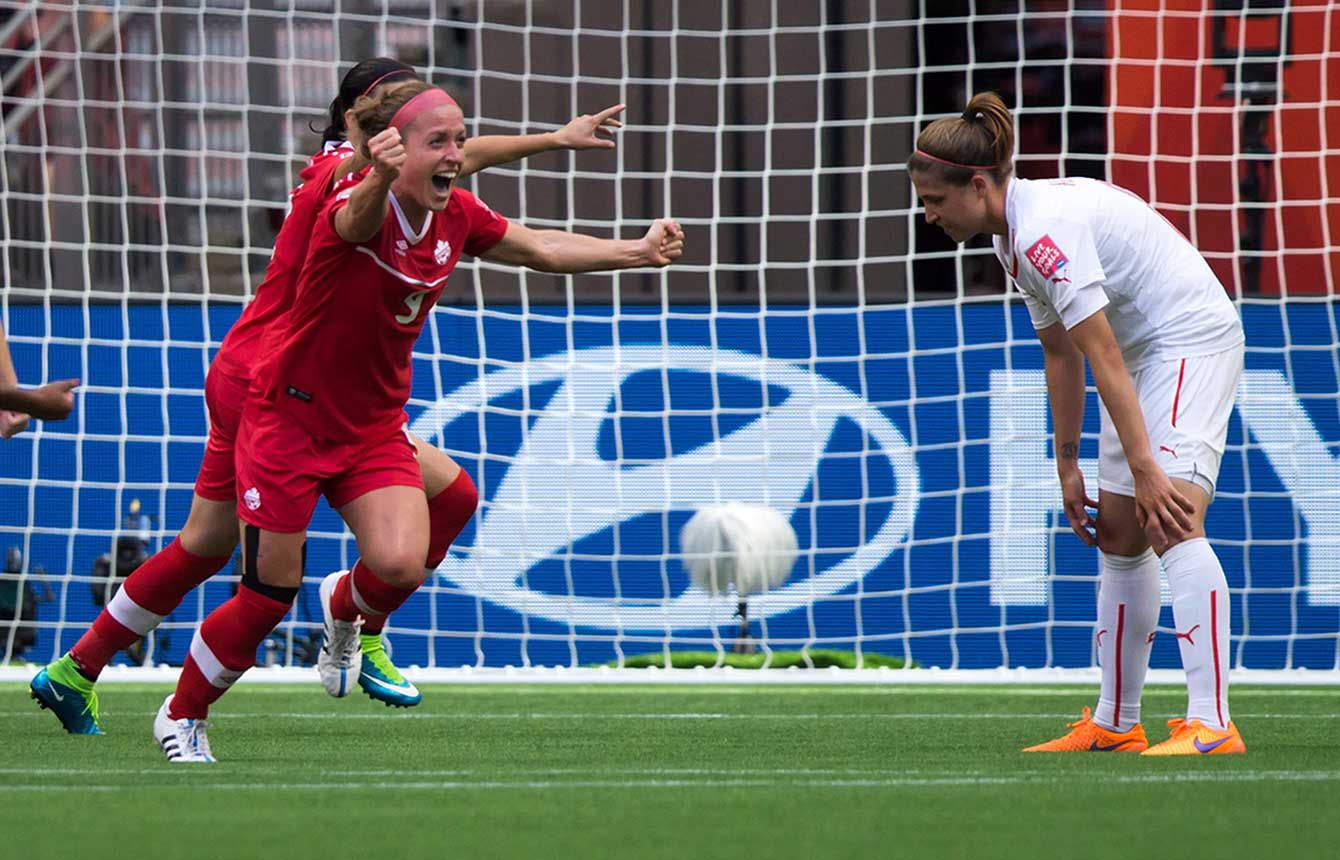 Canada knocked out Switzerland to advance into a FIFA World Cup quarterfinal. The Canadians' 1-0 victory came after a stressful 52 minutes of play where neither team was able to score. Alas, Rhian Wilkinson and Christine Sinclair were able to set-up Josée Bélanger who blasted one into the net securing the win in Sunday's match.
Speed skating
Related: Cindy Klassen announces her retirement
Cindy Klassen, speed skating legend announced her retirement on Saturday. The six-time Olympic medallist who is tied with teammate Clara Hughes for the most Canadian Olympic medals, hung up her skates after 15 years on the national team.
Klassen will always be remembered for her five medals at Turin 2006. Her outstanding performance set the record for the most medals won by a Canadian athlete at a single Olympic Games.
Rowing
Related: Three Canadian boats win medals at World Rowing Cup II
Team Canada rose to the podium three times at the 2015 World Rowing Cup II on Sunday.
The women's eight-plus team of Cristy Nurse, Lisa Roman, Susanne Grainger, Jennifer Martins, Christine Roper, Ashley Brzozowicz, Natalie Mastracci, Lauren Wilkinson, and Lesley Thompson-Willie finished second with a time of 6:05.530 in the 2000-metre race.
Two men's teams brought home bronze medals this weekend. The men's quadruple sculls team of Matthew Buie, Julien Bahain, Will Dean, and Rob Gibson finished with a time of 5:45.450. The men's four team of Will Crothers, Tim Schrijver, Kai Langerfeld, and Conlin McCabe placed third in a time of 5:52.520 over a distance of 2000 metres.
Golf
Brooke Henderson became the third-youngest winner in Symetra Tour history after winning the Four Winds Invitational on Sunday. Henderson closed with a 3-under 69 for a two-stroke victory, finishing at 10-under 206 at Blackthorn.
Volleyball
Related: Canada splits as World League continues in Havana
The national men's team went up against Cuba in the FIVB World League in Havana this weekend. Canada took the first game beating the hosts 3-1 on Friday. Fueled by its home crowd Cuba came back on Saturday with a 3-2 victory. The Canadians picked up four points this weekend and lead pool C with 22 points, 10 points ahead second place Bulgaria.
Over in Peru, the national women's team beat Puerto Rico (3-1) on Sunday to finish fifth at the Pan Am Cup.