Football (Soccer)
Canadian Olympic Medal Count
2
0
2
Sport Overview
Soccer at Paris 2024
Venues: Parc des Princes, La Beaujoire Stadium, Bordeaux Stadium, Marseille Stadium, Nice Stadium, Geoffroy-Guichard Stadium, Pierre Mauroy Stadium, Lyon Stadium
Competition Dates: July 24-25, 27-28, 30-31, August 2-3, 5-6, , 8-10 (Days -2 – -1, 1-2, 4-5, 7-8, 10-11, 13-15)
Events: 2 (1 men, 1 women)
Trivia: Test your knowledge!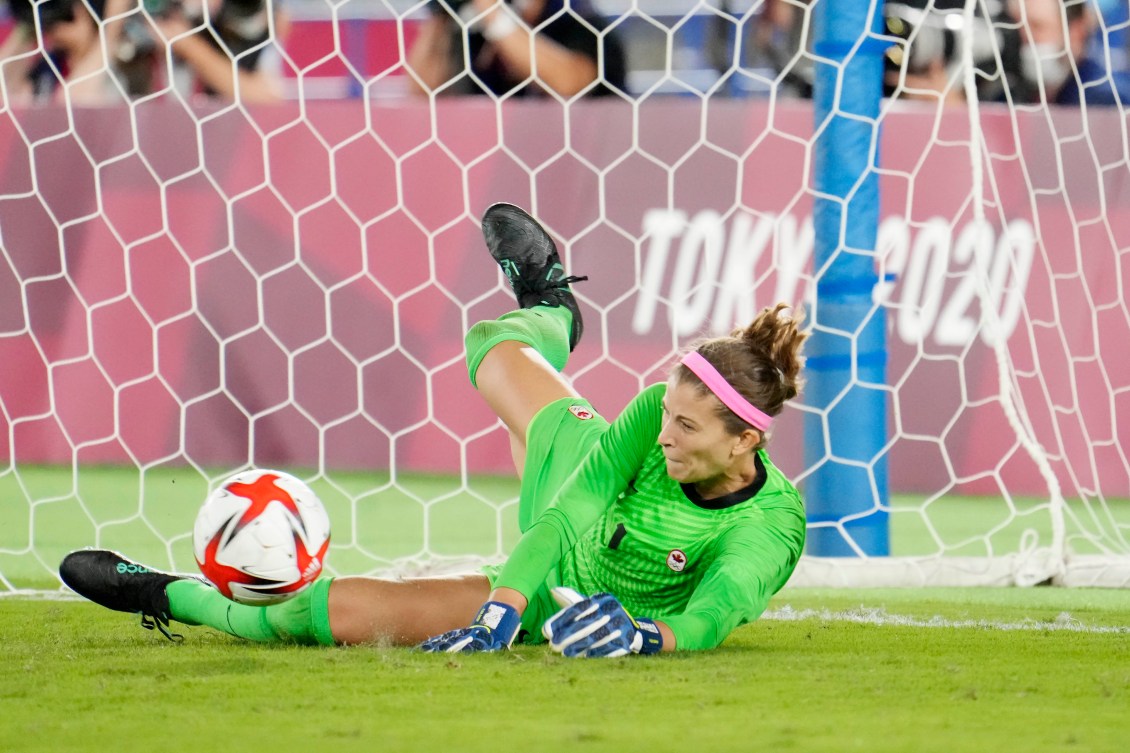 A soccer game features two teams, each with 11 players on the field from a total roster of 18 players. The objective is for one team to put the ball in their opponent's goal as many times as possible while defending their own goal. Except for the goalkeeper, all players are not allowed to touch the ball with their hands and arms.
Each game lasts approximately 90 minutes, with stoppage time added at the end of the 45-minute first half and at the end of the game. The amount of time added is at the officials' discretion.
In the Olympic tournaments, the 16 men's teams and 12 women's teams are divided into pools of four. Following a preliminary round robin – in which a win is worth three points, a tie worth one point and a loss worth zero points – the top teams advance to the knockout stage, beginning with the quarterfinals. Those winners advance to the semifinals, from which the winners play for gold and silver while the losers play for bronze. If a knockout match is tied after regulation time, two 15-minute extra-time periods are played and followed, if necessary, by penalty kicks to determine a winner.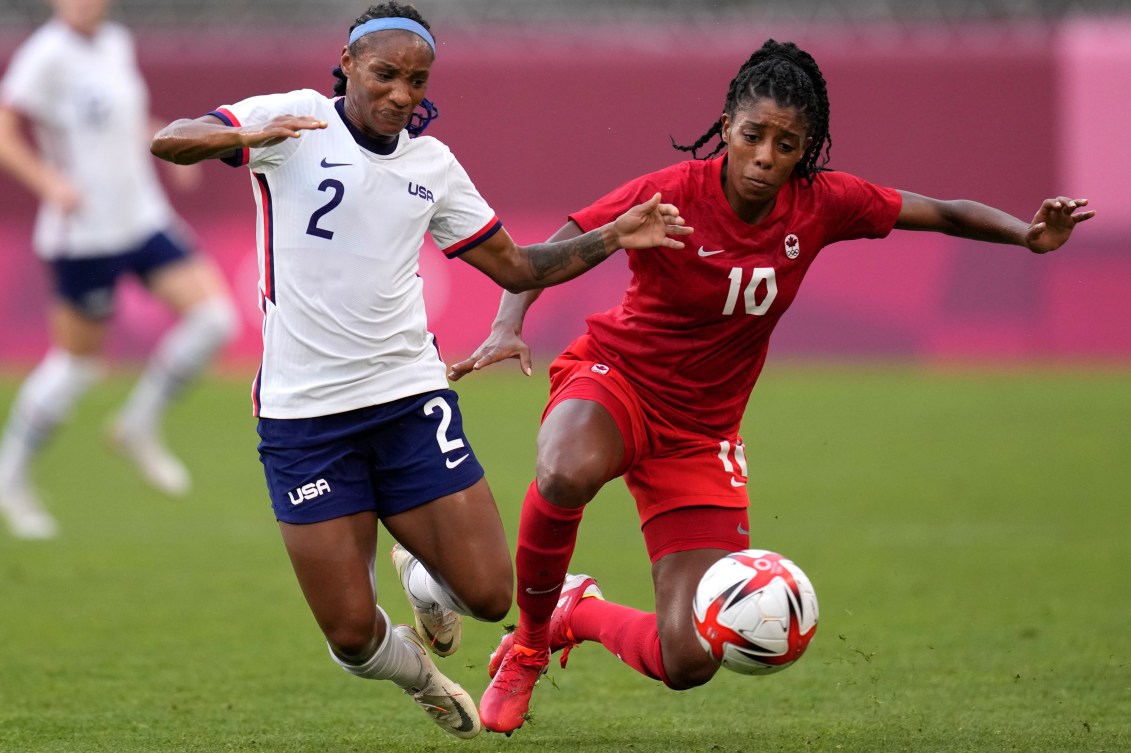 While minimal contact between players is permitted, for incidents where an official deems the contact to be violent or excessive, they may award a yellow card (caution) or red card (expulsion) to the offending player.
Canada's Olympic History (Pre-Paris 2024)
Canada has won four Olympic medals in soccer, most recently the gold medal by the women's team at Tokyo 2020. They defeated Brazil on penalty kicks in their quarterfinal match. That was followed by a 1-0 victory over the United States in their semifinal match on a penalty kick goal in the 74th minute by Jessie Fleming. The gold medal game against Sweden was tied 1-1 after regulation and also went into penalty kicks. Canada scored three times to win it, including the clincher by Julia Grosso.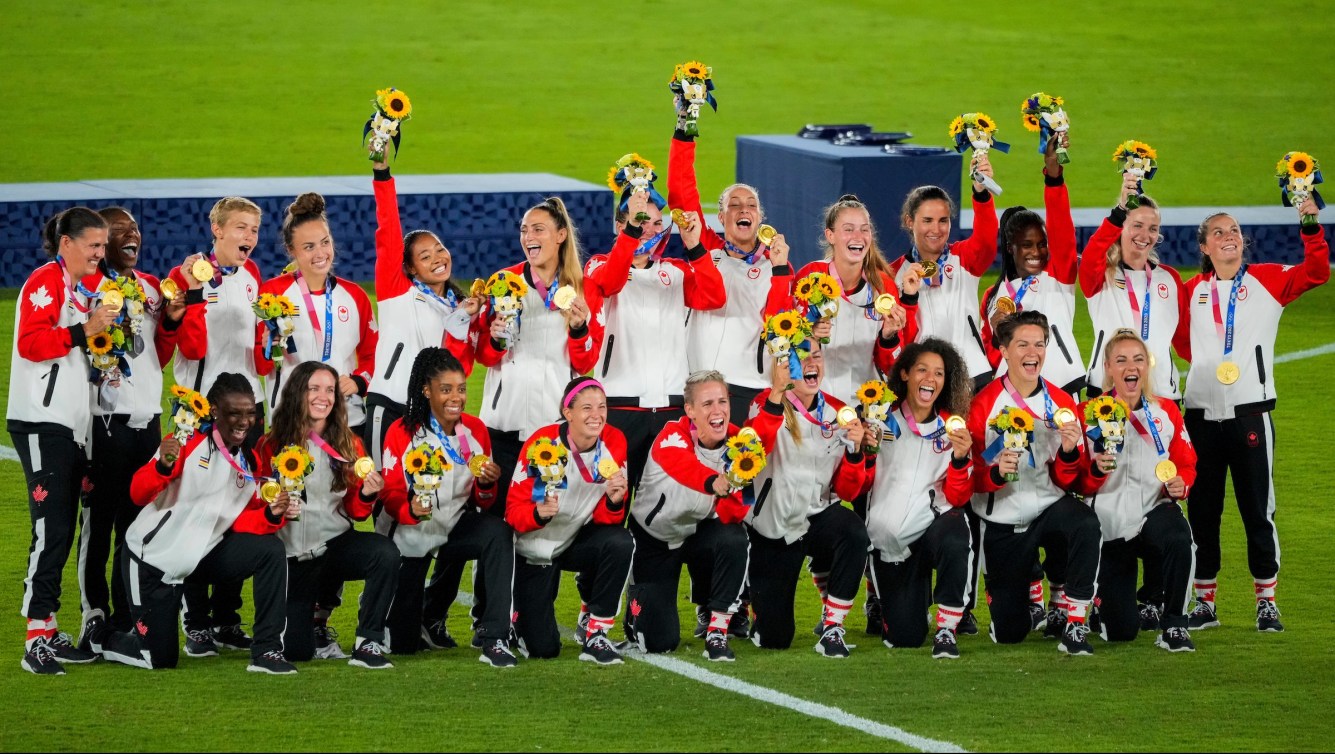 The gold medal came after back-to-back bronzes by the women's team at London 2012 and Rio 2016. In London, the team rebounded from a heart-breaking semifinal loss to the United States to defeat France 1-0 on Diana Matheson's goal in stoppage time (92nd minute). That was just the second time Canada had entered the women's tournament following Beijing 2008. In Rio, a new hero emerged in the 2-1 victory over host nation Brazil in the third-place match as Deanne Rose scored the opening goal and assisted on the winner.
Canada's first Olympic soccer medal came at St. Louis 1904 where the Galt Football Club won Canada's only gold in the sport. Canada has played in just two men's Olympic tournaments since then, Montreal 1976 and Los Angeles 1984.
Olympic Soccer History
Soccer was first included on the Olympic program at Paris 1900. A men's tournament has been contested at every Games since then, except for Los Angeles 1932. Club teams competed in 1900 and 1904 before national teams began to compete at London 1908.
To differentiate the men's Olympic soccer tournament from the FIFA World Cup, an age limit was introduced at Barcelona 1992. Now, all men's Olympic soccer teams must be primarily composed of players under 23, with allowances for three overage players per team.
A women's soccer tournament was first included on the Olympic program at Atlanta 1996. There are no age restrictions on women's rosters.
Canadian Medallists
| Event | Athlete | Finish | Games |
| --- | --- | --- | --- |
| Women | Josée Bélanger, Allysha Chapman, Sabrina D'Angelo, Deanne Rose, Shelina Zadorsky, Rebecca Quinn, Nichelle Prince, Ashley Lawrence, Stephanie Labbé, Jessie Fleming, Kadeisha Buchanan, Janine Beckie, Desiree Scott, Diana Matheson, Sophie Schmidt, Christine Sinclair, Melissa Tancredi, Rhian Wilkinson | Bronze | Rio 2016 |
| Women | Stephanie Labbé, Allysha Chapman, Kadeisha Buchanan, Shelina Zadorsky, Quinn, Deanne Rose, Julia Grosso, Jayde Riviere, Adriana Leon, Ashley Lawrence, Desiree Scott, Christine Sinclair, Evelyne Viens, Vanessa Gilles, Nichelle Prince, Janine Beckie, Jessie Fleming, Kailen Sheridan, Jordyn Huitema, Sophie Schmidt, Gabrielle Carle, Erin McLeod | Gold | Tokyo 2020 |
| Women | Karina LeBlanc, Emily Zurrer, Chelsea Stewart, Carmelina Moscato, Robyn Gayle, Kaylyn Kyle, Rhian Wilkinson, Diana Matheson, Candace Chapman, Lauren Sesselmann, Desiree Scott, Christine Sinclair, Sophie Schmidt, Melissa Tancredi, Kelly Parker, Jonelle Filigno, Brittany Timko, Erin McLeod, Melanie Booth, Marie-Ève Nault | Bronze | London 2012 |
| Men | George Ducker, Jack Fraser, John Gourlay, Sandy Hall, Albert Johnson, Bobby Lane, Ernest Linton, Gordon McDonald, Fred Steep, Tom Taylor, William Twaits, Red Henderson, Otto Christman | Gold | St. Louis 1904 |
Teams