Day 3 Recap: Black golden; paddlers, rowers & divers win four medals
Rowing, diving and canoe/kayak sprint teams led the way on Day 3 with four medals each. Canada won a total of 17 medals on Monday.
Canada hit the water hard on Day 3, winning eight medals before noon rolled around. The paddlers took home gold in the men's C-2 1000m, silver in the men's C-1 1000m, silver in the women's K-1 500m and bronze in the men's K-1 1000m. The rowers won gold medals in the men's coxless four and women's double sculls, while the men's double sculls and women's coxless pair added bronze medals. In the afternoon and evening the divers claimed gold in the women's 10m synchro and added silvers in the men's 3m synchro, women's 3m synchro, and men's 10m platform.
Canada also achieved podiums in shooting (women's trap gold), artistic gymnastics (women's individual all-around gold), judo (women's 70kg gold and women's 63kg silver), and roller speed skating (men's 10,000m bronze) on Day 3.
A total of 18 sports were in action Monday.
Canoe/Kayak – Sprint
Canada's paddlers led an assault on the podium Monday: Gabriel Beauchesne-Sévigny and Benjamin Russell took gold in the C-2 1000m, Opening Ceremony flag bearer Mark Oldershaw won silver in the C-1 1000m, Michelle Russell paddled to silver in the K-1 500m and Adam van Koeverden nabbed bronze in the K-1 1000m.
Russell describes their final push for gold in the C-2 1000m: "Maybe it didn't look as fatiguing as it was, but we train consistently that last 250 metres, that's where we want to be the best in the world, so every time we get there we just go for broke, and having the crowd today was just the bonus."
Rowing
On the first day of rowing medal events at Toronto 2015, Canada's rowers took home four medals. The men's coxless four crew (Will Crothers, Kai Langerfeld, Conlin McCabe and Tim Schrijver) rowed to gold and so did the women's double sculls crew (Kerry Maher-Shaffer and Antje Von Seydlitz). Canada also took bronze in the men's double sculls (Matthew Buie and Pascal Lussier) and in the women's coxless pairs (Kristin Bauder and Rosanne DeBoef).
McCabe described the significance of today's win for him: "My whole family is here.  It's my first time racing for Canada in Canada, and we pulled it off.  I'm going to remember this for the rest of my life."
Diving
Olympians Roseline Filion and Meaghan Benfeito won their second medals of Toronto 2015, taking the gold medal in women's synchronized 10m platform. After taking silver and bronze, respectively, in the 10m platform individual competition, the team came together to score 316.89 for synchronized gold.
Philippe Gagné had a busy day, first winning synchronized 3m springboard silver with François Imbeau-Dulac, followed by synchronized 10m platform silver with Vincent Riendeau. That brings Gagné's medal total at these Games to three, having already won bronze in the individual 3m springboard event.
Jennifer Abel and Pamela Ware, also with individual 3m springboard medals from Toronto 2015, added a silver in the synchronized 3m springboard.
Shooting – Women's Trap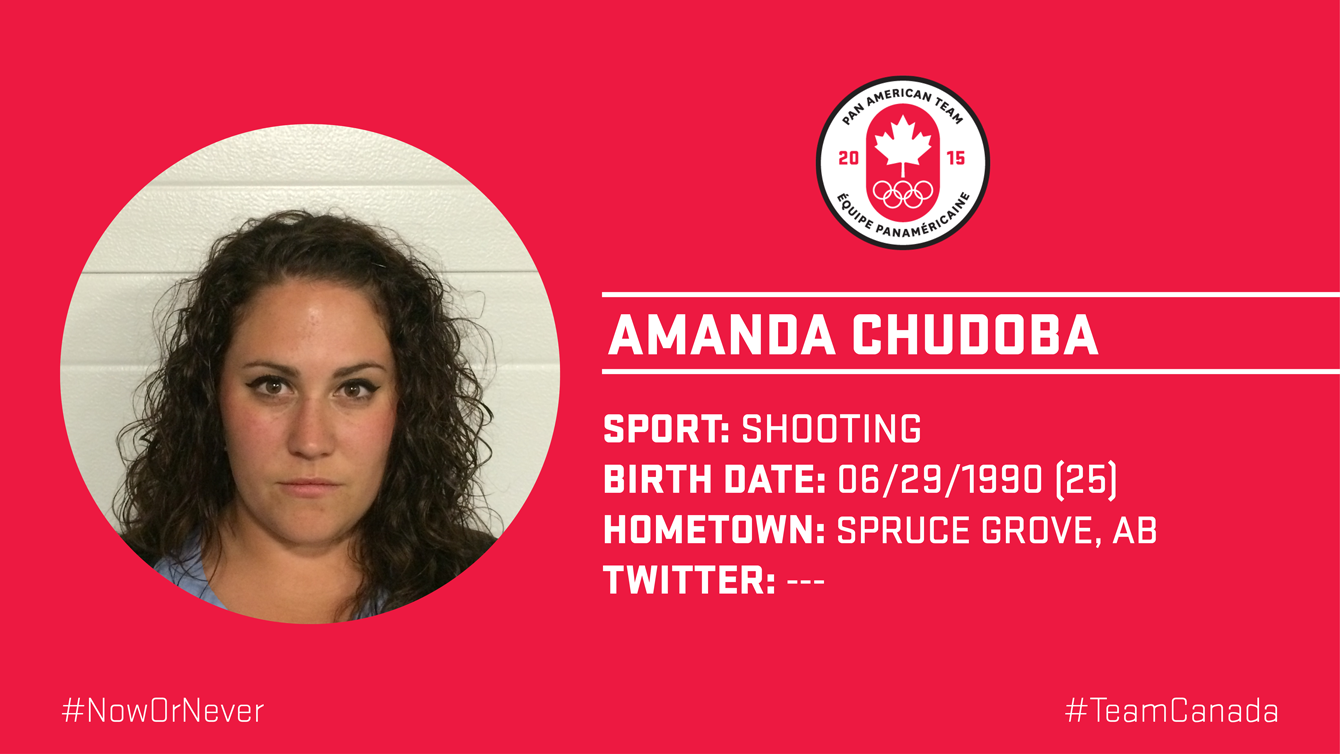 Amanda Chudoba shot her way up the leaderboard to claim gold in women's trap. Chudoba defeated American Kayle Browning in a shoot-off to secure the top spot and an Olympic berth for Canada for Rio 2016.
Roller Speed Skating – Men's 10,000m Points Race
Jordan Belchos raced to a bronze in the men's 10,000m points race, finishing with a total of 9 points to win Canada's first ever Pan Am Games roller speed skating medal. Primarily an ice skater in recent years, Belchos is also a member of the national long track speed skating team.
Artistic Gymnastics – Women's Individual All-Around
Ellie Black won Canada's first Pan Am Games gold medal in the individual all-around since 1979, improving on all of her performances from the team event, in which Canada had won silver. Black had the highest score of the night of beam and capped her competition with a floor exercise that prompted a standing ovation.
"This is unreal. To have the Pan Ams here in Toronto, in Canada, to win a gold medal in front of the home crowd is amazing. So it's one of the best (moments of my career)."
Judo
Kelita Zupancic beat the defending women's 70kg Pan Am Games champion Onix Cortes of Cuba to give Team Canada its first judo gold medal of Toronto 2015. Prior to Zupancic, Canada won four silver medals and a bronze.
"It feels surreal," Zupancic said of how she feels about the win. "Words can't describe it. I'm so proud to be Canadian. I'm proud to represent my family, friends, coaches, teammates, everyone."
Also winning a judo medal on Monday was Stefanie Tremblay in the 63kg class. She took the silver medal prior to Zupancic's victory.
For full Team Canada results from Day 3, click here.