Rio 2016 bronze medallists to pay tribute to retiring soccer trio
For the first time since winning bronze at the Olympic Games in Rio, Canada's Women's National Soccer Team will come together at BC Place in Vancouver on February 4 for a celebratory match against Mexico.
Canadian fans should relish the opportunity to welcome back the players that made the Rio success possible, but also recognize that for three women, Canada Soccer's Bronze Medal Celebration Match marks the last time they will lace up their cleats as teammates. Melissa Tancredi, Rhian Wilkinson and Marie-Ève Nault announced their retirements in mid-January.
Related: Relive women's soccer Olympic bronze in photos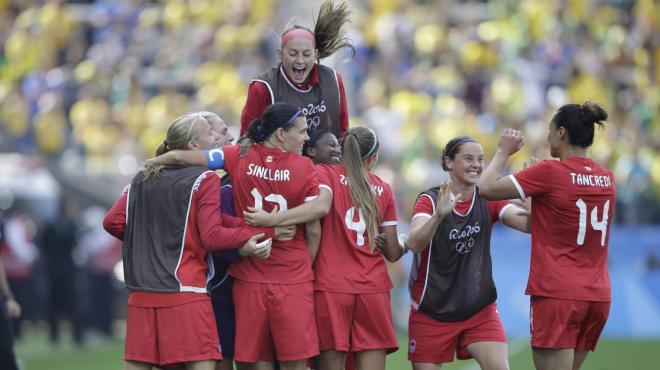 Rather than step on the field at half-time to complete the traditional farewell wave during the national team friendly against Mexico, the trio is adamant on finishing their careers as they started – on the pitch playing for their country. The match will include 16 of the 18 players on Canada's bronze medal roster from Rio.
Related: Team Canada's soccer success recognized by CONCACAF awards
It is difficult to believe that half a year has passed since Tancredi and Wilkinson stood with the rest of the Canadian soccer team on the Olympic podium for their second consecutive bronze medal last August. Four years earlier, Nault, Tancredi and Wilkinson had helped wage the war against France at London 2012 for their podium moment. The back-to-back success allowed the women to become the first Canadian team in over one hundred years to defend their podium position at a summer Games.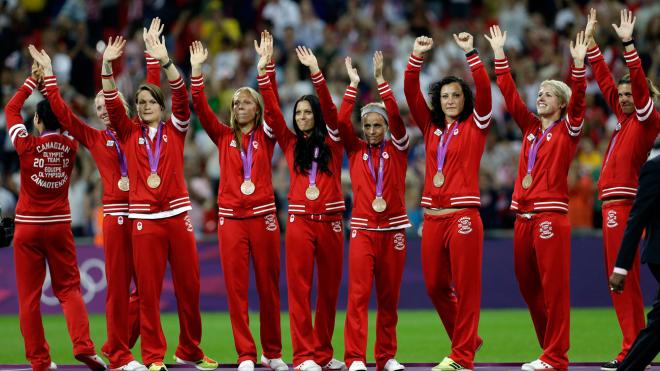 Since joining the national team in 2003, Wilkinson has earned 180 caps, ranking her third all-time amongst Canadians in international appearances. The defender proudly wore the iconic red and white for three Olympic Games, four FIFA Women's World Cups and six CONCACAF championships. In addition to winning Sport Quebec's Le Maurice, she is a six-time recipient of Quebec Soccer's professional or senior player of the year. She retires at age 34, having won a Norwegian Toppserien league title at the professional level, and being named to Canada Soccer's All-Time XI in 2012.
Tancredi retires at the age of 35, making 124 appearances for Canada since 2004. With 27 goals, she is fifth all-time amongst Canadians. She retires with the immense pride of knowing she was an integral piece of Canada's qualification for two Olympic Games, as the goals that catapulted Canada to Beijing 2008 and London 2012 came off her cleat. The forward participated in three Olympic Games, three FIFA Women's World Cups, and six CONCACAF championships. In 2012, she was awarded the Golden Horseshoe Athlete of the Year.
Also joining the national team in 2004, Nault dressed 70 times for Canada over the course of her career, including her only Olympic Games. In addition to winning a CONCACAF championship in 2010, she played in the 2011 and 2015 FIFA Women's World Cups. Before her professional career, Nault was recognized as Quebec Soccer's junior elite player of the year. In 2014, the 34-year-old defender became their professional player of excellence
Wishing to keep close ties with the national team in some capacity, Tancredi has opened a chiropractic practice, hoping to cater to national team players and other Olympians. Wilkinson is currently continuing her education at the University of British Columbia, striving for a masters in high performance coaching and technical leadership.
If you happen to be in Vancouver, you can find complete ticket information, including about the Canadian supporter section, at www.canadasoccer.com/tickets