150 years of Canadian sport: the 1940s
As Canada's 150th anniversary on July 1 comes closer on the calendar, Olympic.ca continues to reflect on key moments in the country's sporting history.
This week we're looking at the 1940s, but if you missed any of our remembrances, you can find them all here.
The first half of the decade was dominated by the Second World War, which took the lives of some Canadian Olympians. But in the aftermath, the world came together to celebrate sport and rebuild the Olympic movement.
1939-1945 – Canadian Olympians in World War II
The Second World War led to the cancellation of both the summer and winter Olympic Games in 1940 and 1944. Instead of battling on the field of play, several Canadian Olympians made the ultimate sacrifice in the name of their country.
Fencer Don Collinge was Canada's foil and sabre champion in 1936, which earned him a place at that year's Games in Berlin. He continued to compete until Canada entered the war and he took up active duty with the Royal Canadian Air Force. Attaining the rank of Flying Officer, he was serving as a navigator in the early morning hours of July 7, 1944 when he was killed in a flying accident.
Rower Frank Courtney may have raced in the coxless four at Los Angeles 1932, but he was also a captain with the Princess Louise Fusiliers of the Non-Permanent Active Militia. When the war began, he was transferred to the West Nova Scotia Regiment. After being promoted to major, he was sent overseas where he earned commendations for bravery but was killed in action in France on August 1944.
Harvey Lacelle was a bantamweight boxer at Berlin 1936. Just six years later, while serving as a Pilot Officer, he was killed in air action in Germany.
Jack Murdoch won a bronze medal as a member of the eight at the Amsterdam 1928 rowing regatta. A member of the Royal Canadian Artillery, he was killed in action in the Netherlands in October 1944.
Hugh Thompson was a middle distance runner who competed in the 1500m at Berlin 1936. He had hoped to compete at the 1938 British Empire Games, but was sidelined by a broken leg. When World War II began, he travelled to England to join the Royal Air Force. He was just 28 when he died in an airplane crash in 1942.
1948 – RCAF Flyers Win Gold in Men's Ice Hockey
Following a 12-year hiatus, the Olympic Games resumed with the winter edition in St. Moritz in February 1948. Fittingly representing Canada in ice hockey were the RCAF Flyers, a team of active and retired members of the Royal Canadian Air Force. The men won seven of their eight games with a scoreless tie against Czechoslovakia, recording 69 goals for while relinquishing just five. That goal differential is what gave them the gold medal. More than 50 years later, the RCAF Flyers were recognized as Canada's greatest military athletes of the 20th century.
1948 – Canada's First Olympic Figure Skating Champion
At just 19-years-old, Barbara Ann Scott became Canada's sweetheart when she won gold at St. Moritz 1948. She had come to international prominence the year prior when she was North American, European and World champion. Feted in Ottawa, she was presented with a yellow convertible with the license plate 47 U 1. But to avoid the risk of losing her amateur status, she returned the car, ensuring her Olympic eligibility.
Holding a clear lead after the compulsory figures, Scott took a strategic approach to the free skate. Where others faltered on the ice that had been scarred by the men's hockey tournament, Scott opted to alter her program to place her jumps in cleaner areas. That made her Olympic champion in addition to world champion, a title she would successfully defend in 1948.
She was gifted a car once again, this time with the license plate 48 U 1, which she accepted as she turned professional. A telegram from Prime Minister Mackenzie King praised her for providing Canadians with "courage to get through the darkness of the post-war gloom". Scott remains Canada's only Olympic gold medallist in figure skating's singles events.
1948 – Pairs Figure Skating Innovators
Suzanne Morrow and Wallace Diestelmeyer won bronze at St. Moritz 1948 for Canada's first Olympic medal in pairs figure skating. But they are also remembered for bringing a new element to the ice – the one-handed death spiral. The move, in which the man pivots with one toepick in the ice while his partner circles him with her body parallel to the ice, was previously performed with two hands, meaning the woman could not be lowered completely. But Morrow and Diestelmeyer changed that and the face of pairs figure skating forever. They repeated their bronze medal performance at the 1948 World Championships.
1948 – Canada Donates to the Austerity Games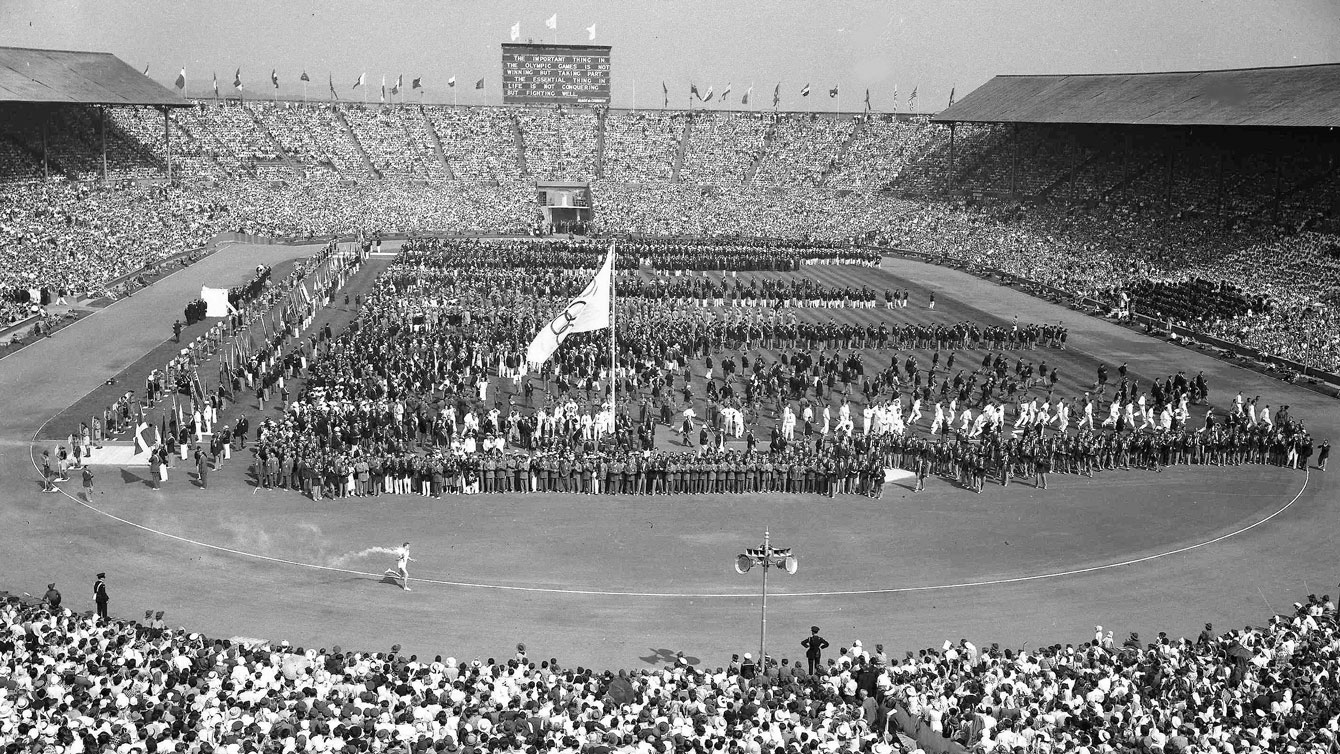 When London took on the task of hosting the first summer Games following World War II, the city was still rebuilding. Post-war rationing and limited financing led to London 1948 being dubbed the Austerity Games. Athletes were housed in army camps and schoolrooms. There was also outreach for international aid. To ease the financial pain of the host country following the expensive investment in the war, countries donated everything from food parcels to building materials. Included in that were two Douglas firs from Canada that would become the core of the diving boards.
1948 – An Olympic Debut Worth the Wait
Like many athletes, Douglas Bennett had planned on making his Olympic debut in 1940 when he would have been just 22. Instead, he had to wait eight years. But his dedication to canoeing paid off with a silver medal in the C-1 1000m at London 1948. And he wasn't Canada's only paddling medallist at those Games as Norman Lane brought home a bronze medal from the grueling C-1 10,000m.