Darren Calabrese/COC
Beauchemin-Pinard's step up to 63kg has her stepping onto Tokyo 2020 podium
After a disappointing performance at the Rio 2016 Olympic Games, Catherine Beauchemin-Pinard vowed she would do whatever it took to get to Tokyo for a chance at redemption, even if it meant moving up a weight class.
For the judoka from Montreal, who says she has matured as a person and an athlete, it paid off on Day 4 of Tokyo 2020 as she stepped onto the podium as the Olympic judo bronze medallist in the 63kg event.
"I was really disappointed when I lost in Rio and I wanted to get back to Tokyo 2020 to perform," said Beauchemin-Pinard. "I did that so I'm really happy about that even if it was in another category. It was a process to transition, learn to fight the 63kg, and to win a match and medal here, it's a relief."
"In my opinion, I wouldn't have enjoyed judo anymore if I stayed at 57kg," she also said. "It was getting hard with the dieting, the 10 kilogram weight losses, the five kilogram gains. At the end it just got really unhealthy. I worked on it, my diet, with psychologists and nutritionists to improve my relationship to food. Now at 63kg, it's really more my weight and I'm so much happier competing at 63kg than at 57kg."
As the world number seven, Beauchemin-Pinard knew it wasn't going to be easy to reach the podium. Needing to go into Golden Score to decide the bronze medal winner, Beauchemin-Pinard was on the offensive against Anriquelis Barrios of Venezuela. Initiating much of the action, it wasn't until the three-minute mark when a flip earned the 27-year-old a waza-ari to lock in Canada's second Olympic judo medal in Tokyo, seventh medal in judo all-time.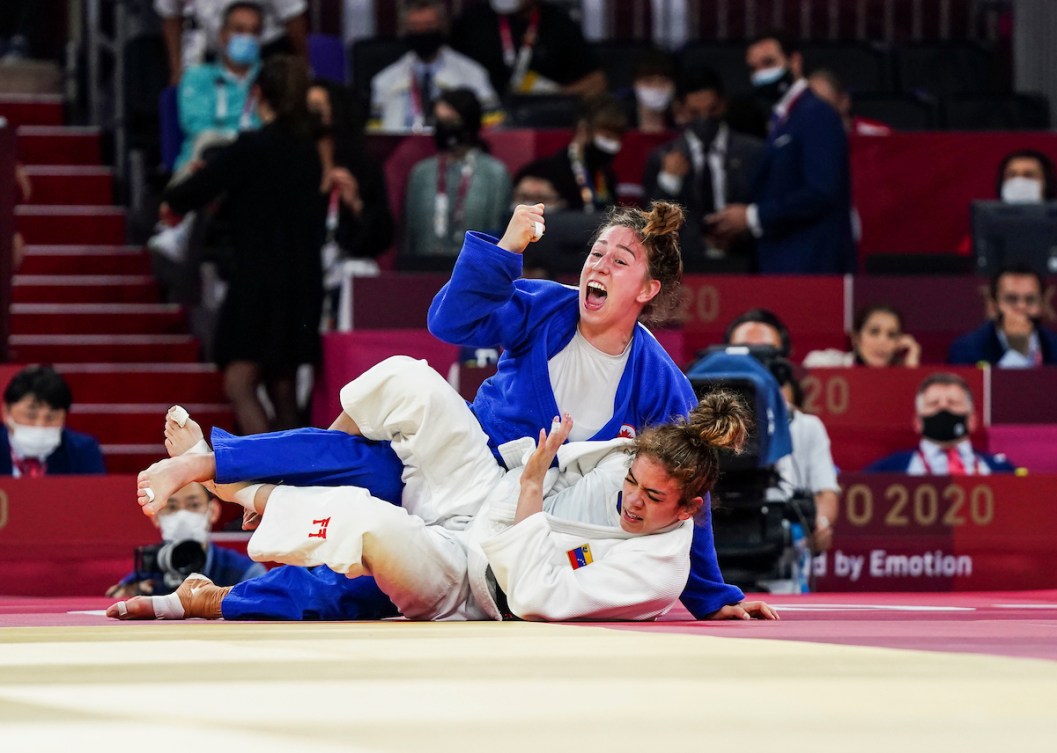 "I knew [Barrios] was really hard to control because she's really tall, so my goal was to control her sleeve because without her sleeve, she's less dangerous," Beauchemin-Pinard said. "I was feeling as the fight went on, she was getting more tired, and I had more energy so I just pushed through."
READ: Beauchemin-Pinard wins Canada's second judo medal of Tokyo 2020
Entering the Tokyo 2020 Olympic Games, there had never been a Canadian medallist in women's judo.
Within a span of 24 hours, that has all changed with Beauchemin-Pinard joining Jessica Klimkait with a bronze medal of her own, earning Canada's second Olympic judo medal in as many days.
READ: "I wanted to feel that pride"; Klimkait regroups to claim Olympic bronze
As she stepped off the mat at Nippon Budokan, Beauchemin-Pinard said that all she was thinking about was the hard work she's put in over the last five years. She can't wait to bring the medal home to her father, who had a stroke three years ago.
"I'm really happy to win a medal and show him what I did," concluded Beauchemin-Pinard.