AP Photo/Aijaz Rahi
Joshua Liendo eyes return to podium at World Aquatics Championships
Ask Joshua Liendo about his goals for the upcoming World Aquatics Championships and his answer is simple and decisive: "swim fast."
"My number one goal is to swim fast. And my number two goal is to compete. My aim is always to win, even in practice and in the weight room, that's what's on my mind. So that's what I'm looking towards for the world championships," Liendo recently told Olympic.ca.
Liendo's visibility as a rising star within Canadian swimming renders him a role model for youth, particularly those from racialized communities who have not often seen themselves represented in the sport. Initially intimidated by the idea of being a figure for young swimmers to look up to, Liendo has come to view the opportunity to show other young Black swimmers that they can do it too as an intrinsic motivator of his training.
READ: Road to Paris 2024: Three Olympians reveal big goals ahead, key lessons learned, and why representation matters
We caught up with Liendo after a busy competition stretch that included his collegiate regional championships, the NCAA Championships, and the Canadian Swimming Trials. At the latter he locked up his spot on Team Canada for the World Aquatics Championships that will take place July 14-30 in Fukuoka, Japan.
The 20-year-old Olympian shared his reflections on his first year at the University of Florida, his success at the Canadian Trials (including a national record!), and his preparation for the worlds where he will seek to achieve his goals: swim fast, compete, and win.
On his first year as a college athlete
In the fall of 2022, Liendo moved to Gainesville to attend the University of Florida and swim under the guidance of coach Anthony Nesty, the 1988 Olympic champion in the 100m butterfly, one of Liendo's top events. Representing Suriname, Nesty was the first Black swimmer to win an Olympic gold medal.
The transition to collegiate life went as well as possible. In fact, Liendo enjoyed it more than he thought he would. He said of his freshman year: "It's an experience that I'll take with me for the rest of my life."
"Usually the balance between swimming and school is tough," he said. But the support he received as a student-athlete made a huge difference. His favourite first-year course was sport management, which he hopes will be beneficial in his swimming career.
"I liked it because I got to see sport from another side. NIL [name-image-likeness] deals were something I learned a lot about in class and that's something I'm working towards," he explained.
Liendo also enjoyed the energy behind collegiate athletics in the United States.
"The atmosphere is crazy. The stands are packed. It's wild how much they love it [swimming] down here," Liendo said. "And the competition is high level. You can compare it to meets at the international level."
Being on a team – supporting others and receiving their support back – helps keep swimming fun and Liendo's motivation high. He needed that team energy to bolster him this spring as he headed into back-to-back-to-back important meets.
"It was a little exhausting," Liendo admitted. "I think I kind of forget how exhausting it was for me because at the time I was just focusing on getting things done and moving on to the next one."
The stretch of meets also involved a pivot from short course yardage for the American collegiate competitions to the Olympic-sized 50-metre pool.
"With the different pools, it can almost feel like a different sport," Liendo explained. "The strategy's not the same, so that takes a lot of mental energy."
Liendo delivered for the Florida Gators, winning the NCAA title in the 100 free, taking silver in the 50 free and 100 fly, and contributing to three NCAA records in relay events. His victory in the 100 free in 40.28 seconds made him the second fastest man in the event in NCAA history.
On the record-breaking Trials
An outsider certainly wouldn't know that Liendo went into the Canadian Trials tired. Just four days after that impressive swim at the NCAA Championships, Liendo broke his own national record in the 100m butterfly not once, but twice. He swam a 50.78 in the morning followed by a 50.36 in the evening final. A mere 24 hours later, he posted what was then the world-leading time in the 50m freestyle, swimming a 21.80.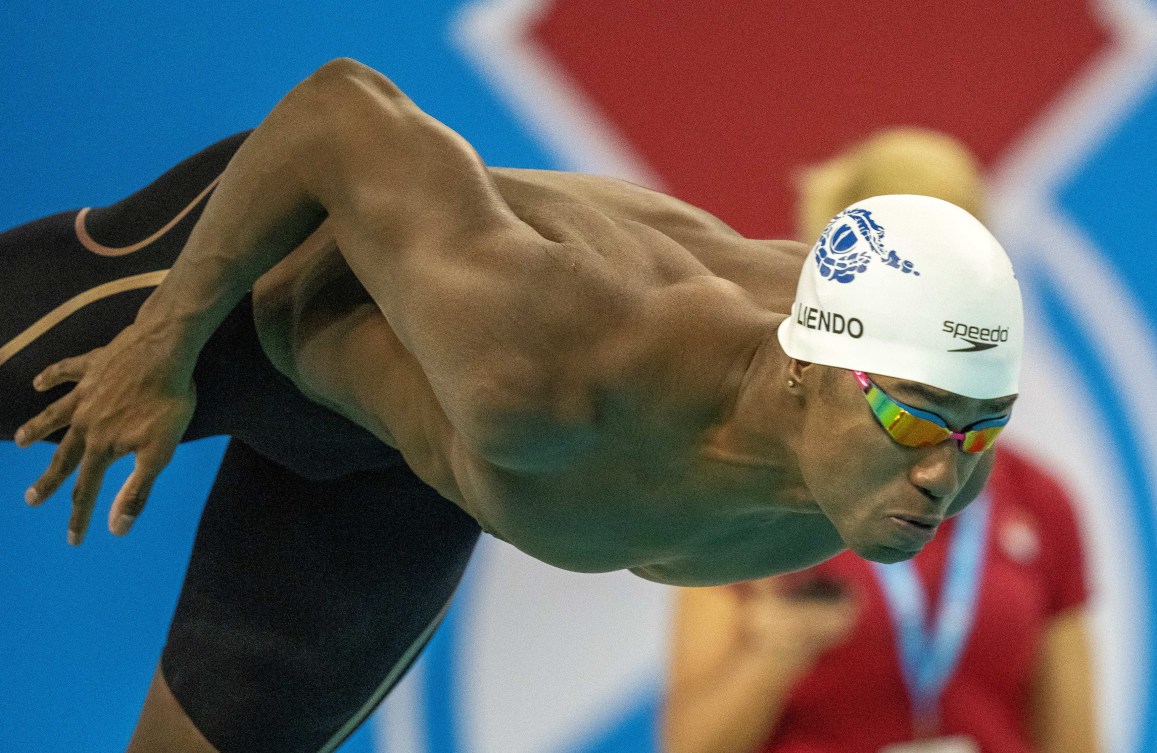 Media coverage of the Trials was largely focused on teenage phenom Summer McIntosh, who set a world record in the 400m freestyle on day one. Five days later, the 16-year-old set a second world record in the 400m individual medley. She became the first person to ever hold the world records in both of those events. It has been 56 years since a Canadian woman held any two long course world records in swimming.
Liendo says that seeing McIntosh have such success only adds to his motivation.
"My reaction is, 'Shoot! I've gotta step up!" Liendo said with a laugh. "Summer's a good friend and she's definitely given me motivation to be better. Her work ethic is second to none. Seeing her get these times, especially at the Trials, sparks a fire in me."
One record Liendo would love to put his name on is the Canadian record in the 100m freestyle. He was three-tenths of a second shy of it at the Trials. His personal best is 47.55 seconds, which he swam in the semifinals at the 2022 World Aquatics Championships.
The current national record of 47.27 seconds was set by Brent Hayden at the 2009 World Aquatics Championships. That was the so-called "super suit era", but Hayden was the only swimmer in that final who didn't wear one of the high tech body suits that were later banned by the international federation. He missed the podium by two-one hundredths of a second.
"It's a legit record," says Liendo. "Comparing it to around the world, there's guys that are faster, but that 100 free, that's a world class record."
To make it his own might come down to one small thing, be it a better start off the blocks, or a better break in the first 15 metres, or a better turn into the second half of the race.
"That's our sport though, it's all about execution and very little room for mistakes," said Liendo. "Brent knows that I'm coming for it. But at the same time, I'm also looking at my competitors at worlds and maybe going beyond that record."
On prepping for Worlds
Liendo says he's in an even better place this year than last and is excited to see what he can do in Fukuoka.
"I'm focused, I'm in the best shape that I've been, mentally and physically. I'm ready to do what I have to do to put on a show."
The meets that he's competed in since the Trials, including events in Atlanta and Vancouver, have been about trying things out and playing with strategy. Liendo also notes that travelling to competitions and experiencing all the bumps in the road that go along with it –long drives, plane rides, time changes, and unfamiliar surroundings – help him feel confident that he can perform at his best no matter what.
It will be a different experience in Japan for Liendo this time around, as he made his Olympic debut at Tokyo 2020 amidst strict COVID-19 restrictions. Team Canada will gather for a training camp in Toyota, Japan, before travelling together to Fukuoka.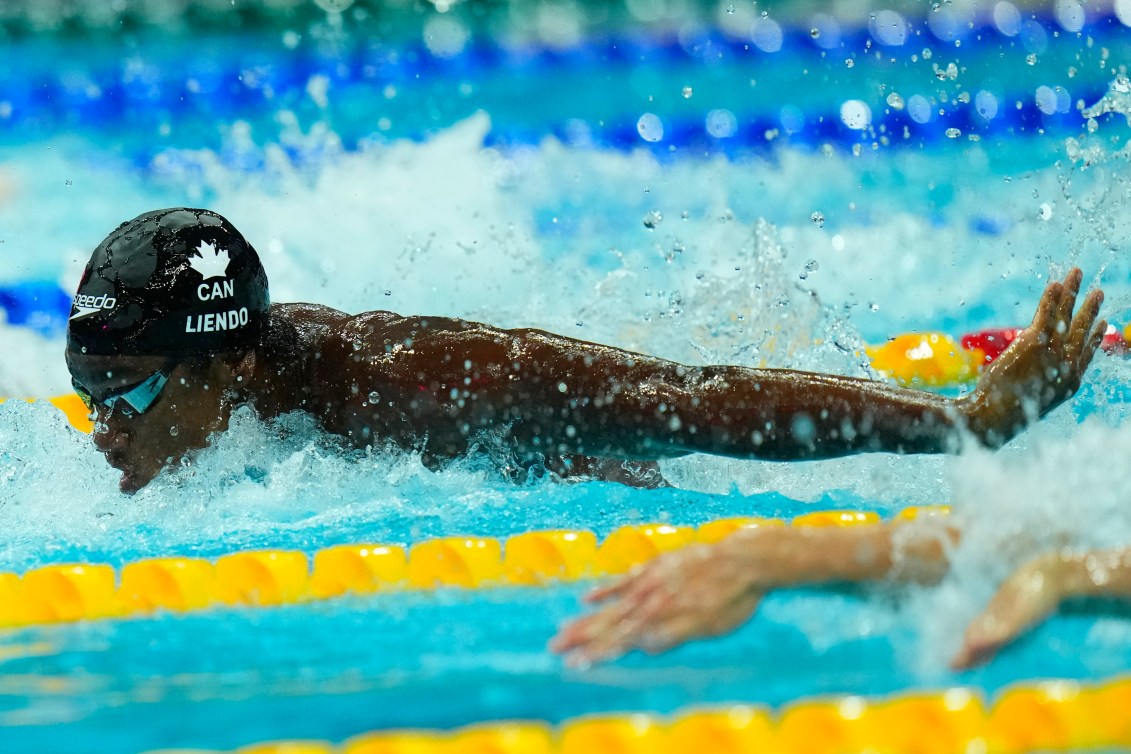 While last year, Liendo was slightly under the radar heading into the worlds, this year he goes in as a defending medallist. As a result, his mindset is different.
Last year was all about trying to make a final. While he had swum in relay finals at the Olympics, prior to the short course 2021 World Swimming Championships, Liendo hadn't qualified for an individual event final at a major senior international meet. At those short course worlds, Liendo became the first Black Canadian swimmer to win a gold medal and/or an individual medal at a major international meet.
Liendo followed up his short course achievement with three medals at the long course 2022 World Aquatics Championships, including individual bronze medals in the 100m butterfly and 100m freestyle. He continued his podium ways with four medals at the 2022 Commonwealth Games, including gold in the 100m butterfly.
After a huge year, Liendo enters his third World Aquatics Championships with the confidence that he's now a top contender.
"The focus this year is trying to win these finals now, as opposed to me saying last year, 'I want to try and make it into the final,'" Liendo said. "And because of that we can strategize a little differently about how I want to swim prelims or semifinals."
Liendo's accomplishments are raising the profile of the men's side of Canadian swimming, a sport that over the last seven years has been dominated by Canada's spectacular women, including Penny Oleksiak, Kylie Masse, Maggie MacNeil and Summer McIntosh.
He's particularly excited about the potential for the men's 4x100m freestyle relay which could include one of his training mates in Florida, Édouard Fullum-Huot, as well as Ruslan Gaziev, who was one spot off the podium in the 100 free at the NCAA Championships.
The World Aquatics Championships are the first opportunity to qualify relays for Paris 2024. The top three teams in each relay event will earn quota spots for their country.
Watch out for Liendo in the 50m freestyle, 100m freestyle, 50m butterfly, 100m butterfly as well as multiple relays in Fukuoka. You can stream the entire competition on CBCSports.
With files from Paula Nichols