Andrew Lahodynskyj/COC
Team Canada's Olympic Winter Games flag bearers
This article was updated January 31, 2023
Representing their country as a flag bearer and leading their team into an Olympic Opening Ceremony is one of the greatest honours imaginable for an Olympian.
Here is a look at who has carried the maple leaf for Team Canada at past Olympic Winter Games.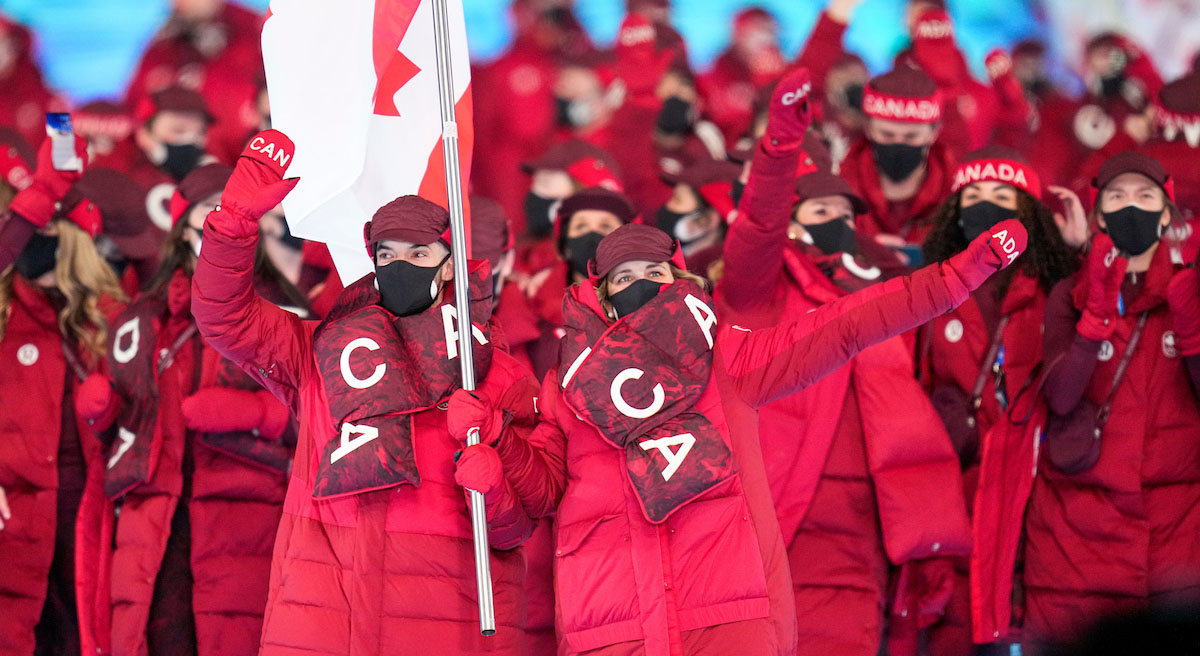 At Beijing 2022, National Olympic Committees were encouraged to nominate one male athlete and one female athlete to carry their country's colours into the Opening Ceremony. By selecting Hamelin and Poulin, Team Canada would be led by two legends in their respective sports. In his fifth Olympic appearance, Hamelin won gold with the 5000m relay for his sixth career Olympic medal. That tied him as Canada's most decorated Winter Olympian and most decorated male Olympian. In her fourth Olympic appearance, Poulin led Team Canada back to the top of the podium in women's hockey as "Captain Clutch" became the first player to score in four straight Olympic gold medal games.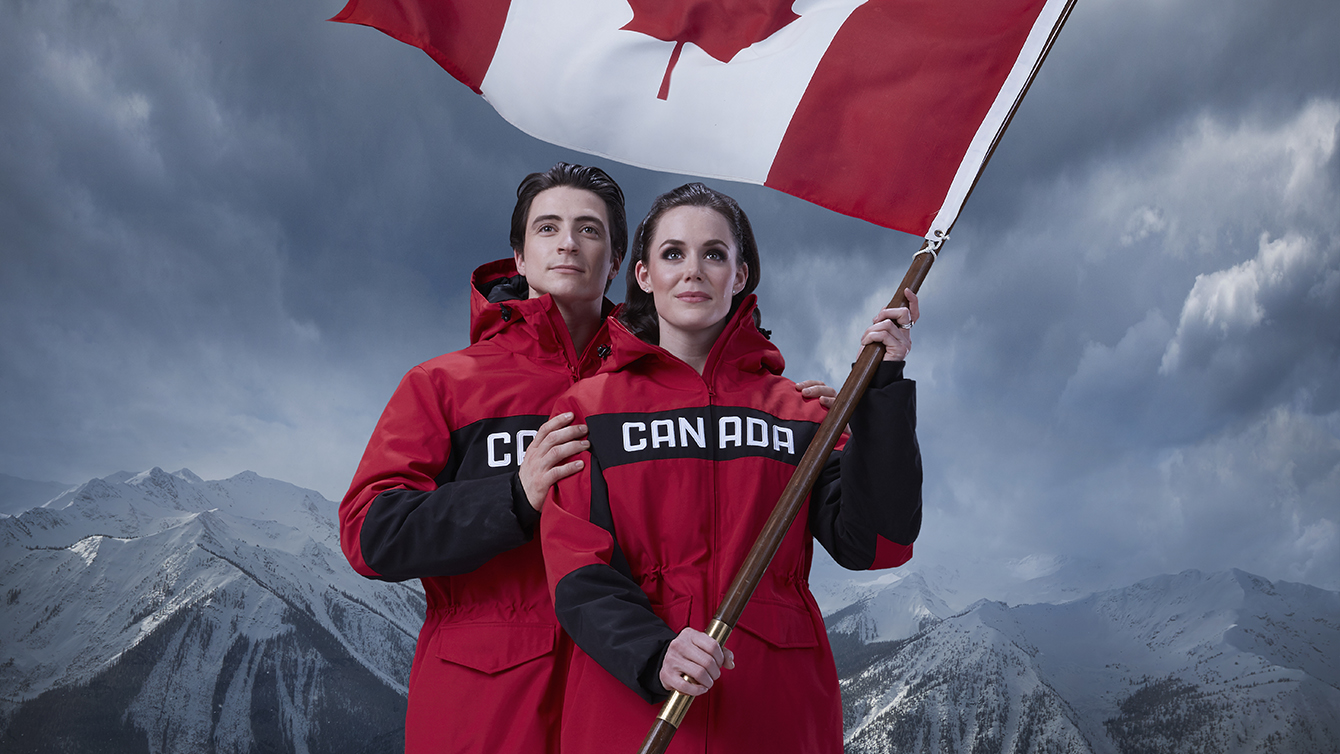 The first pair of athletes to ever lead Team Canada into an Olympic Opening Ceremony, it was a wonderful way to celebrate the two-decade partnership of Virtue and Moir. At Vancouver 2010, they became the first North Americans to ever win Olympic ice dance gold and were also the youngest ever Olympic champions in their event. After two silver medals at Sochi 2014, they took a two-year hiatus from competition before returning to win their third career world title in 2017. That set them up for their career-defining performance at PyeongChang 2018 where they won two gold medals to become the most decorated figure skaters in Olympic history.
In her fifth Olympic Winter Games appearance, the former captain and all-time leading scorer for Canada's National Women's Hockey Team led Team Canada into the Fisht Olympic Stadium. She went on to score two goals and add three assists as the Canadian women won their fourth straight Olympic gold medal. That gave Wickenheiser and teammates Jayna Hefford and Caroline Ouellette more gold medals than anyone else in Canadian Olympic history.
Clara Hughes, Long Track Speed Skating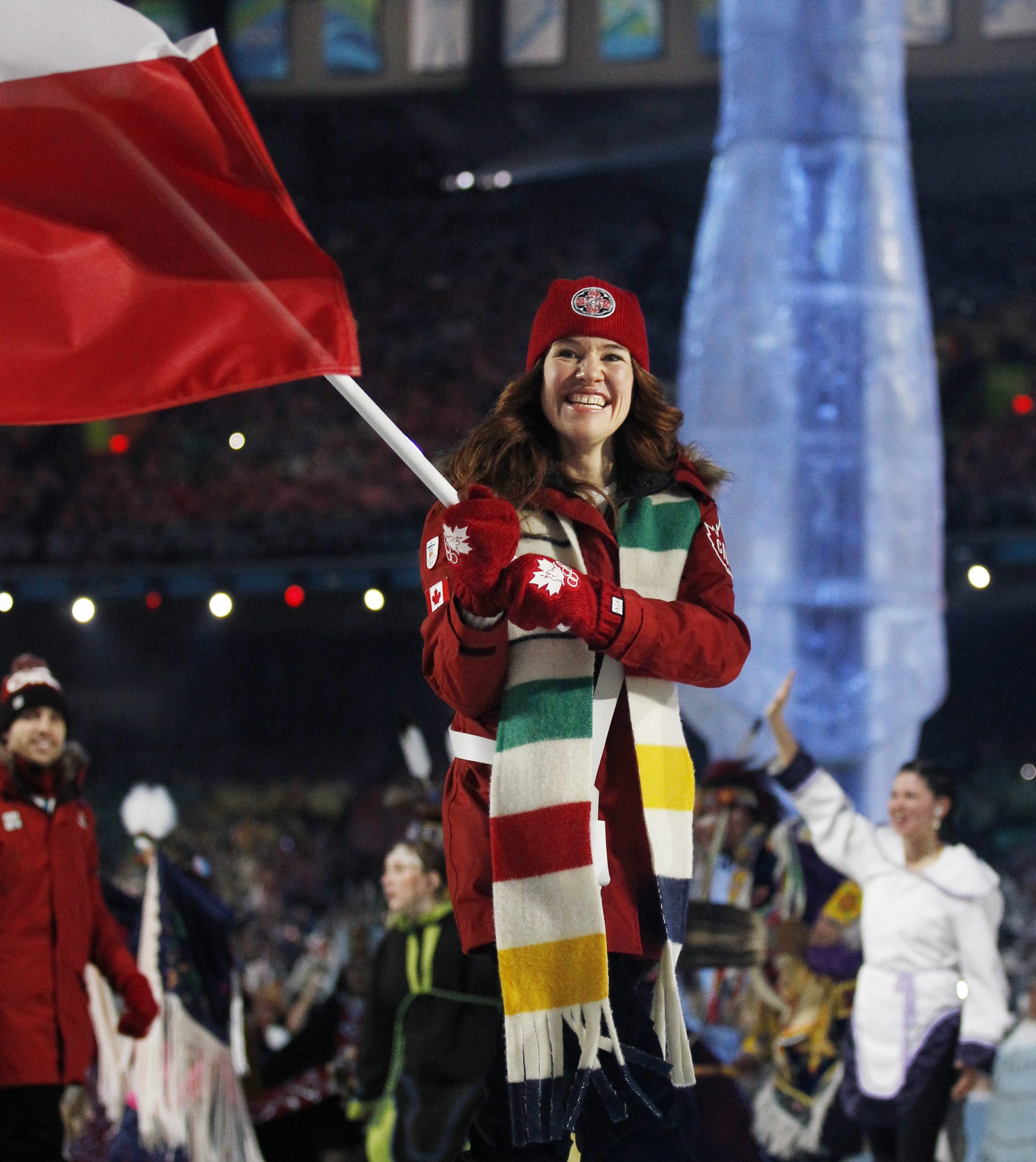 A dual-season Olympian and the only athlete in history to win multiple medals at both the Summer and Winter Games was chosen to lead in Team Canada on home soil at Vancouver 2010. Hughes went in as the reigning Olympic champion in her signature event, the 5000m. She had what she called one of the best races in her life at the Richmond Olympic Oval to win the bronze medal and tie Cindy Klassen as Canada's most decorated Olympian of all-time.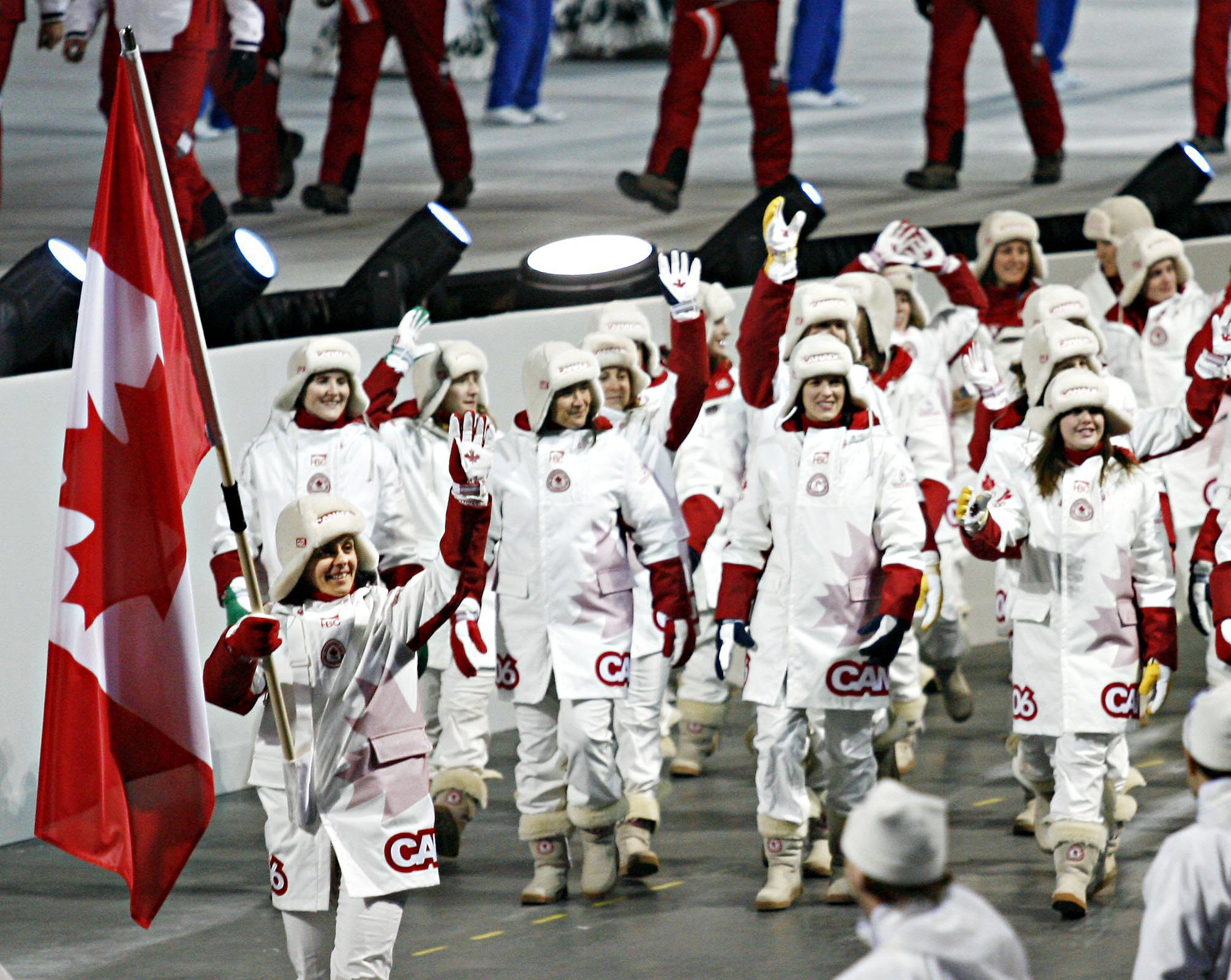 A member of Canada's National Women's Hockey Team since 1991, by 2006 Goyette had played in more world championships than any other Canadian hockey player and had won 21 international medals, including 17 gold. She was also renowned for her charitable work, including countless hours spent helping troubled teens and less fortunate families in the Calgary area, which made her an ideal choice to carry the flag. Having turned 40 just days before the start of the Games, she added another gold to her collection, scoring four goals and two assists as Canada went undefeated in the tournament.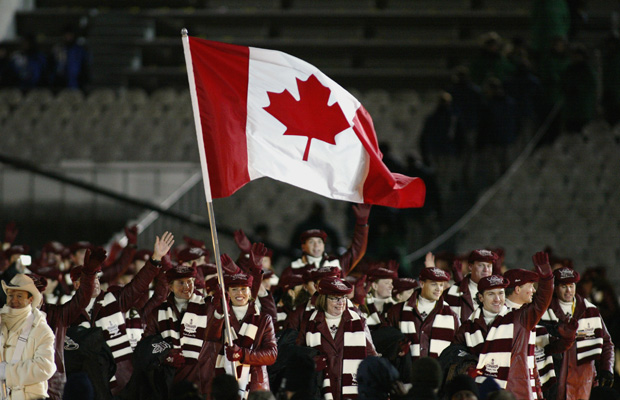 Le May Doan carried the Canadian flag out at Nagano 1998 after winning gold in the 500m and bronze in the 1000m. She then became the first woman to skate the 500m in under 38 seconds and broke her own world record five times in the next four years while winning three world titles in the distance. Those achievements led to her carrying the flag into Salt Lake City 2002, where she became the first Canadian athlete to ever successfully defend Olympic gold in an individual event.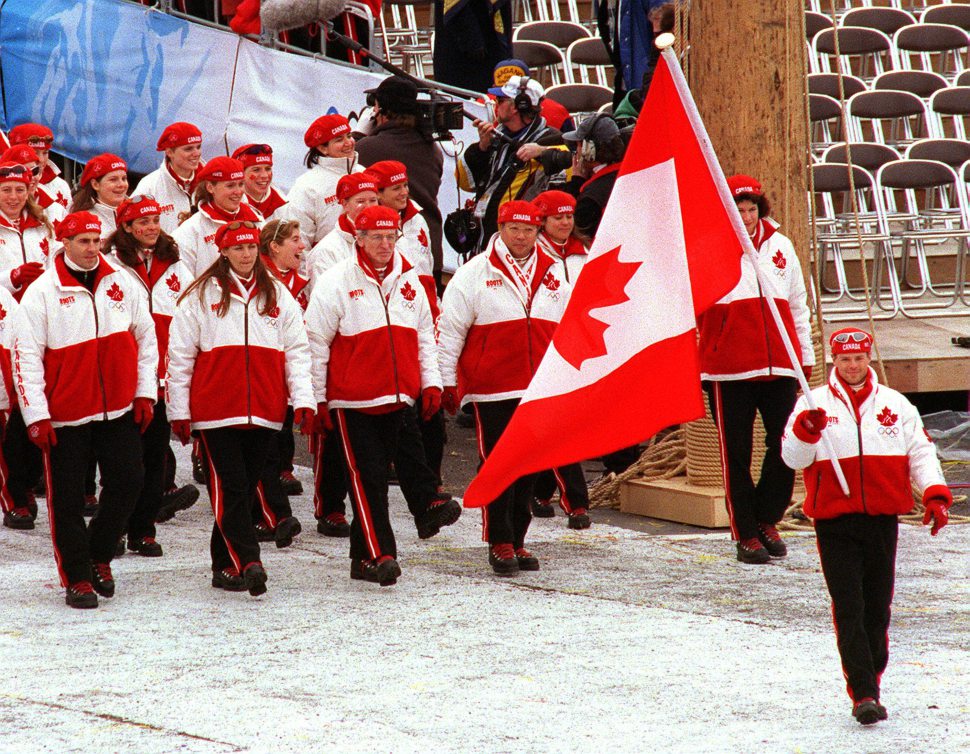 A member of the legendary "Quebec Air Force", Brassard joined the Canadian National Freestyle Ski team at the age of 17. At Lillehammer 1994 he became Canada's first Olympic champion in freestyle skiing when he won moguls gold. As the reigning world champion and overall World Cup champion, he was named Opening Ceremony flag bearer for Nagano 1998. He went on to finish fourth, missing the podium by just a quarter of a point.
Here are all of the other athletes who have served as Team Canada's Opening Ceremony flag bearers at the Olympic Winter Games:
Lillehammer 1994 – Kurt Browning – Figure Skating
Albertville 1992 – Sylvie Daigle – Short Track Speed Skating
Calgary 1988 – Brian Orser – Figure Skating
Sarajevo 1984 – Gaétan Boucher – Long Track Speed Skating
Lake Placid 1980 – Ken Read – Alpine Skiing
Innsbruck 1976 – David Irwin – Alpine Skiing
Sapporo 1972 – Karen Magnussen – Figure Skating
Grenoble 1968 – Nancy Greene – Alpine Skiing
Innsbruck 1964 – Ralf Olin – Long Track Speed Skating
Squaw Valley 1960 – Robert Paul – Figure Skating
Cortina d'Ampezzo 1956 – Norris Bowden – Figure Skating
Oslo 1952 – Gordon Audley – Long Track Speed Skating
St. Moritz 1948 – Hubert Brooks – Ice Hockey
Garmisch-Partenkirchen 1936 – Walter Kitchen – Ice Hockey
Lake Placid 1932 – Harold Simpson – Ice Hockey
St. Moritz 1928 – John Porter – Ice Hockey
Chamonix 1924 – Ernest Collett – Ice Hockey