COC/Mark Blinch
Medals, medals, medals: Canada's most decorated summer Olympians
Any Canadian athlete that dons the maple leaf also dreams of standing on the Olympic podium with the Canadian flag draped across their back.
But there are a select few who have had that privilege more than others. Through their perseverance, talent, and hard work, they were able to reach the highest echelon in their sport more than any other Canadians. Here, we look into Team Canada's rich history at the Olympic Summer Games and check out the country's most decorated summer athletes.
The Seven Medals Club
Penny Oleksiak – Swimming (1 Gold, 2 Silver, 4 Bronze)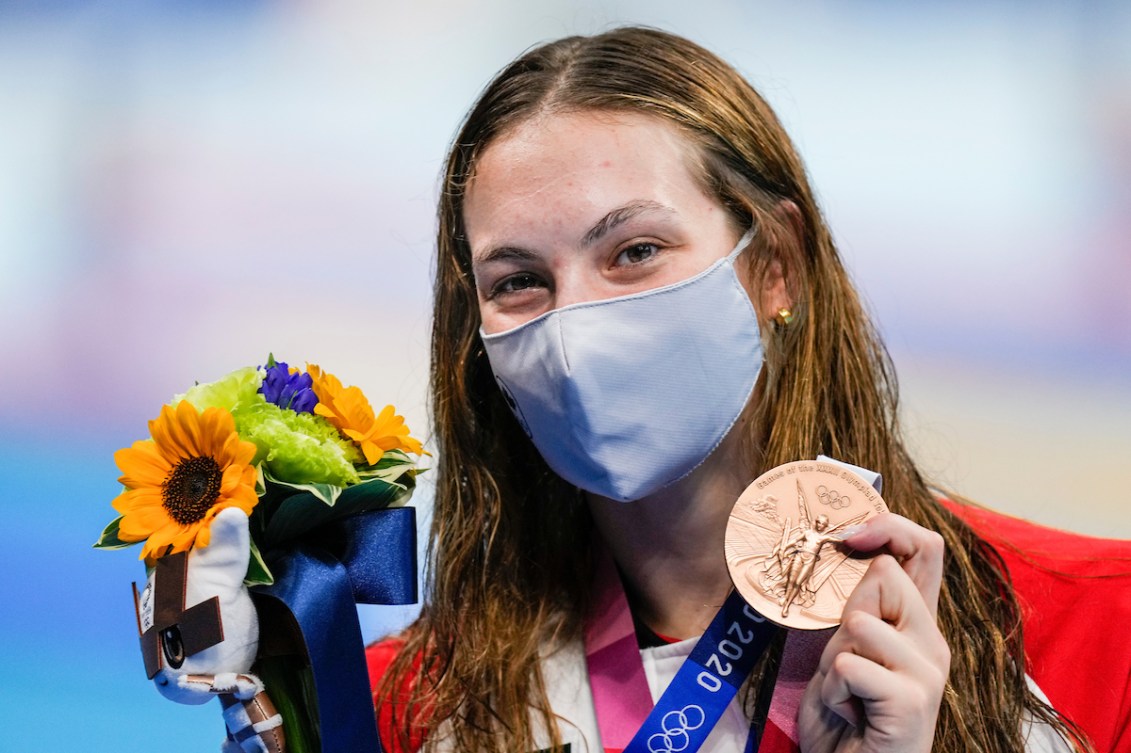 Penny Oleksiak burst onto the scene as a 16-year-old at the Rio 2016 Olympic Games. Her medal haul began with the 4x100m freestyle relay, where she swam the anchor leg en route to a bronze medal and a national record. Oleksiak came back the following night, breaking her own junior world record and setting the Canadian record in the 100m butterfly to secure the silver medal. Two nights later, Oleksiak swam the final leg of the 4x200m freestyle relay to break yet another national record for another bronze medal. She saved her best performance for last, though. In the 100m freestyle final, Oleksiak stormed back after a slow first 50m to finish in a tie for the gold, breaking both the Olympic and juniors world records. Her performance made her Canada's only summer Olympian to win four medals at a single Olympic Games.
At Tokyo 2020, Oleksiak won a silver medal while swimming the anchor leg of the 4x100m freestyle relay. Three days later she captured bronze in the 200m freestyle to make her Canada's first summer Olympian to win six career medals. She closed out the Games by winning bronze with the 4x100m medley relay, making her stand alone as Canada's most decorated Olympian of all time.
The Six Medals Club
Andre De Grasse – Athletics (1 Gold, 1 Silver, 4 Bronze)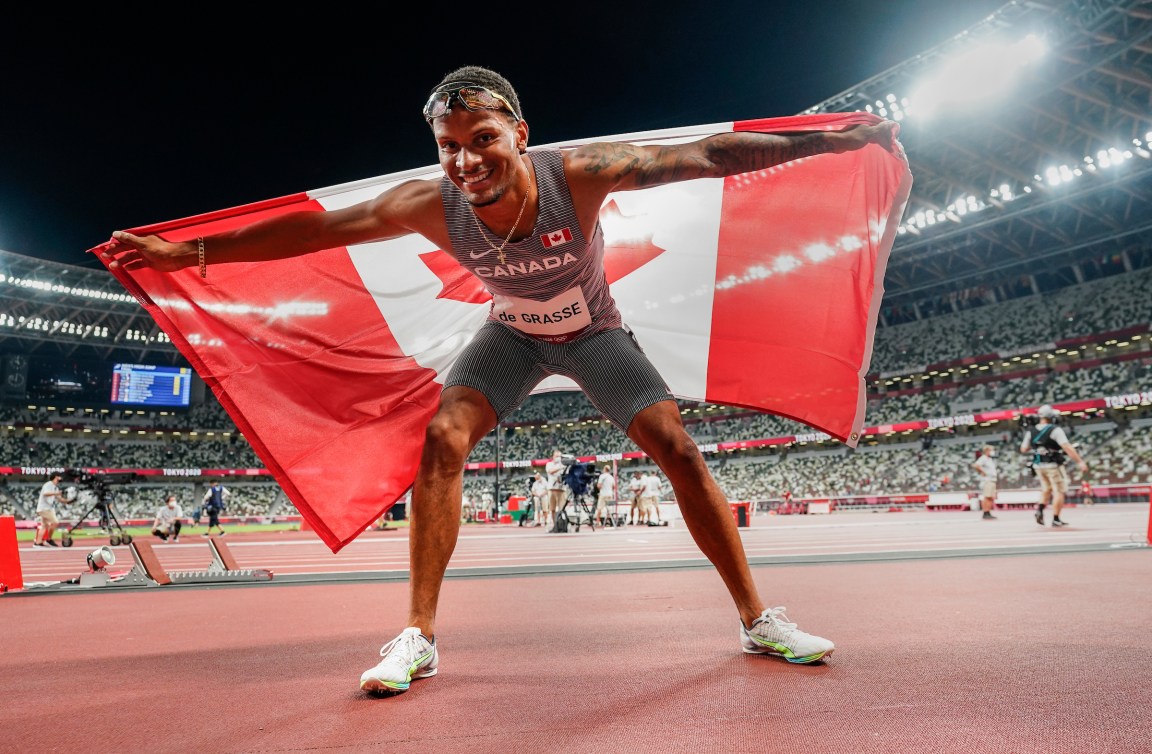 In his first two Olympic Games, Andre De Grasse did not miss an opportunity to win an Olympic medal. In his debut at Rio 2016, he won bronze in the 100m, silver in the 200m, and bronze in the 4x100m relay. At Tokyo 2020, De Grasse repeated as the bronze medallist in the 100m, making him the first Canadian to ever win two Olympic medals in the event. He then won gold in the 200m while lowering the Canadian record to 19.62 seconds, becoming Canada's first Olympic champion in the event in 93 years. He then anchored the 4x100m relay to a second straight bronze medal.
The Five Medals Club
Lesley Thompson-Willie – Rowing (1 Gold, 3 Silver, 1 Bronze)
Lesley Thompson-Willie is the legendary coxswain of Canadian rowing. She is an nine-time Olympian (1980-2000, 2008-16) and five-time Olympic medallist, starting with coxed fours silver at Los Angeles 1984. She got her gold in guiding the women's eight at Barcelona 1992 and most recently coxed the women's eight to silver at London 2012. Thompson-Willie competed at 19 world championships, winning 10 medals (1 gold, 4 silver, 5 bronze).
Phil Edwards – Athletics (5 Bronze)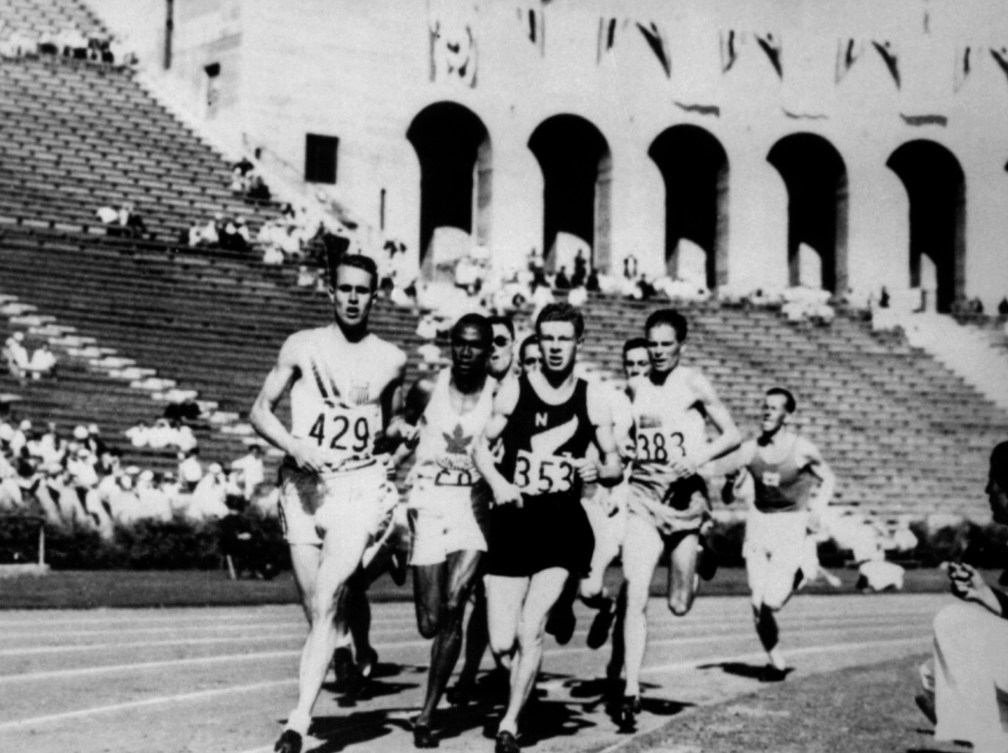 Known as the "Man of Bronze" for his five bronze medals at the Olympic Games, Phil Edwards represented Canada at the highest level in every way. He won bronze at Amsterdam 1928 (4x400m relay), Los Angeles 1932 (800m, 1500m, 4x400m relay) and Berlin 1936 (800m). He was the first recipient of the Lou Marsh Award as Canada's top athlete in 1936, was the first black athlete to win gold at the British Empire Games (now the Commonwealth Games) and set 13 national records during his athletic career. Edwards served as captain with the Canadian Army in World War II and went on to become a leading physician and tropical disease expert. Shortly after his death in 1971, the "Phil Edwards Memorial Trophy" was established to be presented annually to Canada's most outstanding track athlete by Athletics Canada.
---
The Four Medals Club
Kathleen Heddle & Marnie McBean – Rowing (3 Gold, 1 Bronze)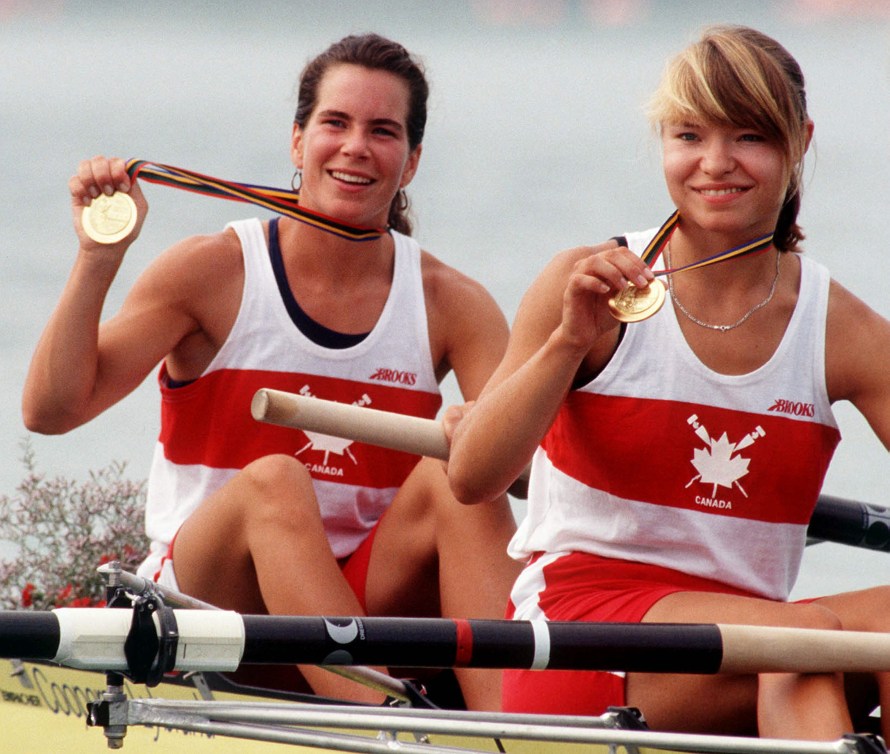 As one of Canada's most successful pairings, Kathleen Heddle and Marnie McBean were the first Canadian athletes to win Olympic gold three times – and are still the only Canadian athletes to have achieved this at the Summer Games. At Barcelona 1992 the duo won their first two gold medals in the coxed eight and coxless pair. They went on to win another gold in the double sculls along with a bronze medal in the quadruple sculls at Atlanta 1996. Both went on to be awarded the Thomas Keller medal by the World Rowing Federation, recognizing them for their accomplishments and sportsmanship throughout their careers.
Victor Davis – Swimming (1 Gold, 3 Silver)
One of Canada's most prominent international swimming stars, Victor Davis stood alone for almost three decades as Canada's most decorated Olympic swimmer before his four medals were matched (keep reading for more on that). The phenom captured gold in the 200m breaststroke along with a pair of silver medals in the 100m breaststroke and 4x100m medley relay at Los Angeles 1984. He then went on to win silver in the 4x100m medley relay at Seoul 1988 and placed fourth in the 100m breaststroke, falling just shy of capturing a fifth medal. Davis was tragically killed at the young age of 25 but during his short time captured 31 national titles, broke three world records and won 16 medals in international competition. He was named Swimming Canada's athlete of the year on three occasions (1982, 1984, 1986) and is remembered as Canada's greatest breaststroke swimmer.
Adam van Koeverden – Canoe/Kayak – Sprint (1 Gold, 2 Silver, 1 Bronze)
At Athens 2004, Adam van Koeverden became Canada's first double medallist at the Olympic Summer Games since Atlanta 1996 when he captured gold in the K-1 500m and bronze in the K-1 1000m. He went on to compete at Beijing 2008, where he won silver in the K-1 500m, as well as London 2012 in which he won silver in the K-1 1000m. van Koeverden proudly carried the flag in the Closing Ceremony in Athens and was honoured to be the Opening Ceremony flag bearer four years later in Beijing. Outside of the Games, van Koeverden was an eight-time world championship medallist (2 gold, 3 silver, 3 bronze).
Émilie Heymans – Diving (2 Silver, 2 Bronze)
As a four-time Olympian and four-time Olympic medallist, Émilie Heymans is also Canada's first athlete to win a medal in four straight Olympic Summer Games. She won silver in the synchronized 10m platform (Sydney 2000), bronze in the synchronized 10m platform (Athens 2004), silver in the 10m platform (Beijing 2008) and bronze in the synchronized 3m springboard (London 2012), making her the first female diver in history to reach the podium in four straight Games. She nearly captured a fifth medal at Athens 2004, where she placed fourth in the 10m platform. Heymans is also a six-time Pan American Games medallist (5 gold, 2 silver) and a four-time Commonwealth Games medallist (1 gold, 2 silver, 1 bronze).
Kylie Masse – Swimming (2 Silver, 2 Bronze)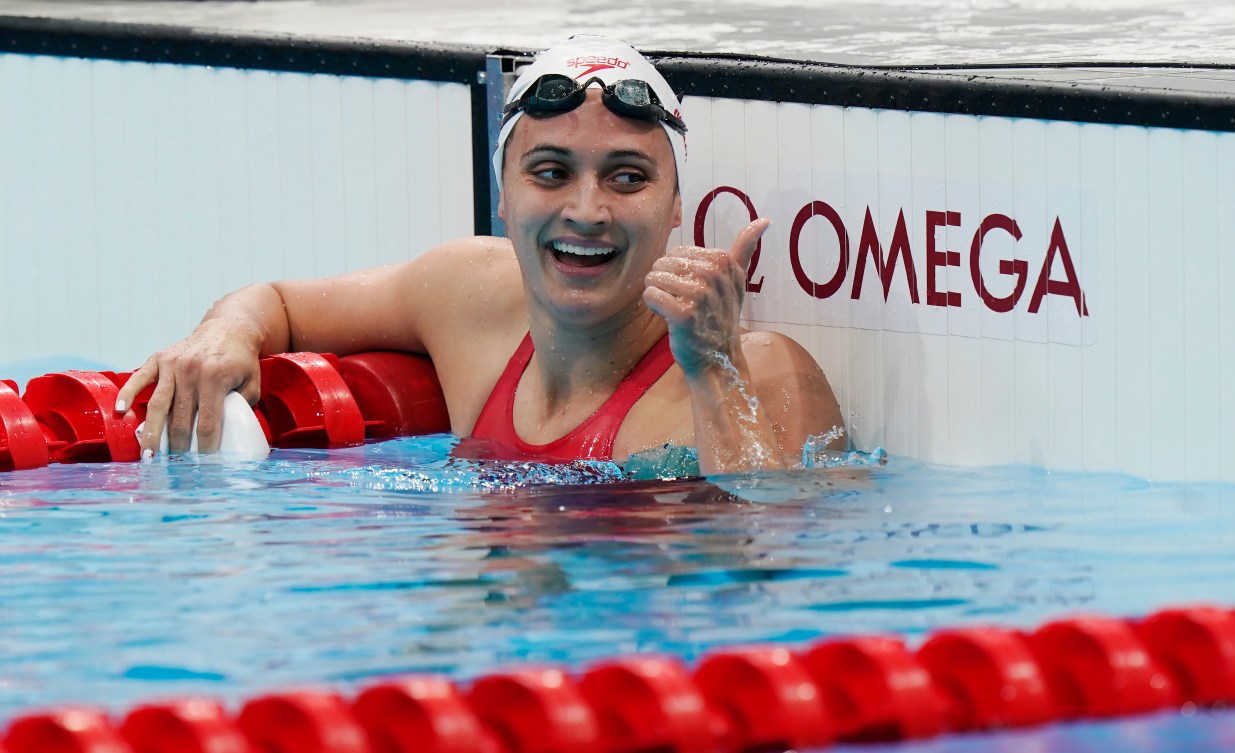 Backstroke specialist Kylie Masse came away from her Olympic debut at Rio 2016 with a bronze medal in the 100m backstroke. She went on to win back-to-back world titles in the event in 2017 and 2019. In her second Olympic appearance at Tokyo 2020, she captured silver medals in both the 100m and 200m backstroke events and then swam the leadoff leg for the bronze medal-winning 4x100m medley relay.
Alex Wilson – Athletics (1 Silver, 3 Bronze)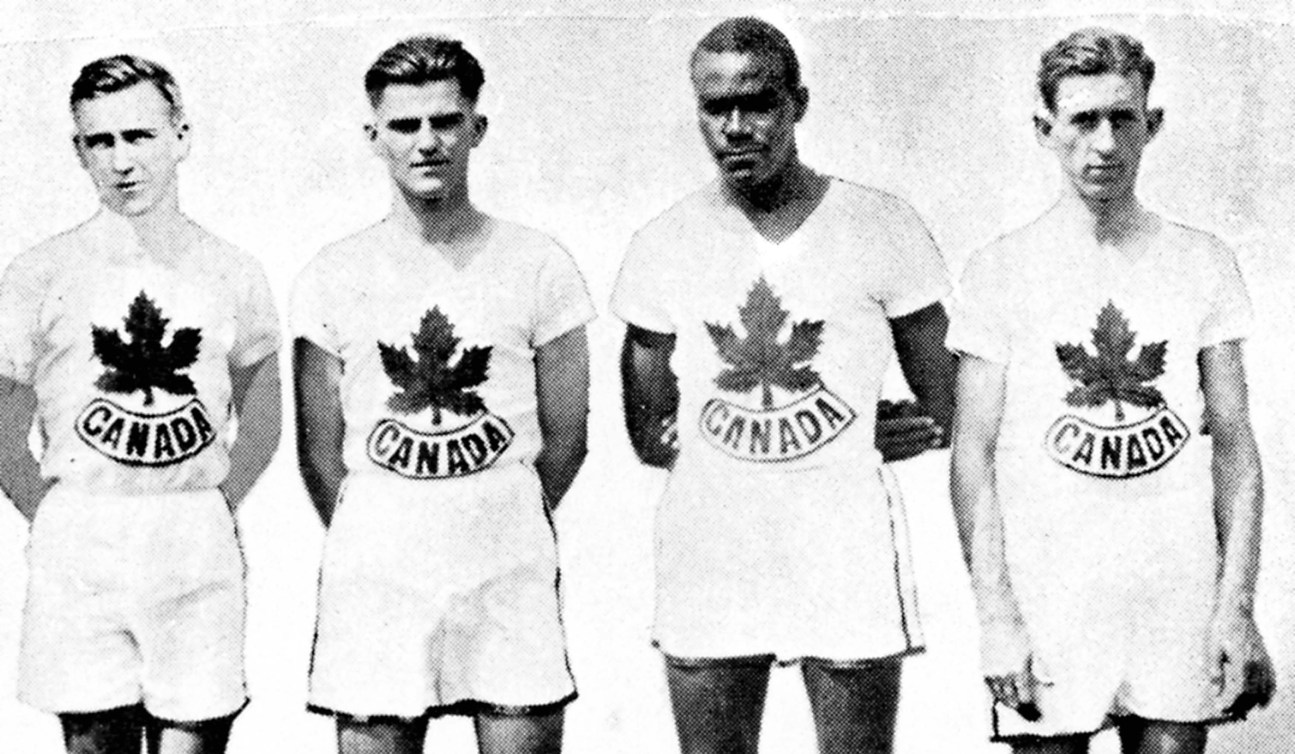 Canada's men's relay team (L-R) Alex Wilson, Stan Glover, Phil Edwards and Jimmy Ball at the Amsterdam 1928 Olympic Games.
Alex Wilson first represented Canada at the Amsterdam 1928 Olympic Games where he won bronze as a member of the 4x400m relay team. He then went on to compete at Los Angeles 1932 in which he captured silver in the 800m, as well as a pair of bronze medals in the 400m and 4x400m relay. At the 1930 British Empire Games (now the Commonwealth Games), Wilson also showed off his exceptional talents in winning gold in the 440 yards, silver in the 4×440 yards relay and bronze in the 880 yards. Wilson was an NCAA national champion in the 400m for the University of Notre Dame and later went on to coach for the University, leading his athletes to four NCAA national championships.
Taylor Ruck – Swimming (1 Silver, 3 Bronze)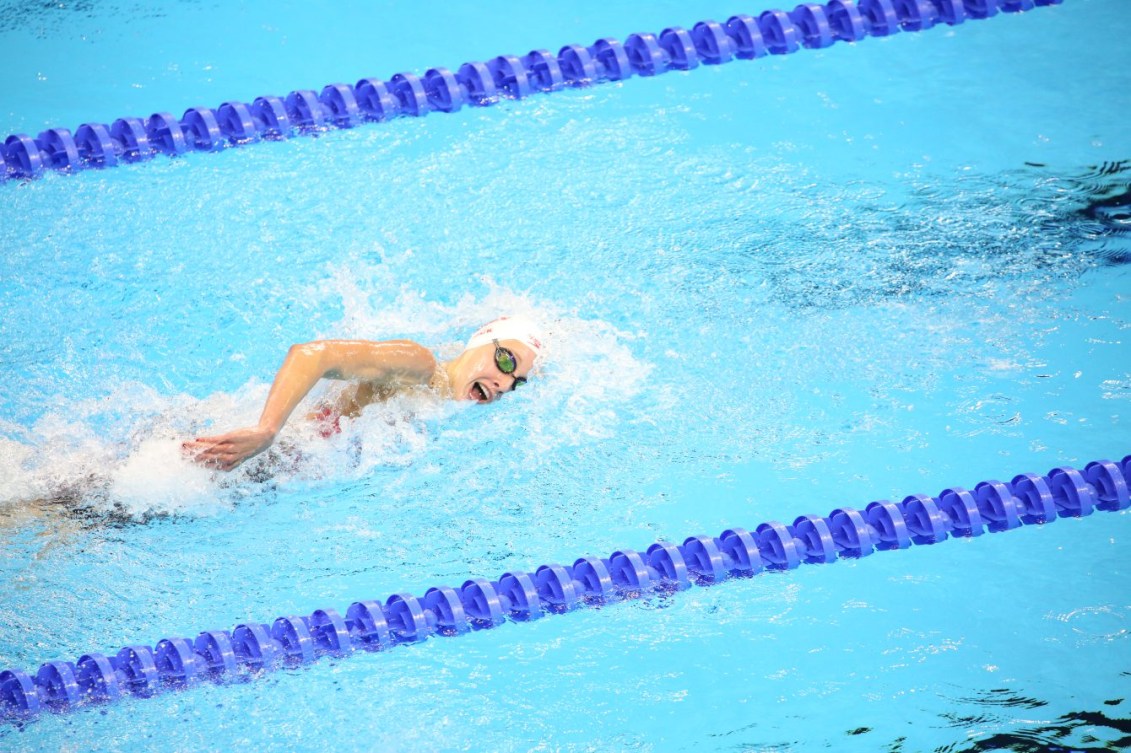 All four of Taylor Ruck's medals have been won in relays. At Rio 2016, she and Oleksiak were the first Olympic medallists born in the 2000s when they helped Canada win bronze in the 4x100m freestyle relay. Another bronze followed in the 4x200m freestyle relay. At Tokyo 2020, Ruck was a heats swimmer for the 4x100m freestyle and 4x100m medley relays that went on to win silver and bronze, respectively.
---