AP Photo/Alberto Pezzali, Volleyball World, THE CANADIAN PRESS/Chris Young
5 Team Canada things to watch this weekend: July 7 to 9
Whether on the water, the sand, or basketball and tennis courts, Team Canada athletes are in action all over the world this weekend.
Canadian rowers rejoin the World Cup circuit for the third and final stop of the season while the Canadian women's basketball team look to continue their undefeated run in the elimination phase of the FIBA Women's AmeriCup, an important step in the qualification process for the next Olympic Games.
After podium finishes in their last two international events, Canada's new beach volleyball all-star duo of Melissa Humana-Paredes and Brandie Wilkerson will be in action at another prestigious Beach Pro Tour Elite 16 event. Canadian sailors are testing out the waters in Marseille, France as they compete in an official Olympic Test Event, while Denis Shapovalov and Bianca Andreescu take Canadian hopes into the first weekend at Wimbledon.
Here are five sports to keep an eye on this weekend.
Rowing
Building on their success at last weekend's Henley Royal regatta, the Canadian rowing team is taking part in World Rowing Cup III in Lucerne, Switzerland until Sunday.
Both of last weekend's winners will be back on the water, including the women's eight crew of Morgan Rosts, Kirsten Edwards, Alexis Cronk, Kasia Gruchalla-Wesierski, Sydney Payne, Jessica Sevick, Kristina Walker, Avalon Wasteneys and coxswain Kristen Kit. Jill Moffatt and Jenny Casson will be back in their usual lightweight double sculls after winning the open weight double sculls event at Henley.
Canada has 13 boats entered in the final World Cup of the season. In addition to the women's eight and the women's lightweight double sculls, Canadian rowers will compete in men's pair, men's and women's four, men's and women's single sculls (two boats), women's double sculls, men's and women's quadruple sculls, and men's eight. There is also a Canadian entry in the non-Olympic women's lightweight single sculls event.
The heats will take place on Friday. Saturday will feature many semifinals ahead of most finals on Sunday, which will be streamed live by CBCSports starting at 4:00 a.m. ET.
Basketball
The Canadian women's basketball team achieved a perfect 4-0 record in the group phase of the 2023 FIBA Women's AmeriCup in León, Mexico. The tournament kicked off last Saturday and concludes on Sunday.
In Group B, Canada defeated Mexico (83-57), Puerto Rico (84-47), Colombia (89-55) and the Dominican Republic (88-48). The Canadian team will face Argentina, fourth in Group A with a 1-3 record, in the quarterfinals on Friday at 10:10 p.m. ET.
The team other than the United States with the best result at this tournament will automatically earn a berth in the FIBA Women's Olympic Qualifying Tournament in February 2024. The Americans have already secured their presence at that qualifying tournament by winning the FIBA Women's World Cup 2022.
Canada is aiming for a fourth Women's AmeriCup title, after having won the tournament in 1995, 2015 and 2017. The Canadian team has been on a roll, achieving its best result since 1986 in the FIBA World Cup by taking fourth place in the 2022 edition.
Beach Volleyball
Melissa Humana-Paredes and Brandie Wilkerson are taking part in the Beach Pro Tour Elite 16 in Gstaad, Switzerland, this weekend.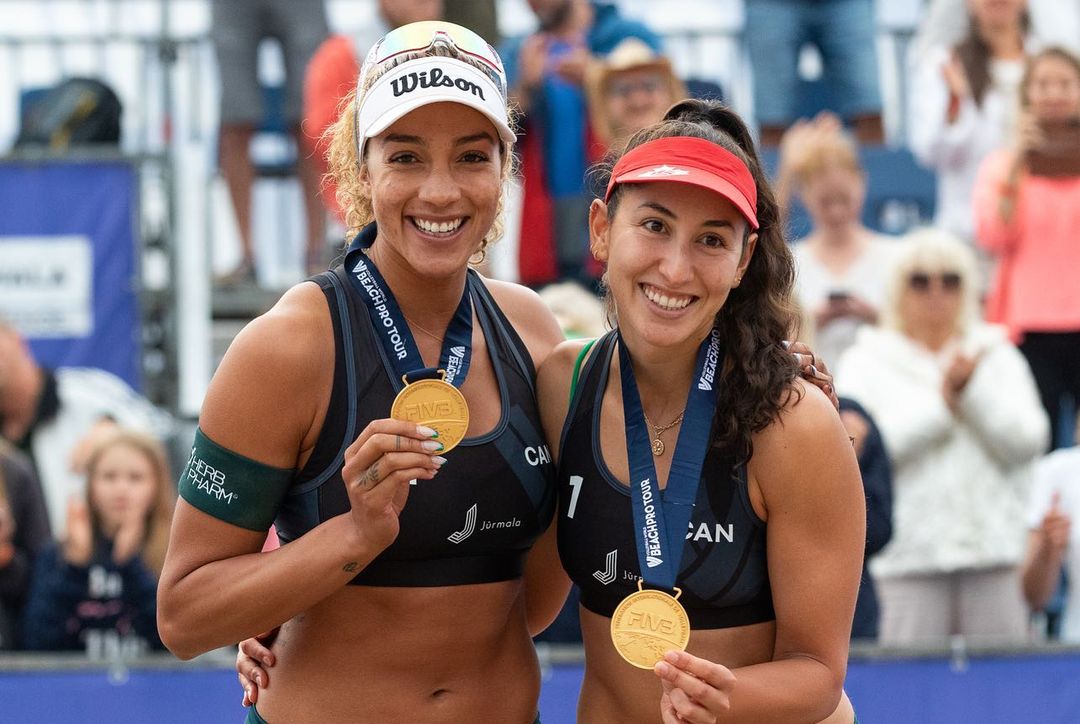 The Canadians, who are in their first season together, won the bronze medal on this circuit in Ostrava, Czech Republic, in early June, before claiming a Beach Pro Tour Challenge title in Jurmala, Latvia.
The group phase of the tournament began on Thursday and will continue on Friday. The playoffs begin with the round of 12, followed by the quarterfinals on Saturday. The semifinals and finals for the title and third place take place on Sunday. All matches can be viewed via webcast on CBC sports.
Soon the Canadian players will have the opportunity to play at home, as the next stop on the Beach Pro Tour's Elite 16 circuit takes place in Montreal from July 26 to 30.
Sailing
There is an Olympic Test Event taking place at Marseille Marina, the Paris 2024 sailing venue, starting on this Sunday. Competition will continue through July 16.
Seven Canadian athletes will take part in the international-standard competition that is used to test the sporting, medical, and technological systems that will be in place for next summer's Olympic Games. It's a "dress rehearsal" of sorts, for Paris 2024.
Justin Barnes and William Jones will race in the 49er class, while Mariah Millen and Alexandra ten Hove will compete in the 49erFX. Fillah Karim will race in the ILCA 7 and Sarah Douglas in the ILCA 6. Rounding out the Canadian contingent is Marie-Eve Mayrand, who will compete in Formula Kite, a class that will make its Olympic debut at Paris 2024.
The event will give the Canadians a great opportunity to get used to the competition venue and conditions, as well as face off against their prospective competition for the Games.
Tennis
It's a great weekend for tennis with Canadians in action at Wimbledon, the third Grand Slam tournament of the year. After several days of rain delays, Denis Shapovalov and Bianca Andreescu have advanced to the next rounds of their respective singles tournaments.
Shapovalov defeated France's Gregoire Barrere, 6-3, 6-4, 7-6 (7) on Thursday in the second round of the men's tournament. He will move on to face British wild card Liam Broady, who took down fourth seed Casper Ruud in five sets.
Andreescu emerged victorious against Hungary's Anna Bondar (6-3, 3-6, 6-2) in the first round of the women's tournament. She will face off next against Ukraine's 26th seed, Anhelina Kalinina.
The main singles draws featured five other Canadians — Leylah Fernandez, Rebecca Marino, Carol Zhao, Félix Auger-Aliassime and Milos Raonic — who have all been eliminated.