FIBA Basketball
Canadian women's 3×3 team on basketball, humility and the pathway to Paris 2024 Olympic Games
What does it take to be a successful 3×3 basketball player? According to Team Canada player Michelle Plouffe, it takes much more than being a high level 5×5 player. In fact, according to Plouffe, successful 5×5 players need to approach 3×3 with what she calls "a spirit of humility."
"You need to have a growth mindset that says: 'I'm able to learn a new way of playing,' rather than a fixed mindset that says, 'I know basketball," explains Plouffe.
In conversations with Plouffe, along with her twin sister, Katherine Plouffe, and teammate Paige Crozon, it's not uncommon to hear terms like "humility of spirit," and talk of "character" and "trust."
In a game that allows only three players on the court, one sub on the sideline and no coach, having total faith in teammates is crucial. The Plouffes, Crozon, and their fourth teammate, Kacie Bosch, have bonded not only over their teamwork on the court, but their shared commitment to a common goal–to represent Canada at the Paris 2024 Olympic Games.
How it all began
For many, 3×3 basketball brings to mind pickup hoops at the park rather than international competition. It was 3×3's urban roots and accessibility (3×3 is played on a half court with one net) that first drew the attention of the International Basketball Federation (FIBA), as having the potential to help grow the sport of basketball worldwide.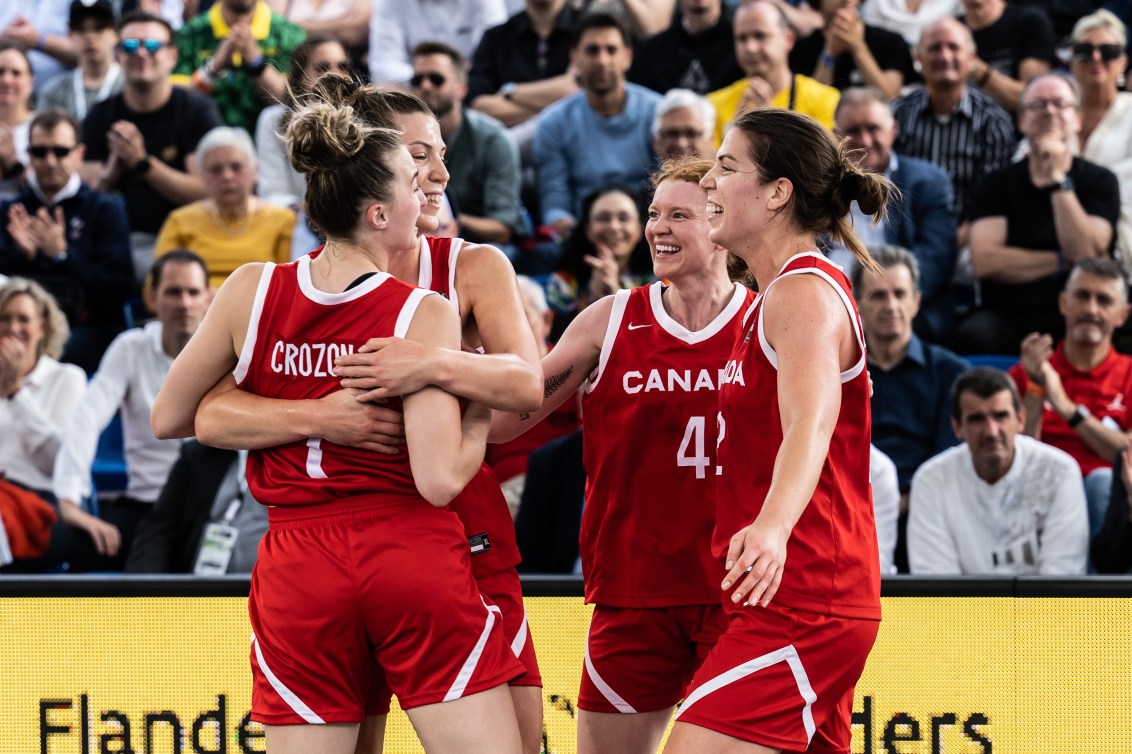 READ: FAQ: What is 3×3 Basketball?
In 2007, FIBA decided it would test out this alternative form of basketball at the 2010 Youth Olympic Games. The success of those games solidified FIBA's interest in 3×3 and catalyzed a plan for future development, which included getting the discipline on the Olympic roster. The federation launched the FIBA 3×3 World Tour and World Cup in 2012. At Tokyo 2020, 3×3 made its Olympic debut.
Meanwhile, back in Canada, Crozon gave birth to her daughter, Poppy, in 2018. After Poppy was born, Crozon had intended to continue her career in 5×5. She was in touch with several clubs overseas, but each of them were unsure about the prospect of welcoming a single parent into the fold.
But with 3×3 as a new discipline, perhaps there was an opportunity here at home. A phone call between Crozon and Michelle Plouffe, former university teammates at Utah State University, planted the seed of… "we could go to the Olympics!"
"They [the Plouffes] were at a pivotal moment in their careers as well, so we said okay, let's try to qualify," Crozon recalls. The twin sisters, both Olympians in 5×5, had been playing in France, and had watched 3×3 explode in popularity overseas.
Advised by their friend Steve Sir, who plays on Canada's men's 3×3 team, and his father, Paul Sir, the Executive Director of the Alberta Basketball Association, the three players mapped out tournaments they could attend. A few weeks later, they were paying for themselves to fly all over Europe, trying to qualify for the FIBA women's series.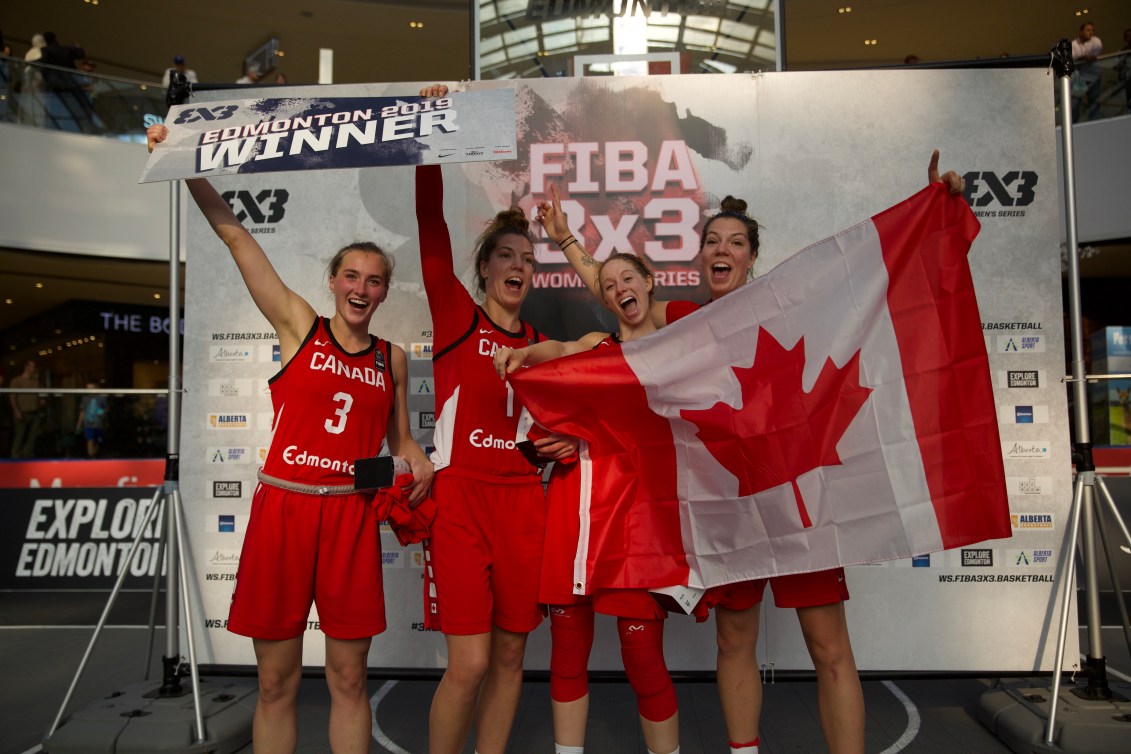 Michelle Plouffe describes the summer of 2019 as a wild ride. "When we registered for our first tournament, we didn't even have a fourth teammate on our roster!" she says with a chuckle.
At less than a year old, Poppy travelled to Europe six times that summer as her mom and her teammates tried to turn a lofty goal into a reality.
And the world took note. The team won four out of seven tournaments they entered, and were on the podium in all except for one. The Canadians beat the number one ranked France early in the summer, when they barely knew what they were doing, and emerged victorious against the established Team USA multiple times.
"From the beginning, we've not only had to do well for our team, but also to create a 3×3 program that outlasts us, that continues on when we're no longer playing," Katherine Plouffe says.
In addition to playing 3×3, Crozon serves as the team manager for the Living Skies Indigenous Basketball League, as well as an assistant coach for the women's basketball team at the University of Lethbridge.
"We just really see the impact that sport can have on youth and young girls," Crozon adds, "I know that I wouldn't be where I am today without sports. And I'm so grateful that Poppy is exposed to strong role models.
The team has drawn comparisons to the legendary Edmonton Grads for their trailblazing within the new discipline.
Olympic dream delayed
But in August the team had a bombshell dropped on them–a complex combination of FIBA rules declared that Canada could send only one gender to the Games. The women's 3×3 team would not be given the opportunity to qualify because the country had been represented by a 5×5 women's team at the previous two Olympics. Canada hasn't had a men's 5×5 team at the Olympics since 2000, so the men's 3×3 opportunity was given to them. FIBA had also decided that the top 100 athletes of each gender would earn points for their national federation. This rule frustrated players, given that the women's series only allows one team per country to gain points for their federation, while the men's series allows multiple teams to earn points.
"We were pretty devastated because we threw ourselves into this thinking that we could get there," Michelle Plouffe said in an interview at the time.
Devastated but undeterred, and with increased support from Canada Basketball, the team committed to trying for Paris 2024.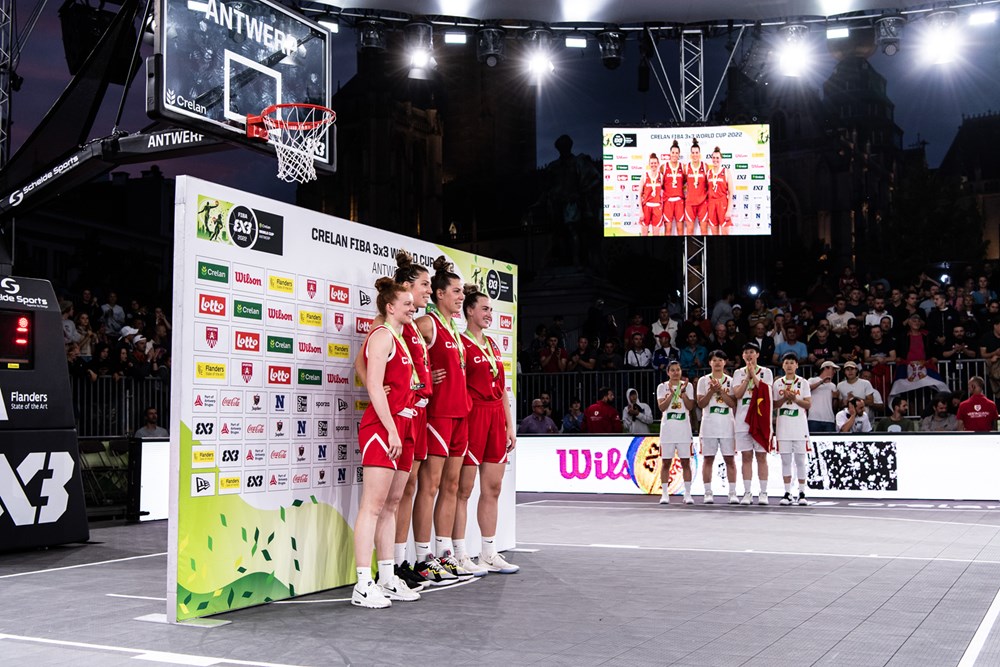 A lot has changed since those early days. Canada has increased its focus on 3×3 development and now has women's U18 and U23 teams competing internationally. Provinces are investing at the grassroots level with local tournaments. There are three Canadian stops on the FIBA Women's 3×3 Series. And the team of Crozon, Bosch and the Plouffes have added a coach to the roster, three-time Olympian Kim Gaucher.
In addition to bringing a resume of a stellar career as a player (including being the first Canadian to appear in a WNBA final), Gaucher understands Crozon's barriers as a mom and athlete. Gaucher gained notoriety ahead of the Tokyo Olympics for pushing back against rules preventing breastfeeding athletes from having their infants accompany them to the Games.
All three players say that adding Gaucher into the mix has improved not only their performance on the court, but increased the team's capacity to assist in program development.
The path hasn't been easy, but the team has belief that their hard work will pay off, and has a deep-seated belief that it isn't just the outcome of a game, or a tournament that matters, but the process.
"I think hard work is worth it because you see how much you grow on the other side," Katherine Plouffe says, "There's a much deeper meaning when you go through struggles and arrive on the other side to win the prize. And then you realize that even if you don't get the prize, you know, the prize is also the growth that you go through and seeing that you can do hard things."
A 3×3 philosophy
When asked what they wish people knew about 3×3, the Plouffes and Crozon were remarkably consistent in their answers: how much it enhances skill development and how good it is for leadership and communication skills.
"I wish I would have been able to play 3×3 sooner in my five on five career," Crozon says, "I think that it's so good for development. Because there's only three players on the court, you have to be able to create and score offensively, but then it also helps defensively because you don't have teammates behind you waiting to help. So you really have to learn how to keep your offensive player in front of you."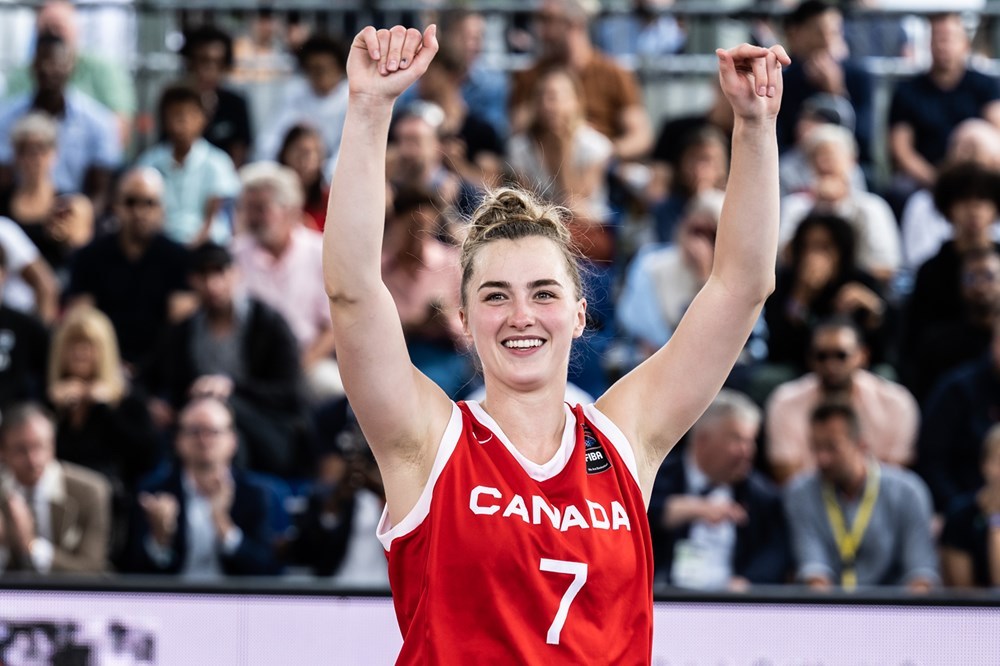 In addition to the technical skills, the fact that no coach is allowed on the court during games means that athletes have to learn to support and encourage each other.
"I think one of the things I enjoy most about 3×3 that maybe people watching it wouldn't know about, is that there's a lot of independence on the court," Katherine Plouffe explains. "Because we can't have a coach on the court, there's ownership over the decisions we make and how we adapt during the game. It's really empowering what you can add to a team as a player."
"Because there's only three players on the court at a time, having that chemistry, or what we call 'flow' is important, and it's what really sets apart good teams from great teams," Crozon adds.
The chemistry between Team Canada goes beyond the court. Bosch's goofiness offsets Crozon's tendency to get more anxious before games. Michelle Plouffe's calm demeanor helps keep everyone on track.
"I think what's been special about our journey is that we've kind of been a family, especially when there's kids on the road," says Michelle Plouffe.
"I'm just so proud of Paige," Katherine Plouffe adds. "This last tournament, she brought Poppy and I think it was the first time she's ever travelled without a family member with her to help. So she was just rocking being both mom and player. I know people notice when we're at our events and are like 'whoa, she has a child and she's crushing it out there!' It's so incredible to see."
Crozon says there were so many barriers for parents, especially mothers in sport, that she wasn't even aware of until she went through it. But the thing that has been the most helpful is being able to be open with Canada Basketball. Crozon says she now feels comfortable making inquiries as to whether she can bring Poppy and another childcare provider with her to training camps and competitions, so that she doesn't have to leave her daughter for long stretches.
While the team may not work specifically on off-court chemistry the way they do on-court, Crozon says that they're all people who value presence. "When we're spending time together, we're putting our phones away. We're all very intentional with our time, which I think is quite rare."
"We're not going to be playing forever, but sport is such a great arena to grow as leaders in our families, communities and beyond and to grow ourselves, so we can be people of character beyond sport, beyond basketball," Katherine Plouffe says.
The 2023 season and path to Paris
That bond has contributed to their early and continued success. Team Canada claimed the 2022 Women's Series title last season, as well as the FIBA Americup, and silver at the FIBA 3×3 World Cup.
So far this year the team have notched wins at FIBA 3×3 Women's Series Stops in Poitiers, Prague and at home in Edmonton, as well as third place finishes in Orleans and Bordeaux.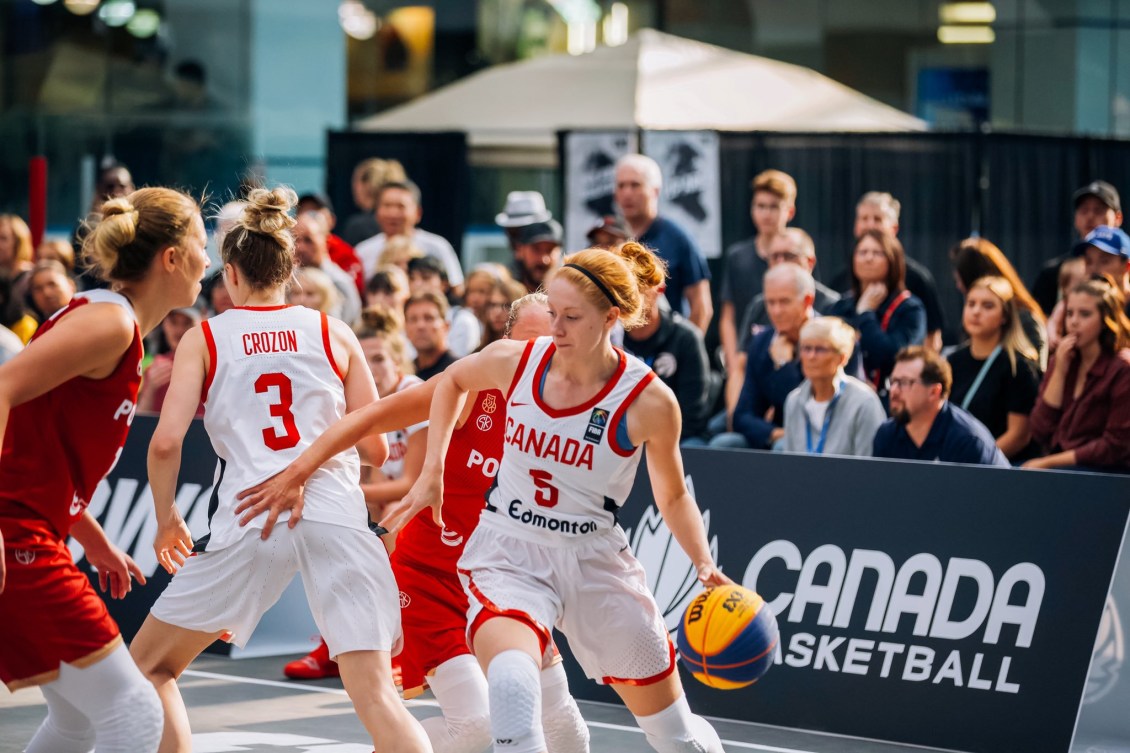 READ: Team Canada wins FIBA 3×3 Women's Series in Poitiers
READ: Canada 3×3 takes first at Edmonton women's series stop
"The Olympics are the broad goal," Katherine Plouffe says, "but it's helpful to break it down into what we need to do, tournament by tournament, to move towards that."
The team's strategy is to have a standard of making the podium in every tournament they play, in order to put themselves in the best position to make the Olympic qualifying tournament next spring, where they will compete for a spot in Paris. This summer, Team Canada has two more stops in Canada–one in Quebec City and one in Montreal, as well a stop in Dubrecen, Hungary. The top eight teams from the women's series will compete in the final in Ulaanbaatar, Mongolia, in mid-September.
"Our overarching goal and vision for our team is to medal at the Olympics," Michelle Plouffe asserts, "that is where we see our team."