Innsbruck 1964
Canadian Olympic Medal Count
1
1
1
Games Summary
IX Olympic Winter Games 
After losing a close race to host the 1960 Olympic Winter Games, Innsbruck was a near-unanimous selection for 1964, winning the vote 49-9 over Calgary. For the first time in Winter Games history, the competition venues were spread across a number of towns, allowing more than a million spectators to catch some live Olympic action. Following the model of the summer Olympic Games, an athletes' village was constructed. The Winter Games also followed the summer example by featuring an Olympic flame that was lit for the first time in Olympia.
Weather proved to be a challenge as February 1964 was the mildest the region had experienced in 58 years. To make up for the lack of snow, the Austrian army carved out 20,000 ice bricks from a mountaintop and transported them to the bobsleigh and luge runs. They also hauled 40,000 cubic metres of snow to the alpine skiing courses.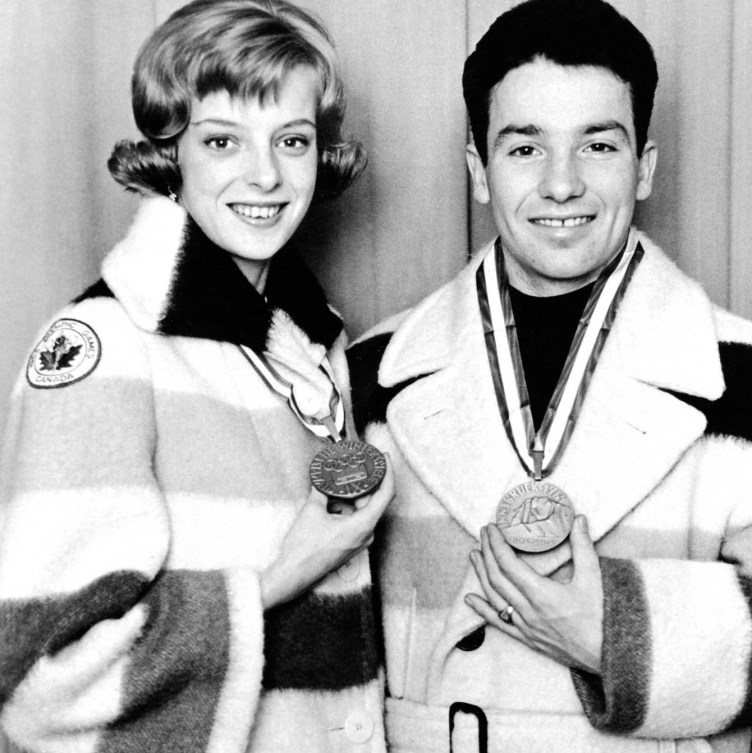 It was in Innsbruck that Canada competed in Olympic bobsleigh for the first time and delivered what has been called the biggest upset in Olympic bobsleigh history. The four-man crew of Vic Emery, John Emery, Peter Kirby, and Doug Anakin shattered the track record on their first run, finishing nearly half a second ahead of the field. Over the next three runs, the Canadians increased their lead and won a surprise gold medal by more than one second, a huge margin in a sport usually decided by fractions.
For the third straight Games, a Canadian figure skating pair reached the podium. Debbi Wilkes and Guy Revell initially won the bronze medal, but were upgraded to silver in 1966 when it was revealed that the original second place finishers from West Germany had signed a professional contract prior to the Games, which would have made them ineligible to compete. In 1987 the silver medals were returned to the Germans, however Wilkes and Revell remain as co-silver medallists and the American pair that had been upgraded from fourth place remain as bronze medallists. Petra Burka added a bronze medal in the ladies' event.
The top medal-winning athlete was Soviet speed skater Lidiya Skoblikova who won all four women's events. Combined with her two gold medals from Squaw Valley 1960, she became the first winter athlete to win six Olympic gold medals and the first athlete to win four gold medals at a single Olympic Winter Games.
Canadian Medallists
| Event | Athlete | Finish | Sport |
| --- | --- | --- | --- |
| Four-Man - Men | Doug Anakin, John Emery, Victor Emery, Peter Kirby | Gold | Bobsleigh |
| Pairs - Mixed | Debbi Wilkes, Guy Revell | Silver | Figure Skating |
| Singles - Women | Petra Burka | Bronze | Figure Skating |
Overall Medal Count
| Rank | Country | Gold | Silver | Bronze | Total |
| --- | --- | --- | --- | --- | --- |
| 1 | Soviet Union | 11 | 8 | 6 | 25 |
| 2 | Norway | 3 | 6 | 6 | 15 |
| 3 | Austria | 4 | 5 | 3 | 12 |
| 4 | Finland | 3 | 4 | 3 | 10 |
| 5 | France | 3 | 4 | - | 7 |
| 6 | Sweden | 3 | 3 | 1 | 7 |
| 7 | Unified Team of Germany | 3 | 2 | 2 | 7 |
| 8 | United States | 1 | 2 | 3 | 6 |
| 9 | Italy | - | 1 | 3 | 4 |
| 10 | Canada | 1 | 1 | 1 | 3 |
| 11 | Netherlands | 1 | 1 | - | 2 |
| 12 | Great Britain | 1 | - | - | 1 |
| 13 | North Korea | - | 1 | - | 1 |
| 14 | Czechoslovakia | - | - | 1 | 1 |