Daniel Gaysinsky to be Team Canada's first Olympic karate competitor
When karate makes its Olympic debut at Tokyo 2020, Daniel Gaysinsky will represent Canada in the men's +75kg kumite event.
Gaysinsky qualified for the Games at the Karate Olympic Qualification Tournament in Paris in early June in a dramatic turn of events. He needed a victory in his final match against Tyron-Darnell Lardy of the Netherlands. Gaysinsky scored the first point, receiving senshu, or advantage. With the match tied 3-3 and just three seconds to go, Gaysinsky was given a penalty which would deprive him of senshu and the win.
But following a successful protest, Gaysinsky regained senshu and the last three seconds of the match were replayed, ending in the Canadian's favour to make his Olympic dreams a reality.
READ: Daniel Gaysinsky qualifies for Tokyo 2020
"It's amazing to be qualified for the Games, it's everything I have ever worked for in one moment. It's unexplainable, but it's a good feeling" said Gaysinsky. "I went out in the first round and had to climb the ladder back up; five back-to-back fights and then the round robin. It was a comeback for me, but I knew I was going to get it."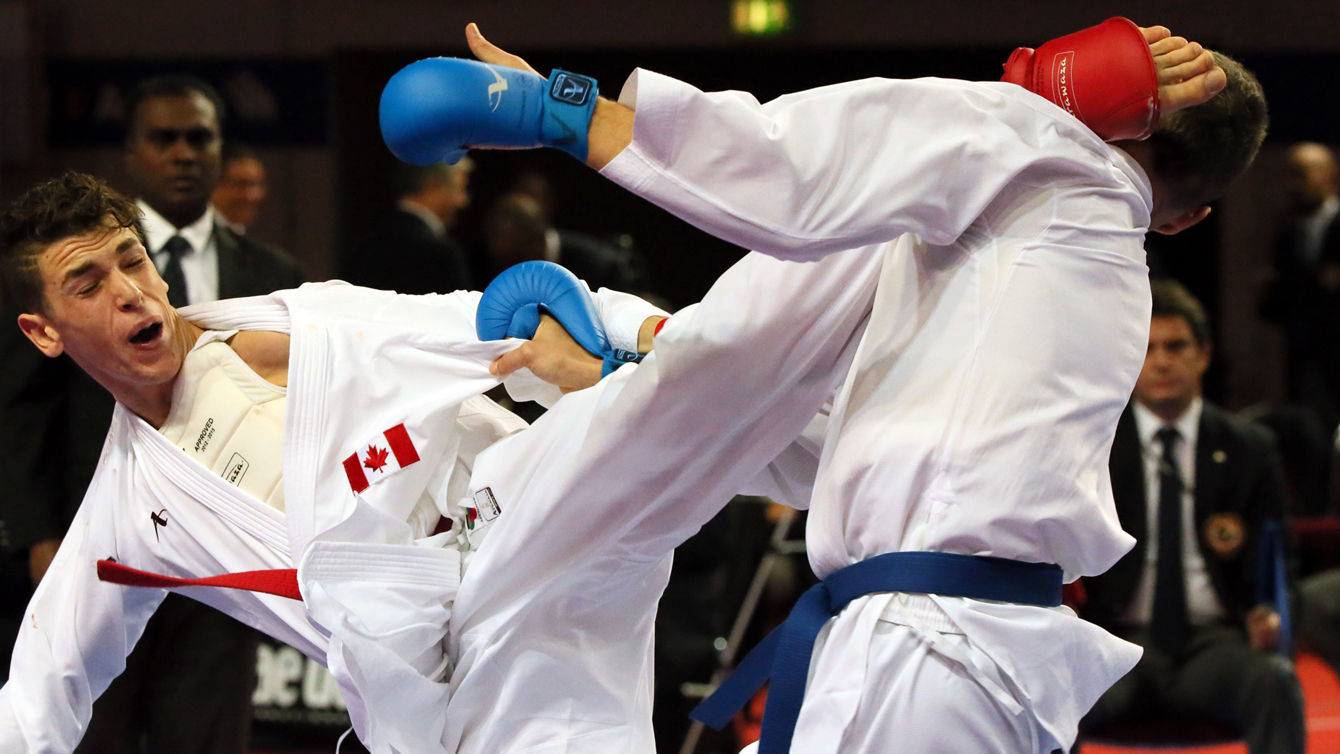 Gaysinsky has been competing internationally as a senior since 2013 and made his world championship debut in 2014. He expected to represent Canada at the 2015 Pan Am Games in Toronto, but just a week before the Games opened, he tore the meniscus and ACL in his knee to keep him out of the competition.
After undergoing three surgeries, he was finally able to compete a full season again in 2017 and won gold at the Pan American Championships. He also stood on two Karate 1 Premier League podiums. He won a second straight medal at the Pan Am Championships in 2018 and then finally competed at his first Pan Am Games in 2019, winning silver in Lima.
Karate will be at home when it makes its Olympic debut at Tokyo 2020. The sport originated in what is now the Okinawa prefecture of Japan. Competition will take place at the Nippon Budokan, the spiritual home of Japanese martial arts, which was built for judo competition at Tokyo 1964.
The new Olympic sport features two forms of competition: kata and kumite.
Kata is a solo discipline, where athletes perform a series of choreographed offensive and defensive karate techniques. They are scored by a judging panel for their timing, strength, power, balance, and speed.
Kumite is a series of one-on-one bouts divided by weight class. Points are scored when a combatant lands successful kicks, strikes, and punches to their opponent. At Tokyo 2020 there will be three kumite events each for men (-67kg, -75kg, +75kg) and women (-55kg, -61kg, +61kg), with 10 competitors per event.
Gaysinsky will compete in the +75kg kumite event, which will close out the karate competition on August 7.
Team Canada Karate Athlete at Tokyo 2020:
Daniel Gaysinsky (Vaughan, ON) – +75kg Kumite