Toronto 2015
Team Canada Medal Count
78
70
71
Games Summary
Toronto was awarded the 2015 Pan American Games on November 6, 2009, defeating bids from Lima, Peru and Bogota, Colombia.
This gave the province of Ontario its first international multi-sport competition since the 1930 British Empire Games in Hamilton. The 2015 Pan Am Games featured 36 sports with 51 disciplines and 364 medal events, more than is currently on the Olympic program.
Although centered in Toronto, the Pan Am Games involved numerous municipalities in southern Ontario, with venues stretching around the Golden Horseshoe from Welland and St. Catharines in the west to Oshawa in the east and as far north as Barrie and Minden Hills.
While the 2015 Pan Am Games utilized many existing facilities, some new venues were also constructed and are intended to have longterm benefit for future Olympic athletes. As an example, the Pan Am/Parapan Am Aquatics Centre and Field House gives Toronto a world class 50m pool and a diving tank. The Milton Pan Am/Parapan Am Velodrome is just the second indoor velodrome in North America to meet current top international standards, providing a much-needed home training base for Canadian track cyclists.
The Pan American Games are a continental multi-sport competition for the countries of North America, South America, Central America and the Caribbean. Held one year prior to a summer Olympic Games, the Pan American Games include all of the sports and disciplines featured on the Olympic program as well as some additional sports governed by international federations that are recognized by the IOC. They are the world's third-largest multi-sport Games, surpassed only in size by the summer Olympic Games and the Asian Games.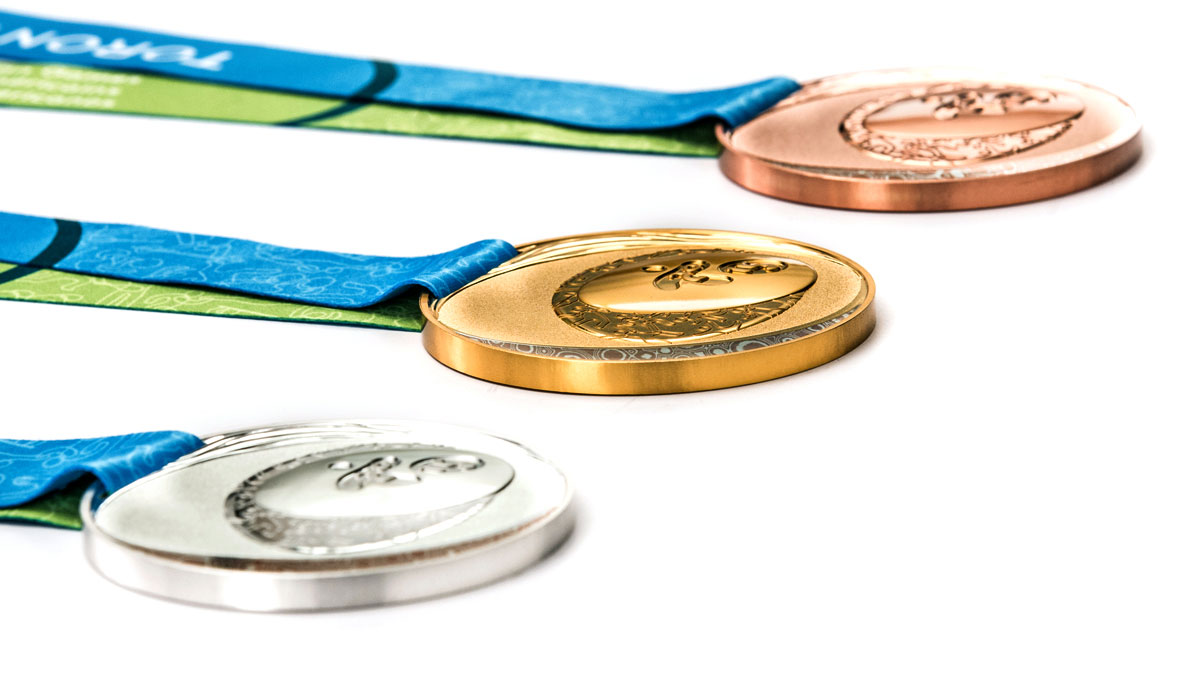 Canada at the Pan American Games
Canada has participated in every Pan American Games except the first. At the time, countries of the Commonwealth did not participate in the Pan American Sports Congress which established the Games. Canada previously hosted the fifth and 13th editions of the Games, both times in Winnipeg, in 1967 and 1999.
Canadian Medallists
| Event | Athlete | Finish | Sport |
| --- | --- | --- | --- |
| Men's Race Walk | Evan Dunfee | Gold | Athletics |
| Women's Javelin Throw | Elizabeth Gleadle | Gold | Athletics |
| Men's Pole Vault | Shawnacy Barber | Gold | Athletics |
| Men's 3000m Steeplechase | Matt Hughes | Gold | Athletics |
| Men's 10000m | Mohammed Ahmed | Gold | Athletics |
| Women's 800m | Melissa Bishop | Gold | Athletics |
| Men's 100m | Andre De Grasse | Gold | Athletics |
| Men's Decathlon | Damian Warner | Gold | Athletics |
| Men's 200m | Andre De Grasse | Gold | Athletics |
| Men's High Jump | Derek Drouin | Gold | Athletics |
| Women's Long Jump | Christabel Nettey | Gold | Athletics |
| Women's Singles | Michelle Li | Gold | Badminton |
| Men | Peter Orr, Skyler Stromsmoe, Tyler O'Neill, Timothy Smith, Sean Jamieson, Brock Kjeldgaard, Tyson Gillies, Jesse Hodges, Kellin Deglan, Rene Tosoni, Kyle Lotzkar, Jasvir Rakkar, Jeff Francis, Andrew Albers, Jared Mortensen, Christopher Robinson, Shane Dawson, Evan Rutckyj, Jordan Lennerton, Shawn Hill, Phillippe Aumont, Scott Richmond, Christopher LeRoux, Brock Dykxhoorn | Gold | Baseball |
| Women | Miah Marie Langlois, Kia Nurse, Shona Thorburn, Nayo Raincock-Ekwune, Kim Gaucher, Miranda Ayim, Nirra Fields, Natalie Achonwa, Lizanne Murphy, Tamara Tatham, Katherine Plouffe, Michelle Plouffe | Gold | Basketball |
| Men's Doubles | Francois Lavoie, Dan MacLelland | Gold | Bowling |
| Men's Light Welter (64kg) | Arthur Biyarslanov | Gold | Boxing |
| Women's Fly (48 - 51kg) | Mandy Bujold | Gold | Boxing |
| Women's Light (57 - 60kg) | Caroline Veyre | Gold | Boxing |
| Kayak (K1) Women | Jazmyne Denhollander | Gold | Canoe/Kayak - Slalom |
| Men's C-2 1000m | Gabriel Beauchesne-Sévigny, Benjamin Russell | Gold | Canoe/Kayak - Sprint |
| Men's K-1 200m | Mark de Jonge | Gold | Canoe/Kayak - Sprint |
| Women's C-1 200m | Laurence Vincent Lapointe | Gold | Canoe/Kayak - Sprint |
| Women's K-4 500m | Émilie Fournel, KC Fraser, Michelle Russell, Hannah Vaughan | Gold | Canoe/Kayak - Sprint |
| Men's | Tory Nyhaug | Gold | Cycling - BMX |
| Men's Cross-Country | Raphaël Gagné | Gold | Cycling - Mountain Bike |
| Women's Cross-Country | Emily Batty | Gold | Cycling - Mountain Bike |
| Men's Individual Time Trial | Hugo Houle | Gold | Cycling - Road |
| Women's Road Race | Jasmin Glaesser | Gold | Cycling - Road |
| Men's Team Sprint | Hugo Barrette, Evan Carey, Joseph Veloce | Gold | Cycling - Track |
| Women's Keirin | Monique Sullivan | Gold | Cycling - Track |
| Women's Team Pursuit | Jasmin Glaesser, Allison Beveridge, Laura Brown, Kirsti Lay | Gold | Cycling - Track |
| Women's Team Sprint | Kate O'Brien, Monique Sullivan | Gold | Cycling - Track |
| Men's Sprint | Hugo Barrette | Gold | Cycling - Track |
| Women's Sprint | Monique Sullivan | Gold | Cycling - Track |
| Women's 3m Springboard | Jennifer Abel | Gold | Diving |
| Women's Synchronized 10m Platform | Meaghan Benfeito, Roseline Filion | Gold | Diving |
| Jumping Team | Tiffany Foster, Eric Lamaze, Ian Millar, Yann Candele, Elizabeth Gingras | Gold | Equestrian |
| Women's Foil Team | Alanna Goldie, Eleanor Harvey, Kelleigh Ryan | Gold | Fencing |
| Women's All Around | Ellie Black | Gold | Gymnastics - Artistic |
| Women's Beam | Ellie Black | Gold | Gymnastics - Artistic |
| Women's Floor | Ellie Black | Gold | Gymnastics - Artistic |
| Women's Individual | Rosie MacLennan | Gold | Gymnastics - Trampoline |
| Men's Individual | Keegan Soehn | Gold | Gymnastics - Trampoline |
| Women's -70kg | Zelita Zupancic | Gold | Judo |
| Men's Coxless Four | Will Crothers, Kai Langerfeld, Conlin McCabe, Tim Schrijver | Gold | Rowing |
| Men's Quadruple Sculls | Julien Bahain, Matthew Buie, Will Dean, Rob Gibson | Gold | Rowing |
| Women's Double Sculls | Kerry Shaffer, Antje von Seydlitz | Gold | Rowing |
| Women's Lightweight Double Sculls | Liz Fenje, Katherine Sauks | Gold | Rowing |
| Women's Single Sculls | Carling Zeeman | Gold | Rowing |
| Men's Eight | Julien Bahain, Martin Barakso, Will Crothers, Will Dean, Mike Evans, Jacob Koudys, Kai Langerfeld, Conlin McCabe, Tim Schrijver | Gold | Rowing |
| Men's Lightweight Coxless Four | Maxwell Lattimer, Brendan Hodge, Nicolas Pratt, Eric Woelfl | Gold | Rowing |
| Women's Quadruple Sculls | Kate Goodfellow, Kerry Shaffer, Antje von Seydlitz, Carling Zeeman | Gold | Rowing |
| Men's | Sean White, Admir Cejvanovic, Michael Fuailefau, John Moonlight (Captain), Conor Trainor, Sean Duke, Phil Mack, Justin Douglas, Nathan Hirayama, Lucas Hammond, Harry Jones, Matthew Mullins | Gold | Rugby Sevens |
| Women's | Brittany Benn, Kayla Moleschi, Karen Paquin, Kelly Russell, Ashley Steacy, Sara Kaljuvee, Jen Kish (Captain), Nadia Popov, Ghislaine Landry, Hannah Darling, Magali Harvey, Natasha Watcham-Roy | Gold | Rugby Sevens |
| Women's 10m Air Pistol | Lynda Kiejko | Gold | Shooting |
| Women's 25m Pistol | Lynda Kiejko | Gold | Shooting |
| Women's Trap | Amanda Chudoba | Gold | Shooting |
| Men | Ryan Boland, Sean Cleary, Jeff Ellsworth, Brad Ezekiel, Ian Fehrman, Jason Hill, Brandon Horn, Paul Koert, Derek Mayson, Stephen Mullaley, Mathieu Roy, Jason Sanford, Kevin Schellenberg, Andy Skelton, Ryan Wolfe | Gold | Softball |
| Women | Jenna Caira, Jocelyn Cater, Larissa Franklin, Sara Groenewegen, Megan Gurski, Karissa Hovinga, Joey Lye, Erika Polidori, Kaleigh Rafter, Sara Riske, Megan Timpf, Logan White, Natalie Wideman, Jenn Yee, Jennifer Salling | Gold | Softball |
| Men's Team | Shawn Delierre, Andrew Schnell, Graeme Schnell | Gold | Squash |
| Women's 100m Freestyle | Chantal van Landeghem | Gold | Swimming |
| Women's 200m Butterfly | Audrey Lacroix | Gold | Swimming |
| Women's 4x100m Freestyle Relay | Sandrine Mainville, Katerine Savard, Michelle Williams, Chantal van Landeghem | Gold | Swimming |
| Men's 1500m Freestyle | Ryan Cochrane | Gold | Swimming |
| Women's 200m Backstroke | Hilary Caldwell | Gold | Swimming |
| Men's 400m Freestyle | Ryan Cochrane | Gold | Swimming |
| Women's 400m Freestyle | Emily Overholt | Gold | Swimming |
| Women's 200m Breaststroke | Keirra Smith | Gold | Swimming |
| Duet | Karine Thomas, Jacqueline Simoneau | Gold | Synchronized Swimming |
| Team | Garbiella Brisson, Annabelle Frappier, Claudia Holzner, Lisa Mikelberg, Marie-Lou Morin, Samantha Nealon, Lisa Sanders | Gold | Synchronized Swimming |
| Women's Doubles | Gabriela Dabrowski, Carol Zhao | Gold | Tennis |
| Waterski Women's Overall | Whitney McClintock | Gold | Waterski & Wakeboard |
| Men's Wakeboard | Rusty Malinoski | Gold | Waterski & Wakeboard |
| Women's Slalom | Whitney McClintock | Gold | Waterski & Wakeboard |
| Men's Jump | Ryan Dodd | Gold | Waterski & Wakeboard |
| Women's 48kg | Geneviève Morrison | Gold | Wrestling - Freestyle |
| Women's 63kg | Braxton Stone | Gold | Wrestling - Freestyle |
| Women's 69kg | Dorothy Yeats | Gold | Wrestling - Freestyle |
| Men's Race Walk | Iñaki Gomez | Silver | Athletics |
| Men's Shot Put | Timothy Nedow | Silver | Athletics |
| Men's 3000m Steeplechase | Alex Genest | Silver | Athletics |
| Women's 400m Hurdles | Sarah Wells | Silver | Athletics |
| Men's 1500m | Nathan Brannen | Silver | Athletics |
| Women's 1500m | Nicole Sifuentes | Silver | Athletics |
| Men's High Jump | Mike Mason | Silver | Athletics |
| Women's Singles | Rachel Honderich | Silver | Badminton |
| Men's Singles | Andrew D'Souza | Silver | Badminton |
| Mixed Doubles | Alexandra Bruce, Toby Ng | Silver | Badminton |
| Women | Melissa Armstrong, Amanda Asay, Jessica Bérubé, Veronika Boyd, Claire Eccles, Jenna Flannigan, Jennifer Gilroy, Rebecca Hartley, Kelsey Lalor, Nicole Luchanski, Daniella Matteucci, Autumn Mills, Heidi Northcott, Katherine Psota, Vanessa Riopel, Stéphanie Savoie, Ashley Stephenson, Bradi Wall | Silver | Baseball |
| Men | Jamal Murray, Junior Cadougan, Melvin Ejim, Andrew Nicolson, Carl English, Dillon Brooks, Anthony Bennett, Aaron Doornekamp, Brady Heslip, Daniel Mullings, Kyle Wiltjer, Sim Bhullar | Silver | Basketball |
| Men's C-1 | Cameron Smedley | Silver | Canoe/Kayak - Slalom |
| Men's C-1 1000m | Mark Oldershaw | Silver | Canoe/Kayak - Sprint |
| Men's C-1 200m | Jason McCoombs | Silver | Canoe/Kayak - Sprint |
| Women's K-1 200m | Michelle Russell | Silver | Canoe/Kayak - Sprint |
| Women's K-1 500m | Michelle Russell | Silver | Canoe/Kayak - Sprint |
| Women's Cross-Country | Catharine Pendrel | Silver | Cycling - Mountain Bike |
| Women's individual Time Trial | Jasmin Glaesser | Silver | Cycling - Road |
| Women's Sprint | Kate O'Brien | Silver | Cycling - Track |
| Women's Omnium | Jasmin Glaesser | Silver | Cycling - Track |
| Men's Synchronized 10m Platform | Philippe Gagné, Vincent Riendeau | Silver | Diving |
| Men's Synchronized 3m Springboard | Philippe Gagné, François Imbeau-Dulac | Silver | Diving |
| Women's 10m Platform | Roseline Filion | Silver | Diving |
| Women's 3m Springboard | Pamela Ware | Silver | Diving |
| Women's Synchronized 3m Springboard | Jennifer Abel, Pamela Ware | Silver | Diving |
| Dressage Team | Brittany Fraser, Megan Lane, Belinda Trussell, Chris von Martels | Silver | Equestrian |
| Eventing Individual | Jessica Phoenix | Silver | Equestrian |
| Men's Sabre Individual | Joseph Polossifakis | Silver | Fencing |
| Men's Sabre Team | Shaul Gordon, Mark Peros, Joseph Polossifakis | Silver | Fencing |
| Men | Benjamin Martin, Scott Tupper, Devohn Teixeira, Gabriel Ho-Garcia, David Jameson, Adam Froese, Gordan Johnston, Brenden Bissett, Paul Wharton, Mark Pearson, Matthew Sarmento, Iain Smythe, Matthew Guest, Sukhi Panesar, Taylor Curran, David Carter | Silver | Field Hockey |
| Women's Team | Ellie Black, Maegan Chant, Madison Copiak, Isabela Onyshko, Victoria-Kayen Woo | Silver | Gymnastics - Artistic |
| Men's Horizontal Bar | Kevin Lytwyn | Silver | Gymnastics - Artistic |
| Clubs | Patricia Bezzoubenko | Silver | Gymnastics - Rhythmics |
| Men's -100kg | Marc Deschênes | Silver | Judo |
| Men's -66kg | Antoine Bouchard | Silver | Judo |
| Women's -52kg | Ecaterina Guica | Silver | Judo |
| Women's -57kg | Catherine Beauchemin-Pinard | Silver | Judo |
| Women's -63kg | Stéfanie Tremblay | Silver | Judo |
| Women's -55kg | Kate Campbell | Silver | Karate |
| Women's +68kg | Camélie Boisvenue | Silver | Karate |
| Men's Single Sculls | Rob Gibson | Silver | Rowing |
| Open Sunfish | Luke Ramsay | Silver | Sailing |
| Open J-24 | Sandy Andrews, David Jarvis, Terry McLaughlin, David Ogden | Silver | Sailing |
| Men's Doubles | Andrew Schnell, Graeme Schnell | Silver | Squash |
| Women's Doubles | Samantha Cornett, Nikole Todd | Silver | Squash |
| Women's Team | Samantha Cornett, Hollie Naughton, Nikole Todd | Silver | Squash |
| Men's 100m Freestyle | Santo Condorelli | Silver | Swimming |
| Men's 200m Butterfly | Zack Chetrat | Silver | Swimming |
| Men's 4x100m Freestyle Relay | Karl Krug, Evan van Moerkerke, Santo Condorelli, Yuri Kisil | Silver | Swimming |
| Men's 200m Breststroke | Richard Funk | Silver | Swimming |
| Women's 200m Backstroke | Dominique Bouchard | Silver | Swimming |
| Women's 200m Breaststroke | Martha McCabe | Silver | Swimming |
| Women's 200m Freestyle | Emily Overholt | Silver | Swimming |
| Men's 400m Individual Medley | Luke Reilly | Silver | Swimming |
| Women's 100m Butterfly | Noemie Thomas | Silver | Swimming |
| Women's 400m Individual Medley | Sydney Pickrem | Silver | Swimming |
| Women's 4x100m Medley Relay | Dominique Bouchard, Noemie Thomas, Rachel Nicol, Chantal Van Landeghem, Sandrine Mainville, Tera Van Beilen | Silver | Swimming |
| Men's -68kg | Maxime Potvin | Silver | Taekwondo |
| Mixed Doubles | Philip Bester, Gabriela Dabrowski | Silver | Tennis |
| Women's | Jessica Gaudreault, Krystina Alogbo, Katie Monton, Emma Wright, Monika Eggens, Jakie Kohli, Joelle Bakhazi, Shae Fournier, Carmen Eggens, Christine Robinson, Stephanie Valin, Dominique Perrault, Claire Wright | Silver | Water Polo |
| Waterski Men's Overall | Jaret Llewellyn | Silver | Waterski & Wakeboard |
| Men's Slalom | Jason McClintock | Silver | Waterski & Wakeboard |
| Women's Tricks | Whitney McClintock | Silver | Waterski & Wakeboard |
| Men's Tricks | Jaret Llewellyn | Silver | Waterski & Wakeboard |
| Women's Jump | Whitney McClintock | Silver | Waterski & Wakeboard |
| Men's +105kg | George Kobaladze | Silver | Weightlifting |
| Women's 75kg | Justina Di Stasio | Silver | Wrestling - Freestyle |
| Men's Freestyle 97 kg | Arjun Gill | Silver | Wrestling - Freestyle |
| Men's Freestyle 125 kg | Korey Jarvis | Silver | Wrestling - Freestyle |
| Men Individual | Jay Lyon | Bronze | Archery |
| Women's 100m Hurdles | Nikkita Holder | Bronze | Athletics |
| Women's Hammer Throw | Sultana Frizell | Bronze | Athletics |
| Women's 10000m | Lanni Marchant | Bronze | Athletics |
| Men's 1500m | Charles Philibert-Thiboutot | Bronze | Athletics |
| Women's 3000m Steeplechase | Geneviève Lalonde | Bronze | Athletics |
| Women's 1500m | Sasha Gollish | Bronze | Athletics |
| Women's 4x100m Relay | Khamica Bingham, Crystal Emmanuel, Phylicia George, Shaina Harrison, Kimberly Hyacinthe, Jellisa Westney | Bronze | Athletics |
| Women's 4x400m Relay | Audrey Jean-Baptiste, Taylor Sharpe, Brianne Theisen-Eaton, Sage Watson, Sarah Wells | Bronze | Athletics |
| Women's Marathon | Rachel Hannah | Bronze | Athletics |
| Women's Doubles | Alexandra Bruce, Phyllis Chan | Bronze | Badminton |
| Women's Doubles | Rachel Honderich, Michelle Li | Bronze | Badminton |
| Men's Single | Dan MacLelland | Bronze | Bowling |
| Women's Middle (69 - 75kg) | Ariane Fortin | Bronze | Boxing |
| Men's Bantam (56kg) | Kenny Lally | Bronze | Boxing |
| Men's Heavy (91kg) | Sammy Elmais | Bronze | Boxing |
| Women's C-1 | Haley Daniels | Bronze | Canoe/Kayak - Slalom |
| Men's K-1 | Ben Hayward | Bronze | Canoe/Kayak - Slalom |
| Men's K-1 1000m | Adam van Koeverden | Bronze | Canoe/Kayak - Sprint |
| Men's K-2 200m | Mark de Jonge, Pierre-Luc Poulin | Bronze | Canoe/Kayak - Sprint |
| Men's Individual Time Trial | Sean MacKinnon | Bronze | Cycling - Road |
| Women's Road Race | Allison Beveridge | Bronze | Cycling - Road |
| Men's Road Race | Guillaume Boivin | Bronze | Cycling - Road |
| Men's Team Pursuit | Rémi Pelletier, Adam Jamieson, Eric Johnstone, Sean MacKinnon, Edward Veal | Bronze | Cycling - Track |
| Men's Keirin | Hugo Barrette | Bronze | Cycling - Track |
| Men's 3m Springboard | Philippe Gagné | Bronze | Diving |
| Women's 10m Platform | Meaghan Benfeito | Bronze | Diving |
| Dressage Individual | Chris von Martels | Bronze | Equestrian |
| Eventing Team | Colleen Loach, Jessica Phoenix, Waylon Roberts, Kathryn Robinson | Bronze | Equestrian |
| Men's Epee Individua | Hugues Boisvert-Simard | Bronze | Fencing |
| Women's Sabre Individual | Gabriella Page | Bronze | Fencing |
| Women's Foil Individual | Alanna Goldie | Bronze | Fencing |
| Women | Kaitlyn Williams, Katherine Gillis,Danielle Hennig, Thea Culley, Hannah Haughn, Karli Johansen, Abigail Raye, Natalie Sourisseau, Sara McManus, Holly Stewart, Amanda Woodcroft, Maddie Secco, Brienne Stairs, Shanlee Johnston, Stephanie Norlander, Alexandra Thicke | Bronze | Field Hockey |
| Women's Vault | Ellie Black | Bronze | Gymnastics - Artistic |
| Women's Beam | Victoria-Kayen Woo | Bronze | Gymnastics - Artistic |
| Individual All-Around | Patricia Bezzoubenko | Bronze | Gymnastics - Rhythmic |
| Group – ribbons | Katrina Cameron, Maya Kojevnikov, Lucinda Nowell, Vanessa Panov, Anjelika Reznik, Victoria Reznik | Bronze | Gymnastics - Rhythmic |
| Group – clubs/hoops | Katrina Cameron, Maya Kojevnikov, Lucinda Nowell, Vanessa Panov, Anjelika Reznik, Victoria Reznik | Bronze | Gymnastics - Rhythmic |
| Women's Individual | Karen Cockburn | Bronze | Gymnastics - Trampoline |
| Men's -73kg | Arthur Margelidon | Bronze | Judo |
| Men's -78kg | Catherine Roberge | Bronze | Judo |
| Women's -50kg | Jusleen Alia Virk | Bronze | Karate |
| Men's -75kg | Patrice Boily-Martineau | Bronze | Karate |
| Men's Doubles | Vincent Gagnon, Tim Landeryou | Bronze | Racquetball |
| Men's Team | Vincent Gagnon, Michael Greene, Coby Iwaasa, Tim Landeryou | Bronze | Raquetball |
| Women's Team | Jennifer Saunders, Frederique Lambert, Michèle Morissette, Christine Richardson | Bronze | Racquetball |
| Men's 10,000m Points | Jordan Belchos | Bronze | Roller Sports - Speed Skating |
| Men's Double Sculls | Matthew Buie, Pascal Lussier | Bronze | Rowing |
| Women's Coxless Pairs | Kristin Bauder, Rosie DeBoef | Bronze | Rowing |
| Men Laser | Lee Parkhill | Bronze | Sailing |
| Men's 50m Rifle Prone | Michel Dion | Bronze | Shooting |
| Men's Singles | Shawn Delierre | Bronze | Squash |
| Women's Singles | Samantha Cornett | Bronze | Squash |
| Men's 200m Butterfly | Alec Page | Bronze | Swimming |
| Men's 4x200 Freestyle Relay | Ryan Cochrane, Stefan Milosevic,Jeremy Bagshaw, Alec Page | Bronze | Swimming |
| Men's 100m Breaststroke | Richard Funk | Bronze | Swimming |
| Men's 100m Butterfly | Santo Condorelli | Bronze | Swimming |
| Women's 100m Breaststroke | Rachel Nicol | Bronze | Swimming |
| Women's 100m Butterfly | Katerine Savard | Silver | Swimming |
| Women's 4x200m Freestyle Relay | Alyson Ackman, Brittany MacLean, Emily Overholt, Katerine Savard | Bronze | Swimming |
| Women's 200m Individual Medley | Sydney Pickrem | Bronze | Swimming |
| Men's 4x100m Medley Relay | Russell Wood, Yuri Kisil, Richard Funk, Santo Condorelli | Bronze | Swimming |
| Women's Team | Alicia Cote, Anqi Luo, Mo Zhang | Bronze | Table Tennis |
| Men's Team | Marko Medjugorac, Pierre-Luc Thériault, Eugene Wang | Bronze | Table Tennis |
| Men's Singles | Eugene Wang | Bronze | Table Tennis |
| Men's +80kg | Marc-André Bergeron | Bronze | Taekwondo |
| Men | Tyler Sanders, John Gordon Perrin, Daniel Lewis, Rudy Verhoeff, Adam Simac, Dustin Schneider, Toontje Van Lankvelt, Gavin Schmitt, Frederic Winters, Graham Vigrass, Nicholas Hoag, Steven Marshall | Bronze | Volleyball |
| Men | Robin Randall, Constantine Kudaba, Nicolas Bicari, Kevin Graham, John Conway, Jared McElroy, Dusan Aleksic, Oliver Vikalo, Justin Boyd, Scott Robinson, Alec Taschereau, Dusan Radojcic, George Torakis | Bronze | Water Polo |
| Men's 69kg | Francis Luna-Grenier | Bronze | Weightlifting |
| Men's 65kg | Haislan Garcia | Bronze | Wrestling - Freestyle |
| Men's 86kg | Tamerlan Tagziev | Bronze | Wrestling - Freestyle |
Teams