THE CANADIAN PRESS/Christinne Muschi
5 Team Canada diving stories to watch at 2023 World Aquatics Championships
The World Aquatics Championships are set to begin in Fukuoka, Japan on July 14, with diving kicking off a packed program that includes five Olympic aquatics disciplines — swimming, artistic swimming, open water swimming, water polo, and diving — as well as high diving.
Between them all, there are 75 world titles up for grabs.
Team Canada is sending a strong contingent of eight divers to Fukuoka. The meet is an important step on the road to Paris 2024 as it is the first opportunity for Canada to qualify quota spots for the next Olympic Games.
The top 12 divers in each of the individual 3m and 10m events will each secure a quota spot for their National Olympic Committee, with a maximum of two per country per event. The top three teams in the men's and women's 3m and 10m synchro events will also earn quota spots for their country.
2023 World Aquatics Championships Schedule
You can stream the entire competition on CBCSports.ca. And while you're watching, here are five key Team Canada diving stories to keep an eye out for during the meet:
Mia Vallée: Returning multi-medallist
Mia Vallée made some Canadian history last year when she took silver in the 3m and bronze in the 1m springboard at the 2022 World Aquatics Championships. Her achievements marked the first time that a Canadian woman finished on the podium in two individual events at the same world championships.
READ: Mia Vallée jumped back on the podium with silver at the FINA World Championships
After that impressive debut on the world stage, Vallée won 1m gold and 3m bronze at the 2022 Commonwealth Games. Combined with her victory earlier in the year at the NCAA Championships — where she broke the championship record with her score of 365.75 on the 1m springboard — her string of incredible performances earned her Diving Plongeon Canada's Female Athlete of the Year award.
Canadians will be hoping for some big performances from Vallée as she again competes individually in the 3m and 1m events. She's also entered in the women's 3m synchro with Pamela Ware. In their first meet together, they won bronze at the World Aquatics Diving World Cup in Montreal.
Pamela Ware and Caeli McKay back in form
Speaking of Ware, as a two-time Olympian with a decade of senior international appearances, she brings a wealth of experience to the Canadian team.
Ware stepped onto the podium three times at the World Cup in May — winning silver in the women's 3m springboard, bronze in the 3m synchro with Vallée, and silver in the mixed team event.
READ: Ware delivers second medal of the weekend on final day of Diving World Cup
Ware was particularly proud of her individual performance, given that this was her first major international competition since the Tokyo 2020 Olympic Games where she missed on her last dive of the semifinals, scoring zero points to prevent her from advancing to the final.
Her execution at the World Cup brought Ware and teammate Vallée to tears.
"I know there were a lot of people who doubted me because of what happened in Tokyo, but I worked so hard (to get back)," Ware said, "I think I have showed this weekend that I have returned, and I'm here to stay." In her fifth world championships, but first since 2019, Ware looks to get back on the podium for the fourth time in her career.
Also back in action at the World Cup was Caeli McKay. Less than a month before Tokyo 2020, McKay sprained her ankle badly during dryland training. She opted to dive on the injured ankle to make her Olympic debut and finished fourth in the 10m synchro with partner Meaghan Benfeito, who retired after the Games.
After pushing through the pain, McKay underwent ankle surgery in October 2022. Like Ware, the Montréal World Cup event was her return to international competition. Her fifth place finish in the 10m platform matched her result from the 2022 World Championships. She also made her first appearance with her new synchro partner, Kate Miller. McKay will compete in both 10m events in Fukuoka.
Big debuts: Kate Miller and Elaena Dick
Miller will make her senior world championship debut in Fukuoka, as will Elaena Dick.
A 2022 World Junior champion in 3m synchro, Miller will be diving in the 10m synchro event with McKay. The duo finished fifth in their first international competitive appearance together at the Montréal World Cup. Miller, who at 18 is six years younger than McKay, remembers looking up to her when she was younger.
Miller recently found a photo of when she was a young McKay fan. "I was like 'Oh my gosh, she's so cool. She's going to international competitions', said Miller, recalling her childhood excitement. "I was at a baby training camp." Now, not only is Miller herself diving in international competitions, she's doing it alongside McKay.
Dick will finally compete at her first world championships in the individual 10m platform after having represented Canada in other events, including two World University Games.
Rylan Wiens and Nathan Zsombor-Murray hunt for another podium
After only a few training sessions and one competition together, Rylan Wiens and Nathan Zsombor-Murray earned a bronze medal in the 10m synchro event at the 2022 World Championships. That made them the first Canadian male duo to reach the podium in that event.
"I can't say we expected this, but we certainly hoped for it," Zsombor-Murray said after that breakthrough performance. They went on to win silver at the Commonwealth Games just a couple weeks later.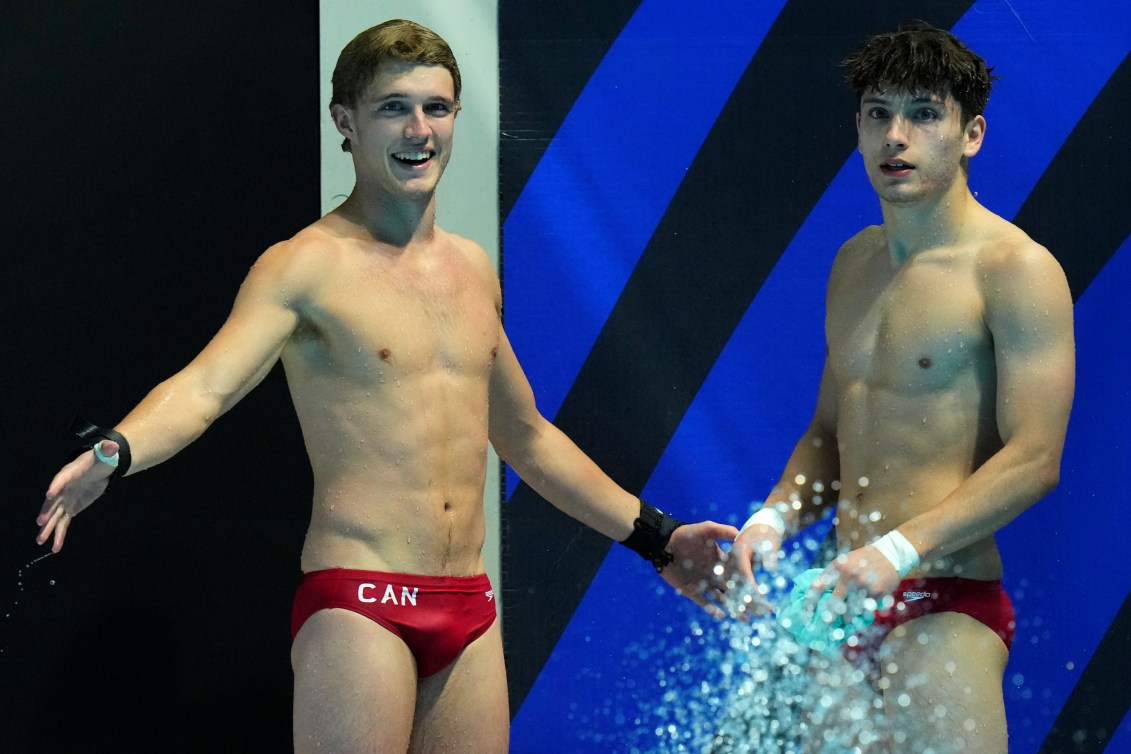 Now, having trained together for the last year, the pair will be chasing another podium finish in Fukuoka. But they've also had to deal with some recent adversity. Wiens suffered a neck injury earlier in the spring. After finishing seventh in the 10m synchro event at the World Aquatics World Cup in Montreal in early May, Wiens chose not to compete in the individual 10m event. He also missed the Summer Senior Nationals at the end of May. Updated July 14: Rylan Wiens has withdrawn from the World Aquatics Championships due to injury.
At Tokyo 2020, Zsombor-Murray and Wiens placed 13th and 19th, respectively, in the individual 10m event in what was the Olympic debut for both of them. It was there they made their first dives as a duo, just in case Zsombor-Murray's synchro partner at the time, Vincent Riendeau, was unable to compete because of an injury he sustained. When Riendeau retired post-Games, Zsombor-Murray and Wiens were a natural pairing, having established their good chemistry in those initial training sessions.
They have been clear about their goal since teaming up — an Olympic medal in 2024.
In addition to the 10m synchro, Wiens and Zsombor-Murray will both compete individually in the 10m platform. Zsombor-Murray won bronze in that event at the World Cup in Montreal.
Rounding out the men's side of Team Canada is Bryden Hattie, who secured his spot after winning gold in the 3m springboard at the Canadian championships in May. Hattie will contest the 3m and 1m events in Fukuoka.
High divers for days
For the first time ever, Canada will have five athletes competing in the high diving events at the World Aquatics Championships. The high dive squad includes Molly Carlson, Jessica Macaulay, Aimee Harrison, Simone Leathead, and Michael Foisy. The latter is the first male athlete to represent Canada in high diving.
High diving is not currently on the Olympic program. It was added to the World Aquatic Championships in 2013 and the extreme sport has gained popularity largely through a pro tour series established in 2009.
At the world championships, the men will jump from a 27m platform and the women from a 20m platform. Divers enter the water feet first, rather than headfirst, due to the increased risk of injury.
Olivier Morneau-Ricard, the Manager of Sport Development at Diving Plongeon Canada, says that Canada is a leader when it comes to the increasingly popular sport.
"We have a very competitive women's team. Canada is definitely one to watch," Morneau-Ricard says, "We're way ahead of most countries. This will be a considerable advantage if the sport is added to the program of the 2028 or future Olympic Games."