AP/Lee Jin-man
Gold and double silver for Team Canada at World Aquatics Diving World Cup Super Final
Team Canada's divers put up a fine showing at the Super Final of the World Aquatics 2023 Diving World Cup in Berlin, Germany. Caeli McKay and Kate Miller took silver in the women's 10 m synchro event, while Pamela Ware and Mia Vallée also finished in the silver spot in the 3 m synchro event. On Sunday, McKay and Miller joined forces with Nathan Zsombor-Murray and Bryden Hattie to win gold in the mixed 3m & 10m team event.
McKay and Miller accumulated 288.00 points, finishing behind China's Hongchan Quan and Yuxi Chen who collected 362.76 points. Britons Lois Toulson and Andrea Spendolini Sirieix took third place with 285.90 points. The Canadians did particularly well on their final dive, a double somersault and a half back with a one-and-a-half twist in pike position, for which they received 69.12 points, moving them from third to second place.
The Canadians have only been competing together internationally for a few months. They finished fifth at the World Cup in Montreal last May.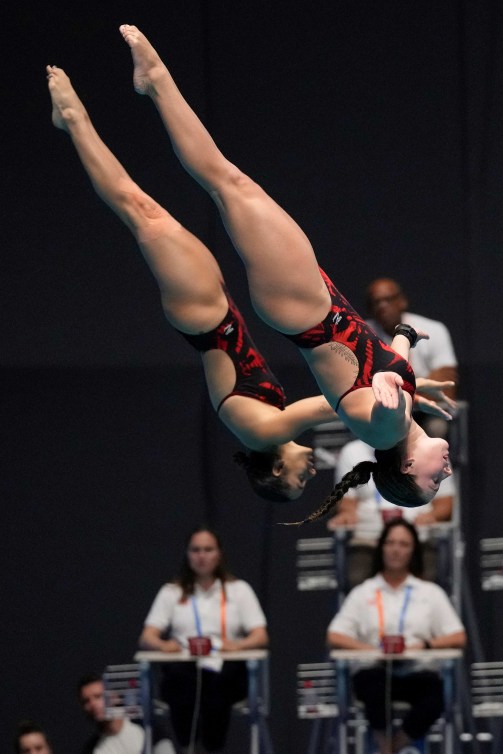 Vallée and Ware won silver in the 3 m synchro, finishing 24.99 points behind gold medallists Yiwen Chen and Yani Chang of China. The Canadians' 286.20 points put them ahead of Americans Sarah Bacon and Kassidy Cook, who scored 284.52 points. Vallée and Ware were in fifth place after the first three of their five dives, but climbed the ranks with their last two dives. The Canadians were surpassed only by the Chinese, who were then performing the same dives as the Canadians.
Ware and Vallée took fifth place in the event at the World Aquatics 2023 Championships in Fukuoka on July 17. Earlier this season, they had kicked off their brand-new collaboration with a bronze medal at the Montreal World Cup.
The Canadian diving team headed straight to Berlin at the end of the Worlds to continue their training. After more than a month abroad, the athletes will return home at the end of this competition. In the meantime, McKay will take part in the women's 10 m individual event on Saturday, while Ware and Vallée will compete in the 3 m individual event on Sunday.
In the mixed 3 m & 10 m team event, Canada was represented by Zsombor-Murray (men's 10 m), Miller (women's 10 m), Hattie (men's 3 m) and Ware (women's 3 m). The Canadians posted a total of 395.50 points to finish 4.8 points ahead of Austria (390.70) and 7.66 ahead of Great Britain (387.95).
In other results, McKay was fourth in the women's 10 m platform event on Saturday. On Sunday, Zsombor-Murray matched that result in the men's 10 m platform event and Ware also finished fourth in the women's 3 m springboard.