Thomas Skrlj/COC
Day 1 at Santiago 2023: Canada sweeps mountain bike, earns two golds in swimming
Team Canada couldn't have asked for a better start to the Santiago 2023 Pan American Games, getting two gold medals right off the bat in the mountain bike. There was also a double podium in the swimming pool and a sterling start for the men's artistic gymnastics team as nine medals were won overall.
Here are some of the major highlights from Day 1:
Mountain Bike: Holmgren and Jackson sweep gold medals
Canadians rode to victory in both the men's and women's cross-country mountain bike events on Saturday morning in Santiago.
READ: Holmgren and Jackson kick off Pan Am Games with gold medal sweep in mountain bike
Gunnar Holmgren and Jenn Jackson each earned their first career Pan Am Games gold medals. Holmgren defeated Chilean Martin Vidaurre Kossmann by nearly 53 seconds. In the women's race, Jackson finished two minutes and 45 seconds ahead of another Chilean, Catalina Vidaurre Kossmann.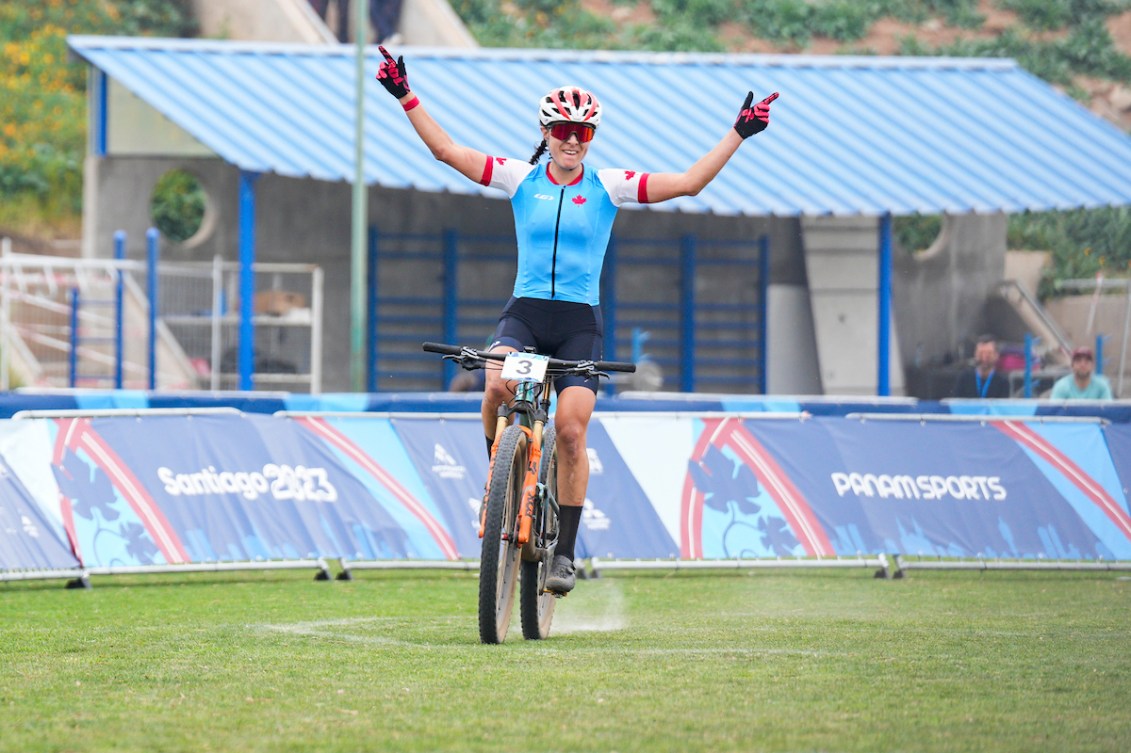 "It feels like a perfect day," Jackson said. "There's just that little bit of (motivation), seeing one of your friends, someone you grew up riding with achieve the best result they could here… It just made me believe it's my turn."
Swimming: Double podium in breaststroke, gold for women's free relay
Canada showed on Saturday why it's one of the premier swimming nations in the world.
It started in the 100m breastroke, with Rachel Nicol swimming to gold in a winning time of 1:07.28. It was her fastest time in the event in more than six years. She was closely followed by countrymate Sophie Angus, who was just 0.27 of a second behind her for silver. Nicol, 30, was competing in her first Pan Am Games since Toronto 2015 where she won bronze in the breaststroke.
Rachel Nicol, left, and Sophie Angus of Canada celebrate after place first and second in the Women's 100m Breaststroke during the Santiago 2023 Pan American Games on Saturday, October 21, 2023. Photo by Andrew Lahodynskyj/COC *MANDATORY CREDIT*

Rachel Nicol, middle, and Sophie Angus of Canada pose with their medals after placing first and second in the Women's 100m Breaststroke during the Santiago 2023 Pan American Games on Saturday, October 21, 2023. Photo by Andrew Lahodynskyj/COC *MANDATORY CREDIT*
"It means a lot to put it in the simplest terms," Nicol said. "I never thought I would make it back to the this stage."
"I struggled through injury, I struggled through mental health, I struggled through the pandemic and moving around. I'm eight years older than I was then… so saying it means a lot doesn't really encapsulate what it means."
Angus, 24, was racing in her first Pan Am Games. She has won the 100m breaststroke at the Canadian Trials for the past two consecutive years. This summer she was key to Canada's bronze in the 4x100m medley relay at the World Aquatics Championships.
Later in the day, the quartet of Mary-Sophie Harvey, Brooklyn Douthwright, Maggie Mac Neil and Katerine Savard captured gold in the women's 4x100m freestyle relay in 3:37.75. Emma O'Croinin and Julie Brousseau will also receive medals after swimming the preliminary heat.
On the men's side, Canada collected bronze in the 4x100m freestyle relay, finishing 2.32 seconds behind the gold medallists from Brazil. The U.S. finished in second. Javier Acevedo, Edouard Fullum-Huot, Stephen Calkins, and Finlay Knox swam in the final. Jeremy Bagshaw and Blake Tierney had been with the team in the heats.
Artistic Gymnastics: Silver start for Canadian men's team
Fresh off earning Olympic qualification for Paris 2024 at the world championships, the quintet of Félix Dolci, Jayson Rampersad, René Cournoyer, William Émard, and Zachary Clay won Pan Am Games silver in the men's team event.
Canada finished with a total of 246.794 points, putting them on the second step of the podium behind the United States, who scored 249.860 to grab the gold. Brazil rounded out the podium with 245.394 points.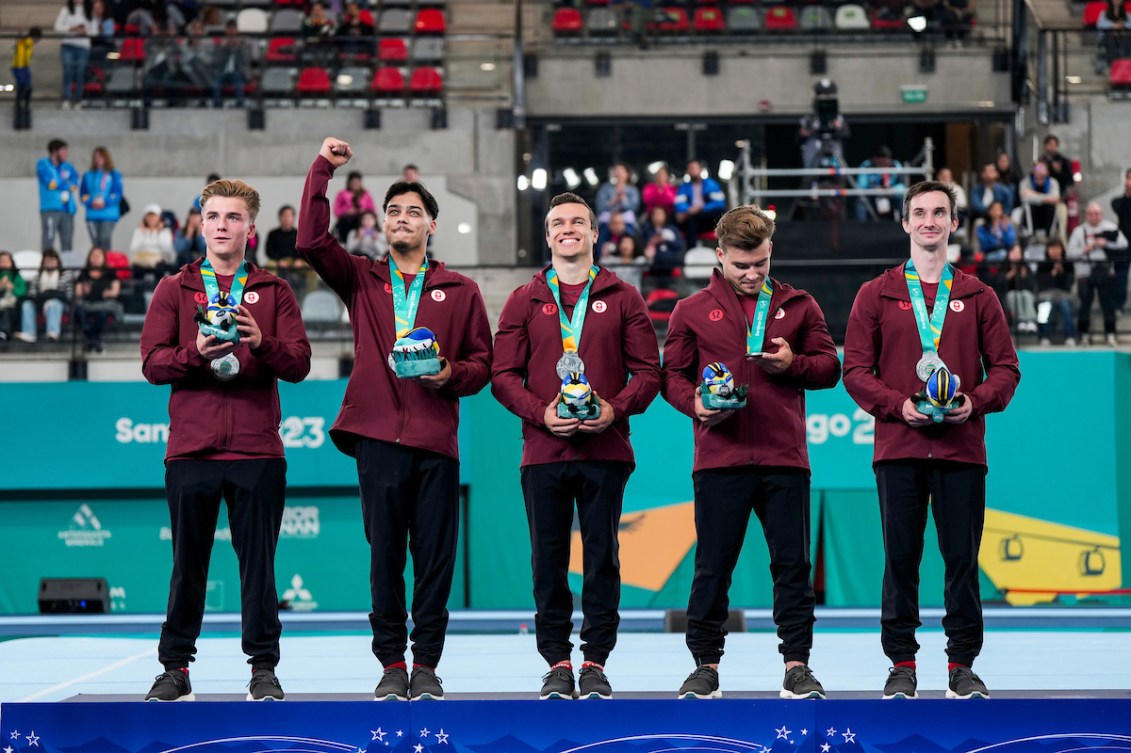 Saturday's competition also served as the qualifying round for the individual finals in the coming days. Émard and Dolci both advanced to the men's individual all-around final after ranking sixth and seventh, respectively.
Dolci is the top qualifier for the men's floor exercise final in which he will be joined by Cournoyer. That pair will also compete in the rings final after tying for third place. Dolci is the number two qualifier for the vault final.
Rampersad posted the top score on pommel horse, just ahead of Clay in the qualification for that final. Émard and Clay both got into the parallel bars final, while Cournoyer and Émard advanced to the horizontal bar final.
Taekwondo: Tae-ku Park wins 68kg bronze
Tae-Ku Park took home bronze in the men's 68kg weight class after defeating Cuba's Ángel Yaniel Fernández Marín in two decisive rounds in the bronze medal match.
Park had won two matches before falling in the semifinals to the Dominican Republic's Bernardo Pie in a gruelling three-round match. He responded well, winning the first round against Fernández Marín 8-6, before clinching the podium spot with a 3-1 tally in the second round.
"It feels great to finally get myself out there on a bigger stage and medal at a bigger event like this," said Park, 22 and competing in his first Pan Ams. "Doing it here in Chile where my mom is from… my family is in the stands is even more special."
Not only did he have family in the stands, but Tae-Ku's brother, Braven Park was competing in the 58kg event. He was bested by Colombia's Jhon Deivi Garrido Reyes in his bronze medal match, but finished in fifth place with the result.
Diving: Caeli McKay wins bronze in the 10m platform
Caeli McKay won the first diving medal for Canada in Santiago on Saturday.
In an event which required competitors to perform five dives, McKay was outside of a podium position entering her final dive, a back two-and-a-half somersault, one-and-a-half twist. She scored 76.80 on that dive to propel her into third place.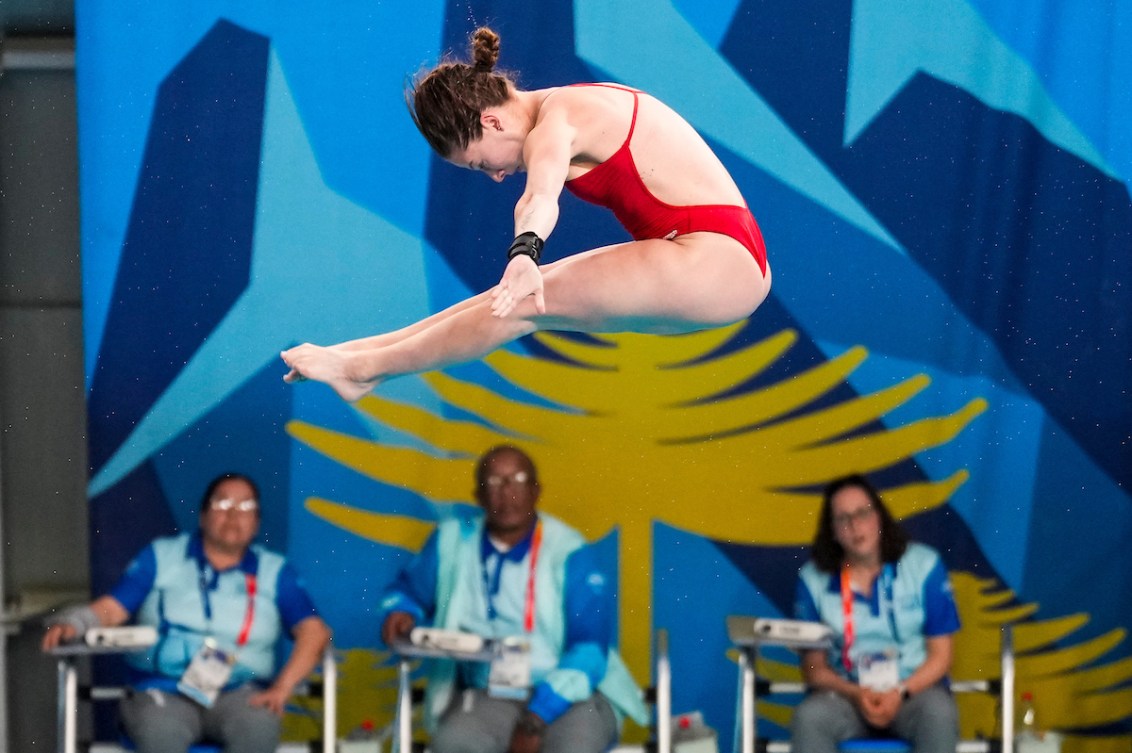 Her final tally was 335.65, over nine points better than the fourth place diver. Two Mexicans — Gabriela Agundez and Alejandra Orozco — grabbed gold and silver.
In Lima 2019, McKay won silver in the 10m, as well as a gold in the 10m synchro.